The Zoah (ゾーア, Zōa?) are a race of aliens that appeared in Sonic Chronicles: The Dark Brotherhood. They appeared during Chapter 8 of the game where they forced Sonic and the team down in the Blue Cyclone after they entered their territory. They are known for their ongoing war to conquer their most hated enemies, the N'rrgal.
Description
Anatomy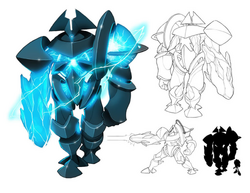 The Zoah species are a race of very massive and large humanoid giants, up to four meters tall, though some members are known to be even larger. Their body appears to be made of energized cyan crystals and they wear dark armor. The individual Zoahs can be distinguished by the design of their body armor, especially their heads and horns.
Characteristics and culture
The Zoah species are known for their love of warfare, and desire to rule over all other living creatures. Their culture focuses almost singularly on military might and conquest, and they possess very advanced warfare technology.
The Zoah society is highly stratified, and is divided into three castes; non-citizens, citizens and the most prominent class, the Zoah military's members. Members of the military are considered the noble caste of the Zoahs and are afforded respect and luxury beyond anything that is available to the citizens. In turn, the citizens can enjoy many rights that non-citizens can not. Fortunately, anyone can become a Zoah citizen by passing the citizenship test. It is not currently clear how a Zoan attains a military rank.
The Zoah's government appears to be a military dictatorship named the Zoah Empire, headed by General Raxos. Personal martial might and honor are both important to them. One particular tradition they hold is that of "the Challenge". Should anyone defeat Raxos in an one-on-one combat, Raxos is bound to honor any request made by the victor.
Powers and abilities
The Zoah race are a strong race of warriors. They possesses natural high strength and have impressive physical defense as well. Due to being made of energized crystals, the Zoah can discharge cyan energy which they can to either fire energy beams or form energy shields to protect themselves. They are also shown to have limited control over their crystal structure, allowing them to form spikes on their exposed body parts or fire crystal shards as projectiles.
History
Originally, the Zoah lived on another world. At the height of their power however, they were transported along with their civilization to the Twilight Cage by a mysterious force which was potentially due to their rapidly increasing power as a race. While the exact time of their imprisonment is vague, it is known they arrived after the Kron, and have lived in the Twilight Cage for thousands of years.
After arriving in the Twilight Cage, the Zoah became one of the races in the Twilight Cage, and ended up living on the Zoah Colony. Regardless, the Zoah persisted in their domineering behavior and waged warfare in the Twilight Cage. When the N'rrgal race came to reside in the Twilight Cage, along with their own planet fragment, the Zoah, in an attempt for conquest, began a series of near-constant attacks on the N'rrgal colony. Eventually, due to the N'rrgal's competence in resisting destruction or dominance, the Zoahs came to have a great dislike for them, perpetuating war against them for thousands of years.
After the Nocturnus Clan arrived in the Twilight Cage, the Zoah were forced to join in an alliance with the Nocturnus Clan after the Nocturnus Clan's leader, Pir'Oth Ix, challenged General Raxos and overthrew him in battle. To ensure that the Zoah did not rebel against him due to dethroning of their leader, Ix gave them one of the stolen Chaos Emeralds to help them in their war against the N'rrgal. However, rather than this being a genuinely altruistic action, it was in fact a part of Ix's tactical thinking. Ix also gave an emerald to the N'rrgal, ensuring that both sides were his allies, and that as both the Zoah and the N'rrgal had emeralds, they would covert one another's, leaving them too occupied to battle with each other to consider challenging the Nocturnus Clan.
When Sonic the Hedgehog and his friends were captured by the N'rrgal Queen, she blackmailed them into going to the Zoah Colony so that Sonic would steal the Zoan's Emerald, which would turn the tide of war in the N'rrgal's favor. Sonic and the others were able to get past the Zoan army, but were caught and left them with a choice; either challenge Raxos, or attempt to steal the Emerald. Regardless, they became prisoners, and Raxos decided to let Commander Syrax fight them to determine whether they were worthy of fighting him. In the end, Sonic and the others defeated Syrax, and Sonic subsequently defeated Raxos one-on-one. Raxos then revealed that he was testing Sonic to determine whether he was a valuable asset to assist the Zoah in defeating Ix, revealing that like the other four races in the Twilight Cage, the Zoah could never be placated by any gift from Ix, and would always despise him and the Nocturnus Clan.
Shortly after this revelation, once Sonic and the others had freed the Voxai, Tails and Foreman Krag decided to call a meeting of all four races to decide what the best course of action would be. Raxos agreed to have a meeting with Krag and the other leaders, and despite a small argument with the N'rrgal queen, they were able to figure out a plan to get past Ix's shield and to enable the heroes to challenge Ix.
Known Zoah
Relationships
Allies
Enemies
In other media
Archie Comics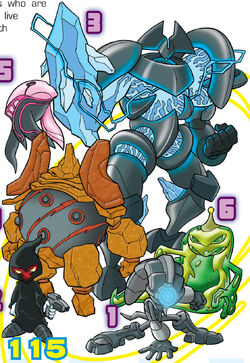 In the Archie Comics, the Zoah are an alien race imprisoned within the Twilight Cage. They once resided in the same galaxy as Mobius, but were teleported to the Twilight Cage in the Argus Event.
Trivia
See also
References
---
Main article | Staff | Gallery | Chapters (1 | 2 | 3 | 4 | 5 | 6 | 7 | 8 | 9 | 10)
Playable characters
Sonic (Super Sonic) | Amy | Tails | Rouge | Big | Knuckles | Cream | Eggman | Shadow | Omega | Shade
Non-playable characters
Dexter | G.U.N. (Commander) | Nocturnus Clan (Imperator Ix (Super State), Nestor, Gizoid, Emerl, Scylla, Charyb) | Knuckles Clan | Egg Bot | Swat Bot | Kron (Foreman Krag) | Zoah (Syrax, Raxos, Gentleman, Haniman, Telra) | N'rrgal (N'rrgal Queen) | Voxai (Thebes, Thelxe, Overmind) | Twilight Cage Pirates | Precursors | Chao | Argus | Team Chaotix (Vector) | Doctor Madden | Sal | Croesus
Chao
Common
Barbo | Cheezlet | Choo | Churdle | Ghise | Griff | Jirna | Knickt | Koolet | Korus | Oolean | Perty | Pyraz | Rugle | Seeri | Seggo | Stebsly | Stiglin | Velk | Zimba
Rare
Belgog | Bepke | Blayze | Bobo | Dusty | Fess | Gibber | Hayda | Joy | Kayla | Keroyo | Luunan | Oldarg | Radu | Zousar
Unique
Cheese | Choopaloo | Ferox | Ovus | Spartoi | Viral Chao (Baki, Farfinkle, Fimbley, Pooki, Stugs)
Areas
Green Hill Zone | Central City | Blue Ridge Zone | Mystic Ruins | Angel Island | Metropolis | Metropolis Ground Zero | Kron Colony | Twilight Cage | Zoah Colony | N'rrgal Colony | Voxai Colony Alpha | Voxai Colony Beta | Nocturne
Enemies
Assault Drone | Assault Drone Mk. II | Bomb Pawn | Colossal Worm | Dominated Voxai Citizen | Dragodon | Egg Bot | Enraged Armadillo | Giant Millipede | Giant Scorpion | Gizoid | Gizoid Centurions | Gizoid Guardian | Gizoid Mk. II | Guardian Pawn | Guardian Pawn Mk. II | Gun Pawn | Gun Pawn Mk. II | Kron Warrior | Laser Drone | Laser Drone Mk. II | Leucosia | Ligaia | Marauder Scout | Marauder Vet Scout | Nocturne Decurion | Nocturne Equites | Nocturne Hastatus | Nocturne High Praetorian | Nocturne Praetorian | Nocturne Princeps | Nocturne Triarius | Nocturnus Velite | Nrrgal Drone | Nrrgal Warrior | Power Pylon | Queen Wasp | Raptor Hawk | Riadne | Robodillo | Seeker Drone | Sentry Drone | Sentry Mk. II | Shield Pawn | Shield Pawn Mk. II | Swat Bot | Swatbot Mk. II | Voxai Conspirators | Wasp Swarm | Wild Boar | Zoah Brute
POW Moves
Sonic
Axe Kick | Blue Bomber | Fastball | Hail Storm | Super Sonic (Super Sonic only) | Triple Tornado | Whirlwind
Amy
Blow Kiss | Flower Power | Low Blow | Spin Cycle | Tantrum | Tarot Draw
Tails
Adrenaline Rush | Flash Bang | Medi Bot | Scan | Shield Bot | Tinker
Rouge
Distract | Jewel Storm | Plunder | Rising Knuckle | Shriek | Tornado Kick
Big
Battering Ram | Feel No Pain | Froggy Poison | Froggy Rain | Lure Whip | Taunt
Knuckles
Hard Line | Knuckles Express | Knuckles Sandwich | Quake Punch | Revolver Slam | Uppercut
Cream
Cure | Demoralize | Heal | Refresh | Revive | Tough
Eggman
Bombardment | Sabotage
Shadow
Atomic Strike | Chaos Blast | Chaos Rift | Chaos Spear | Focus Field | Metal Storm
Omega
Beam Cannon | Blazing Tornado | Flamethrower | Machine Gunner | Temporal Field | Wrecking Ball
Shade
Blade Drop | Blade Rush | Cloak | Echidna Rush
Enemies
Acid Spit | Air Shield | Bash | Blast | Buzz Saw | Buzz Swarm | Charging! | Crippling Arc | Crusher | Cyclone | Dark Anomaly | Doom Orb | Drain Life | Energize! | Evading | Feather Barrage | Full Auto | Full Power | Hellfire | Immunity | Leech Blade | Leech Wave | Lightning Shield | Lock On! | Mega Blaster | Mighty Slash | Overload | Parry | Phase | Poison Quill | Power Blast | Power Burst | Psi-Confuse | Psi-Dazzle | Psi-Slow | Psychic Wave | Quake | Regenerate | Regeneration | Reinforcements | Rocket Volley | Roller Ball | Self Destruct | Self Repair | Shields Up! | Shocker | Slime Shot | Stasis Grenade | Super Bomb | Super Nova | Super Shot | Swallow | Tail Blast | Tail Swipe | Water Shield
Status Effects
Cursed | Distracted | Empowered | Focused | Fortified | Hyper | Lucky | Poisoned | Sluggish | Stunned | Vulnerable | Weakened
Items
Equipment
Alloy Boots | Alloy Slippers | Angel Amulet | Blunt Claws | Boxing Gloves | Chao Print Dress | Cloth Gloves | Cursed Claws | Cursed Gloves | Dura-Hydraulics | Earth Ring | Economizer | Golden Gloves | Grapple Claws | Gritty Gloves | Ice Ring | Immunity Idol | Iron Claws | Iron Hydraulics | Kron Hammer | Light Boots | Light Sneakers | Lightning Ring | Lucky Gloves | Master Hydraulics | Mirror Gloves | Nimble Slippers | Nocturne Blade | Oily Hydraulics | Polymer Gloves | Power Gloves | Pretty Dress | Refresher | Replenisher | Rubber Gloves | Rusty Hydraulics | Serrated Claws | Shielded Sneakers | Sparkly Gloves | Speedy Sneakers | Spiked Gloves | Spiked Slippers | Spiked Sneakers | Spiny Claws | Spooky Charm | Steel Toe Boots | Stiff Sneakers | Swift Boots | Titanium Claws | Tough Slippers | Voxai Teleporter | Water Ring | Wind Ring | Work Boots | Work Gloves | Zoah Shield
Consumables
Antidote | Bug Spray | Clover Juice | Crazy Beans | Cure All Spray | Health Leaf | Health Root | Health Seed | Immunity Booster | Iron Tonic | Med Emitter | POW Candy | POW Drink | POW Gum | Prune Juice | Psychic Water | Revival Ring | Refresher Wave | Ring of Life | Rock Salt | Speed Bar
Quest Items
Beam Cannon | Chaos Emerald 1 | Chaos Emerald 2 | Chaos Emerald 3 | Chaos Emerald 4 | Chaos Emerald 5 | Chaos Emerald 6 | Chaos Emerald 7 | Communicator | Eggman Detector | Eggman Device | GUN Official | Little Boy | Nocturnus Tech | Pattern Generator | Precursor Tablet | Prized Stapler | Timothy | Weapon Part
Other
Air Bubble | Argus Event | Armor Piercing | Blast | Blue Cyclone | Chao Egg | Combat statistics | Dimensional Buffer | Experience Point | Full Auto | Great Emerald | Health Gauge | Item Theft | Leech | Real-Time Interaction | Roboticization | Shop | Shuttle loop | Sonic Chronicles: The Dark Brotherhood (Flash) | South Island | Teleporter | Tornado | Twilight Conference | Warp Belt | West Side Island
Community content is available under
CC-BY-SA
unless otherwise noted.