Zazz is the first boss that appears in Windy Hill in the Wii U version, PC version and Nintendo 3DS version of Sonic Lost World. Zazz is fought at the end of Zone 2 and Zone 4 of Windy Hill and in NiGHTMARE Zone.
Wii U
Windy Hill Zone 2
Zazz first appears at the end of Windy Hill Zone 2 riding the Moon Mech. He will start by hovering in the air for a few moments before flying off-screen, after which the Moon Mech will fly in and cough up stars as it flies from once side of the screen to the other. These stars will stay in place for a moment before falling straight down, but they are spaced far enough apart from each other to be easily avoided.
To attack Zazz, the player needs to knock him off the Moon Mech. To do this, the player has to hit the Moon Mech with a Spin Jump three times. It should be noted that the player cannot lock on to the Mech, so attempting the Homing Attack will result in the player being harmed.
When the player has knocked Zazz down from the Moon Mech, Zazz will land in the center of the arena. He will then charge up and start dashing at the player with a shoulder barge attack that he will quickly turn around and dash off with again as soon as he hits the edge of the screen. He will keep dashing back and forth like this until he either gets tired and summons his Moon Mech again, or until the player has hit him enough times.
It should be noted that Zazz cannot be targeted right away after knocking him off the Moon Mech. Instead, the player has to wait until he starts charging at the player, before he can be attacked.
After enough damage, Zazz will jump back on his Moon Mech and repeat the process, albeit at a much faster pace. Repeat the earlier process and Zazz will be defeated.
Music
| Name | Artist(s) | Length | Music track |
| --- | --- | --- | --- |
| "The Deadly Six Theme" | Tomoya Ohtani | 2:25 | |
Video
Windy Hill Zone 4
The second battle with Zazz starts at near the end of Windy Hill Zone 4. The battle starts out with a chase sequence where the player has to run after Zazz, who is carrying around the Moon Mech himself. While the player is chasing Zazz, the Moon Mech will spit out stars that will rain down on and inflict damage upon the player when Sonic makes contact with them. However, these starts can be avoided if the player keeps running.
Eventually, the player's chase after Zazz will take the player up to two platforms, where the player has to scale by jumping on them. While doing so however, Zazz will continuously try to throw the Moon Mech between the platforms in an attempt to hit the player.
After scaling the platforms, the player has to continue chasing Zazz, until the players runs into some bushes, at which point the player will pass Zazz, who gets behind the player and begins chasing him/her. From there, the player has to keep ahead of Zazz, because if the player slows down for even for a second he will catch up and bash the player with the Moon Mech. As the player continues down the path, there will be dash panels and springs that will automatically shoot thee player past a platforming section to the last section of the boss area quickly; however if the players jumps over them, they have a chance of obtaining an extra life & some extra rings.
Once reaching the last boss area, the player will square off against Zazz, who begins throwing the Moon Mech at the player before jumping to the other side and doing it again. While the Moon Mech is bouncing, Zazz remains stationary and is vulnerable to attack from the player, which can be done by avoiding the Moon mech and then using a Homing Attack. It should be noted, though,that if Zazz attacks a third time during the fight, he will roll the Moon Mech instead of bouncing it. You can avoid it by using a double jump.
Two fully-locked-on Homing Attacks are enough to defeat Zazz and send him into retreat.
Music
| Name | Artist(s) | Length | Music track |
| --- | --- | --- | --- |
| "The Deadly Six Theme (Orchestra ver.)" | Tomoya Ohtani | 2:29 | |
Video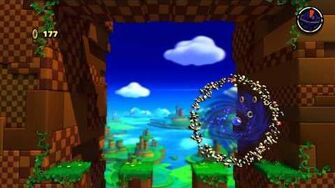 NiGHTMARE Zone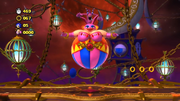 Zazz rides the Second-level Nightmaren, Puffy, into battle. Zazz will stand atop Puffy and have her move left and right across the screen and drop jewels. Aside from the visual changes, the battle strategy is identical to the battle encountered in Windy Hill Zone 2. Zazz and Puffy are defeated after Puffy is hit enough times.
Nintendo 3DS
Windy Hill Zone 3

Zazz is first encountered in Windy Hill Zone 3 in the 3DS version of Sonic Lost World. During the course of the Zone, he will attack the player a total of three times. During each encounter, he will stand in the background and throw the Moon Mech at the player in various ways: bouncing it along the side, rolling it, or throwing it directly at the player. The direction from where the Moon Mech will come from can be predicted by paying attention to the side of the screen that Zazz is throwing the Moon Mech from
During each of these encounters, the player cannot actually attack Zazz, and instead has to avoid his attacks until he gets tired and runs away. With each encounter Zazz's attacks will move faster, and become more numerous. At the end of the last encounter, Zazz will jump even further into the background and pull out an even larger Moon Mech that he will throw directly at the player, but can easily be avoided. After that, the player can move onto the end of the Zone.
As a small side note: Zazz will react to you based on how well you can dodge his attacks. He'll laugh at you if he lands a hit, and will shake his fist angrily if he misses or hits Super Sonic. This has no bearing on the encounters with him, and is just a fun little extra detail.
Music
| Name | Artist(s) | Length | Music track |
| --- | --- | --- | --- |
| "The Deadly Six Theme (Violin ver.)" | Tomoya Ohtani | 2:25 | |
Video
Windy Hill Boss
The fight against Zazz takes place on a planetoid in a 3D perspective at night. Zazz is riding atop the Moon Mech in this fight, and will chase after the player for a time. After a short time, Zazz will crash the Moon Mech down in a slam attack that will crush the player if it hits them, but this attack can be easily avoided by simply running away. Every other time the Moon Mech crashes down on the ground, it will release large stars that will fly outward. These stars will damage the player upon contact, and the more damage the player has inflicted on to Zazz, the more stars will fly out.
After the Moon Mech has crashed down, Zazz will be knocked off-balance. Hitting him with a Homing Attack at this point will knock the crazed Zeti off the Moon Mech and leave him stunned and vulnerable. At this point, the player has the opportunity to hit Zazz with a series of Homing Attacks to further damage him. After a short time, though, Zazz will come back to his senses and will hop back onto the Mech to resume his attack. Keep repeating the former strategy, and Zazz will be defeated.
The Red Wisp can be utilized in this fight to deal more damage to Zazz, even at times when he isn't normally vulnerable. However, it is only unlocked after his rematch in Lava Mountain Zone 1. This makes Zazz the only boss fight in the game where the player cannot utilize any wisps from the get-go.
Music
| Name | Artist(s) | Length | Music track |
| --- | --- | --- | --- |
| "The Deadly Six Theme" | Tomoya Ohtani | 2:25 | |
Video
Trivia
Gallery
Zone 2 (Wii U)
Zone 4 (Wii U)
Nintendo 3DS
See also
---
Main article | Script | Staff | Glitches | Gallery | Re-releases (PC)
Playable characters
Sonic (Super Sonic) | Virtual Hedgehog*
Non-playable characters
Amy | Animals (Cucky, Flicky, Pecky, Picky, Pocky, Ricky, Rocky) | Clawz | Cubot | Deadly Six (Master Zik, Zavok (Giant Zavok), Zazz, Zeena, Zomom, Zor) | Dr. Eggman | Gillwing | Gulpo | Jackle | Knuckles | Link* | Nightopian | NiGHTS | Omochao | Orbot | Puffy | Reala | Tails | Wizeman | Yacker* | Yoshi*
Wisps
Black | Crimson | Cyan | Gray* | Green | Indigo | Magenta | Orange | White* | Yellow
Levels
Worlds
Windy Hill | Desert Ruins | Tropical Coast | Frozen Factory | Silent Forest | Sky Road | Lava Mountain | Hidden World
Misc.
Circus* | NiGHTMARE Zone | The Legend of Zelda Zone* | Yoshi's Island Zone*
Enemies
Badniks
Antlion | Anton | Antlion Mother | Aquis | Balkiry | Ball Hog | Batbrain | BFB | Blowfish Transporter | Blaster | Bomb | Burrobot | Buzz Bomber | Caterkiller | Chopper | Clucker | Cluckoid | Coconuts | Crabmeat | Crawl | Crawlton | Dragonfly | Dung Beetle | Egg Pawn | Galaga Bee | Gohla | Grabber | Gustav Turtle | Jaws | Laser Grabber | Madmole | Manbou | Manta | Moto Bug | Mushmeanie | Nebula | Newtron | Octus | Orbinaut (Uni Uni, Unidasu) | Pata-Bata | Penguinator | Sandworm | Slicer | Snale Blaster | Spiker | Spikes | Sprinkler | Tarantula | Tonber | Turtloids | Utsubo
Other
Baku Baku | Boo | Boom Boo | Cactus Ball | Deku Scrub* | Keese* | Piranha Plant* | Sandworm | Sheep | Shy Guy* | Stalchild* | Yeti
Bosses
Zazz (Puffy) | Zomom | Master Zik (Gulpo) | Zeena (Clawz) | Zor (Jackle) | Zavok (Gillwing) | Deadly Six | Giant Zavok | Eggrobo
Moves/
Techniques
General
Bound Jump | Charged Dash | Dash | Double Jump | Duck | Flying Kick | Focused Homing Attack | Grinding | Ring Dash | Skydiving | Spin Dash | Spin Jump | Super Sonic Boost
Parkour
Hang | Side Step | Vault | Vault Dash | Wall Climb | Wall Jump | Wall Run | Wall Spin Dash
Color Powers
Black Bomb | Crimson Eagle | Cyan Laser | Gray Quake* | Green Hover | Indigo Asteroid | Magenta Rhythm | Orange Rocket | Yellow Drill
Gimmicks and obstacles
Balloon | Billiard Ball | Bumper | Cannon | Capsule | Cloud | Coconut | Conveyor Belt | Dash Panel | Dash Rail | Drop Target | Fireball | Flipper | Grind Rail | High-speed warp tube | Hint Ring | Iron ball | Lighting switch | Metal nut | Minecart | Musical note | Prism | Seesaw* | Sling Shot | Slot machine | Spring | Spring Catapult | Star Post | Surprise Crocodile | Triangle Bumper | Truffle Cannon | Windmill
Items
General
1-Up | Apple | Asteroid Ring | Blue Chip | Bound bell | Cage | Casino Token | Chaos Emerald | Floating Item Box | Invincible | Item Box (Warp) | Number Ring | Power Sneakers | Red Star Ring | Ring | Ring (NiGHTS) | Shield | Thunder Shield
RC Vehicles
Helicopter | Fighter Jet | Stealth Jet | Hovercraft | Balloon | UFO | Omochao
English voice actors
Roger Craig Smith (Sonic) | Mike Pollock (Eggman) | Kate Higgins (Tails) | Travis Willingham (Knuckles, Zavok) | Cindy Robinson (Amy) | Kirk Thornton (Orbot, Master Zik) | Wally Wingert (Cubot) | Liam O'Brien (Zazz) | Patrick Seitz (Zomom) | Stephanie Sheh (Zeena) | Sam Riegel (Zor)
Japanese voice actors
Jun'ichi Kanemaru (Sonic) | Chikao Ōtsuka (Eggman) | Ryō Hirohashi (Tails) | Nobutoshi Canna (Knuckles) | Taeko Kawata (Amy) | Mitsuo Iwata (Orbot) | Wataru Takagi (Cubot) | Jōji Nakata (Zavok) | Yutaka Aoyama (Zazz) | Yumi Tōma (Zeena) | Makoto Terada (Master Zik) | Chafūrin (Zomom) | Yūki Tai (Zor)
Music
Sonic Lost World Bonus Soundtrack (Special Selection) | Sonic Lost World: Wonder World EP | Without Boundaries: Sonic Lost World Original Soundtrack
Other
Auto Running | Cacophonic Conch | Egg Mobile | Extractor | Havok | Life | Life (energy) | Loop | Lost Hex | Mech Dragon | Miles Electric | Mission | Moon Mech | Rank | Secret Bonus | Sonic the Hedgehog Halloween ComicFest 2013 | Time Attack | Tornado | Totem pole | Water | Wisp Away* | Wisp Gauge | Zeti

*Appears in the Wii U version only.
---
Main article | Script | Staff | Glitches | Gallery
Playable characters
Sonic (Super Sonic) | Virtual Hedgehog
Non-playable characters
Amy | Animals (Cucky, Flicky, Pecky, Picky, Pocky, Ricky, Rocky) | Cubot | Deadly Six (Master Zik, Zavok, Zazz, Zeena, Zomom, Zor) | Dr. Eggman | Knuckles | Tails | Orbot
Wisps
Cyan | Gray | Indigo | Ivory | Red | Yellow
Worlds
Windy Hill | Desert Ruins | Tropical Coast | Frozen Factory | Silent Forest | Sky Road | Lava Mountain | Special Stage
Enemies
Badniks
Antlion | Balkiry | Batbrain | BFB | Blowfish Transporter | Buzz Bomber | Caterkiller | Clucker | Crawl | Crawlton | Egg Pawn | Gohla | Grabber | Gustav Turtle | Jaws | Moto Bug | Newtron | Orbinaut (Uni Uni, Unidasu) | Penguinator | Sandworm | Slicer | Spinner | Thunder Spinner
Other
Cactus Ball | Sandworm
Bosses
Zazz | Zomom | Master Zik | Zeena | Zor | Zavok | Eggrobo
Moves/
Techniques
General
Bound Jump | Dash | Double Jump | Focused Homing Attack | Grind Step | Grinding | Skydiving | Somersault | Spin Dash | Spin Jump
Parkour
Side Step | Wall Climb | Wall Jump | Wall Run | Wall Spin Dash
Color Powers
Cyan Laser | Gray Quake | Indigo Asteroid | Ivory Lightning | Red Burst | Yellow Drill
Gimmicks and obstacles
Bingo | Bumper | Capsule | Cloud | Dash Panel | Dash Rail | Dash Ring | Drop Target | Fan | Flipper | Flywheel | Giant Ring | Grind Rail | Hint Ring | Iron ball | Jump Panel | Minecart | Prism | Rainbow Ring | Snowball | Snowblower | Spring | Star Post | Triangle Bumper | Underground pipe
Items
General
5 Ring Bonus | Air Bubble | Asteroid Ring | Chaos Emerald | Gate Capsule | Item Box (1-Up, Aqua Shield, Big 50 Ring, Flame Shield, Invincible, Power Sneakers, Super Ring, Thunder Shield) | Orb | Red Star Ring | Ring | Snowboard
RC Vehicles
Helicopter | Fighter Jet | Stealth Jet | Hovercraft | Balloon | UFO | Omochao
Material
Black Material | Blue Material | Bronze Material | Gold Material | Green Material | Iron Material | Red Material | Silver Material | White Material | Yellow Material
English voice actors
Roger Craig Smith (Sonic) | Mike Pollock (Eggman) | Kate Higgins (Tails) | Travis Willingham (Knuckles, Zavok) | Cindy Robinson (Amy) | Kirk Thornton (Orbot, Master Zik) | Wally Wingert (Cubot) | Liam O'Brien (Zazz) | Patrick Seitz (Zomom) | Stephanie Sheh (Zeena) | Sam Riegel (Zor)
Japanese voice actors
Jun'ichi Kanemaru (Sonic) | Chikao Ōtsuka (Eggman) | Ryō Hirohashi (Tails) | Nobutoshi Canna (Knuckles) | Taeko Kawata (Amy) | Mitsuo Iwata (Orbot) | Wataru Takagi (Cubot) | Jōji Nakata (Zavok) | Yutaka Aoyama (Zazz) | Yumi Tōma (Zeena) | Makoto Terada (Master Zik) | Chafūrin (Zomom) | Yūki Tai (Zor)
Music
Sonic Lost World Bonus Soundtrack (Special Selection) | Sonic Lost World: Wonder World EP | Without Boundaries: Sonic Lost World Original Soundtrack
Other
Cacophonic Conch | Egg Mobile | Extractor | Freeze | Health Gauge | Life | Life (energy) | Loop | Lost Hex | Mech Dragon | Miles Electric | Moon Mech | Rank | Sonic the Hedgehog Halloween ComicFest 2013 | Tails' Lab | Tornado | Totem pole | Water | Wisp Gauge | Zeti