(10 intermediate revisions by one other user not shown)
Line 2:
Line 2:
 

{{Infobox character

 

{{Infobox character

 

|title = Zavok

 

|title = Zavok

−

|image = IDWZavok.png

+

|image = .

−

|caption = Zavok, from [[IDW Sonic the Hedgehog Issue 20|''Sonic the Hedgehog'' #20]].

+

|caption = Zavok, from [[IDW Sonic the Hedgehog Issue |''Sonic the Hedgehog'' #]].

 

|first = [[IDW Sonic the Hedgehog Issue 20|''Sonic the Hedgehog'' #20]]

 

|first = [[IDW Sonic the Hedgehog Issue 20|''Sonic the Hedgehog'' #20]]

 

|age = 148<ref name="Measurement" group="note"/>

 

|age = 148<ref name="Measurement" group="note"/>

Line 23:
Line 23:
 

|skills = Electromagnetism

 

|skills = Electromagnetism

 

}}

 

}}

 
+

{{Quote left|[[Deadly Six (IDW)|Our]] vengeance will be merciless! Our victory⁠—'''''absolute!'''''|Zavok, [[IDW Sonic the Hedgehog Issue 23|''Sonic the Hedgehog'' #23]]}}

 

'''Zavok''' is a character that appears in the ''[[Sonic the Hedgehog (IDW comic series)|Sonic the Hedgehog]]'' comic series and its spin-offs published by [[IDW Publishing]]. He is a [[Zeti (IDW)|Zeti]] and is the leader of the [[Deadly Six (IDW)|Deadly Six]].

 

'''Zavok''' is a character that appears in the ''[[Sonic the Hedgehog (IDW comic series)|Sonic the Hedgehog]]'' comic series and its spin-offs published by [[IDW Publishing]]. He is a [[Zeti (IDW)|Zeti]] and is the leader of the [[Deadly Six (IDW)|Deadly Six]].

 
 
Line 30:
Line 31:
 

==History==

 

==History==

 

===Past===

 

===Past===

−

At some point in the past, a man named [[Doctor Eggman (IDW)|Dr. Eggman]] invaded the [[Lost Hex (IDW)|Lost Hex]] with his many [[Badnik (IDW)|Badniks]]. He enslaved Zavok and the other members of the [[Deadly Six (IDW)|Deadly Six]] with an [[List of unseen content in TV and comics#IDW Sonic the Hedgehog|ancient relic]]. Soon, he was freed unwillingly by [[Sonic the Hedgehog]] and thus exacted his revenge with his team by taking control of Eggman's Badniks with their electromagnetic powers. The Deadly Six were later stopped by Sonic, relinquishing their control of the Badniks.<ref name="StH20">[[IDW Sonic the Hedgehog Issue 20|''Sonic the Hedgehog'' #20]], "Crisis City, Part 2"</ref>

+

At some point in the past, a man named [[Doctor Eggman (IDW)|Dr. Eggman]] invaded the [[Lost Hex (IDW)|Lost Hex]] with his many [[Badnik (IDW)|Badniks]]. He enslaved Zavok and the other members of the [[Deadly Six (IDW)|Deadly Six]] with an [[ |ancient relic]]. Soon, he was freed unwillingly by [[Sonic the Hedgehog]] and thus exacted his revenge with his team by taking control of Eggman's Badniks with their electromagnetic powers. The Deadly Six were later stopped by Sonic, relinquishing their control of the Badniks.<ref name="StH20">[[IDW Sonic the Hedgehog Issue 20|''Sonic the Hedgehog'' #20]], "Crisis City, Part 2"</ref>

 
+
 
+

===The Last Minute===

 
+

[[File:D6-ThePlan.jpg|thumb|235px|Zavok states the plan of action, from [[IDW Sonic the Hedgehog Issue 22|''Sonic the Hedgehog'' #22]].]]

 
+

One day at Zeti Castle, [[Zor (IDW)|Zor]] reported to Zavok how the [[Eggnet (IDW)|Eggnet]] was in chaos due to [[Doctor Eggman (IDW)|Dr. Eggman]]'s doings on the world down below. The two were soon visited by a person named [[Doctor Starline|Dr. Starline]]. He introduced himself as an assistant to Eggman and requested that the Deadly Six help them with a current crisis that they were in. Starline let Zavok know that Eggman did not actually know he was on the [[Lost Hex (IDW)|Lost Hex]] but told him that working with the [[Eggman Empire (IDW)|Eggman Empire]] once again would give the Deadly Six an opportunity to make amends with the doctor, command incredible power and destroy [[Sonic the Hedgehog (IDW)|Sonic]]. Hearing all of this made Zavok accept Starline's proposal. After the doctor left however, Zavok confided in Zor how Starline made a mistake and that they would capitalize on it.<ref name="StH21"/> Zavok soon assembled the entire team to inform them of Starline's offer and how they would immediately betray him, though they all seemed to barely listen to him. [[Zeena (IDW)|Zeena]] initially showed dislike for the idea of going back to Eggman as it could very well be a trap. Zavok immediately snapped at this, saying that since they underestimated the doctor the first time, they were now well prepared. Zavok planned for them to punish Eggman for their humiliation, destroy Sonic for defeating them, and then destroy their world below.<ref name="StH22">[[IDW Sonic the Hedgehog Issue 22|''Sonic the Hedgehog'' #22]], "The Last Minute, Part 2"</ref>

 
+
 
+

Some time later, [[Master Zik (IDW)|Master Zik]] praised Zavok for his initiative on letting the Deadly Six bide their time to let their anger and hatred fester but warned that their vengeance against Sonic and Eggman must be exact. Soon, the duo were met by Starline, who told them that today's events cemented the fact that the team's help was needed. To prove that they could exert their will over machines, Zavok took control of a [[Moto Bug (IDW)|Moto Bug]] and has it drive around. Starline then told that after he made last minute preparations on his end, he would come back for the Deadly Six. After Starline left, Zik gloated as to how he was naïve and they would swiftly betray him. Zavok declared that they will use the Zombots to destroy Eggman, Sonic and the entire world below for merciless vengeance and absolute victory. Soon enough, the Deadly Six were brought onboard Eggman's [[Faceship]] via Starline's [[Warp Topaz]].<ref name="StH23">[[IDW Sonic the Hedgehog Issue 23|''Sonic the Hedgehog'' #23]], "The Last Minute, Part 3"</ref><ref name="StH24">[[IDW Sonic the Hedgehog Issue 24|''Sonic the Hedgehog'' #24]], "The Last One Out"</ref>

 
 
 

==Personality==

 

==Personality==

 
+

Zavok is a strong-minded individual who cares only for power and his team, the [[Deadly Six (IDW)|Deadly Six]], though he can snap at them if they step out of line. He has a calm demeanor with little patience for time wasting. He despises those who pose a threat to him and sees himself as a figure above all others. Zavok is also quite a tactical thinker and knows to always seize opportunities when they present themselves.

 
 
 

==Powers and abilities==

 

==Powers and abilities==

Line 62:
Line 70:
 

*{{IDW SH link|Zavok}}

 

*{{IDW SH link|Zavok}}

 

{{IDW characters}}

 

{{IDW characters}}

−

[[Category:Villains]]

+

[[Category:]]

 

[[Category:Males]]

 

[[Category:Males]]
---
Revision as of 15:34, 30 December 2019
This character exists primarily or exclusively within the IDW Publishing continuity.

Information in this article may not be canonical to the storyline of the games or any other Sonic continuity.

Our vengeance will be merciless! Our victory⁠—absolute!


— Zavok, Sonic the Hedgehog #23
Zavok is a character that appears in the Sonic the Hedgehog comic series and its spin-offs published by IDW Publishing. He is a Zeti and is the leader of the Deadly Six.
Appearance
Zavok is a red Zeti with a very stocky build. The majority of his upper body is pure red. He has five-fingered hands that end with sharp cyan-colored nails. His lower jaw sticks out, showing a row of spiked fangs. The upper half of his head is black save for red markings around his eyes, which are purple with yellow sclera. Zavok has what appears to be a relatively thick cyan-colored unibrow that forms a vaguely V-shaped crest. Sticking out from the sides of his head, Zavok has two vicious curved horns that are striped in varying shades of dark gray. Zavok appears to be bald, sans for a cyan ponytail sticking out from the back of his head. Zavok has two rows of sharp black spikes sticking out of his shoulders. His only attire seems to be a pair of black bracelets with gray spikes jutting out.
History
Past
At some point in the past, a man named Dr. Eggman invaded the Lost Hex with his many Badniks. He enslaved Zavok and the other members of the Deadly Six with an ancient relic. Soon, he was freed unwillingly by Sonic the Hedgehog and thus exacted his revenge with his team by taking control of Eggman's Badniks with their electromagnetic powers. The Deadly Six were later stopped by Sonic, relinquishing their control of the Badniks.[1] Following their defeat, the Deadly Six took over one of Eggman's bases he left in Lava Mountain Zone and remade it in their image, calling it Zeti Castle.[2]
The Last Minute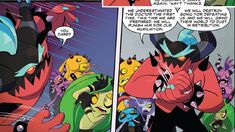 One day at Zeti Castle, Zor reported to Zavok how the Eggnet was in chaos due to Dr. Eggman's doings on the world down below. The two were soon visited by a person named Dr. Starline. He introduced himself as an assistant to Eggman and requested that the Deadly Six help them with a current crisis that they were in. Starline let Zavok know that Eggman did not actually know he was on the Lost Hex but told him that working with the Eggman Empire once again would give the Deadly Six an opportunity to make amends with the doctor, command incredible power and destroy Sonic. Hearing all of this made Zavok accept Starline's proposal. After the doctor left however, Zavok confided in Zor how Starline made a mistake and that they would capitalize on it.[2] Zavok soon assembled the entire team to inform them of Starline's offer and how they would immediately betray him, though they all seemed to barely listen to him. Zeena initially showed dislike for the idea of going back to Eggman as it could very well be a trap. Zavok immediately snapped at this, saying that since they underestimated the doctor the first time, they were now well prepared. Zavok planned for them to punish Eggman for their humiliation, destroy Sonic for defeating them, and then destroy their world below.[3]
Some time later, Master Zik praised Zavok for his initiative on letting the Deadly Six bide their time to let their anger and hatred fester but warned that their vengeance against Sonic and Eggman must be exact. Soon, the duo were met by Starline, who told them that today's events cemented the fact that the team's help was needed. To prove that they could exert their will over machines, Zavok took control of a Moto Bug and has it drive around. Starline then told that after he made last minute preparations on his end, he would come back for the Deadly Six. After Starline left, Zik gloated as to how he was naïve and they would swiftly betray him. Zavok declared that they will use the Zombots to destroy Eggman, Sonic and the entire world below for merciless vengeance and absolute victory. Soon enough, the Deadly Six were brought onboard Eggman's Faceship via Starline's Warp Topaz.[4][5]
Personality
Zavok is a strong-minded individual who cares only for power and his team, the Deadly Six, though he can snap at them if they step out of line. He has a calm demeanor with little patience for time wasting. He despises those who pose a threat to him and sees himself as a figure above all others. Zavok is also quite a tactical thinker and knows to always seize opportunities when they present themselves.
Powers and abilities
Zavok has the ability to control machinery with his mind.[1]
Relationships
Friends/allies
Enemies
See also
Notes
References
External links
Community content is available under
CC-BY-SA
unless otherwise noted.