This object exists primarily within the Sonic Boom continuity.

Information in this article may not be canonical to the storyline of the games or any other Sonic continuity.
The wick[1] is a gimmick that appears in the Sonic Boom series. It is a demolition tool used to open paths.
Description
The wick consists of a burner (an orange pad with a fire icon above a dark yellow fuse opening) and a brown barrel with a skull and crossbones symbol on it and feet holding it in place. These objects are connected by an orange burning fuse inside the walls.
Overview
In gameplay, the wicks appear in the adventure levels of Cutthroat Cove, where their barrels block passages while their burners are set in entirely different locations (they can be tracked by following their fuses). These burners can be targeted with the Homing Attack. If the player touches the burners while Fire Mode is active, it will ignite their fuse. The fire will then swiftly travel to the barrel, upon where it detonate, clearing the path it was blocking.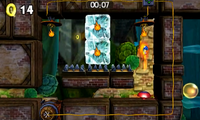 In some cases, the player will come across a wick with one barrel and multiple burners. This is called a Multi-Wick.[2] These wicks' burners must be lit at the same time to make their barrel detonate. To do so, the player must light all the burners before the first one times out, or they must start over.
References