Fire Emblem Warriors: Three Hopes - The Loop
Play Sound
Wacky Worlds Creativity Studio is a video game for the Sega Mega Drive developed by Headgames and published by Sega. It was released in 1994 under the Sega Club line for younger children. In it, the player has a choice of six different Wacky Worlds in which they can place animated stickers, creating a two-dimensional diorama, of sorts. Among the Worlds are an underwater scene, a scene inside a house, a jungle, and the Moon.
This game is a Sonic the Hedgehog series property, as the titular character appears on the cover of the box. Sonic also pilots the flying saucer that is used to choose a WACKY WORLD[2] to play in. He also appears in a small portrait sticker for the default sticker book in the house scene. Miles "Tails" Prower and Ecco the Dolphin appear on the box of the game as well. This game was similar in concept with Nintendo's Mario Paint.
Gameplay
Wacky Worlds Creativity Studio is a painting program designed for young children.
A key element in Wacky Worlds Creativity Studio are stickers. [3] These are available in certain sticker books assigned for the Wacky Worlds. Each World has its own default book, but each of the other sticker books are available for use anytime as well. The same applies for the music stickers, as music from other worlds can be chosen to be played anywhere.
Many of the stickers are people or characters that can move around in each world. Their movements are pre-programmed and do not stray very far from their original placement. When a sticker is first placed, it moves very little, if at all. When clicked on, it will perform its action until clicked again, at which time it reverts to its more dormant state.
The player can put as many stickers as he or she wants in any world (however, there is a limit on animated stickers, most likely to prevent lag and clutter), and infinite copies of the same are also allowable. Once a sticker is placed in the World, the player can also change the colors of the sticker, using a palette.
Other available stickers consist of decorations, letters, numbers, and other text.
Music stickers each have a different musical phrase in them. They are "stacked" in a player that will play them in order, looping this order indefinitely.
Controls
This task of placing stickers is aided by the Mega Mouse packaged with the cartridge, and designed especially for the Sega Mega Drive.
Button formation
Action
Mega Mouse[4]
GamePad
Move Mega Mouse
Move
A/B/C
//
Action
Tools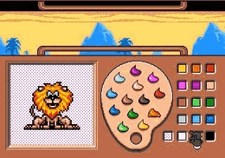 There are 4 main tools available in the game, with all of them appearing as an index finger on the screen.
To the left of the glove-based tools are five other options to select from, including:
Characters
Non-playable characters
WACKY WORLDS
Staff
Developed for Sega by: Headgames, Inc.
Producer: Mike Larsen
Product Manager: Charlie Altekruse
Marketing Product Support: Clint Dyer
Designers: Marc Le Brun, Dan Rosengeld, and the team...
Programming: Ben Sharpe, Jay Carlson, Dilip DaSilva
Additional Programming: Joshua Singer
Art: Bob Hanon, Yongki Yoon, Doug Nishimura
Project Manager: Jonathan Miller
Sound Design/FX: Mark Steven Miller, Neuromantic Productions
Music: Ted Allen, John Baker
Additional Music: Jim Donofrio
Lead Tester: Mark Paniagua
Assistant Leads: Jeff Loney, Joel Breton
Testers: Bill Person, Randy Kreidt, Arnold Galano, Dan Katzer, Mike Chao, Mark Dawson, Mike Wu, Jeffry Kessler, Robert Owen, Rachael Bristol
Creative Services: Moore & Price, Sutton Trout
Manual: Carol Ann Hanshaw
Special Thanks: Bob Harris, Cynthia Wilkes, Diane Fornasier, Joe Miller, John Gillin, Michael McCormick, Mike Latham
Trivia
References
Master System
Sonic Spinball (1994)

 ·

Dr. Robotnik's Mean Bean Machine (1994)
Mega Drive
Flicky (1991)

 ·

Sonic Eraser (1991)

 ·

Sonic the Hedgehog Spinball (1993)

 ·

Dr. Robotnik's Mean Bean Machine (1993)

 ·

Wacky Worlds Creativity Studio (1994)

 ·

Knuckles' Chaotix (1995, 32X)

 ·

Sonic 3D Blast (1996)
Saturn
Sonic 3D Blast (1996)

 ·

Sonic R (1997)
Sega All-Stars
Sega Superstars (2004, PS2)

 ·

Sega Superstars Tennis (2008, multi-platform)

 ·

Sonic & Sega All-Stars Racing (2010, multi-platform)

 ·

Sonic & All-Stars Racing Transformed (2012, multi-platform)
Sonic Riders
Sonic Riders (2006, multi-platform)

 ·

Sonic Riders: Zero Gravity (2008, multi-platform)

 ·

Sonic Free Riders (2010, Xbox 360)
Sonic Storybook Series
Sonic and the Secret Rings (2007, Wii)

 ·

Sonic and the Black Knight (2009, Wii)
Mario & Sonic
Mario & Sonic at the Olympic Games (2007, multi-platform)

 ·

Mario & Sonic at the Olympic Winter Games (2009, multi-platform)

 ·

Mario & Sonic at the London 2012 Olympic Games (2011, Wii)

 ·

Mario & Sonic at the London 2012 Olympic Games (2012, 3DS)

 ·

Mario & Sonic at the Sochi 2014 Olympic Winter Games (2013, Wii U)

 ·

Mario & Sonic at the Rio 2016 Olympic Games (2016, multi-platform)

 ·

Mario & Sonic at the Olympic Games Tokyo 2020 (2019, Switch)
Super Smash Bros.
Super Smash Bros. Brawl (2008, Wii)

 ·

Super Smash Bros. for Nintendo 3DS (2014, 3DS)

 ·

Super Smash Bros. for Wii U (2014, Wii U)

 ·

Super Smash Bros. Ultimate (2018, Switch)
Sonic Boom
Sonic Boom: Rise of Lyric (2014, Wii U)

 ·

Sonic Boom: Shattered Crystal (2014, 3DS)

 ·

Sonic Dash 2: Sonic Boom (2015, mobile)

 ·

Sonic Boom: Fire & Ice (2016, 3DS)
Arcade & redemption machines
Flicky (1984)

 ·

Waku Waku Sonic Patrol Car (1991)

 ·

UFO SegaSonic (1992)

 ·

Sonic the Hedgehog (1993)

 ·

SegaSonic Popcorn Shop (1993)

 ·

SegaSonic Cosmo Fighter (1993)

 ·

SegaSonic the Hedgehog (1993)

 ·

Sonic the Hedgehog 2 (1993)

 ·

Sonic the Hedgehog (1993)

 ·

Sonic's Space Tours (1994/1999)

 ·

Sonic the Fighters (1996)

 ·

Sonic the Hedgehog (1997)

 ·

Sonic & Tails Spinner (2002)

 ·

CR Sonic (2003)

 ·

Sonic Spinner (2007)

 ·

Sonic Live! (2008)

 ·

Sonic Sports Basketball (2010)

 ·

Sonic Sports Air Hockey (2010)

 ·

Sonic & Sega All-Stars Racing Arcade (2011)

 ·

Sonic Athletics (2013)

 ·

Sonic Ghost Shooting (2013)

 ·

Sonic Brain Ranking (2013)

 ·

Sonic Dash Extreme (2015)

 ·

Sonic Blast Ball (2015)

 ·

Mario & Sonic at the Rio 2016 Olympic Games Arcade Edition (2016)

 ·

Mario & Sonic at the Olympic Games Tokyo 2020 - Arcade Edition (2020)

Other

Puzzle Construction (1991, TeraDrive)

 ·

Sonic the Hedgehog's Gameworld (1994, Pico)

 ·

Tails and the Music Maker (1994, Pico)

 ·

Sonic's Schoolhouse (1996, PC)

 ·

Sonic Shuffle (2000, Dreamcast)

 ·

Shadow the Hedgehog (2005, multi-platform)

 ·

Sega Splash Golf (2008, PC)

 ·

Sonic the Hedgehog (2008, Didj)

 ·

Team Sonic Racing (2019, multi-platform)

 ·

Sega Streaming Theater Sonic Edition

(2021, PC)

 ·

Sonic Speed Simulator (2022, multi-platform)