Fire Emblem Warriors: Three Hopes - The Loop
Play Sound
Void (ヴォイド, Voido?) is an antagonist that appears in the Sonic the Hedgehog series. He is half of Maginaryworld's ruler, Illumina, and represents the negative feelings which give people the ability to dream. Following his creation, Void sought the Precioustone to become whole, nearly dooming Maginaryworld in the process, but was stopped and rejoined with his other half, Lumina Flowlight, thanks to Sonic the Hedgehog and his friends.
History
Past
Void came into existence when Illumina lost sight of herself and her dream which caused an internal turmoil that split her in two beings: Void, the representation of the negative aspects of dreams, and Lumina Flowlight, the representation of the positive aspects. Because of his separation though, Void suffered from loneliness and wanted to be whole again.[1] Reasoning that since he was a piece of the Precioustone, and thus a part of a feeling needed for dreams to exist, Void sought out this crystal, believing it could make him whole.[2][3] When he got to the Temple of Light and touched the Perfect Precioustone, however, his powers caused it to shatter and its pieces scattered to the various worlds in Maginaryworld.
Sonic Shuffle
In Sonic Shuffle, after the Precioustone's destruction, Void moved onto the rest of Maginaryworld, his powers transforming the different dream worlds within it. Void then began tracking down the Precioustones, hoping that they could still make him whole. However, he met opposition from Sonic, Tails, Knuckles, and Amy who had been brought to Maginaryworld by Lumina to help her recover the Precioustones and restore the Perfect Precioustone. Each time, Void beat Sonic and his friends to the Precioustones, but when he touched them, they would shatter further, forcing him to leave. Whenever Sonic and his friends recovered a Precioustone, Void appeared in a vision before them with Lumina where he expressed his depression and loneliness to them.
As the Precioustone neared its completion in the Temple of Light, Void decided to head there to seek out the crystal again. Inside the temple, he was confronted by Lumina, Sonic, Tails, Knuckles and Amy, and he told them how he wanted to be whole again with the help of the Precioustone, but was continuously rejected. Seeing that the group did not need him either, Void's loneliness and sadness reached their peak and he turned into a rampaging monster.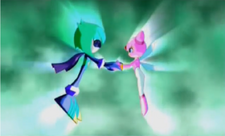 In the ensuing fight, Void was defeated by Sonic, Tails, Knuckles, and Amy and was turned into a gem. He then continued to lament of how both Illumina and Lumina refused him. However, Sonic and his friends got Lumina to accept Void after convincing her that the negative emotions he represented were needed alongside positive emotions to give people the ability to dream. Void's gem was then taken into the reformed Precioustone by Lumina where he returned to normal. There, he accepted Lumina's offer of acceptance and the two of them rejoined to remake Illumina.
Personality
Void is a unique villain among the rogues in the Sonic the Hedgehog series. Presented as more of a tragic figure than a malevolent entity, his actions were drive by a genuine desire to fill out his own emptiness and not a lust for power, control, revenge, or destruction. On the front, Void is a boy with a far away look in his eyes and he shows no emotion at all.[4] Beneath it however, Void constantly felt incredibly lonely because of his separation, which kept him in a state of sadness and depression. To escape his pain, Void's only wish was to make himself whole again and be friends with Lumina.[5] However, since everything kept rejecting him because of his nature, Void's sadness kept deepening to the point where he would question his own reason for existing. At times he speaks as if talking to himself and expresses his deep feelings, which have a sense of sadness to them.[4]
Because he embodies negative feelings, Void is naturally destructive towards dreams and causes mayhem wherever he goes. However, he does not intend to be evil and only commits such acts because it is in his nature and he knows nothing else beyond it. Rather than shattering people's dreams for the sake of it, his purpose is to push people's dreams to become stronger by confronting them with despair. As such, he does not view his actions as malicious and denies causing any misfortune. Likewise, he cannot comprehend why people show a dislike of him for his actions which made him slightly loath others, thinking they were needlessly tormenting and betraying him.[6]
Powers and abilities
Void commands the powers of darkness which gives him an unspecified level of dark powers.[7] His darkness alone can warp the fabric of Maginaryworld, transforming and corrupting its various worlds into radically different environments that are slowly destroying them and Maginaryworld.[8] His touch has similar corruptive properties as the Perfect Precioustone and its fragments would be draped in darkness and shatter whenever he touched them, though this indicates he has little to no control over this ability. He is also capable of flight through midair and can teleport at will.
Transformation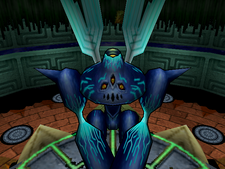 When his sadness is at its peak, Void is able to transform into a nearly unrecognizable monster. In this state, Void gains superhuman strength and durability, along with energy-projection abilities.
In other media
Archie Comics
In the Sonic the Hedgehog comic series and its spin-offs published by Archie Comics. Void appeared as a part of the comics' adaptation of Sonic Shuffle. Like in the game, he is half of Illumina, created when Illumina lost herself in self-doubt. He mysteriously appeared in Maginaryworld and shattered the Master Precioustone, but was eventually returned to his original being. Void also appeared in Sonic Universe #29 as an inmate at the Zone Jail but it is unknown if this is the same Void or a different version of him.
Quotes
"The Precioustone will shatter if I touch it. Maginaryworld... My world... The world of my dreams..."
—Void about his encounter with the Precioustone
"Why are you so upset? Is it something I did? I didn't do anything wrong... Hey, it's what everyone wanted right?"
—Void when Amy blames him for destroying Maginaryworld
"When dreams are shattered... They all have a beginning and an end. They can't be destroyed."
—Void telling Amy about the destruction of dreams
"Why are you trying to stop me? Why are you tormenting me? I only want to..."
—Void asking why Lumina is opposing him
"I was looking for everyone... So I could be whole. And I found everyone... But everyone ran away from me. I tried to reach them but..."
—Void revealing his reason for seeking out the Precioustone
"I am so lonely... You don't need me? Then... why... was I bo... r... n..."
—Void as he succumbs to his despair and becomes a monster
"Illumina... Why do you reject me? Lumina... Why do you hate me? You, and I, aren't we... the same?"
—Void upon his defeat
Trivia
Void's body shape, big eyes and being from a dream world makes him resemble NiGHTS.
Void is the only male character in the Sonic games who is drawn with eyelashes which is usually a trait exclusive to the female characters
Void's trademark symbol is shown upside down on his cape.
Gallery
Artwork
Models
Screenshots
Wallpaper
References
---
Main article | Script | Staff | Gallery
Playable characters
Sonic (Super Sonic) | Tails | Knuckles | Amy | Gamma | Big | Chao
Non-playable characters
Dr. Eggman | Lumina Flowlight | Illumina | Void | NiGHTS
Boards
Emerald Coast | Fire Bird | Fourth Dimension Space | Nature Zone | Riot Train
Mini-Games
Vs 4
Egg & the Chicken | Egg in Space | Frosty Rumble | Fun Fun Sonic | Great Escape | Jump the Snake | Over the Bridge | Number Jump | Over the Rainbow | Psychic Sonic | Shadow Tag | Sonic Gun Slinger | Sonic Live | Sonic Tag | Sonic Tank | Sonicola | Stop and Go | Thor's Hammer | Tractor Beam Tag | Twister | Zero G Snap Shot
2 vs 2
Bomb Relay | Bucket-O-Rings | Shoddy Work | Sonic the Thief
1 vs 3
Bungee Jump | Eggbot's Attack! | Gargantua | Manic Maze | Sonic DJ | Sonicooking | Wrong Way Climb
Accidents
Croc-Attack | Final Frontier | Ring Lasso | Ring of Fire | Rapid Climb | Ring Tide | Sky Bridge | Sonic Parasol | Thru the Tunnel
Stage Clear
Earth Quake | Sky Diving | Sonic Surfing | Stop the Train | Void Battle
Play Order
Sonic Darts | Sonic Hi Lo | Sonic Slot
Maginaryworld monsters
Precioustone Amethyst | Precioustone Crystal | Precioustone Diamond | Precioustone Garnet | Precioustone Pearl | Precioustone Sapphire
Techniques/Moves
Climbing |

Froggy

| Gun | Hammer Jump | Light-speed Spin Dash | Light Speed Spin Attack | Lullaby | Maximum Heat Attack |

Power Throw

| Propeller Flight | Rapid Spin Attack |

Roller Mode

| Revolving Hammer Attack |

Sonic Rumble

| Spin Dash
Items
General
Air Bubble | Emblem | Magical Card | Precioustone | Ring
Forcejewel
1 Force March | 6 Force March | Barrier Amber | Battle Ruby | Blockite | Carbuncle | Chamelionite | Curse Opal | Deletite | Duplichaos | Fivealive | Foolmoon | Geasdain | Hi-Speederald | Hypnotite | Lose Quartz | Low Moonstone | Magnifire | Maharajite | Max-Speederald | Medium | Packlite | Preciousite | Reducite | Ringidium | Shield Quartz | Shuffire | Sonic-Speederald | Speederald | Stopnite | Swap Jewel | Teleport Ruby | Thief's Eye | Transfire | Turbo-Speederald | Warp Crystal | Warponite | Wastone
Other
Banking | Maginaryworld |

Mini-Event

| Spaces (

Arrow Space

,

Battle Space

,

Eggman Battle Space

,

Event Space

,

Jewel Shop Space

,

Jump Space

,

Minus Ring Space

,

No Entry Space

,

Plus Ring Space

,

Precioustone Space

,

Quest Space

,

Revolving Space

,

Void Preciousstone Space

) | Sonic Room | Spring | Temple of Light