Virtual Reality (バーチャルリアリティ, Bācharuriariti?) is the third stage in the Sonic Forces DLC, Episode Shadow. Set in Green Hill, the stage is a modified version of Guardian Rock and thus, features similar elements.
The stage is a false reality created by Infinite with his Phantom Ruby prototype's power. During the events of the game, Infinite trapped Shadow in Virtual Reality in an attempt to crush Shadow.
Description
Virtual Reality is a virtual projection of an industrialized area in the once prosperous Green Hill area. In this stage there are block-based brown mountains in the background and a lightly clouded blue sky. Like the original Green Hill, the stage also features countless blocky hills in all manner of sizes and arrangements. Much of the stage is also covered in differently-striped grass that moves with the wind, and the soil itself is covered in brown checkerboard patterns. There are also totem poles with all manner of facial expressions. However, the signature flora in Green Hill is shown to have dried out in various places, and the soil has assumed a sandy hue in many locations. Also, the area has been facilitated with semi-industrial pipe platforms and Badniks all around.
In the background of this stage, one can see the desert that sprouts out in Green Hill as a result of Eggman's desertification. These dunes have replaced the water areas in Green Hill, forming lakes and waterfalls made up of sand. Also, in the horizon, one can spot Arsenal Pyramid.
Infinite's virtual reality cubes lurk within the area, and can be seen throughout the background at various points.
Story
After Infinite uses the power of his Phantom Ruby, Shadow finds himself in some kind of facility in Green Hill. Rouge talks to Shadow over the radio, stating that Omega disappeared at this facility three months ago. Shadow is confused about what happened to Infinite, but makes his way through the area regardless. Shadow eventually reaches the point where Omega was defeated, but cannot find any sign of him, with Rouge calmly stating that this never really happened. At this point, Omega joins the call, stating that he has never been defeated before breaking down into constantly shouting "I am not weak".
Shadow soon successfully escapes the illusion and receives an applause from Infinite, who did not expect him to return alive. Regardless, Infinite says that with his power, not even Sonic can stand against him now. Before Shadow can ask Infinite about what he means by that however, the facility they are in begins to explode, and Infinite uses this opportunity to escape. Meanwhile, Rouge, who has finally managed to reconnect with Shadow's radio, instructs Shadow to get out of there before the facility collapses on top of him. Having no choice in the matter, Shadow withdraws.
Gameplay
For the entirety of this stage, Shadow will traverse a 2.5D sidescrolling area. In terms of layout, the stage is rather straightforward, consisting of one linear path with few alternate paths along it.
Along the paths in this stage are groups of Galaga Bees that fly around in long rows. By Homing Attacking these Badniks, the player can destroy an entire chain of them in seconds by attacking them one by one. By destroying these Galaga Bee chains, the player can also reach different sections in the stage. The stage also has balloons for the player to bounce on.
Unique obstacles encountered in Virtual Reality are Infinite's red virtual reality cubes, which are encountered at various points. If Shadow touches these cubes, the player will take damage. In some places, there are concentrations of such cubes that will lock onto Shadow's current position when he appears, before turning into streaks and launching themselves towards him. In other places, these cubes will float around platforms, thereby forming protective barriers with only a single opening in them that the player can utilize.
Akin to a Sonic stage, Virtual Reality has numerous Wisp Capsules filled exclusively with White Wisps along the way for the player to charge their Boost Gauge with.
Overview
When the stage begins, run down the path on the right. Along it, the player will come across enemies, virtual reality cubes, and several bottomless pits that require platforming skills to cross. Eventually, the player will enter a section made up entirely of Unbreakable Containers and platforms. Here, the player has to scale platforms while dealing with enemies and dodging virtual reality cubes. Once at the top, follow the path to the right to arrive in a similar Unbreakable container section where virtual reality cubes circle around platforms that lead upward. In this place, the player must scale the platforms while avoiding the virtual reality cubes.
Once at the top, Stomp down through the Containers on the right and follow the path from there in the rightward direction. Along this stretch of path, the player once again has to deal with enemies, avoid virtual reality cubes, and cross bottomless pits. In some places, the player must even skip across Nebulas with the Homing Attack in order to cross gaps.
At the end of the path, the player will enter another Unbreakable Container section where they must scale several layers of platforms filled with enemies and virtual reality cubes. Once on the top layer, follow the path on the right until Shadow comes to another section with virtual reality cubes circling around platforms. After climbing the platforms, follow the path on the right until the goal appears. This time however, the goal is placed on a platform with three rings of virtual reality cubes circling around it. At some point though, the holes in the virtual reality cube barriers will align so the player can gain access to the goal. This only happens on the top and bottom of the barriers; the top access hole can only be reached if the player takes the upper path on the way to the goal, while the bottom hole can only be reached with a Spring on the ground.
Trivia
The background music for this stage is a remix of "Supporting Me", a piece of music from Sonic Adventure 2.

Certain lyrics of the music, like "Everything's just like... An illusion...", coincidentally tie into the level.

Prior to the game's release, and by extension, the release of Episode Shadow, a special trailer that depicted a playthrough of Virtual Reality was released. Unlike the game, there was absolutely no dialogue depicted in the trailer.
Gallery
Miscellaneous
Music
Video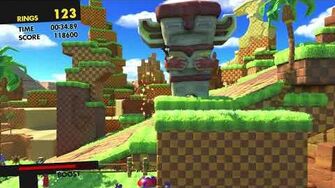 ---
Main article | Script | Staff | Manuals | Beta elements | Gallery
Playable characters
Sonic (Super Sonic) | Classic Sonic (Classic Super Sonic) | Avatar | Shadow (Episode Shadow)
Non-playable
characters
Resistance (Tails, Knuckles, Amy, Team Chaotix (Vector, Espio, Charmy), Silver, Team Dark (Shadow, Rouge, Omega)) | Dr. Eggman | Infinite | Orbot | Cubot | Metal Sonic | Chaos | Zavok | Animals (Cucky, Flicky, Pecky, Picky, Pocky, Ricky, Rocky)
Wisps
Blue Wisp | Green Wisp | Indigo Wisp | Ivory Wisp | Red Wisp | Violet Wisp | White Wisp | Yellow Wisp
World Map regions
Chemical Plant | City | Death Egg | Eggman Empire Fortress | Green Hill | Metropolis | Mystic Jungle
Stages

General

Lost Valley | Spaceport | Ghost Town | Prison Hall | VS. Zavok | Egg Gate | Arsenal Pyramid | Luminous Forest | VS. Infinite | Green Hill | VS. Eggman | Park Avenue | Casino Forest | Aqua Road | Sunset Heights | Capital City | VS. Infinite | Chemical Plant | Red Gate Bridge | Guardian Rock | Network Terminal | Death Egg | Metropolitan Highway | Null Space | Imperial Tower | Mortar Canyon | VS. Infinite | Iron Fortress | Final Judgement | VS. Death Egg Robot

Episode Shadow

Enemy Territory | Eggman's Facility | Virtual Reality
Secret
Fire Cannon 1 | Vanish Panel 1 | Bomb Block 1 | Plasma Cannon 1 | Laser Cannon 1 | Reverse Block 1
Extra
Flying Pod | Bomb Block 2 | Laser Cannon 2 | Reverse Block 2 | Vanish Panel 2 | Fire Cannon 2 | Plasma Cannon 2
Enemies
Aero-Chaser | Buzz Bomber | Chopper | Egg Pawn | Egg Tank | Egg Walker | Galaga Bee | Moto Bug | Missile Pod | Nebula | Sandworm | Sprinkler | Valkeen
Bosses
Death Egg Robot | Eggman | Egg Dragoon | Infinite | Metal Sonic | Zavok
Moves/Techniques
Air Boost | Boost | Crouch | Double Boost | Double Jump | Drop Dash | Grind Step | Grinding | Homing Attack | Side Step/Cartwheel | Skydiving | Slide | Super Sonic Boost | Spin Dash | Spin Jump | Stomp | Triple Boost | V. Maximum Overdrive Attack | Wall Jump | Wire Attack
Gimmicks and obstacles
Balloon | Bottomless pit | Bumper | Capsule | Conveyor Belt | Dash Panel | Dash Rail | Dash Ring | Fan | Flipper | Flywheel | Goal | Goal Plate | Grind Rail | High-speed warp tube | Hint Ring | Iron ball | Jump Panel | Laser field | List of pinball obstacles | Pulley | Rainbow Ring | Ring Shooter | Slot machine | Spikes | Spring | Spring Catapult | Spring Pole | Star Post | Wide spring | Wire Target | Zip Line
Items
General
Air Bubble | Blue Block | Blue Ring | Container (Unbreakable Container, Wooden Container) | Costume | Item Box (Bonus Rings, Invincibility, Power Sneakers, Shield) | Medal | Meteorite | Number Ring | Red Star Ring | Ring | Silver Moon Ring | Wisp Capsule
Wispons
Asteroid | Burst | Cube | Drill | Hover | Lightning | Void
English voice actors
Roger Craig Smith (Sonic) | Mike Pollock (Eggman) | Liam O'Brien (Infinite) | Colleen O'Shaughnessey (Tails, Charmy) | Travis Willingham (Knuckles, Zavok) | Cindy Robinson (Amy) | Kirk Thornton (Shadow, Orbot) | Karen Strassman (Rouge) | Vic Mignogna (Omega) | Quinton Flynn (Silver) | Keith Silverstein (Vector) | Matthew Mercer (Espio) | Wally Wingert (Cubot)
Japanese voice actors
Junichi Kanemaru (Sonic) | Kotaro Nakamura (Eggman) | Takashi Kondō (Infinite) | Ryo Hirohashi (Tails) | Nobutoshi Canna (Knuckles) | Taeko Kawata (Amy) | Kōji Yusa (Shadow) | Rumi Ochiai (Rouge) | Taiten Kusunoki (Omega) | Daisuke Ono (Silver) | Kenta Miyake (Vector) | Yūki Masuda (Espio) | Yōko Teppōzuka (Charmy) | Jōji Nakata (Zavok) | Mitsuo Iwata (Orbot) | Wataru Takagi (Cubot) | Fumihiko Tachiki (Narrator)
Music
Songs
Fading World | Fighting Onward | Fist Bump | Infinite | Justice | Moonlight Battlefield | Nowhere to Run | Rhythm And Balance | Set in Motion | Supporting Me | The Light of Hope | Virtual Enemies
Albums
Sonic Forces Original Soundtrack - A Hero Will Rise | Sonic Forces Vocal Traxx - On The Edge | Sonic Forces Hi-Res Collection | Sonic Forces Original Soundtrack The Vinyl Cutz
Other
Boost Gauge | Chaos Control | Challenge Mission | Daily Mission | Death Crab | Death Egg | Death Egg Robot | Death Egg Robot sentinel | Death Queen | Egg Dragoon | Egg Mobile | Eggman Army | Eggman Empire | Eggman Fleet | Experience | Health Gauge | Jackal Squad | Mega Mack | Miles Electric | Operation Big Wave | Phantom Ruby | Phantom Ruby prototype | Real-Time Interaction | Replica | Resistance HQ | Sandworm | Skill | Sonic Forces digital comic (Moment of Truth, Stress Test, Looming Shadow, Rise of Infinite) | Sonic Forces: Speed Battle | SOS Mission | Time Over | War to Take Back the Planet | Winding Tunnel | Wisp Gauge
Community content is available under
CC-BY-SA
unless otherwise noted.