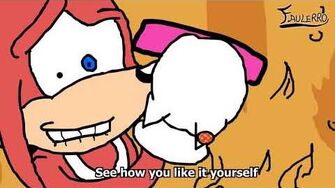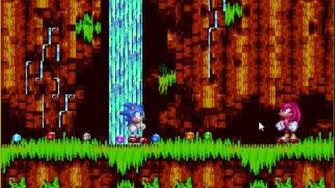 There's a song that should've been found in the beginning Sonic the Hedgehog 3 sung by Knuckles as Sonic and Tails reached to Angel Island the first time Sonic met his first Rival, Knuckles.
Plot
As Sonic and Tails on the Tornado arrived in Angel Island, Sonic engaged into his Super Form. He was too busy looking for Eggman who invaded the island, when suddenly, Knuckles attacked and scolded him for infiltrating Angel Island, which is Knuckles' home, and for stealing the seven Chaos Emeralds, which Knuckles stole back. Knuckles told Sonic to leave the island. Sonic, however told him to give the emeralds back, but Knuckles refuses and flees.
Lyrics
Classic Knuckles:
How dare you try to infiltrate my home
In hope you may steal my precious jewels
The Chaos Emeralds belong to me
You shall perish if you break my rules
I'll take these gems of yours
See how you like it yourself
Now leave this island, you spiky little fiend
If you know what's good for your health
Classic Sonic:
(Hey! Give those back!)
Classic Knuckles:
Nooooo
Trivia
Notice the one goof and new animations from the SFM video.
This might be the first time a character has sang a song other than any performer in real life.
This is the second time Classic Sonic talks. (The first being was Sonic the Hedgehog CD.)

This is also the first time Classic Knuckles talks, but sings.
Community content is available under
CC-BY-SA
unless otherwise noted.