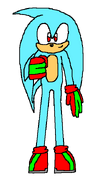 I am officially back from my hiatus! :)
Celebrate by liking Phys' Facebook page!!
Status
Availability:
Sonic News Network
Sonic Fanon Wiki
Facebook
deviantART
YouTube

Last uploaded August 11th, 2013
Currently Playing:
Currently Listening To:
The Place Where Dreaming Ends - Bentley Jones
PhysTheEchidna on the Sonic News Network Wiki
Hey there! I'm PhysTheEchidna, but you can just call me Phys, or by my YouTube name, cyanpiano. I joined this wiki because I believe I have a high knowledge on Sonic and all Sonic related topics. Funnily enough, as it turns out, most of my edits have been grammatical/spelling based, and I assume this is because everyone here wants to be the first to edit a page for major or new information, which means my knowledge of Sonic can't really be put to good use, however my skill in grammar can. Please notify me if you need help editing or verifying grammar, as I would be glad to help. Seeya later, maybe!
About PhysTheEchidna
I am a talented musician and mathematician (for my age). I have loved Sonic since the age of 6, when I first tried Sonic the Hedgehog 2 on a modified Mega Drive (it doesn't support cartridges, just has 6 games built-in). I use my musical skills to arrange and play Sonic music - check out my YouTube channel, cyanpiano. I try to do arrangements nobody else has done, such as Starlight Carnival, so check it out if you have the chance, I'd be very grateful! I am (if I may say so myself) a good friend who doesn't get angry and is very understanding so don't be afraid to talk to me and become my friend! I like to talk to people because nobody in my real life shares many of my common interests, but here on the wiki everyone technically shares my favorite interest - SONIC!
My Favorite Sonic Stuff
Favorite characters (in no order): Sonic, Tails, Knuckles, Silver, Metal Sonic, Espio, and Mighty (bring him back!!).
Favorite zones/levels/areas/whateveryoucallthems (in no order): Ice Cap, Lava Reef, Sky Sanctuary, Red Mountain, Crisis City, Kingdom Valley, Windmill Isle/Apotos, Rooftop Run/Spagonia, Dragon Road/Chun-Nan, Crimson Carnival/Eggmanland, and all the stages from Sonic Colors (but mostly Planet Wisp).
A lot of my favorite characters and zones come from their theme songs/BGM and others come from their look - that way I can avoid the hassle over "terrible" stage design and whatnot.
Friends on This Wiki
If I consider you a friend or you have notified me that you have put me down on your friends list, your name will be listed here. If you wish to be removed at any time, do not hesitiate to edit this page and do so yourself.
Role Models/People I Look Up To
Stuff by Me
Signature

PhysTheEchidna (talk)

Stuff by Others for Me