No one cared who I was until I put on the Mask.

— Megalodon Commando
                          RIP Megalodon Commando 2014 - 2019

Hello,

<insert name here>

. Welcome to my profile.
I'm Megalodon Commando!
Ok where to start? Ok, I'm a 23 year old male with Asperger's living in New Zealand as a farm worker hoping to get a full time job as a best selling author (mainly writing sci-fi, action or fantasy novels). I'm nearly 7 foot tall, full of Heart, into games, movies, comics, art, comedy, girls and I'm as gentle as a fantail, if you show me respect that is. But if you follow the rules of this wiki and not step out of line here, then you and me mate, we'll be really choice friends!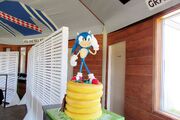 Now I've been a large fan of the Sonic franchise since the early 2000's at the age of 8 with my first ever Sonic game being Sonic Heroes and have vowed to collect almost everything Sonic releases. I mostly follow the Archie comics when Sonic games are short. I have been reading the comic since as early 2006 at age 11 and full time when I was 13. Life for me as a Sonic fan has been filled with joy and happiness through my years growing up and I say I'd drink to that!
If you want to know more about an old extinct shark like me, feel free to message me. Or catch me in the forums now and then. I don't bite, much.
I look forward to meeting you...
Interested stuff
I'm Also a fan of:
Halo
The Elder Scrolls
Fallout
Red Dead Redemption
God of War
Grand Theft Auto
Assassins Creed
Injustice: Gods among us
Rainbow 6
Star Wars games
Tomb Raider
Bioshock
Gears of War
Consoles own(ed):
Sonic games owned:
Sonic Adventure (Plus DX)
Sonic Adventure 2 (Plus Battle)
Sonic Heroes
Shadow the hedgehog
Sonic Riders
Sonic the hedgehog (2006)
Sonic Unleased
Sonic and Sega all-stars racing
Sonic Generations
Sonic Runners
Sonic Mania
Sonic Forces
Liked Movies:
Avatar
Star Wars
Lord of the rings
The Avengers
Iron Man
Batman (Batman 1989, Batman Returns, Batman Begins, The Dark Knight, The Dark Knight Rises)
X-Men
Guardians of the Galaxy
Harry Potter
Pirates of the Caribbean
The Good, The Bad and The Ugly
Transformers (1986 and 2007 films)
Wreck-it Ralph
Jackass
Terminator 2: Judgement Day
Hunt for the Wilderpeople (NZ Movie)
My favourite characters
Here are two lists of my favourite characters in the Sonic franchise. Dotted in categories of Male to Female:
My favourite male characters
Sonic the hedgehog
Silver the hedgehog (AWARDED: Best male character!)
Shadow the hedgehog
Super Sonic
Geoffrey St John
Miles "Tails" Prower
Knuckles the Echidna
Victor the crocodile
Espio the chameleon
My favourite female characters
Sally Acorn (AWARDED: Best female character)
Bunnie Rabbot
Fiona fox
Amy Rose
NICOLE
Blaze the cat
Lyco and Leeta
Lupe wolf
Mina Mongoose
Lien-Da
Tikal the echidna
Friends on this Wiki
Those who have grown close to me over time. If you made it onto this board, Congratulations! (You can add yourself if you want, but please be sensible)
Mystic Monkey
Order of the Command Block
Shadow 577421
DeCool99
UltraSonic9000
Erik.wallace.395
UltranovaXL
Personal Quotes
"You gotta go to Coromandel bro!" - If one is looking for the orange ruffee.
"Can I have a selfie please?" - favourite quote from Hunt for the Wilderpeople.
"Stay Maori bro! We need us a couple of more Maoris in this house." - yet another favourite quote from Hunt for the Wilderpeople.
"As long as you love Sonic, you're as much of a fan as the rest of us." - To Ilovejamaa74.
My Sonic Art
Community content is available under
CC-BY-SA
unless otherwise noted.