Me
Real life boring side: I am a thirteen year old, and I love to draw. I've only played sonic advance 2, and Sonic Heroes, so I don't know a lot about sonic's storyline/life. He's always been one of my favorite characters though.
Fictional fun side:
I am a black hedgehog with gold markings. My eyes are each different colors, red on left, and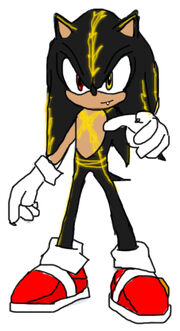 yellow on right. The most distinguishing part of me is my stripe. It runs from the start of my nose, across my back, to look like two cross belts, and around my waist like a regular belt, it splits and runs along the outside of my legs. It is gold, like hyper sonic. I have yet to make any friends. I am a boy, and sometimes grumpy. I haven't taken any sides yet, although I do think that sonic is interesting. My name is Chaos. I made the pic of me on photoshop. U can tell me how u like it if you want.
FAVE QUOTES!!! (note, this ain't all sonic)
I'm not a wannabe, I'm who I wanna be-- Hawk nelson (Friend like that) (RoX will use this too, He LOVES music)
there are creepazoids out there-- my dad
Music
I am a total music FREAK! I love music, and I happen to be listening to one of my favorite songs, 'savior' by skillet.
My fave bands:
I LOVE Skillet. They are a really cool Christian rock band. GO LOOK THEM UP ON YOU TUBE RIGHT NOW!
I REALLY like Kutless. They are, also, a Christian rock band, although, a little less heavy.
Relient K. They are a really REALLY cool Christian pop rock band, or at least, I think it's pop rock.
Red is cool too.
Other vidio games I like
I LOVE the legend of Zelda: Twilight Princess!
All spyro games (Dawn of the Dragon is great)
Smash brothers brall!
My art
Community content is available under
CC-BY-SA
unless otherwise noted.