==

The Goss on Blaze Sol==


Hi everyone! I am Blaze Sol or Dame Percival. I am Sonic's #1 fan (or more like Blaze's #1 fan)!! I'd like to be able to tell you that I am VERY much like Blaze, but she is pretty much everything I WANT to be! :)

Okay, I live in Australia, I love art, music and video games. My favourite food is macaroni cheese or anything with chicken and seafood in it. I hate anything pink.


















Favorite Sonic Characters
As you probably already guessed, my favourite Sonic character is the super-cool princess, Blaze the Cat. My second favourite is Rouge the Bat, third favourite is Sonic the Hedgehog and fourth favourite is Silver the Hedgehog. the Hedgehog. Just to make it clear, I HATE, I repeat, HATE Amy Rose! I want NOTHING to do with her!!!
Favorite Sonic Games
My most favourite game in the whole Sonic universe is Mario & Sonic at the London 2012 Olympic Games, second is Sonic Rush, third  is Sonic Heroes and fourth is Sonic Colours. I don't think I have encountered a single Sonic game that I have not liked. THEY ALL RULE!!!
Favorite Sonic Music
Vela Nova is my favourite Sonic song ever. Second is Reach For The Stars, third is We Can from Sonic Heroes and fourth is Team Chaotix from Sonic Heroes.
Sonic Games I Own
Non-Sonic Related Stuff
I'm not ONLY a Sonic fan you know. Here are some other series/books/movies I like.
Pokemon
Star Fox
Harry Potter
Power Rangers
Fantasy
Mystery
Catch-phrases
'BOOM! In your face!'
'See ya in the next life!'
Signatures
♥ User:Blaze Sol ♥ User_talk: Blaze Sol ♥ EMPERESS OF ICE AND SNOW! ♥ 08:53, February 19, 2013 (UTC)
[1]♥Blaze Sol♥[2] (This actually didn't work) (Made by Sonicpower)
Friends (if you want to be on here, just say so)
UserBoxes
| | |
| --- | --- |
| ' | This user has characters that are NOT on the wiki. |
Avatars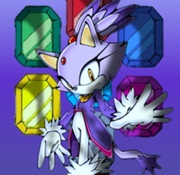 Also
If you don't mind, please sign this petition:
http://www.ipetitions.com/petition/sonic-and-pokemon-gametv-show/
Special thanks to JamesTechno998 for teaching me about profiles and DiscoDuck for making this profile look SUPER COOL! :)
Community content is available under
CC-BY-SA
unless otherwise noted.