For the category, see Category:Turtles.
The Turtle is a gimmick that appears in Sonic Adventure 2 and Sonic the Hedgehog (2006). They are large, non-anthropomorphic, turtles that live in water and are a natural part of the fauna on earth. In gameplay, they can be used to transport through bodies of water.
Description
The Turtles look exactly the same as freshwater turtles in the real world. They have flippers for legs, round and sturdy shells and completely dark blue or brown eyes. While their skin color is fairly consistent, being pale beige with hints of green, the colors of their shells differs between games; in Sonic Adventure 2 they are dark green and in Sonic the Hedgehog (2006) they are brown. However, what set them apart from regular turtles are their colossal sizes, as they can be so large that they can carry up to several people on their backs.
In gameplay, the Turtle's purpose is to help the player reach locations far into the bottomless waters or gain access to otherwise unreachable areas through water routes.
Game appearances
Sonic Adventure 2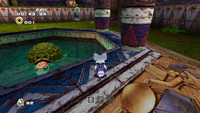 In Sonic Adventure 2 and its remake Sonic Adventure 2: Battle, the Turtles are slightly larger than the size of a small rowing boat. They are found exclusively in Dry Lagoon where one can transport the player to different sections of the Stage through different pools.
When beginning the Stage, the Turtle is usually surrounded by robots on land, keeping it from the pool. Destroying the robots allows the Turtle to crawl back into the pool where the player can interact with it. To use it in gameplay, the player must jump onto its shell and press the action button to have it transport the player to another pool.
Sonic the Hedgehog (2006)
In Sonic the Hedgehog (2006), the Turtles are much larger, at least three-four times bigger than they were in Sonic Adventure 2, and they have grass and moss growing on them.
In this game, the Turtles act more as floating platforms which the player can use to ride across bottomless waters. To use them in gameplay, the player just has to jump onto their shells and they will start moving. In some cases, the Turtles will not appear until the player hits a fruit in a sprig which will cause them to emerge and eat the fruit.[1] The player can also cause the Turtle to hide in the water by using a Homing Attack on its head.
Trivia
At Ocean Palace in Sonic Heroes, there is a section of the Stage with a school of large turtles carrying fairly large platforms on their backs which the player must travel across to complete the Stage. However, they are only a part of the environment and cannot be interacted with.
Gallery
References
---
Main article | Scripts (Hero, Dark, Last) | Staff | Manuals | Glitches | Beta elements | Gallery | Pre-releases (The Trial) | Re-releases (Battle, 2012)
Playable characters
Hero
Sonic (Super Sonic) | Tails | Knuckles
Dark
Shadow (Super Shadow) | Rouge | Eggman
Misc.
Amy* | Big*^ | Chao Walker* | Chaos* | Dark Chao Walker* | Metal Sonic* | Tikal*
Non-playable characters
Chao (Chao Principal, Chaolin, Chaoko, Chaos Chao, Chaosky, Dark Chao, Dinner, Happy, Hero Chao, Wacky) | Gerald | Maria | President | Scorpion Troop | Secretary | Sigma-Alpha 2 | Spider Troop | Researcher | Animals (Bat, Bear, Boar, Cheetah, Condor, Dragon, Gorilla, Half Fish, Parrot, Peacock, Penguin, Phoenix, Rabbit, Raccoon, Seal, Sea Otter, Sheep, Skeleton Dog, Skunk, Tiger, Unicorn)
Stages
Hero
City Escape | Wild Canyon | Prison Lane | Metal Harbor | Green Forest | Pumpkin Hill | Mission Street | Aquatic Mine | Route 101 | Hidden Base | Pyramid Cave | Death Chamber | Eternal Engine | Meteor Herd | Crazy Gadget | Final Rush
Dark
Iron Gate | Dry Lagoon | Sand Ocean | Radical Highway | Egg Quarters | Lost Colony | Weapons Bed | Security Hall | White Jungle | Route 280 | Sky Rail | Mad Space | Cosmic Wall | Final Chase
Misc.
Cannon's Core | Green Hill
2P Stages
Downtown Race | Grind Race | Planet Quest | Pool Quest | Deck Race | Pyramid Race
Enemies
G.U.N.
Blue Eagle | Bomb Beetle | Bomb Wing | Gold Beetle | Gun Hawk | Gun Beetle | Gun Hawk | Gun Hunter | Gun Wing | Hornet-3 | Hornet-6 | Hornet-9 | Laser Hawk | Laser Hornet | Laser Hunter | Mono Beetle | Phoenix | Rhino Cannon | Rhino Jet | Rhino Metal | Rhino Spike | Shield Hunter | Sky Hawk | Spark Beetle | Spring Beetle
Badniks
Buzz Bomber | Chopper | E-1000 | Gola | Unidus | Kiki
Misc.
Artificial Chaos (Artificial Chaos P-1, Artificial Chaos P-100, Cell, Float Type, Guard Type) | Boo | Boom Boo
Bosses
B-3x Hot Shot | Biolizard | Dr. Eggman | Egg Golem | F-6t Big Foot | Finalhazard | King Boom Boo | Knuckles | R-1/A Flying Dog | Rouge | Shadow | Sonic | Tails
Moves/Techniques
Amy Flash* | Black Shield* | Black Wave* | Booming Missile* | Bounce Attack | Captive Light* | Chaos Bind* | Chaos Control | Chaos Impact* | Chaos Screw* | Chaos Spear | Chaos Strike* | Charm Ray* | Crazy Rush* | Crouch | Dark Finish* | Dark Omochao* | Dig | Drill Claw | Drill Drive | Fire Somersault | Glide | Grind Step | Grinding | Hammer Punch* | Heaven's Justice* | Hell Bomber* | Hip Drop* | Hover | Homing Attack | Jump Dash | Kick/Kick Attack | Knuckle Spin* | Laser Missile* | Light Attack | Light Speed Dash | Lock-on | Lock-On Missile | Magic Hands | Omochao | Pick | Power Flash* | Power Laser* | Propeller Punch | Punch (Eggwalker) | Punch/Punch Attack | Rocket Launcher | Rumble Launcher* | Screw Kick | Somersault | Sonic Wind* | Speed Up* | Spin Jump | Spin Dash | Spiral Upper | Storming Heart* | Super Sonic Boost | Swim | Thunder Arrow* | Time Stop* | Volkan Cannon | Wrath of Gaia* | Zap Laser*
Gimmicks and obstacles
Ancient Ruin | Ball Switch | Bungie Vine | Dash Panel | Dynamite | Egg Beetle | Gravity Control Switch | Green energy fluid | Grind Rail | GUN Military Truck | High-speed warp tube | Hint Box | Hourglass | Iron ball | Jump Plate | Laser field | Missile | Pipe | Point Marker | Propeller Spring | Pulley | Ramp | Rocket | Safe | Sinking pool | Spikes | Spinning drum | Swing Bar | Time Stop Switch | Turtle | Warp Hole | Warp Wall | Weight | Wide spring
Items
General
Air Bubble | Balloon | Chao Egg | Chao Key | Chaos Emerald | Chaos Drive | Car | Container (Cage, Chao Container, Steel Container, Unbreakable Container, Wooden Container) | Emblem | Emerald Shard | Gate key | Goal Ring | Item Box (5 Rings, 10 Rings, 20 Rings, Bomb, Extra Life, Health, High-Speed Shoes, Invincibility, Magnetic Shield, Shield) | Key Stone (Gate Key) | Meteorite | Outfit | Ring | Snowboard
Level Up Items
Air Necklace | Air Shoes | Ancient Light | Bazooka | Booster | Bounce Bracelet | Flame Ring | Hammer Gloves | Iron Boots | Jet Engine | Large Cannon | Laser Blaster | Light Speed Shoes | Magic Gloves | Mystic Melody | Pick Nails | Protective Armor | Shovel Claw | Sunglasses | Treasure Scope
English voice actors
Ryan Drummond (Sonic) | Connor Bringas (Tails) | Scott Dreier (Knuckles, GUN Soldiers) | Jennifer Douillard (Amy) | David Humphrey (Shadow) | Lani Minella (Rouge, Omochao) | Deem Bristow (Eggman) | Moriah Angeline (Maria) | Marc Biagi (Gerald, GUN Soldiers) | Steve Broadie (President) | Shelly Fox (Default menu voice) | Jon St. John (Big) | Elara Distler (Tikal) | Tomoko Sasaki (Chao)
Japanese voice actors
Jun'ichi Kanemaru (Sonic) | Kazuki Hayashi (Tails) | Nobutoshi Canna (Knuckles) | Taeko Kawata (Amy) | Kōji Yusa (Shadow) | Rumi Ochiai (Rouge) | Chikao Ōtsuka (Eggman, Gerald) | Etsuko Kozakura (Omochao) | Yuri Shiratori (Maria) | Kinryū Arimoto (President) | Shun Yashiro (Big) | Shelly Fox (Default menu voice) | Tomoko Sasaki (Chao)
Music
Songs
"A Ghost's Pumpkin Soup" | "Believe In Myself" | "Deeper" | "Dive into the Mellow" | "E.G.G.M.A.N." | "Escape from the City" | "Fly in the Freedom" | "For True Story" | "It Doesn't Matter" | "Kick the Rock!" | "Live and Learn" | "My Sweet Passion" | "Rhythm And Balance" | "Space Trip Steps" | "Supporting Me" | "The Supernatural" | "Throw It All Away" | "Unknown from M.E." | "Vengeance is Mine"
Albums
Multi-Dimensional Sonic Adventure 2 Original Sound Track | Passion & Pride: Anthems with Attitude from the Sonic Adventure Era | Sonic Adventure 2 Battle - Sampler | Sonic Adventure 2 Official Soundtrack | SONIC ADVENTURE 2 OFFICIAL SOUNDTRACK VINYL EDITION | Sonic Adventure 2 Original Soundtrack 20th Anniversary Edition | Sonic Adventure 2 Vocal Collection: Cuts Unleashed
Other
2G Hi-Speed Shoes | Altar of Emerald | Angel Island | Auto Running | Black Market | Central City | Chao Adventure 2^ | Chao Garden (Dark, Hero, Neutral) | Chao in Space | Chao Kindergarten | Chao Lobby | Chao Machine | Chao Race | Chao Stadium | Chao Transporter^ | Chao World | Corkscrew | Cyclone | Eclipse Cannon | Eggman Bombom | Eggwalker | Emerald Radar | Fake Emerald | Game Over | Gerald Robotnik's diary | Health Gauge | Kart Race | Life | Loop | Master Emerald | Prison Island | Project Shadow | Rank | Space Colony ARK | Station Square | Teleporter | Totem pole | Tunnel | Water

*Appears or is playable in only the 2P mode
^Appears in only the original Dreamcast version
---
Main article | Script (Sonic, Shadow, Silver, Last) | Staff | Manuals | Glitches | Beta elements | Gallery
Playable characters
Sonic (Super Sonic) | Tails | Knuckles | Shadow (Super Shadow) | Rouge | Omega | Silver (Super Silver) | Blaze | Amy
Non-playable characters
Accordion Player | Adrianna | Alan | Alberto Robert | Alfano | Anna | Antonio | Aristo | Berruni | Bishop | Claudia | Dante | Eggman | Duchess of Soleanna | Duke of Soleanna | Elkan | Frances | Francesca | GUN Soldier | Galienna | Gina | Hatsun | Herman | Iblis | Ken Williams | Ladies-in-waiting | Liza | Lord Regis | Mancini | Mels | Mephiles (Mephiles's monstrous form) | Mikhail | Nicolo | Paganini | Parr | Pele | Pinto | Porta | Priest | Princess Elise the Third | Prodi | Puccini | Renzo | Roberta | Rossi | Sabrina | Sandro | Solaris | Soleanna Boys (Pucci) | Soleanna Royal Guards (Alessio, Fabio, Giorgio, Guido, Pietro) | Solomon | Solsaliente (Monica) | Sonic Man | Sophia | Zof
Action Stages
Wave Ocean | Dusty Desert | White Acropolis | Crisis City | Flame Core | Radical Train | Tropical Jungle | Kingdom Valley | Aquatic Base | End of the World
Town Stages
Soleanna Castle Town | Soleanna New City | Soleanna Forest
DLC Stages
Sonic Boss Attack | Shadow Boss Attack | Silver Boss Attack | Team Attack Amigo
Town Missions
Sonic
1 | 2 | 3 | 4 | 5 | 6 | 7 | 8 | 9 | 10 | 11 | 12 | 13 | 14 | 15 | 16 | 17 | 18 | 19 | 20
Shadow
1 | 2 | 3 | 4 | 5 | 6 | 7 | 8 | 9 | 10 | 11 | 12 | 13 | 14 | 15
Silver
1 | 2 | 3 | 4 | 5 | 6 | 7 | 8 | 9 | 10 | 11 | 12 | 13 | 14 | 15 | 16 | 17 | 18
Enemies
Eggman's mechs
Egg Armor | Egg Bomber | Egg Buster | Egg Buster (Egg Gunner) | Egg Cannon | Egg Chaser | Egg Commander | Egg Flyer | Egg Guardian | Egg Gunner | Egg Hunter | Egg Keeper | Egg Lancer | Egg Liner | Egg Rounder | Egg Searcher | Egg Stinger | Egg Sweeper | Egg Walker
Iblis's Minions
Gazer | Golem | Iblis Biter | Iblis Taker | Iblis Worm | Shadows | Stalker | Titan | Tricker
Bosses
Egg-Cerberus | Egg-Genesis | Egg-Wyvern | Iblis | Mephiles | Shadow | Silver | Solaris | Sonic
Moves/Techniques
Arrow of Light | Accelerator Tornado | Attack | Blast Jump | Bomb | Bomb Snipe | Bound Jump | Chaos Attack | Chaos Boost (Chaos Blast, Chaos Lance, Chaos Snap) | Chaos Spear | Climb | Custom Action (Gun Drive, Homing Smash, Mach Speed, Scale, Slow, Thunder Guard, Tornado) | Crouch | Double Jump | Dummy Ring Blitz | Dummy Ring Bomb | Dummy Ring Snipe | Edge Attack | Fire Claw | Fly | Glide | Grab All | Ground Shaker | Hammer Attack | Heart Mine | Hold Smash | Homing Attack | Hover | Invisibility | Jump Dash | Levitate | Light Dash | Lock-On Shot | Omega Launcher | Omega Shot | Psychokinesis | Psycho Shock | Psycho Smash | Punch Attack | Screwdriver | Shield of Light | Sliding Attack | Spear of Light | Spin Dash | Spin Jump | Spin Kick | Spinning Claw | Teleport Dash | Turbo Boost | Wall Jump | Wings of Light
Vehicles
Bike | Buggy | Hover Craft | Glider
Gimmicks and obstacles
Bungee Rope | Conveyor Belt | Cylinder | Eagle | Eye of Solaris | Hanging Bell | Hint Ring | Horizontal Bar | Jump Panel | Laser field | Lotus | Mechanical Ring | Mirror of Soleanna | Orb statue | Orca | PK mark | Purple orb | Point Marker | Pulley | Rainbow Ring | Silver Sphere | Sphere | Spiked bar | Spotlight | Spring | Switch | Tightrope | Trick Jump Panel | Turtle | Vine | Warp Hole | Wide spring | Wind switch
Items
General
Apple | Barrel | Chaos Drive | Car | Container (Blue crate, Case, Explosive crate, Steel Container, Wooden Container) | Custom Shoes | Dummy Ring | Explosion Trap | Goal Ring | Heart bomb | Item Box (Extra Life, Gauge Up, High Speed, Invincible, Rings) | Key | Light Core | Medal | Minecart | Ring | Snowboard
Level Up Items
Air Chip | Antigravity | Bounce Bracelet | Gem (Blue Gem, Green Gem, Purple Gem, Rainbow Gem, Red Gem, Sky Gem, White Gem, Yellow Gem) | Heart of Wind | Light Chip | Memory Shard (black) | Memory Shard (blue) | Memory Shard (red) | Power Bracelet | Shock Bracelet | Single-Layered Extreme
English voice actors
Jason Griffith (Sonic, Shadow) | Pete Capella (Silver) | Lacey Chabert (Elise) | Mike Pollock (Eggman, Narrator) | Amy Palant | (Tails, Ladies-in-waiting) | Lisa Ortiz (Amy, Ladies-in-waiting) | Bella Hudson (Blaze) | Dan Green (Knuckles, Mephiles, Solaris Project scientists) | Kathleen Delaney (Rouge) | Maddie Blaustein (Omega) | David Wills (Duke, G.U.N communitcator)
Japanese voice actors
Jun'ichi Kanemaru (Sonic) | Kōji Yusa (Shadow) | Daisuke Ono (Silver) | Maaya Sakamoto (Elise) | Chikao Ōtsuka (Eggman) Kenji Utsumi (Narrator, Duke) | Ryō Hirohashi (Tails) | Hikari Yono (Ladies-in-waiting) | Nao Takamori (Blaze) | Nobutoshi Canna (Knuckles) | Takayuki Sakazume (Mephiles) | Keiji Okuda (Solaris Project scientist, G.U.N. communicator) | Yoshikazu Kozuma (Solaris Project scientist) | Rumi Ochiai (Rouge) | Taeko Kawata (Amy) | Taiten Kusunoki (Omega)
Music
Songs
"All Hail Shadow" | "Dreams of an Absolution" | "His World" | "My Destiny" | "Solaris Phase 1" | "Sweet Dreams AKON Mix"
Albums
Sonic the Hedgehog Original Soundtrack | Sonic the Hedgehog Vocal Traxx: Several Wills
Other
Action Gauge | Auto Running | Chao in Space | Day of Disaster | Dual Chaos Control | Eggman's chair | Egg Carrier | Egg train | Festival of the Sun | Havok | Health Gauge | Life | Loop | Rank | Rimlight | Scepter of Darkness | Shop | Soleanna | Solaris Project | Sonic the Hedgehog CHAOS CRUSH! | Super-Speed Stage | Water