For the move in Sonic R, see Turbo Boost (Sonic R).
The Turbo Boost[1] is a move that appears in the Sonic the Hedgehog series. It is a simpler version of the Super Sonic Boost where a Super State user performs small midair dashes.
Description
When performing the Turbo Boost, a Super State-user surrounds himself in his aura and makes a short midair dash in one direction at incalculable speeds. Unlike the Super Sonic Boost however, the Turbo Boost does not pack nearly as much power, nor does it cover nearly the same amount of distance.
In gameplay, the Turbo Boost allows the player to move in any direction along the screen with short dashes, except for forward and backward. This is useful for avoiding an opponents' attacks or moving around faster. However, this move is purely for increasing movement speed and cannot be used offensively, nor does it allow the player to pass through attacks unharmed, unlike the Super Sonic Boost.
Game appearances
Sonic the Hedgehog (2006)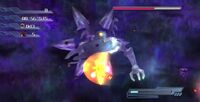 The Turbo Boost first appeared in Sonic the Hedgehog (2006) where it is only usable by Super Sonic, Super Shadow and Super Silver during the battle against Solaris. To use it in gameplay, the player must press and hold
/

, or press it intermittently while using the control stick to determine the dash's direction. Additionally, the player can use the playable character's main attack while using this move, giving them extensive maneuverability while charging their attacks, although Silver cannot use it while using his Shield of Light.
Sonic Unleashed
In the Wii/PlayStation 2 version of Sonic Unleashed, the Turbo Boost is only usable by Super Sonic during the battle with Perfect Dark Gaia, and is more akin to a midair version of the Quick Step. To use it in gameplay, the player must perform the following actions while directing the dash with the control stick:
PS2
Wii
Wii
Remote
Classic
Controller
GameCube
controller
Press /
Press
Press /
Press /
References
↑ Black, Fletcher (14 November 2006). "Last Episode • Boos Battle: Solaris".

Sonic the Hedgehog: Official Game Guide

. Prima Games. pp. 320. ISBN 978-0761555100. "All three hedgehogs have a Turbo Boost that they can use while flying around Solaris to help dive away from incoming attacks, such as Spiked Balls or Laser Blasts."
---
Main article | Script (Sonic, Shadow, Silver, Last) | Staff | Manuals | Glitches | Beta elements | Gallery
Playable characters
Sonic (Super Sonic) | Tails | Knuckles | Shadow (Super Shadow) | Rouge | Omega | Silver (Super Silver) | Blaze | Amy
Non-playable characters
Accordion Player | Adrianna | Alan | Alberto Robert | Alfano | Anna | Antonio | Aristo | Berruni | Bishop | Claudia | Dante | Eggman | Duchess of Soleanna | Duke of Soleanna | Elkan | Frances | Francesca | GUN Soldier | Galienna | Gina | Hatsun | Herman | Iblis | Ken Williams | Ladies-in-waiting | Liza | Lord Regis | Mancini | Mels | Mephiles (Mephiles's monstrous form) | Mikhail | Nicolo | Paganini | Parr | Pele | Pinto | Porta | Priest | Princess Elise the Third | Prodi | Puccini | Renzo | Roberta | Rossi | Sabrina | Sandro | Solaris | Soleanna Boys (Pucci) | Soleanna Royal Guards (Alessio, Fabio, Giorgio, Guido, Pietro) | Solomon | Solsaliente (Monica) | Sonic Man | Sophia | Zof
Action Stages
Wave Ocean | Dusty Desert | White Acropolis | Crisis City | Flame Core | Radical Train | Tropical Jungle | Kingdom Valley | Aquatic Base | End of the World
Town Stages
Soleanna Castle Town | Soleanna New City | Soleanna Forest
DLC Stages
Sonic Boss Attack | Shadow Boss Attack | Silver Boss Attack | Team Attack Amigo
Town Missions
Sonic
1 | 2 | 3 | 4 | 5 | 6 | 7 | 8 | 9 | 10 | 11 | 12 | 13 | 14 | 15 | 16 | 17 | 18 | 19 | 20
Shadow
1 | 2 | 3 | 4 | 5 | 6 | 7 | 8 | 9 | 10 | 11 | 12 | 13 | 14 | 15
Silver
1 | 2 | 3 | 4 | 5 | 6 | 7 | 8 | 9 | 10 | 11 | 12 | 13 | 14 | 15 | 16 | 17 | 18
Enemies
Eggman's mechs
Egg Armor | Egg Bomber | Egg Buster | Egg Buster (Egg Gunner) | Egg Cannon | Egg Chaser | Egg Commander | Egg Flyer | Egg Guardian | Egg Gunner | Egg Hunter | Egg Keeper | Egg Lancer | Egg Liner | Egg Rounder | Egg Searcher | Egg Stinger | Egg Sweeper | Egg Walker
Iblis's Minions
Gazer | Golem | Iblis Biter | Iblis Taker | Iblis Worm | Shadows | Stalker | Titan | Tricker
Bosses
Egg-Cerberus | Egg-Genesis | Egg-Wyvern | Iblis | Mephiles | Shadow | Silver | Solaris | Sonic
Moves/Techniques
Arrow of Light | Accelerator Tornado | Attack | Blast Jump | Bomb | Bomb Snipe | Bound Jump | Chaos Attack | Chaos Boost (Chaos Blast, Chaos Lance, Chaos Snap) | Chaos Spear | Climb | Custom Action (Gun Drive, Homing Smash, Mach Speed, Scale, Slow, Thunder Guard, Tornado) | Crouch | Double Jump | Dummy Ring Blitz | Dummy Ring Bomb | Dummy Ring Snipe | Edge Attack | Fire Claw | Fly | Glide | Grab All | Ground Shaker | Hammer Attack | Heart Mine | Hold Smash | Homing Attack | Hover | Invisibility | Jump Dash | Levitate | Light Dash | Lock-On Shot | Omega Launcher | Omega Shot | Psychokinesis | Psycho Shock | Psycho Smash | Punch Attack | Screwdriver | Shield of Light | Sliding Attack | Spear of Light | Spin Dash | Spin Jump | Spin Kick | Spinning Claw | Teleport Dash | Turbo Boost | Wall Jump | Wings of Light
Vehicles
Bike | Buggy | Hover Craft | Glider
Gimmicks and obstacles
Bungee Rope | Conveyor Belt | Cylinder | Eagle | Eye of Solaris | Hanging Bell | Hint Ring | Horizontal Bar | Jump Panel | Laser field | Lotus | Mechanical Ring | Mirror of Soleanna | Orb statue | Orca | PK mark | Purple orb | Point Marker | Pulley | Rainbow Ring | Silver Sphere | Sphere | Spiked bar | Spotlight | Spring | Switch | Tightrope | Trick Jump Panel | Turtle | Vine | Warp Hole | Wide spring | Wind switch
Items
General
Apple | Barrel | Chaos Drive | Car | Container (Blue crate, Case, Explosive crate, Steel Container, Wooden Container) | Custom Shoes | Dummy Ring | Explosion Trap | Goal Ring | Heart bomb | Item Box (Extra Life, Gauge Up, High Speed, Invincible, Rings) | Key | Light Core | Medal | Minecart | Ring | Snowboard
Level Up Items
Air Chip | Antigravity | Bounce Bracelet | Gem (Blue Gem, Green Gem, Purple Gem, Rainbow Gem, Red Gem, Sky Gem, White Gem, Yellow Gem) | Heart of Wind | Light Chip | Memory Shard (black) | Memory Shard (blue) | Memory Shard (red) | Power Bracelet | Shock Bracelet | Single-Layered Extreme
English voice actors
Jason Griffith (Sonic, Shadow) | Pete Capella (Silver) | Lacey Chabert (Elise) | Mike Pollock (Eggman, Narrator) | Amy Palant (Tails, Ladies-in-waiting) | Lisa Ortiz (Amy, Ladies-in-waiting) | Bella Hudson (Blaze) | Dan Green (Knuckles, Mephiles, Solaris Project scientists) | Kathleen Delaney (Rouge) | Maddie Blaustein (Omega) | David Wills (Duke, G.U.N communitcator)
Japanese voice actors
Jun'ichi Kanemaru (Sonic) | Kōji Yusa (Shadow) | Daisuke Ono (Silver) | Maaya Sakamoto (Elise) | Chikao Ōtsuka (Eggman) | Kenji Utsumi (Narrator, Duke) | Ryō Hirohashi (Tails) | Hikari Yono (Ladies-in-waiting) | Nao Takamori (Blaze) | Nobutoshi Canna (Knuckles) | Takayuki Sakazume (Mephiles) | Keiji Okuda (Solaris Project scientist, G.U.N. communicator) | Yoshikazu Kozuma (Solaris Project scientist) | Rumi Ochiai (Rouge) | Taeko Kawata (Amy) | Taiten Kusunoki (Omega)
Music
Songs
"All Hail Shadow" | "Dreams of an Absolution" | "His World" | "My Destiny" | "Solaris Phase 1" | "Sweet Dreams AKON Mix"
Albums
Sonic the Hedgehog Original Soundtrack | Sonic the Hedgehog Vocal Traxx: Several Wills
Other
Action Gauge | Auto Running | Chao in Space | Day of Disaster | Dual Chaos Control | Eggman's chair | Egg Carrier | Egg train | Festival of the Sun | Havok | Health Gauge | Life | Loop | Rank | Rimlight | Scepter of Darkness | Shop | Soleanna | Solaris Project | Sonic the Hedgehog CHAOS CRUSH! | Super-Speed Stage | Water
---
Main article | Script | Credits | Glitches | Beta elements | Gallery
Playable characters
Sonic (Super Sonic, Sonic the Werehog) | Gaia Colossus
Non-playable characters
Apotos
Alexis | Anastasia | Eric | Gregorios | Hot Dog Vendor | Ice Cream Vendor | Lambros | Lucas | Milos | Sandra
Spagonia
Aida | Barbara | Ciccio | David | Denise | Dora | Elio | Federica | Franco | Gigi | Hot Dog Vendor | Ippolita | Irma | Josef | Lilli | Lucia | Marcantonio | Mauro | Natalia | Otto | Professor Pickle | Professor Pickle's Assistant | Raimondo
Mazuri
Ana | Essie | Gwek | Hog Dog Vendor | Kofi | Kwami | Kwod | Yawa | Yaya
Chun-nan
Chun | Hot Dog Vendor | Hualin | Jinlin | Lin | Shuifon | Wang | Yilin | Zonshen
Holoska
Hot Dog Vendor | Jari-Pekka | Jari-Thure | Marketa | Sarianna | Ursule
Shamar
Ara | Dimah | Ehsan | Erhan | Hizir | Hot Dog Vendor | Iman | Labib | Latif | Layla | Mufid | Musaid | Raniya | Sa'id | Sadiq | Safi | Samia | Sammar | Shadi | Utba | Yasmine
Empire City
Boss | Brenda | Charles | Def Big | Elizabeth | Hot Dog Vendor | Li'l Kate | Louie Montaine | Robert
Adabat
Hot Dog Vendor | Jamal | Kaeo | Nagi | Rudi | Teanchai
Eggmanland
EF-DC1998 | EF-MD1991 | EF-XB2006 | Hot Dog Vendor
Misc.
Amy | Chip | Dark Gaia (Perfect Dark Gaia) | Dr. Eggman | Tails | SA-55 | Su | Uh | Wentos
Town Stages
Apotos | Mazuri | Spagonia | Chun-nan | Holoska | Shamar | Empire City | Adabat | Eggmanland
Action Stages
Windmill Isle | Savannah Citadel | Rooftop Run | Dragon Road | Cool Edge | Arid Sands | Skyscraper Scamper | Jungle Joyride | Eggmanland | Tornado Defense
Enemies
Eggman's Machinery
Aero-Cannon | Aero-Chaser | Egg Blizzard | Egg Burst | Egg Fighter | Egg Fighter: Knight (Electric shield, Spring shield) | Egg Fighter: Shield (Electric shield, Spring shield) | Egg Fighter: Sword | Egg Flame | Egg Launcher (H) | Egg Launcher (H+V) | Egg Launcher (V) | Egg Shackle | Egg Shooter | Egg Typhoon | Gold Aero-Cannon | Interceptor | Little Fighter | Mole Cannon | Spinner | Thunder Ball | Thunder Spinner
Dark Gaia's minions
Big Mother | Cure Master | Dark Bat | Dark Bat Sniper | Dark Eel | Dark Fright | Deep Nightmare | Evil Flower | Fire Master | Fright Master | Killer Bee | Lightning Master | Little Rex | Nightmare | Power Master | Red Fright | Red Killer Bee | Red Rex | Thunder Bat | Titan
Bosses
Egg Beetle | Egg Cauldron | Egg Devil Ray | Egg Dragoon | Egg Lancer | Dark Gaia | Dark Gaia Phoenix | Dark Guardian | Dark Moray | Perfect Dark Gaia
Moves/
Techniques
Sonic
Air Boost | Cartwheel | Crouch | Foot Sweep | Grind Step | Grinding | Homing Attack | Hop | Jump Dash | Lightspeed Dash | Slide | Skydiving | Sonic Boost | Sonic Drift | Spin Jump | Stomp | Quick Step | Wall Jump
Werehog
Dash | Double Jump | Grab | Guard | Unleashed Mode | Wall Shuffle
Misc.
Boost | Drill Attack | Super Sonic Boost | Turbo Boost
Skills
Straight
attacks
Donkey Kick Combo | Double Axle Combo | Double Kick Combo | Feral Were-Hammer | Knuckle Sandwich Combo | Sho-Hog-Ken | Unleashed Knuckle Sandwich | Vertical Were-Hammer | Were-Hammer | Werewheel Rush
Hook
attacks
Earthshaker | Egg Scrambler | Feral Wild Whirl | Rolling Kick Combo | Sho-Claw-Ken | Ultimate Wild Combo | Unleashed Wild Combo | Wereclap | Wild Whirl | Wild Whirl Were-Hammer
Aerial
attacks
Aerial Claw Slash | Aerial Claw Slash and Spin | Aerial Piledriver | Crescent Moon Strike | Diving Bodypress | Flying Double-Punch | Flying Double-Punch Crush | Hurricane Combo | Shooting Star Combo | Typhoon Combo
Special
attacks
Comet Punch | Missile Punch | Spinning Needle Attack | Tricky Tornado Uppercut | Triple Wild Claw | Were-Claw Charge | Were-Cyclone | Were-Rush | Were-Tornado | Wild Werewhip
Gimmicks and obstacles
Balloon | Blue spring | Bobsled | Bomb | Buoy | Check Point | Conveyor Belt | Crane Lift | Crank | Dash Panel | Dash Rail | Dash Ring | Door | Fountain | Grind Rail | Hanging vine | Hint Ring | Horizontal Bar | Hourglass | Icicle | Iron ball | Jump Selector | Laser field | Lever | Movable box | Moving Crate | Rainbow Ring | Ramp | Snowblower | Spike Trap | Spikes | Springboard/Spring | Springpole | Switch | Thorn Spring | Trap Spring | Trick Jump Panel | Wide spring | Zip Line
Items
General
1UP | 5 Ring Bonus | Art Book | Audio System | Blue Tea | Bookshelf | Boss Gate | Chaos Orb | Container (Explosive crate, Steel Container, Wooden Container) | Crystal Ball | Dark Gaia Force | Edible item (Apple, Banana, Canned Juice, Chai, Chili Dog, Donut, Sundae Supreme) | Gaia Gate | Gaia Key | Goal Ring |

Gift

| Gramophone | Green Tea | Key Stone | Lovely Ring | Maiden Statue | Moon Medal | Old Necklace | Pick-Me-Up |

Pretty Bouquet

| Power Shield | Record | Red Tea | Ring | Shield Charge | Souvenir | Sun Medal | Super Claw | Super Ring | Turquoise Tea | TV | Videotape | Violet Tea | White Tea | Yellow Tea
Level Up Items
Air Boost Shoes | Light Speed Dash Shoes | Stomping Shoes | Wall Jump Shoes
English voice actors
Jason Griffith (Sonic, Werehog, Prof. Pickle's Assistant) | Amy Palant (Tails) | Lisa Ortiz (Amy) | Anthony Salerno (Chip) | Mike Pollock (Eggman, Zonshen) | Christopher Collet (SA-55) | Dan Green (Ice Cream Vendor, Prof. Pickle)
Japanese voice actors
Jun'ichi Kanemaru (Sonic) | Tomokazu Seki (Werehog) | Chikao Otsuka (Eggman) | Chō (Prof. Pickle) | Ryō Hirohashi (Tails) | Taeko Kawata (Amy) | Ryōko Shiraishi (Chip)
Music
Songs
"Endless Possibility" | "Dear My Friend"
Albums
Planetary Pieces: Sonic World Adventure Original Soundtrack
Other
Auto Running | Boost Gauge | Boost Gauge | Chao | Chaos Emerald | Chaos Energy Cannon | Chun-nan's Treasure | Collection Room | Combo | Critical Attack | Don Fachio | Dr. Eggman's chair | Earth | Eggman Fleet | Egg Dragoon | Egg Mobile | Entrance Stage | Exorcisms | Experience Point | Freeze | Gaia Manuscripts | Gaia Temple | Gaia Temple guardian | Hallowmoon | Havok | Health Gauge | Miles Electric | Mission | Real-Time Interaction | Ring Energy Gauge | Shield Gauge | Shop (Counter of Dreams 2, Eggshop, Flying Fish Beach Shop, Golden Trading Company, Josef's, Surfside Seagull Sundries, Traveling Salesman Wentos, Treeshade, Ursule's Trading Post, Wang's Emporium) | Shuttle loop | Sonic: Night of the Werehog | Sonic World Adventure (manga) | Spagonia University | SPD | Tornado-1 | Rank | Time of awakening | Unleashed Gauge