True Area 53, or Truth Area 53, is the true final Zone in Sonic Advance 2. A level set in outer space, it consists of a true final boss battle, which is fought as Super Sonic. True Area 53 can be accessed in Sonic's mode after the player defeats the final boss of XX with Sonic with all the Chaos Emeralds and beating the game with all the other characters.
Super Sonic had to fight against Dr. Eggman's newly-created mech to free a captured Vanilla and Flickies.
Description
True Area 53 is set in an outer space region close to Earth as it is present in the background.
Story
After losing to Sonic, Dr. Eggman found Cream's mother Vanilla in a meadow with some Animals and used his mech to capture them while cloaked. Sonic, Tails, Knuckles, Cream and Cheese arrived just as Eggman flew away. Cream couldn't do anything more than watch as Eggman got away with her mother and cry. Sonic, seeing Cream in tears, uses the power of the seven Chaos Emeralds to transform into Super Sonic. Sonic slyly gives Cream a thumbs up and chases after Eggman.
After the mech is defeated, the capsule containing Eggman's captives starts to fall towards the planet. Super Sonic then tries to stop its fall, but the capsule breaks while Sonic loses his Super Form and Vanilla is falling. Sonic tries to save her and manages to grab her hand just in time. Sonic makes a safe landing and Cream embraces her mother with tears in her eyes. While Tails and Knuckles watch the loving moment, Sonic runs off for another adventure.
Gameplay
Unlike any other level in Sonic Advance 2, the player controls Super Sonic who can move in all eight directions in airborne with the

and can perform the Super Sonic Boost by pressing

or

alongside a direction to boost towards the said direction, which can help avoid getting hit by the True Area 53 boss's attacks as the said move also grants temporary invulnerability against these attacks. The player must collect the numerous cluster of Rings which appear frequently in the level as the player's Ring count (initially at 50) will continually tick down over the course of the stage. Should the player's Ring count hit zero, Super Sonic will de-transform, fall off the level and die, causing the player to lose a life and has to restart the level from the beginning.
Boss
The boss fight which the level is set for is a mech controlled by Dr. Eggman capable of knocking back the player with energy projections as well as freeze and vacuum weapons that prove to be potentially dangerous as the two can drain the player's Ring count further. The player must utlize the missiles fired by the mech to damage it and towards the end of the battle, it performs a spinning attack towards the player.
Trivia
The Zone Exception from Sonic Rush is quite similar to True Area 53.
The name of this Zone may possibly be a reference to Area 51.
The music that plays in the cutscene preceding the level and boss fight is a slowed down remix of the music for the level's boss.
Gallery
Screenshots
Music
| Name | Artist(s) | Length | Music Track |
| --- | --- | --- | --- |
| Extra Zone | | 1:46 | |
Video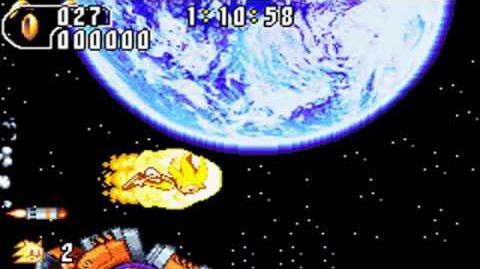 ---
Main article | Staff | Glitches | Beta elements | Gallery
Playable characters
Sonic (Super Sonic) | Tails | Knuckles | Cream | Cheese | Amy
Non-playable characters
Dr. Eggman | Vanilla | Guard Robo | Chao | Animals (Deer, Elephant, Flicky, Gorilla, Koala, Kangaroo, Lion, Mole, Parrot, Peacock, Penguin, Rabbit, Robin, Sea Otter, Seal, Skunk)
Zones
Leaf Forest | Hot Crater | Music Plant | Ice Paradise | Sky Canyon | Techno Base | Egg Utopia | XX | True Area 53 | Special Stages
Enemies
Balloon | Bell | Buzzer | Circus | Flickey | Geji-Geji | Gohla | Hammerhead | Kiki | Koura | Kubinaga | Kura-Kura | Kyura | Madillo | Mon | Mouse | Pen | Piko Piko | Spina | Star | Straw | Yado
Bosses
EggHammerTankII | Egg Bomber Tank | Egg Totem | Aero Egg | Egg Saucer | Egg-Go-Round | Egg Frog | Super Eggrobo Z | True Area 53 boss
Moves/
Techniques
General
Amy Dash | Boost Mode | Bound | Chao Attack | Chao Rolling Attack | Crouch | Double Spin Attack | Drill Claw | Double Punch | Flying | Grinding | Hammer Attack | Head Slide | Homing Attack | Jump Dash | Mid-Air Glide | Mid-Air Hammer Swirl | Propeller Flying | Spin Attack | Spin Dash | Spiral Attack | Skid Attack | Step Attack | Super Hammer Attack | Super Skid | Super Sonic Boost | Super Tails Swipe | Tail Swipe | Wall Climb
Mid-Air Trick Actions
Big Air (Happy Spring, Hop Jump, Petit Step, Spiral Upper) | Long Wind Jump (Burning Straight, Humming Top, Sweet Roll, Window Jump) | Stop 'n' Slam (Bound, Drill Claw, Mid-Air Hammer Swirl, Propeller Descent, Soft Bomber) | Quick Reverse (Back Attack, Back Rotor, Back Star, Milky Turn)
Gimmicks and obstacles
Bumper wall | Cannon | Checkpoint | Dash Panel | Fan | Gravity Control Switch | Grind Rail | Gymnastic Bar | Iron ball | Jump Panel | Pole | Rotating platform | Spikes | Spring
Items
Box (1-Up, 5 Ring Bonus, 10 Ring Bonus, Attack, Brake, Confusion, Invincibility, Maximum Speed, Mosaic, Random Ring Bonus, Ring Magnet, Shield, Warp) | Chaos Emerald | Ring | Special Ring
Other
Auto Running | Chao Bounce | Chao Search | Corkscrew loop | Freeze | Time Attack | Time Over | Tiny Chao Garden | Shuttle loop | Winding Tunnel
Community content is available under
CC-BY-SA
unless otherwise noted.