An intricately designed course intended for monkey-balling, but now converted to decide who's the ultimate speedster of the jungle. With sharp turns to take one after another, the use of drifting will be a decisive factor on this track. Banana peels are found everywhere, which is a normal racing condition in a jungle course filled with monkeys.


— Track description
Treetops is a racetrack that appears in Sonic & Sega All-Stars Racing. It is one of three tracks in the game that represent Super Monkey Ball, as well as the fourth course in the Graffiti Cup.
Overview
Drifting is essential is this winding course with numerous hairpin turns. Shortly after the starting line, orange-colored arrows point in various directions. This stalls newer players into taking time to decide which way to go. The best thing to do is probably to start out with one long slide heading into the first of those turns, then let it carry the car through several more before alternating between drifts left and right as the player navigates the tight turns typical of this stage.
After steering through most of the course's turns, things straighten out for a moment as rivals race toward a purple speed pad. Racers can zip straight over it with a boost that will carry them across a gap and keep them lined up for the narrower, ascending path ahead, or they can veer to the left and right for an item and more speed pads.
Music
For this Monkey Island-located track, these are the following tracks selectable for the course:
Monkey Island
Monkey Race
Party Game 1
Party Game 2
Ultra Heaven
Trivia
It is the shortest racetrack in Sonic & Sega All-Stars Racing.
Gallery
Video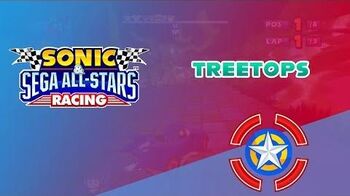 See also
---
Main article | Staff | Glitches | Gallery
Playable
characters
Sonic characters
Sonic | Tails | Knuckles | Amy | Big | Dr. Eggman | Shadow | Metal Sonic
SEGA characters
AiAi | Akira Yuki | Alex Kidd | Amigo | B.D. Joe | Beat | Billy Hatcher | ChuBach | ChuBei | Chuih | ChuPea | Jacky Bryant | Ryo Hazuki | Ulala
Third party
Xbox Live Avatar | Mii
Tracks
Chao Cup
Whale Lagoon | Icicle Valley | Roulette Road | Sunshine Tour
Graffiti Cup
Shibuya Downtown | Outer Forest | Turbine Loop | Treetops
Egg Cup
Rampart Road | Dark Arsenal | Jump Parade | Pinball Highway
Horror Cup
Sewer Scrapes | Lost Palace | Sandy Drifts | Rokkaku Hill
Samba Cup
Rocky-Coaster | Highway Zero | Deadly Route | Ocean Ruin
Monkey Cup
Bingo Party | Lava Lair | Monkey Target | Thunder Deck
DLC
Egg Hangar
Moves/
Techniques
General
Drift | Hi-Speed Start | Trick
All-Star Moves
Super Sonic | Tails Tornado | Emerald Power | Piko Hammer | Giant Froggy | Maximum Overdrive | Missile Madness | Super Shadow
Vehicles
Speed Star | Tornado Racer | Land Breaker | Pink Cabriolet | Green Hopper | Egg Monster | Dark Rider | Metal Booster | Blazing Banana | Racing Rooster | Sun Buggy | Astro Glider | De La Custom GGs | Crazy Taxi | Hotrod of Horror | Naoyuki's Motorcycle | Red Lightning | ChuChu Rocket | Get-a-Way Wagon | Sukopako Motorcycle | Bolt Bucket | Ava-car 720 | Super Zoomer
Items
Item Box (All-Star Item, Bowling Bomb, Confusing Star, Energy Shield, Giant Rocket, High Speed Shoes, K.O. Glove, Manual Rocket, Mega Horn, Mine, Pocket Rainbow) | License
Music
My Sweet Passion | Believe In Myself | Unknown from M.E. | Throw It All Away | Can You Feel the Sunshine? | A New Day | Back 2 Back | Super Sonic Racing | What U Need | Metal Scratchin' | E.G.G.M.A.N.
Other
Announcer | Boost Pad | Death Egg | Orca | Sonic Says | Totem Pole
Community content is available under
CC-BY-SA
unless otherwise noted.