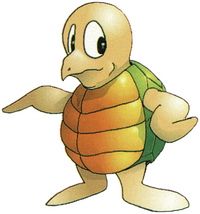 The Tocky (トッキー, Tokkī?)[1] is a creature in the Sonic the Hedgehog series. They are a race of turtle Animals native to West Side Island, and are close friends of Sonic the Hedgehog and his allies. The Tockies are known for having been targeted by Dr. Robotnik who seeks to use them as energy sources for his various Badniks and imprison them in Capsules for later use.
Description
Anatomy
The general Tocky is a small turtle with peach-colored skin and a round green shield with a grooved orange belly section. Although recognized as animals, the Tockies show physical humanoid traits and are capable of standing on their hind legs. They have flippers for limbs (the hindflippers which resemble stubby feet when standing up), large round heads with two large black eyes each, and beak-shaped mouths.
Game appearances
Sonic the Hedgehog 2
The Tockies first appeared in the 16-bit version of Sonic the Hedgehog 2. In this game, the Tockies and their fellow Animals from West Side Island were kidnapped by Dr. Robotnik and used as power sources for his Badnik workers which Robotnik needed to finish the Death Egg.[2] The Tockies can be found in Sky Chase Zone where they pop out of destroyed Badniks.
Sonic Mania
In Sonic Mania, the Tockies reprise their roles from Sonic the Hedgehog 2 by being organic power sources for Dr. Eggman's Badniks again. The Tockies can be found in Titanic Monarch Zone, where they pop out of the Zone's destroyed Badniks.
When the player destroys the Metal Sonic Projector at the end of Stardust Speedway Zone Act 2, a few Tocky will occasionally appear until they are chased off by Metal Sonic.
In other media
Archie Comics
Trivia

In Sonic the Hedgehog 2, Tocky has a walking animation, which cannot be seen in the game, since Sky Chase Zone does not have any kind of surface for them to walk on. However, Tockies are seen walking normally in the additional credits sequence for the 3D Sonic the Hedgehog 2 port for the Nintendo 3DS[3] and their reappearance in Sonic Mania.
Near the end of Sonic the Hedgehog: The Movie, Robotnik launches rabbit and turtle missiles, where the turtle missile was unsuccessful and being described by doctor as another design failure. The turtle missile bears a heavy resemblance to Tocky.
References
---
Main article | Gallery | Staff | Glitches (Knuckles in Sonic 2) | Prereleases (Nick Arcade | Simon Wai) | Re-releases (2006 | 2013) | Knuckles in Sonic 2
Characters
Sonic (Super Sonic, Glitch Sonic) | Tails (Super Tails**) | Knuckles (Super Knuckles) | Dr. Robotnik | Animals (Becky, Cucky, Flicky, Pocky, Pecky, Cucky, Ricky, Picky, Rocky, Locky, Wocky, Micky, Tocky)
Badniks
Aquis | Asteron | Balkiry | Banper* | Batbot** | BFish* | Bubbler* | Bubbler's Mother* | Buzzer | Cactus* | Chop Chop | Clucker | Coconuts | Crawl | Crawlton | Flasher | Frog* | Gator* | Gohla | Grabber | Grounder | Jellygnite** | Lobster* | Masher | Nebula | Octus | Rexon | Shellcracker | Slicer | Snail* | Spiker | Spiny | Stegway** | Turtloids | Redz** | Whisp
Zones
Emerald Hill Zone | Chemical Plant Zone | Aquatic Ruin Zone | Casino Night Zone | Hill Top Zone | Mystic Cave Zone | Oil Ocean Zone | Metropolis Zone | Sky Chase Zone | Wing Fortress Zone | Death Egg Zone | Hidden Palace Zone** | Genocide City Zone* | Dust Hill Zone* | Rock World Zone* | Wood Zone* | Egg Gauntlet Zone** | Boss Attack Zone** | Proto Palace Zone** | Special Stage
Bosses
Drill Eggman | Water Eggman | Tonkachi Eggman | Catcher Eggman | Submarine Eggman | Drill Eggman II | Hidden Palace Zone boss** | Submarine Eggman II | Flying Eggman | Barrier Eggman | Mecha Sonic | Death Egg Robot
Moves/techniques
Climb | Glide | Insta-Shield** | Propeller Flying | Spin Jump | Super Dash Attack | Super Spin Attack
Items
Air Bubble | Bomb | Booster | Bumper | Capsule | Continue | Fan | Flipper | Iron ball | Jump Panel | Metal nut | Monitor (Super Ring, Shield, Power Sneakers, Invincibility, Extra Life, Teleporter, Eggman, Lightning Shield**, Flame Shield**, Random, Water Shield**, S**) | Ring | Signpost | Spring | Spring Catapult | Star Circle | Star Post | Switch
Other
Original Soundtrack | Bumper wall | Cannon | Chaos Emerald | Conveyor Belt | Corkscrew loop | Crusher | Death Egg Robot | Debug Mode | Egg Jet | Giant spear | Gondola | High-speed elevator | High-speed warp tube | Mega Mack | Perfect Bonus | Seesaw | Shuttle loop | Slot machine | Spikes | Stone pillar | Time Attack | Tornado | Totem pole | West Side Island | Winding Tunnel

*Exclusive to the prototype versions of Sonic the Hedgehog 2.
** Exclusive to the 2013 re-release version.
---
Main article | Gallery | Beta elements | Staff | Glitches | Re-releases (Plus)
Playable characters
Sonic the Hedgehog (Super Sonic) | Miles "Tails" Prower (Super Tails) | Knuckles the Echidna (Super Knuckles) | Mighty the Armadillo* (Super Mighty)* | Ray the Flying Squirrel* (Super Ray)*
Other characters
Dr. Eggman | Hard Boiled Heavies (Heavy King, Heavy Gunner, Heavy Shinobi, Heavy Magician, Heavy Rider) | Phantom Heavies (Phantom King, Phantom Gunner, Phantom Shinobi, Phantom Magician, Phantom Rider) | Metal Sonic (Giga Metal) | Animals (Becky, Cucky, Flicky, Locky, Micky, Pecky, Picky, Pocky, Ricky, Rocky, Tocky, Wocky) | Jimmy
Zones
Angel Island Zone* | Green Hill Zone | Chemical Plant Zone | Studiopolis Zone | Flying Battery Zone | Press Garden Zone | Stardust Speedway Zone | Hydrocity Zone | Mirage Saloon Zone | Oil Ocean Zone | Lava Reef Zone | Metallic Madness Zone | Titanic Monarch Zone | Egg Reverie Zone | Special Stage | Bonus Stage | Pinball Stage*
Enemies
Armadiloid | Aquis | Asteron | Ball Hog | Batbrain | Blaster | Blastoid | Bloominator* | Bugernaut | Bumpalo | Buzz Bomber | Cactula | Catakiller, Jr. | Chopper | Clucker | Crabmeat | Dango | Dragonfly | Eggrobo | Fireworm | Flasher mk.II | Gohla | Grabber | Hotaru | IceBomba | Iwamodoki | Jawz | Jellygnite | Juggle Saw | Kabasira | Kanabun | Madmole | Matryoshka-Bom | Mega Chopper | Mic Drop | Monkey Dude* | Moto Bug | Newtron | Octus | Pointdexter | Rattlekiller | Rexon | RhinoBot* | Robot Bee | Robot Beetle | Roller mk.II | Scarab | Sentry Bug | Shutterbug | Silver Sonic | Spiny | Splats | Sweep | Technosqueek | Toxomister | Tubinaut | Turbo Spiker | Turbo Turtle | Vultron | Wall Crawl | Woodrow
Bosses
Mini-bosses
DD Wrecker | Amoeba Droid | Heavy Gunner | Big Squeeze | Shiversaw | Hotaru Hi-Watt | Dive Eggman | Uber Caterkiller | Meter Droid | Drillerdroid | Egg Pistons mk.II | Crimson Eye
Zone bosses
Death Egg Robot | Mean Bean Machine | Weather Globe | Spider Mobile | Heavy Shinobi | Metal Sonic | Laundro-Mobile | Heavy Magician | Mega Octus | Heavy Rider | Heavy King | Gachapandora | Phantom Egg | Phantom King and Klepto Mobile
Moves/techniques
Air Glide* | Bounce Jump | Climb | Double Jump | Drop Dash | Fireball Spin Dash | Glide | Hammer Drop* | Insta-Shield | Propeller Flying | Ring Spark Field | Spin Attack | Spin Dash | Spin Jump | Super Peel Out | V. Maximum Overdrive Attack
Gimmicks and obstacles
Beanstalk | Bomb | Bumper | Bungee Rope | Bumper wall | Conveyor Belt | Crusher | Dash Panel | Electrical conduit | Fan | Fireball Cannon | Flipper | Flywheel | Goal Plate | High-speed warp tube | Ice Spring | Iron ball | Jump Panel | Platform-raising Wheel | Pulley | Ruby Mist | Seesaw | Size Beam | Snowblower | Spikes | Spring | Switch | Transport | Vine | Zip Line
Objects
Air Bubble | Capsule | Chaos Emerald | Giant Ring | Giant spear | Klepto Mobile | Little Planet flowers | Master Emerald | Metal Sonic Projector | Medallion | Monitor (Aqua Shield, Character*, Hyper Ring, Eggman Mark, Flame Shield, Invincibility, Player Swap, Power Sneakers, Random, S, Shield, Super Ring, Thunder Shield) | Phantom Ruby | Ring | Robot transporter | Schrodinger's Capsule* | Sphere | Star Circle | Star Post | Time Warp Plate | UFO | Warp Point
Other
Angel Island | Auto Running | Continue | Death Egg Robot | Debug Mode | Egg Mobile | Freeze | Hang Glider | Level Select | Little Planet | Mega Mack | Perfect Bonus | Rock Drill | Shuttle loop | Sonic Mania Adventures (Sonic Returns, Sonic and Tails, & Knuckles, Mighty and Ray, Metal Mayhem, From: A. Rose, The Complete Mini-Series) | Time Attack | Time Over | Tornado | Winding Tunnel

*Appears in Sonic Mania Plus only