Ticktock[1] (ジュップン[2], Juppun?) is an enemy that appears in the Sonic the Hedgehog series. It is a mass-produced, clock-based Badnik model created by Dr. Robotnik.
Appearance
The Ticktocks are based on pendulum clocks. They have red cylinder-shaped bodies with two blue toruses, red umbrella-like and green spirals above them. They also have yellow side-access panels with blue hour marks, and green hour and minute hands with eyes in the center. They also have yellow pendulum bobs with spikes that hang from chains.
Overview
The Ticktocks only appear in Amazing Arena. In gameplay, they drift back and forth within a small area, swinging their spiked pendulum. They makes no active attempt to attack the playable characters, and are only dangerous if the player bumps into them. Like many of the enemies in the game, Ticktocks are powered by synthesized Rings which they drop upon defeat.
Powers and abilities
The Ticktocks are capable of levitation. Also, they can use their pendulum bobs as spiked maces.
In other media
IDW Publishing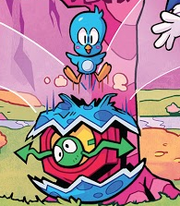 In the Sonic the Hedgehog comic series and its spin-offs published by IDW Publishing, the Ticktocks are a Badnik line created by Dr. Eggman in another dimension set in the recent past. In this media, they are a fusion of the Ticktock and the Alarm Egg from the NiGHTS into Dreams... franchise.
Trivia
The Ticktocks' Japanese name "Juppun" is Japanese for "ten minutes".
In-game, the Ticktock's pendulum is shown to have four spikes in a plus shape, and is attacked to a chain by its back, while on its official artwork, it only possesses three spikes, with the chain being attached at the where the fourth spike is in-game.
Gallery
Screenshots
References
---
Main article | Staff | Glitches | Beta elements | Gallery
Playable characters
Knuckles | Vector | Mighty | Charmy | Espio | Heavy | Bomb | **********
Non-playable characters
Dr. Robotnik | Metal Sonic | Sonic | Tails | Amy
Stages
Isolated Island | Botanic Base | Speed Slider | Amazing Arena | Techno Tower | Marina Madness | World Entrance | Special Stage | Bonus Stage
Enemies
Amazing Arena Badnik 1, 2 | Bombbearer | Botanic Base Badnik 1, 2, 3 | Bushbubble | Dribbler | Gotcha | Hoverby Mk II | Isolated Island Badnik | Marina Madness Badnik 1, 2 | Motorspike | Needlenose | Piranha | Poptank | Ringleader | Spiketower | Techno Tower Badnik 1, 2, 3 | Ticktock
Bosses
Amazing Arena boss | Amazing Arena sub-boss | Botanic Base boss | Marina Madness boss | Speed Slider boss | Techno Tower boss | World Entrance Level 1 | World Entrance Level 2
Moves/
Techniques
Playable characters
Climb | Crouch | Dash | Glide | Power Boost | Spin Dash | Spin Jump | Super Spin | Wall Jump
NPCs
V. Maximum Overdrive Attack | Plasma Pulse Attack
Gimmicks and obstacles
Balloon | Bumper Ball | Chopper Block | Goal Plate | Exit | High-speed warp tube | Iron ball | Ring Power | Spring | Switch | "X" Bumper
Items
Chaos Ring | Dark Ring | Monitor (Change, Combi Catcher, Combine Ring, Grow, Invincible, Power Sneakers, Shield, Shrink, Stage Select, Super Ring, Swap) | Ring | Sphere
Other
1207 Beta version | Archie Knuckles' Chaotix | Combi Catcher | Debug Mode | Newtrogic High Zone | Sonic Crackers