The Thunder Arrow[1] is a move that appears in the Sonic the Hedgehog comic series and its spin-offs. It is a Chaos Power used by those with a strong connection to the Chaos Force.
Description
When performing the Thunder Arrow, the user forms a lighting bolt made of Chaos energy that electrocutes its victims.[1] It is similar in appearance to the Chaos Spear, except the user summons the energy bolts in bursts of energy instead of throwing them as spears.
History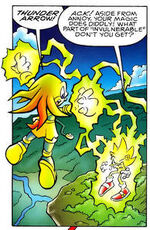 Knuckles, when he became the new Enerjak, used the Thunder Arrow effectively against Shadow the Hedgehog when invading New Mobotropolis, which defeated him.[1] However, when he tried to use it against Super Sonic, it had no effect due to the fact that he was invincible.[2]
Following his return to normal, Knuckles was shown to be capable of utilizing the move, as he did in battle against Dr. Finitevus.[3] Edmund, a possible future descendant of Knuckles, used it against Prelate-V.[4]
Trivia
See also
References
Community content is available under
CC-BY-SA
unless otherwise noted.