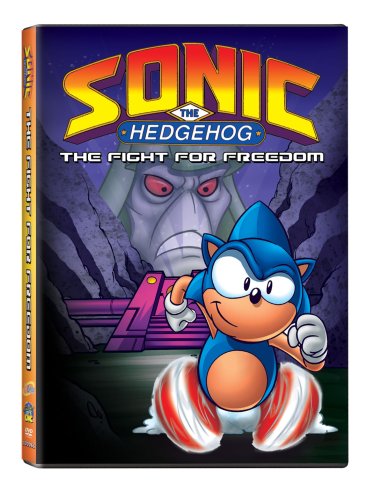 The Fight for Freedom is a DVD of Sonic cartoons released by NCircle Entertainment. This DVD consists of four episodes from season 1 of Sonic the Hedgehog which were originally aired in 1993. The DVD's total running time is approximately 88 minutes. It was released on 16 September 2008.
Official Synopsis
Sonic is always fighting for freedom from Dr. Robotnik, but in The Fight for Freedom the fight becomes harder and stronger than ever. Sonic, along with the Freedom Fighters, will do battle against the Swat-Bots, Rat-Bots, and Sonic's own Uncle Chuck to protect Mobius from Dr. Robotnik. ~ NCircle Entertainment[1]
Episodes
Other features
This disc also contains many sneak peaks of other DiC cartoons. Amongst the many sneak peaks is the intros to Sonic Underground and Adventures of Super Mario Bros. 3.
Gallery
Trivia
The Cover of this DVD and the disc itself contain artwork of the Lazaar's Guardian and Lazaar's Lair from the episode, Super Sonic. This is an odd choice of cover art considering that particular episode is not present on this DVD.
References
Community content is available under
CC-BY-SA
unless otherwise noted.