The Doomsday Zone (ザドゥームズデイ[2], Zado~ūmuzudei?, lit. "The Doomsday") is the eighth and final overall Zone of Sonic & Knuckles (and the fourteenth and final Zone of Sonic the Hedgehog 3 & Knuckles). Under normal circumstances, this Zone is only playable as Sonic, but it is playable with Tails or Knuckles from Level Select/Sound Test if Debug Mode is enabled. Sonic must have all seven of the Chaos Emeralds to play the zone as Super Sonic; if the seven Super Emeralds are also obtained, the player can also play the level as Hyper Sonic (Sonic the Hedgehog 3 & Knuckles only).
Description
The Doomsday Zone is set in a region of outer space high above earth, with clusters of asteroids scattered all around. The elapsed time of the battle takes place in this extensive field of asteroids.
Story
Gameplay
Overview
Boss
The boss of The Doomsday Zone is the Final Weapon, an escape spacecraft used by Dr. Robotnik. In this zone, Sonic automatically uses the seven Chaos Emeralds/Super Emeralds to become Super Sonic/Hyper Sonic, a transformation of which is needed for this Zone and must be sustained on Rings.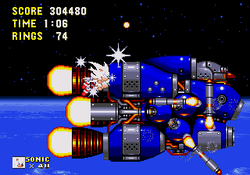 When beginning this fight, use

to maneuver Sonic up and down, and press
/
/
to shoot forward with a small burst of speed. Grab as many Rings as possible, but avoid the asteroids, which will slow Sonic's progress. The Final Weapon fires missiles at Sonic, and while they cannot inflict damage, they will temporarily stun him which can be crippling when the player needs to keep Rings flowing through. After a short while, the asteroid shower ends and the player will catch up with the FInal Weapon. The machine fires flashing projectiles and homing lasers - either one will stun Sonic, and since they tend to hit in rapid succession, even a single hit can blow the fight. The objective is to maneuver the homing missiles so they fly right back into the Final Weapon's face. Eight hits and the shuttle falls into oblivion, but the relentless Eggman escapes once more in a stripped down version of the Final Weapon, and flies into another asteroid shower firing bombs and tiny mines at Spnic. All the player has to do here is fly smack into the machine. Although Sonic will be knocked back to the edge of the screen after each hit, that is the only damage the player can expect to take. Eight more hits and the Final Weapon will be destroyed.
Trivia
This level marks the first time in a recurring succession of Sonic games that the final level uses a Super form setting in a race against time and depleting Rings, only accessible through obtaining all the Emeralds.
The music for this Zone is also used in Knuckles' version of the Sky Sanctuary Zone during the final battle against Mecha Sonic's Super State.
A remix of the music that plays in this Zone was originally supposed to be in the Nintendo 3DS version of Sonic Generations for the boss fight against Big Arm, but it was later replaced by a remix of the final boss theme of Sonic the Hedgehog 3 & Knuckles.
In most versions of the game, the music will accelerate in tempo when Sonic runs dangerously short of Rings (ten Rings or below), increasing tension in the player and urgency to keep collecting Rings. This is similar to the Special Stages after some time has passed. This is missing in Sonic Jam.
After Knuckles finishes this Zone in debug mode, he is seen blue on the Tornado and the original red one will be watching him at the end. He is also seen with two Master Emeralds, one in his hand and one on the back of the tornado.
The music for this Zone was remixed as the music that plays during the battle against Mecha Sonic at Aerobase Zone in Sonic the Hedgehog Pocket Adventure.
There is technically an unused "Act 2" for this Zone, but it can only be entered through a glitch or hacking. The Act is just a black screen with Sonic turning into Super/Hyper Sonic, but immediately falling to his death due to having 0 Rings.
If the player accesses this Zone using Level Select and completes it they will get the bad ending.
Gallery
Screenshots
Music
| Name | Artist | Length | Music Track |
| --- | --- | --- | --- |
| The Doomsday (FM Synthesizer) | | 1:54 | |
| The Doomsday (General MIDI) | | 1:51 | |
References
---
Main articles (Sonic 3, Sonic & Knuckles, Sonic 3 & Knuckles, Sonic & Knuckles Collection) | Staff (Sonic 3, Sonic & Knuckles, Sonic & Knuckles Collection) | Manuals (Sonic 3, Sonic & Knuckles) | Glitches (Sonic 3, Sonic 3 & Knuckles, Sonic & Knuckles Collection) | Beta elements (Sonic 3, Sonic & Knuckles, Sonic 3 & Knuckles) | Galleries (Sonic 3, Sonic & Knuckles, Sonic & Knuckles Collection)
Playable characters
Sonic (Super Sonic, Hyper Sonic) | Tails (Super Tails) | Knuckles (Super Knuckles, Hyper Knuckles)
Non-playable characters
Dr. Robotnik | Rock Drill | Mecha Sonic (Mecha Sonic's Super State) | Animals (Flicky (Flicky's Super State), Pocky, Pecky, Cucky, Ricky, Rocky)
Badniks
Batbot | Blaster | Blastoid (Carnival Night Zone) | Blastoid (Hydrocity Zone) | Bloominator | Bubbles | Bugernaut | Butterdroid | Catakiller, Jr. | Chainspike | Clamer | Cluckoid | Corkey | Dragonfly | EggRobo | Fireworm | Flybot767 | Hyudoro | Iwamodoki | Jawz | Madmole | Mantis | Mega Chopper | Monkey Dude | Mushmeanie | Orbinaut | Penguinator | Pointdexter | RhinoBot | Ribot | Rock'n | Sandworm | Skorp | Snale Blaster | Spikebonker | Spiker | Star Pointer | Technosqueek | Toxomister | Turbo Spiker
Zones
Sonic 3
Angel Island Zone | Hydrocity Zone | Marble Garden Zone | Carnival Night Zone | IceCap Zone | Launch Base Zone | Special Stages | Bonus Stages
Sonic & Knuckles
Mushroom Hill Zone | Flying Battery Zone | Sandopolis Zone | Lava Reef Zone | Hidden Palace Zone | Sky Sanctuary Zone | Death Egg Zone | The Doomsday Zone | Special Stages | Bonus Stages
Competition
Azure Lake | Balloon Park | Chrome Gadget | Desert Palace | Endless Mine
Bosses
Sub-bosses
Doctor Robotnik's Flame Craft | Doctor Robotnik's Whirlpool Machine | Tunnelbot | Self D-Struct Machine | Iceball | Swing'm Spikez | Hei Hou | Gapsule | Barrier Eggman | Guardian | Heat Arms | Egg Mobile-H | Flying Eggman | Red Eye | Death Ball
Zone bosses
Doctor Robotnik's Flame Craft | Doctor Robotnik's Waterspout and Depth Charge Machine | Doctor Robotnik's Jet Drill Pod | Doctor Robotnik's Energy Ship | Doctor Robotnik's Freeze-O-Matic | Ball Shooter | Beam Rocket | Big Arm | Jet Mobile | Hang Mobile | Egg Golem | Hot Mobile | Knuckles | Mecha Sonic | Mecha Sonic's Super State | Great Eggman Robo | Final Weapon
Moves/Techniques
Bound Jump | Crouch | Double Jump | Fireball Spin Dash | Glide | Gliding Knuckles Attack | Hyper Flash | Insta-Shield | Propeller Flying | Spin Attack | Spin Dash | Spin Jump | Swim | Wall Climb
Items
Air Bubble | Balloon | Banana | Bomb | Booster | Bumper | Bumper wall | Cannon | Capsule | Change | Chaos Emerald | Cloud | Continue | Electrical emitter | Fan | Jump Stand | Monitor (Water Shield, Flame Shield, Invincibility, Lightning Shield, Super Ring, Super Shoes, Extra Life, S, Eggman) | Movable box | Mushroom | Pulley | Ring | Signpost | Self-Propelled Bomb | Slow-Down Shoes | Snowboard | Sphere | Spikes | Spring | Spinning Top | Star Post (Star Circle) | Super Emerald | Switch | Transport | Vine | Zip Line
Other
Conveyor Belt | Corkscrew loop | Crusher | Death Egg | Debug Mode | Drum | Fireball Cannon | Flipper | Floating Island | Flywheel | Freeze | Giant spear | Goal | Gravity Control Switch | Gumball | High-speed elevator | High-speed warp tube | Icicle | Iron ball | Jewel Radar | Perfect Bonus | Platform-raising Wheel | Pole Elevator | Relief | Reverse | Ring Shooter | Seesaw | Shuttle loop | Slot machine | Snowblower | Sonic & Knuckles • Sonic the Hedgehog 3 | Sonic the Hedgehog 3 (LCD) | Strange Relief | Time Attack | Tornado | Warp Point | Winding Tunnel | "Wonderman"