The second unnamed Techno Tower Badnik is an enemy that appears in Knuckles' Chaotix. It is a mass-produced, turret-based Badnik model created by Dr. Robotnik.
Appearance
The second unnamed Techno Tower Badnik resembles a olive colored turret, with four support legs, a canister-like body with a green and pink colored lights, and a rectangular gray six-barreled missile launcher attached to its right side.
Overview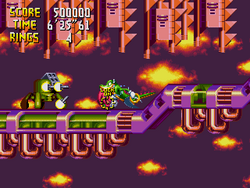 The second unnamed Techno Tower Badnik only appears in Techno Tower. In gameplay, they remain entirely stationary, but will lock-on to the playable character when they enter their range. They will then repeatedly fire bursts of six homing missiles at the playable characters that can pass through solid walls, until the playable characters either exit these Badniks' range, or destroy them, which can be done using any attack, upon which they will drop a Dark Ring.
Powers and abilities
The second unnamed Techno Tower Badniks are capable of rapidly firing homing missiles in bursts of six, and locking on to their targets over small distances.
---
Main article | Staff | Glitches | Beta elements | Gallery
Playable characters
Knuckles | Vector | Mighty | Charmy | Espio | Heavy | Bomb | **********
Non-playable characters
Dr. Robotnik | Metal Sonic | Sonic | Tails | Amy
Stages
Isolated Island | Botanic Base | Speed Slider | Amazing Arena | Techno Tower | Marina Madness | World Entrance | Special Stage | Bonus Stage
Enemies
Amazing Arena Badnik 1, 2 | Bombbearer | Botanic Base Badnik 1, 2, 3 | Bushbubble | Dribbler | Gotcha | Hoverby Mk II | Isolated Island Badnik | Marina Madness Badnik 1, 2 | Motorspike | Needlenose | Piranha | Poptank | Ringleader | Spiketower | Techno Tower Badnik 1, 2, 3 | Ticktock
Bosses
Amazing Arena boss | Amazing Arena sub-boss | Botanic Base boss | Marina Madness boss | Speed Slider boss | Techno Tower boss | World Entrance Level 1 | World Entrance Level 2
Moves/
Techniques
Playable characters
Climb | Crouch | Dash | Glide | Power Boost | Spin Dash | Spin Jump | Super Spin | Wall Jump
NPCs
V. Maximum Overdrive Attack | Plasma Pulse Attack
Gimmicks and obstacles
Balloon | Bumper Ball | Chopper Block | Goal Plate | Exit | High-speed warp tube | Iron ball | Ring Power | Spring | Switch | "X" Bumper
Items
Chaos Ring | Dark Ring | Monitor (Change, Combi Catcher, Combine Ring, Grow, Invincible, Power Sneakers, Shield, Shrink, Stage Select, Super Ring, Swap) | Ring | Sphere
Other
1207 Beta version | Archie Knuckles' Chaotix | Combi Catcher | Debug Mode | Newtrogic High Zone | Sonic Crackers
Community content is available under
CC-BY-SA
unless otherwise noted.