Techno Tower (テクノタワー, Tekunotawā?) is a Stage in Knuckles' Chaotix. It is one of the five main attractions that make up Newtrogic High Zone.
Description
As the name implies, Techno Tower is a massive tower extending high into the sky.
Gameplay
When playing through Techno Tower, the player has to get to the top of said tower, primarily through the use of Springs. Techno Tower also features a series of floating platforms which can be used to reach the top. Also, in Level 5, the player has access to a drilling machine that will drill through five or so walls before breaking.
Overview
Level 1
Level 2
Level 3
Level 4
Level 5
At the end of Level 5, Dr. Robotnik attempts to finish off the heroes.
Boss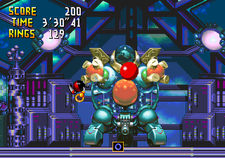 Upon reaching the top of the tower in Level 5, Dr. Robotnik decides to insult the player by placing a glass dome, mini-base over top. The player is then brought up via an elevator to battle the dastardly Doctor. Within the dome, Robotnik uses a machine with extendable arms to try attack the player, as well as using various devices within the mini-base to try outwit our heroes. After the boss is defeated, the Dark Ring powering the machine is released and disintegrates, forcing Robotnik to fly off on his jetpack, and sending the player back to the World Entrance.
Trivia
Music
References
---
Main article | Staff | Glitches | Beta elements | Pre-releases (1207 Beta) | Gallery
Playable characters
Charmy | Espio | Knuckles | Mighty | Vector | Bomb | Heavy | **********
Non-playable characters
Dr. Robotnik | Metal Sonic (Metal Sonic Kai) | Amy | Tails | Sonic
Stages
Isolated Island | Botanic Base | Speed Slider | Amazing Arena | Techno Tower | Marina Madness | World Entrance | Special Stage | Bonus Stage
Enemies
Am-Bush | Beatal | Blitz | Bombbearer | Burboom | Bushbubble | Catalurcher | Dribbler | Floatsam | Gotcha | Gut Buster | Hoverby Mk II | Liftor | Marina Madness Badnik 1, 2 | Motorspike | Needlenose | Piranha | Poptank | Ringleader | Spiketower | Triclod | Ticktock | Trundull
Bosses
Amazing Arena boss | Amazing Arena sub-boss | Botanic Base boss | Marina Madness boss | Speed Slider boss | Techno Tower boss | Metal Sonic | Metal Sonic Kai
Moves/
Techniques
Playable characters
Axel Spin | Climb | Crouch | Dash | Glide | Power Boost | Spin Dash | Spin Jump | Super Spin | Wall Jump
NPCs
V. Maximum Overdrive Attack | Plasma Pulse Attack
Gimmicks and obstacles
"X" Bumper | Balloon | Bumper Ball | Chopper Block | Elevator | Exit | Giant Ring | Goal Plate | High-speed warp tube | Iron ball | Ring Power | Saw | Spring | Switch
Items
Bound Rings | Chaos Ring | Dark Ring | Monitor (Change, Combi Catcher, Combine Ring, Grow, Invincible, Power Sneakers, Shield, Shrink, Stage Select, Super Ring, Swap) | Ring | Sphere
Other
Archie Knuckles' Chaotix | Combi Catcher | Debug Mode | Loop | Newtrogic High Zone | Sonic Crackers