No Man's Sky Update - The Loop
Play Sound
Team Sonic Racing One-shot is a one-shot comic book special published by IDW Publishing, acting as a prequel story to the 2019 video game Team Sonic Racing.
Official solicitation
Sonic's been taken to another world and entered into a race unlike any other! With a little help from his friends Tails and Knuckles, he'll race to win the competition and get everyone home! BUT! Before that, check out a comics exclusive story straight from the world of Team Sonic Racing![3]
Featured stories
Team Sonic Racing
Synopsis
A mysterious person named Dodon Pa is holding a race between Team Sonic and Team Dark on Planet Wisp. No one knows where he is from or why he hosts races anyway. Dodon Pa is nonetheless very interested in the race, especially the rivalry between Sonic the Hedgehog and Shadow the Hedgehog, and wonders who will survive.
Meanwhile, Miles "Tails" Prower notes that he and Knuckles the Echidna are lagging behind while Sonic and Shadow are off in front with their Speed-Type cars. Knuckles soon clashes his Power-Type car with E-123 Omega's. Knuckles notes he can handle Omega and requests that Tails learns to outwit Rouge the Bat between their Technique-Type car skills. Tails manages to catch up to Sonic and Shadow and notices that everyone's vehicle has a unique slipstream, which is key to using kinetic energy to their advantage. Dodon Pa confirms this observation, using the communicator in Tails' car. He also confirms that the cars can do several things, including communication through video screens.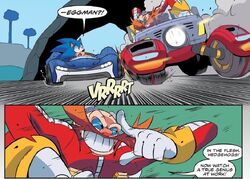 Shadow clashes with Sonic and reminds him to focus on his opponent. They are both then attacked by a Black Wisp. Knuckles tries bashing into Rouge to slow her down but this allows Omega to slip past and grant her the chance to perform a Skimboost. With this, she thanks Knuckles for his "assistance". As Sonic is driving on, he admits to himself that he did not know what to make of Dodon Pa inviting them to race at first but now he finds enjoyment in racing against Team Dark. He is soon cut off when Dr. Eggman enters the race and bashes his car. Sonic immediately believes Eggman is planning something and tells the doctor that he will not prevent him from crossing the finish line first. Eggman replies that he is only there to participate in the race as a special guest, to which Dodon Pa entertains. Sonic and Shadow become determined to beat Eggman. As Eggman notices this, he relays the fact that he does not have a team to Dodon Pa. Dodon Pa tells him to use power-ups, to which Eggman demands more Wisps. Dodon Pa complies and allows Eggman to receive more Item Boxes. Sonic does not understand why Dodon Pa is helping Eggman and Shadow reminds him that they do not know his true motives and it would be best to just observe him for now.
Eggman proceeds to start using several Color Powers to gain the lead. Rouge notes that the race is a farce and asks Knuckles to team-up against Eggman, to which the echidna agrees upon. Tails asks Sonic to try a Slingshot move with himself and Knuckles so that he can catch up to Eggman. Shadow requests the same to his teammates. Knuckles doubts that their efforts would be enough as Eggman's cheating was difficult enough to handle for both teams. Tails tells Knuckles not to worry as he has a plan, to which Eggman believes cannot stop him anyway. Sonic and Shadow both manage to pass Eggman using the Slingshot move, but this does not phase him as he believes he can easily catch up anyway. Tails asks Knuckles to cover him while he makes a call. Rouge becomes suspicious of Tails and asks Omega what he thinks of it. Omega ignores her and focuses on eliminating Eggman, much to Rouge's exasperation. Soon, Tails puts in word to Amy Rose and Vector the Crocodile to join the racers with their teams: Team Rose and Team Vector. Vector expresses gladness in Tails' call as he and his team were becoming bored waiting for their next race. Amy adds that she is happy to put in extra practice driving.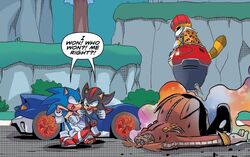 Tails tells the teams that half of them need to move ahead of Eggman, telling them to use the Slingshot move. He then says that they should all attack the doctor using Wisp Color Powers. The teams comply and everyone (aside from Sonic and Shadow) picks up a Wisp while having Eggman surrounded. On Tails' mark, they all launch their Color Powers at Eggman, completely destroying his car and leaving the doctor burned. Out from this explosion, Sonic and Shadow both cross the finish line at what appears to be the same time. They hurriedly ask Dodon Pa who won only to find out that he was not paying attention to the results but rather the attack on Eggman's car. Sonic and Shadow find annoyance that their was no photo finish when considering all of Dodon Pa's technology. Eggman finds delight in the fact that he ruined the race for Sonic and Shadow but is still irritated in the fact that he has no team. Dodon Pa tells Eggman that he looks forward to seeing Eggman race with a team as he felt his passion against overwhelming odds was inspiring. Sonic asks Shadow for a rematch and the two race off as Dodon Pa watches them again.
Appearances
Characters:
Races and species:
Locations:
Items:
Vehicles:
Misc.:
Continuity
Trivia
Knuckles' quote "... but the more matters than just how many miles per hour we drive." is a reference to Tails' real name (Miles Prower) which is a play on words of the term "miles per hour".
When Team Rose use the Slingshot move, Amy yells "It's hammer time!" This is a reference to the 1990 song "U Can't Touch This".
Other features
Sumo Digital interview: Derek Littlewood of Sumo Digital is interviewed about his and his team's work on Team Sonic Racing.
Vehicle Concept Gallery: Vehicle Concept Gallery shows off the concept artwork behind the vehicles used by the characters in Team Sonic Racing.
From Script to Page!: From Script to Page! is a section that focuses on the process of making comics. It focuses specifically on pages three, twelve and sixteen.
Sonic Letters Squad: Sonic Letters Squad is a section where the comic staff can post fan artwork and fan letters that have been sent in to them.
Sonic the Hedgehog #1 - Free Digital Ashcan
Quotes
Dodon Pa: Blue hedgehog or black hedgehog? Who will survive? Hohohoho.
Dr. Eggman: I sure am glad you Wisps aren't holding a grudge for that time I corrupted your entire species.
Sonic: Say, you ever wonder if we talk about velocity too much? I don't want to annoy anyone, but it's important to stay on-brand...
Shadow: Just drive.
Trivia
This is the first Sonic video game adaptation published by IDW Publishing.
The comic was originally scheduled for release on 31 October 2018, but was delayed to November for unknown reasons.[4] It was later delayed again to 5 December 2018.[1] According to David Mariotte, this was done so the IDW team could be on the same page as Sega.
It was announced by IDW Publishing that this comic was available for pre-order until 5 November 2018.[5]
The comic was released over five months before the game itself released.
According to David Mariotte, Team Sonic Racing One-shot is canon to Team Sonic Racing, not the IDW universe.[6]
Gallery
Cover artwork
Early covers
Script
Interior page artwork
Preview pages
References
External links
---
Main article | Script | Staff | Manuals | Beta elements | Gallery
Playable
characters
Team Sonic
Sonic | Tails | Knuckles
Team Rose
Amy | Chao (Dark Chao, Hero Chao, Neutral Chao, Omochao) | Big
Team Vector
Blaze | Silver | Vector
Team Dark
Shadow | Rouge | Omega
Team Eggman
Metal Sonic | Dr. Eggman | Zavok | Eggpawn | Death Egg
Non-playable characters
Boo | Boom Boo | Buzzer | Chopper | Crabmeat | Cubot | Dodon Pa | Egg Squid | Froggy | King Boom Boo | Mother Wisp | Orbot | Orca | Sandworm
Wisps
Black | Blue | Crimson | Cyan | Ivory | Jade | Magenta | Orange | Pink | Gray | Red | Violet | White | Yellow
Tracks
Planet Wisp
Wisp Circuit | Mother's Canyon | Doctor's Mine
Seaside Hill
Ocean View | Lost Palace | Whale Lagoon
Glacierland
Ice Mountain | Frozen Junkyard | Hidden Volcano
Casino Park
Roulette Road | Bingo Party | Pinball Highway
Sandopolis
Sand Road | Boo's House | Clockwork Pyramid
Rooftop Run
Market Street | Sky Road | Haunted Castle
Final Fortress
Thunder Deck | Dark Arsenal | Turbine Loop
Events
Boost Race | Daredevil | Destruction | Eggpawn Assault | Grand Prix | King of the Hill | Lightning Race | Ring Challenge | Rocket Race | Showdown Race | Survival Race | Team Boost Race | Team Grand Prix | Team King of the Hill | Team Lightning Race | Team Race | Team Rocket Race | Team Vampire Race | Time Trial | Traffic Attack | Vampire Race
Enemies
Eggpawn | Eggsplosive Eggpawn | Hard-boiled Eggpawn | Melee Eggpawn | Standard Eggpawn
Moves/Techniques
Drift | Item Box Transfer | Radial Burst | Rival Takedown | Skim Boost | Slingshot | Start Line Boost | Stunt | Team Ultimate
Color Powers
Black Bomb | Blue Cube | Crimson Eagle | Cyan Laser | Gray Quake | Ivory Lightning | Jade Ghost | Magenta Rhythm | Orange Rocket | Pink Spikes | Red Burst | Violet Void | Yellow Drill
Vehicles
Beat Monster | Chao Pod | Cross Dozer | Dark Reaper | Egg Booster | Formula M | Frog Cruiser | Land Breaker | Lightron | Lip Spyder | Pink Cabriolet | Road Dragoon | Royal Chariot | Speed Star | Whirlwind Sport
Gimmicks and obstacles
Boost Pad | Kao | Spring | Star Post | Wide spring
Items
Bonus Box | Credit | Item Box (Invincibility) | Key | Medal | Mod (Car Cosmetic (Horn, Paint Kit, Vinyl), Performance Part) | Mod Pod | Ring
English voice actors
Roger Craig Smith (Sonic, Wisp announcer) | Mike Pollock (Eggman) | Kyle Hebert (Big, Dodon Pa) | Colleen O'Shaughnessey (Tails) | Dave Mitchell (Knuckles) | Patrick Seitz (Zavok) | Cindy Robinson (Amy) | Kirk Thornton (Shadow, Orbot) | Karen Strassman (Rouge) | Aaron LaPlante (Omega) | Bryce Papenbrook (Silver) | Keith Silverstein (Vector) | Erica Lindbeck (Blaze, Omochao) | Wally Wingert (Cubot) | Tomoko Sasaki (Chao)
Japanese voice actors
Jun'ichi Kanemaru (Sonic) | Kotaro Nakamura (Eggman) | Katsuhisa Hōki (Dodon Pa) | Ryō Hirohashi (Tails) | Nobutoshi Canna (Knuckles) | Taeko Kawata (Amy) | Takashi Nagasako (Big) | Etsuko Kozakura (Omochao) | Kōji Yusa (Shadow) | Rumi Ochiai (Rouge) | Taiten Kusunoki (Omega) | Daisuke Ono (Silver) | Kenta Miyake (Vector) | Nao Takamori (Blaze) | Jōji Nakata (Zavok) | Mitsuo Iwata (Orbot) | Wataru Takagi (Cubot) | Tomoko Sasaki (Chao) | Fumihiko Tachiki (Wisp announcer)
Music
Songs
"Green Light Ride"
Albums
Maximum Overdrive - Team Sonic Racing Original Soundtrack | Team Sonic Racing Trailer Music Selection
Other
Death Egg Robot | Donpa Kingdom | Donpa Motors | Egg Squid | Loop | Orca | Power-Type | Sonic Racing | Speed-Type | Team Sonic Racing Overdrive ("Dangerous Distractions", "Eyes on the Prize", "The Complete Race") | Technique-Type | Ultimate Meter | Team Sonic Racing One-shot | Team Sonic Racing Plus Deluxe Turbo Championship Edition one-shot | Ultimate Energy Engine | Ultimate Team Energy