Fire Emblem Warriors: Three Hopes - The Loop
Play Sound
Team Dark (チームダーク, Chīmu Dāku?) is a group that appears in the Sonic the Hedgehog series. It is a team that was founded by Shadow the Hedgehog, Rouge the Bat and E-123 Omega, all of whom joined forces to track down their common target: Dr. Eggman. Eventually meeting up with Team Sonic, Team Rose and Team Chaotix, the trio assisted in the defeat of the rogue Metal Sonic. Consisting of highly powerful and fearsome individuals in their own right, Team Dark is a force to be reckoned with and has often appeared to contend with some of the world's greatest threats and champions.
History
Sonic Heroes
In Sonic Heroes, Rouge broke into one of Dr. Eggman's bases in search of Eggman's secret treasure. There, she found a stasis capsule and activated it. Unbeknownst to her, E-123 Omega was activated and slowly advanced toward Rouge and the capsule. Meanwhile, Rouge was shocked to find Shadow, who was presumed dead after the events on the Space Colony ARK, inside the pod. As Shadow awakened, Omega began attacking Shadow, believing him to be an Eggman robot. After saving Rouge from the spray of bullets, Shadow engaged Omega. Before things could escalate further though, Rouge stepped in to break up the fighting. Afterward, Rouge was able to piece together the whole story: Omega was mad at his creator for decommissioning and imprisoning him and now wanted to take revenge by destroying all Eggman's machinery, and Shadow had lost all his memories prior to his release from the stasis capsule. Seeing that their common target was Eggman, who had what they each wanted, Rouge had the trio form Team Dark so they could look for Eggman together.
Shortly after starting their search, Team Dark found Eggman and his Egg Hawk. Although they defeated the Egg Hawk, Eggman got away. Pursuing Eggman to Grand Metropolis with renewed resolve, Team Dark crushed the opposition in the city and escaped its Power Plant. Afterward, they met Team Chaotix, who they engage in battle over an assumption Rouge made about them. After the fight, Team Dark arrived in the casino area where they met Eggman again. Shadow asked Eggman about his past, but Eggman remarked that he had "no past to remember". Overcoming Eggman's horde of robots, Team Dark continued their pursuit of Eggman to Eggman's base at Bullet Station. After destroying Eggman's base, Team Dark faced the doctor and his Egg Albatross. Upon beating him however, Team Dark saw that the Eggman they had been chasing was a fake, much to Omega's fury. Furthermore, they found the remains of a Shadow Android, making them question whether Shadow was the genuine article or merely a replica. Continuing their hunt, Team Dark eventually came across Team Sonic and fought them to see which one of them got to go after Eggman. Afterward, Team Dark continued their hunt through a spooky castle and mansion before coming across Eggman again. After overcoming another one of Eggman's robot swarms, Team Dark ventured to Eggman's headquarters among the Egg Fleet where they defeated Eggman and his Egg Emperor. With Eggman seemingly destroyed, Omega considered his mission complete. Soon after, Rouge went looking for Eggman's treasure, only to find a warehouse full of Shadow Androids. As Omega prepared to destroy the warehouse, he reassured Rouge, who did not know if Shadow was real or not, that Eggman needed the original Shadow to make the Shadow Androids.
Not long after, Team Dark, Sonic, Chaotix and Rose united to see Neo Metal Sonic reveal himself. As it turned out, Neo Metal Sonic, who had been impersonating Eggman, had been the mastermind staging the teams' adventures so he could copy their data for a plan to conquer the world himself. As Neo Metal Sonic transformed into Metal Madness, the real Dr. Eggman saw the teams had collected all the Chaos Emeralds and got the idea of using the Emeralds against Metal Sonic. Team Dark then volunteered to stall Metal Madness with the others while Team Sonic prepared the Chaos Emeralds. Despite Team Dark's efforts, Metal Madness transformed into Metal Overlord, but a super transformed Team Sonic then arrived and defeated him. Afterward, Team Dark split up, with Rouge deciding to go after Knuckles' Master Emerald, and Shadow and Omega staying behind with an inert Metal Sonic.
Sonic Free Riders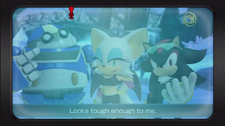 In Sonic Free Riders, Shadow and Rouge appeared to take part in the second World Grand Prix hosted by a disguised Dr. Eggman as Team Dark. However, both members cared little for the competition: Rouge was only interested in the Grand Prix's large cash prize and Shadow's only interest was testing his racing skills.
Disregarding formalities, Shadow and Rouge arrived fifteen minutes late to the opening ceremony. As Team Dark got ready to compete however, Omochao told them that they needed a third member for their team to be eligible for participation. Despite feeling that another member was unnecessary, Team Dark picked a random E-10000B from the street. Having a full team now, Team Dark got ready to face Team Babylon in the first round. Although their opponents mocked them, Team Dark held their own against them, prompting a lot of trash talk. After beating Team Babylon, Team Dark advanced to the next round, where Team Heroes awaited. During the races though, E-10000B began to overheat. Dismissing E-10000B's need for a rest, Rouge and Shadow kept competing, much to Team Heroes' disgust. Regardless, Team Dark beat Team Heroes. Just as Team Dark thought they could claim the prize, Omochao reminded them that they still had to face Team Rose in the finals. Between the races however, E-10000B started to overheat even more. Ignoring him, Rouge and Shadow pressed on. After the decisive race however, E-10000B broke down, which, according to the rules, cost Team Dark their victory. Fortunately, Team Dark were permitted a rematch with Team Rose as they were. As such, while 10000B was taken away to be repaired, Rouge and Shadow beat Team Rose. However, they were forced to wait for the awards ceremony before collecting their prize.
During the extra rounds, Team Dark had their own fair share of defeats too. At the end of the tournament, Team Dark and the other teams came to the awards ceremony to collect their prizes, but Eggman made them have a final race against his "ultimate Gear-Jockey robot." After the race, Eggman revealed he had used the Grand Prix to collect everyone's racing data with his E-10000 robots to create the ultimate Extreme Gear for him to use. Eggman subsequently challenged Team Dark and the others to a race. After the teams beat Eggman, Metal Sonic revealed himself as the one controlling E-10000B, and it was discovered that Metal Sonic had given Eggman fake data so he could use the real data to beat Sonic in Extreme Gear riding. After Sonic defeated Metal Sonic in a race though, it was revealed that Eggman never had a prize to give out. However, Rouge and Shadow were hardly surprised by this turn of events.
Sonic Forces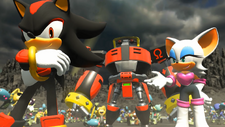 In Sonic Forces, Team Dark were on a reconnaissance mission regarding Dr. Eggman's new base of operations. Omega, however, soon stormed the base, recklessly destroying Eggman's minions and ignoring Rouge's request to wait for back-up from Shadow. Soon after, Omega came across Infinite, who he deemed an interference in his mission. Rouge had picked up transmissions from Omega concerning his fight but soon lost all contact with him. Due to this, Shadow immediately rushed to the base to try and find Omega at his last recorded coordinates.[2] Shadow was unable to find Omega, however, and only barely escaped his subsequent encounter with Infinite.
For the next seven months, Team Dark remained apart. Rouge in particular joined the Resistance in their war against the Eggman Empire, and an heavily damaged and inoperable Omega was eventually discovered by Tails, who tried to repair him until he got interrupted by a Chaos Phantom Copy. During the last days of the Resistance-Eggman Empire war, Shadow joined the Resistance as well after saving Sonic from a Phantom Copy of himself. Later, during the battle at the Eggman Empire Fortress, Team Dark was reunited when a fully functional Omega joined the Resistance's side in the fight. Team Dark proceeded to fight the Eggman Empire's army of Phantom Copies alongside the Resistance until the source of the Phantom Copies, the Phantom Ruby, was neutralized by Sonic, Classic Sonic, and the Avatar. With the war over, Team Dark met up with the other members of the Resistance in Resistance HQ, where Knuckles announced the disbandment of the Resistance.
Team Sonic Racing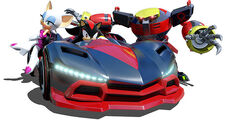 In Team Sonic Racing, Team Dark joined Dodon Pa's Grand Prix alongside Dr. Eggman and his team. However, the team's true intentions for joining the Grand Prix was to investigate Dr. Eggman's intentions.[3] In that Grand Prix awaited opponents like Team Sonic, Team Rose and Team Vector. For the races, Team Dark received the Dark Reaper, the Lip Spyder, and the Cross Dozer to race in.
During a race between Team Dark and Team Sonic, the two teams worked on getting the upper hand on one another, with Omega and Rouge being busy dealing with Tails and Knuckles, while Shadow took the lead and went head-to-head with Sonic. During the race however, Dr. Eggman intruded on the teams' race in order to compete against them on his own as a "special guest" (which Dodon Pa permitted despite knowing it was a lie). After Eggman began gaining the lead, Rouge suggested that their teams put aside their feud in order to deal with Eggman, which Team Sonic accepted. Following Team Sonic's example, Team Dark executed the Slingshot on Shadow, thus allowing him to pass Eggman alongside Sonic. Rouge and Omega then joined forces with Tails, Knuckles, Team Vector and Team Rose. Together, they surrounded Eggman on the racetrack before delivering a massive beatdown on the doctor with their combined Wisp power-ups. However, Dodon Pa was too busy watching Eggman's beating to see which one between Sonic and Shadow crossed the finish line first. As such, the two hedgehogs decided to have a rematch.[4]
Eventually, Shadow met Sonic, who wanted to know if he was working with Dr. Eggman. Shadow replied grimly that he was only in the Grand Prix to stop Eggman's plans. However, as the two hedgehogs' egos clashed, Shadow and Sonic would challenge each other to a race. Afterward, they agreed to watch out for both Dodon Pa, whose motivations for hosting the Grand Prix was a mystery, and Eggman. In the meantime, Rouge had learned that Dodon Pa and Eggman were seemingly working together. As such, she told Sonic and Shadow after their race of what she had learned and that Dodon Pa was not to be trusted, though the rivals were more concerned with beating each other. Upon hearing this, Omega suggested eliminating both Eggman and Dodon Pa. A couple of races later, Eggman sent hundreds of Eggpawns after the racers. However, Team Dark quickly defeated the robots with the aid of the other teams. Afterward, Omega looked forward to eliminating more Eggpawns, as Eggman would confirm that those were just the beginning. When Omochao later discovered that Dodon Pa was sending information on the teams' teamwork to an unknown receiver, Rouge speculated that the receiver was Eggman. She subsequently calmed an angry Knuckles down when he thought about bailing on the Grand Prix.
Later, it was revealed that Dodon Pa was not malevolent and actually the President of Donpa Motors. Rouge would then ask Dodon Pa of why he was holding the Grand Prix and why he invited everyone so secretly. Dodon Pa explained that he was using the Grand Prix to gather information for his corporation's top secret Ultimate Energy Engine, which Dodon Pa wanted to use for philanthropic purposes. Still, Rouge wondered why he wanted them to race for him, and not his employees. Dodon Pa explained in return that he wanted the best racers to produce the data he needed (hence Rouge and her friends). Along the way, Rouge also got Dodon Pa to tell about his hidden treasures, which she planned to steal in the future. Still, there was the matter of finishing the Ultimate Energy Engine, which Rouge knew meant racing some more. Their conflict with Dodon Pa now resolved, Shadow came to Sonic to remind him that they still had Eggman to worry about.
Soon after, the heroes learned from Big that Eggman had kidnapped Dodon Pa and brought him to the Final Fortress. Wanting to rescue Dodon Pa, Team Dark and co. went to the Final Fortress. There, Eggman had them compete in a number of races with Team Eggman and his army of Eggpawns in exchange for Dodon Pa, not knowing Eggman was using them to gather the Ultimate Team Energy needed to finish the Ultimate Energy Engine. Once the engine was complete, Eggman stole it from Dodon Pa and incorporated it into his Death Egg. Team Dark and their allies subsequently faced the Death Egg, and beat it in a race. However, the Death Egg soon after went crazy and drove into the Final Fortress's core. As the Final Fortress crashed, Team Dark were forced to abandon their cars and evacuate the airship while Team Sonic saved Dodon Pa. Down on the ground, Team Dark were reunited with Team Sonic when they arrived with Dodon Pa. Just as the Grand Prix seemed over since the cars had been destroyed when the Final Fortress crashed, Dodon Pa decided to give everyone new cars, thus allowing Team Dark and their comrades to race once more.
Other game appearances
Sonic Chronicles: The Dark Brotherhood
In Sonic Chronicles: The Dark Brotherhood, Team Dark were slowly recruited by Sonic's party, who were out on a mission to stop the Nocturnus Clan, a group of echidnas exiled to the Twilight Cage 4,000 years ago, from achieving world domination after they had stolen the Chaos Emeralds; Rouge joined Sonic's party on behalf of GUN; Shadow joined the party after they agreed to help him find Omega, who had gone missing; and Omega joined the group at the request of his teammates after they found him in Metropolis and repaired him from the damage the Nocturnus Clan's robots had dealt to him.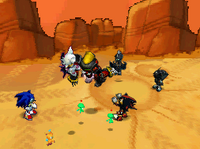 Eventually, Team Dark and their allies made it to Angel Island where they assisted Sonic with his attempt to stop the Nocturnus Clan's leader, Imperator Ix, from stealing the Master Emerald. Despite their efforts though, Ix got away with the Emerald and used it to create a wormhole into Sonic's dimension so the Nocturnus Clan could conquer it.
Having survived Angel Island's subsequent fall, Team Dark and their allies came up with the plan of following Ix into the Twilight Cage and reclaim the Emeralds to stop him. Using the Blue Cyclone Tails and Eggman created for this purpose, Team Dark and their comrades traveled into the Twilight Cage while Eggman remained behind to watch the wormhole. Inside the Twilight Cage, Team Dark and their allies got five of the Chaos Emeralds back and forged alliances with the local alien races. When they prepared to infiltrate Nocturne to find the last Emeralds, the group was able to enter this stronghold with help from their alien allies. Once they arrived on Nocturne, the group got the last Chaos Emeralds back and Team Dark participated in the final battle against Ix while Knuckles got the Master Emerald back. After Sonic defeated Ix, he started to close the wormhole out of the Twilight Cage, but Team Dark and the others got through it just in time. When they returned home however, Team Dark and their allies saw that much time had passed, thus allowing Eggman to build up his forces, which they faced upon exit from the Twilight Cage.
Equipment
In other media
Books and comics
Archie Comics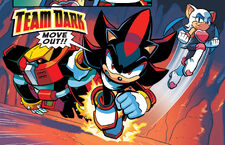 In the Sonic the Hedgehog comic series and its spin-offs published by Archie Comics, Team Dark is a small, surgical strike force in the greater G.U.N. military. In the original continuity. It was formed to retrieve a Chaos Emerald from Feist in the Special Zone. The team was highly unorthodox in that it was comprised of traditional enemies of the humans and Overlanders - namely two Mobians and an advanced Badnik. Team Dark handled missions that were beyond the scope of traditional G.U.N. soldiers or weapons. Its three members could do the work of twenty heavily-supported skilled soldiers or more. The name of the team was two-fold, in part referring to the shady pasts and dealings of each member, and in part referring to the nature of many of their missions. Most of their actions were to go to unknown to the world at large, and were often under this directive: "Do whatever it takes."
After the events of Sonic & Mega Man: Worlds Collide, Team Dark's past became virtually identical to its game counterpart, although the team itself remained a close affiliate of G.U.N..
IDW Publishing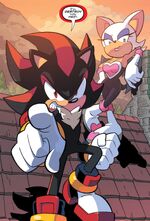 In the Sonic the Hedgehog comic series and its spin-offs published by IDW Publishing, Team Dark consists of Shadow the Hedgehog, Rouge the Bat and E-123 Omega. In this media, the team's past is virtually identical to their game counterpart's, up until after the events of Sonic Forces. After the Eggman War, Shadow and Rouge searched for Dr. Eggman, before taking part in the battle for Angel Island. Later, during the Metal Virus pandemic, the team helped evacuate Sunset City with Omega, during which Shadow became Zombot and Omega was partially destroyed. Fortunately, Shadow and all the other Zombots were cured. Meanwhile, Eggman kidnapped Omega's remains and connected him to his Giga Omega mech, with which he intended to kill Sonic friends and allies with. However, Omega was liberated by Sonic. Afterward, Omega needed repairs, so Rouge, with the help of Sonic's friends, obtained spare parts for him and had him repaired by Tails.
Theme songs
Trivia
Team Dark is the only team in Sonic Heroes to have an inorganic member, with them actually having two.
It is the only team in Sonic Heroes that is not named in-game by one of its members.
References
---
Main article | Scripts (Team Sonic, Team Dark, Team Rose, Team Chaotix, Last) | Staff | Glitches | Beta elements | Gallery
Playable
characters
Team Sonic
Sonic (Super Sonic) | Tails (Super Tails) | Knuckles (Super Knuckles)
Team Dark
Shadow | Rouge | Omega
Team Rose
Amy | Cream | Cheese | Big
Team Chaotix
Espio | Charmy | Vector
Non-playable characters
Dr. Eggman | Metal Sonic (Neo Metal Sonic) | Chocola | Froggy | Shadow Android | Omochao | Dark Chao | Hero Chao
Stages
1P stages
Sea Gate | Seaside Hill | Ocean Palace | Grand Metropolis | Power Plant | Casino Park | BINGO Highway | Rail Canyon | Bullet Station | Frog Forest | Lost Jungle | Hang Castle | Mystic Mansion | Egg Fleet | Final Fortress | Special Stage
2P stages
BINGO Highway | Casino Course | City Course | City Top | Casino Ring | Egg Fleet | Egg Treat | Frog Forest | Grand Metropolis | Hot Elevator | Mad Express | Pinball Match | Rail Canyon | Road Rock | Seaside Course | Seaside Hill | Special Stage | Terror Hall | Turtle Shell
2P Play Mode
Action Race | Battle | Bobsled Race | Expert Race | Quick Race | Ring Race | Special Stage
Enemies
Bomb Flapper | Cameron | Cannon Flapper | E-2000 | E-2000R | Egg Bishop | Egg Hammer | Egg Knight | Egg Magician | Egg Pawn | Egg Pawn (Casino version) | Falco | Flapper | Gold Cameron | Gold Klagen | Gun Flapper | Heavy-Egg Hammer | Klagen | Laser Flapper | Needle Flapper | Pumpkin ghost | Rhinoliner | Search Flapper | Solid Flapper | Solid Pawn
Bosses
Egg Hawk | Team Sonic | Team Dark | Team Rose | Team Chaotix | Robot Carnival | Egg Albatross | Robot Storm | Egg Emperor | Metal Madness | Metal Overlord
Moves/
Techniques
Speed
Homing Attack | Jump Dash | Kick | Light Dash | Lightspeed Attack | Propeller Hammer | Rocket Accel | Shuriken | Spin | Spin Jump | Swinging Hammer Attack | Tornado Jump (Black Tornado, Blue Tornado, Leaf Swirl, Tornado Hammer) | Triangle Jump
Power
Auto Homing | Body Press | Bubblegum Descent | Fire Combination | Fire Dunk | Fire Launcher | Fireball Jump | Forward Power Attack | Hammer Down | Jump Fire Knock | Jump Fireball | Remote Power Attack (Fireball, Fire Knock) | Spin Jump | Triangle Dive | Umbrella Descent | Wide Power Attack (Big Fishing, Omega Arm, Vector Breath, Volcanic Dunk)
Fly
Ascending Flight | Cheese Attack | Dummy Ring Bomb | Spin Jump | Sting Attack | Thunder Shoot | Quick Ascent
Team Blasts
Sonic Overdrive | Chaos Inferno | Flower Festival | Chaotix Recital | Super Sonic Power
Other
Chaos Control | Crouch | Crystal Attack | Grind Step | Grinding
Gimmicks and obstacles
Ball Switch | Bingo | Bobsled | Bomb | Bumper | Bumper wall | Cannon | Check Point | Conveyor Belt | Dash Panel | Dash Rail | Dash Ring | Detonator Switch | Drop Target | Fan | Fireball | Flipper | Flower | Formation Change Gate | Giant Frog | Giant Switch | Grind Rail | Hint Ring | Iron ball | Jump Panel | Kao | Laser field | Mushroom | Orb switch | Pole | Power Gong | Propeller | Pulley | Rainbow Ring | Slot machine | Spring | Target Switch | Trolley | Vine | Warp Flower | Weight | Wide spring
Items
Capsule | Car | Casino chip | Castle Key | Cell Key | Chaos Emerald | Container (Cage, Case, Steel Container, Unbreakable Container, Wooden Container) | Emblem | Engine Core | Floating Item Box | Goal Ring | Hermit crab | Item Box (1 UP, Barrier, Fly Charge, High Speed, Invincible, Rings, Power Core, Team Blast Ring) | Light spider marking | Power Core | Ring | Special Stage Key | Sphere | Torch
Voice actors
English
Ryan Drummond (Sonic, Metal Sonic) | Deem Bristow (Eggman) | William Corkery (Tails) | Scott Drier (Knuckles) | David Humphrey (Shadow) | Lani Minella (Rouge, Omochao) | Jon St. John (Omega, Big) | Jennifer Douillard (Amy) | Sarah Wulfeck (Cream) | Bill Corkery (Espio) | Marc Biagi (Vector) | Emily Corkery (Charmy)
Japanese
Jun'ichi Kanemaru (Sonic, Metal Sonic) | Chikao Ōtsuka (Eggman) | Ryō Hirohashi (Tails) | Nobutoshi Canna (Knuckles) | Kōji Yusa (Shadow) | Rumi Ochiai (Rouge) | Taiten Kusunoki (Omega) | Taeko Kawata (Amy) | Sayaka Aoki (Cream) | Takashi Nagasako (Big) | Yūki Masuda (Espio) | Kenta Miyake (Vector) | Yōko Teppōzuka (Charmy) | Etsuko Kozakura (Omochao)
Music
Songs
"Sonic Heroes" | "We Can" | "This Machine" | "Follow Me" | "Team Chaotix" | "What I'm Made of..."
Albums
Complete Trinity: Sonic Heroes Original Soundtrax | Triple Threat: Sonic Heroes Vocal Trax | Sonic Heroes Official Soundtrack | Sonic Heroes Original Soundtrack 20th Anniversary Edition
Other
Armored train | Chaotix Detective Agency | Dummy Ring | Egg Bazooka | Egg Fleet | Egg Gun | Egg Spear | Fly Type | Health Gauge | HEXAeco | Life | Loop | Moon | Orca | Palm Plants | Power Type | Rank | Sonic Heroes Puzzle | Speed Type | Super Hard Mode | Team Blast Gauge | Tornado 2
---
Main article | Scripts (Introduction, Team Heroes, Team Babylon, Team Dark, Team Rose, Final Race) | Staff | Gallery
Playable
characters
Team Heroes
Sonic (Super Sonic) | Tails | Knuckles
Team Babylon
Jet | Wave | Storm
Team Dark
Shadow | Rouge | E-10000B
Team Rose
Amy | Cream | Vector
Misc.
Blaze | Dr. Eggman | E-10000G | Silver | Metal Sonic | Xbox Live Avatar
Non-playable characters
E-10000 A | E-10000 C | E-10000 N | E-10000 O | E-10000 S | E-10000 P | E-10000 Y | Omochao
Courses
Dolphin Resort | Rocky Ridge | Frozen Forest | Metropolis Speedway | Magma Rift | Forgotten Tomb | Final Factory | Metal City
Moves/Techniques
Air Ride | Attacks | Grinding | Kick Dash | Super Sonic Boost | Trick Action
Gimmicks and obstacles
Barricade | Bobsled | Car | Catapult | Dash Ring | Grind Rail | Minecart

Items

General
Air | Item Box (Air, Bowling Strike, Free Throw, Octo-Boost, Octo-Ink, Question, Ring Can, Rings, Special Item, Soda Rocket, Target Torpedo, Tee Shot) | Ring
Gear Parts
Air Plus | Air Ride Skill | Air Saver | Big Air | Cornering UP | Durability UP | Extra Air | Grind Skill | Invisible | Item Lock: Air | Item Lock: Rings | Max Speed UP | Music Change 1 | Music Change 2 | Power Skill | Rapid Dash | Rapid Stream | Ring Eater | Start Speed UP | Trick Boost
Extreme Gears
Angel • Devil | Auto-Slider | Avatar-F | Avatar-M | Beginner | Black Shot | Blue Star | Chaos Emeralds | E-Gear | E-Rider | Explosion | Fastest | Flame Lance | Fortress | Gambler | Hang-On | Hard-Boiled | High Booster | Legend | Metal Star | Omnitempus | Pink Rose | Potential | Professional | Psychic Wave | Red Rock | Reserve Tank | Smile | Steel | Super Hang-On | Temptation | The Crazy | Turbo Star | Type-J | Type-S | Type-W | Wanted | Yellow Tail
English voice actors
Roger Craig Smith (Sonic) | Mike Pollock (Eggman) | Kate Higgins (Tails, Wave) | Travis Willingham (Knuckles, Storm) | Mike Mycheck (Jet) | Kirk Thornton (Shadow) | Karen Strassman (Rouge) | Wally Wingert (E-10000B, E-10000G) | Cindy Robinson (Amy) | Michelle Ruff (Cream) | Keith Silverstein (Vector) | Quinton Flynn (Silver) | Laura Bailey (Blaze, Omochao)
Japanese voice actors
Jun'ichi Kanemaru (Sonic) | Ryō Hirohashi (Tails) | Nobutoshi Canna (Knuckles) | Daisuke Kishio (Jet) | Chie Nakamura (Wave) | Kenji Nomura (Storm) | Kōji Yusa (Shadow) | Rumi Ochiai (Rouge) | Taeko Kawata (Amy) | Sayaka Aoki (Cream) | Etsuko Kozakura (Omochao) | Kenta Miyake (Vector) | Daisuke Ono (Silver) | Nao Takamori (Blaze)

Music

Songs
"Free" | "Theme of Dolphin Resort" | "Theme of Rocky Ridge" | "Theme of Metropolis Speedway"
Albums
Break Free: Sonic Free Riders Original Soundtrack

Other

Air Gauge | Relay Race | Rank | Time Attack | World Grand Prix
---
Main article | Script | Staff | Manuals | Beta elements | Gallery
Playable characters
Sonic (Super Sonic) | Classic Sonic (Classic Super Sonic) | Avatar | Shadow
Non-playable
characters
Resistance (Tails, Knuckles, Amy, Team Chaotix (Vector, Espio, Charmy), Silver, Team Dark (Shadow, Rouge, Omega) | Dr. Eggman | Infinite | Orbot | Cubot | Metal Sonic | Chaos | Zavok | Animals (Cucky, Flicky, Pecky, Picky, Pocky, Ricky, Rocky)
Wisps
Blue Wisp | Green Wisp | Indigo Wisp | Ivory Wisp | Red Wisp | Violet Wisp | White Wisp | Yellow Wisp
World Map regions
Chemical Plant | City | Death Egg | Eggman Empire Fortress | Green Hill | Metropolis | Mystic Jungle
Stages
General
Lost Valley | Spaceport | Ghost Town | Prison Hall | VS. Zavok | Egg Gate | Arsenal Pyramid | Luminous Forest | VS. Infinite | Green Hill | VS. Eggman | Park Avenue | Casino Forest | Aqua Road | Sunset Heights | Capital City | VS. Infinite | Chemical Plant | Red Gate Bridge | Guardian Rock | Network Terminal | Death Egg | Metropolitan Highway | Null Space | Imperial Tower | Mortar Canyon | VS. Infinite | Iron Fortress | Final Judgement | VS. Death Egg Robot
Episode Shadow
Enemy Territory | Eggman's Facility | Virtual Reality
Secret
Fire Cannon 1 | Vanish Panel 1 | Bomb Block 1 | Plasma Cannon 1 | Laser Cannon 1 | Reverse Block 1
Extra
Flying Pod | Bomb Block 2 | Laser Cannon 2 | Reverse Block 2 | Vanish Panel 2 | Fire Cannon 2 | Plasma Cannon 2
Enemies
Aero-Chaser | Buzz Bomber | Chopper | Egg Pawn | Egg Tank | Egg Walker | Galaga Bee | Moto Bug | Missile Pod | Nebula | Sandworm | Sprinkler | Valkeen
Bosses
Death Egg Robot | Eggman | Egg Dragoon | Infinite | Metal Sonic | Zavok
Moves/Techniques
Air Boost | Boost | Crouch | Double Boost | Double Jump | Drop Dash | Grind Step | Grinding | Homing Attack | Side Step/Cartwheel | Skydiving | Slide | Super Sonic Boost | Spin Attack | Spin Dash | Spin Jump | Stomp | Triple Boost | V. Maximum Overdrive Attack | Wall Jump | Wire Attack
Gimmicks and obstacles
Amber block | Balloon | Bottomless pit | Bumper | Capsule | Conveyor Belt | Dash Panel | Dash Rail | Dash Ring | Drop Target | Electrical emitter | Fan | Flipper | Floating turret | Flywheel | Goal | Goal Plate | Grind Rail | High-speed warp tube | Hint Ring | Iron ball | Jump Panel | Laser field | List of pinball obstacles | Pulley | Rainbow Ring | Ring Shooter | Saw | Slot machine | Spikes | Spring | Spring Catapult | Spring Pole | Star Post | Wide spring | Wire Target | Zip Line
Items
General
Air Bubble | Blue Block | Blue Ring | Container (Unbreakable Container, Wooden Container) | Costume | Item Box (Bonus Rings, Invincibility, Power Sneakers, Shield) | Medal | Meteorite | Number Ring | Red Star Ring | Ring | Silver Moon Ring | Wisp Capsule
Wispons
Asteroid | Burst | Cube | Drill | Hover | Lightning | Void
English voice actors
Roger Craig Smith (Sonic) | Mike Pollock (Eggman) | Liam O'Brien (Infinite) | Colleen O'Shaughnessey (Tails, Charmy) | Travis Willingham (Knuckles, Zavok) | Cindy Robinson (Amy) | Kirk Thornton (Shadow, Orbot) | Karen Strassman (Rouge) | Vic Mignogna (Omega) | Quinton Flynn (Silver) | Keith Silverstein (Vector) | Matthew Mercer (Espio) | Wally Wingert (Cubot)
Japanese voice actors
Jun'ichi Kanemaru (Sonic) | Kotaro Nakamura (Eggman) | Takashi Kondō (Infinite) | Ryō Hirohashi (Tails) | Nobutoshi Canna (Knuckles) | Taeko Kawata (Amy) | Kōji Yusa (Shadow) | Rumi Ochiai (Rouge) | Taiten Kusunoki (Omega) | Daisuke Ono (Silver) | Kenta Miyake (Vector) | Yūki Masuda (Espio) | Yōko Teppōzuka (Charmy) | Jōji Nakata (Zavok) | Mitsuo Iwata (Orbot) | Wataru Takagi (Cubot) | Fumihiko Tachiki (Narrator)
Music
Songs
"Fading World" | "Fighting Onward" | "Fist Bump" | "Infinite" | "Justice" | "Moonlight Battlefield" | "Nowhere to Run" | "Rhythm And Balance" | "Set in Motion" | "Supporting Me" | "The Light of Hope" | "Virtual Enemies"
Albums
Sonic Forces Original Soundtrack - A Hero Will Rise | Sonic Forces Vocal Traxx - On The Edge | Sonic Forces Hi-Res Collection | Sonic Forces Original Soundtrack The Vinyl Cutz
Other
Boost Gauge | Chaos Control | Challenge Mission | Corkscrew | Daily Mission | Death Crab | Death Egg | Death Egg Robot | Death Queen | Egg Dragoon | Egg Mobile | Eggman Army | Eggman Empire | Eggman Fleet | Experience | Health Gauge | Jackal Squad | Loop | Mega Mack | Miles Electric | Operation Big Wave | Phantom Copy | Phantom Ruby | Phantom Ruby prototype | Rank | Real-Time Interaction | Resistance HQ | Robotomy Treatment | Sandworm | Skill | Sonic Forces digital comic (Moment of Truth, Stress Test, Looming Shadow, Rise of Infinite) | Sonic Forces: Speed Battle | SOS Mission | Time Over | Totem pole | Tunnel | War to Take Back the Planet | Wisp Gauge
---
Main article | Script | Staff | Manuals | Beta elements | Gallery
Playable
characters
Team Sonic
Sonic | Tails | Knuckles
Team Rose
Amy | Chao (Dark Chao, Hero Chao, Neutral Chao, Omochao) | Big
Team Vector
Blaze | Silver | Vector
Team Dark
Shadow | Rouge | Omega
Team Eggman
Metal Sonic | Dr. Eggman | Zavok | Eggpawn | Death Egg
Non-playable characters
Boo | Boom Boo | Buzzer | Chopper | Crabmeat | Cubot | Dodon Pa | Egg Squid | Froggy | King Boom Boo | Mother Wisp | Orbot | Orca | Sandworm
Wisps
Black | Blue | Crimson | Cyan | Ivory | Jade | Magenta | Orange | Pink | Gray | Red | Violet | White | Yellow
Tracks
Planet Wisp
Wisp Circuit | Mother's Canyon | Doctor's Mine
Seaside Hill
Ocean View | Lost Palace | Whale Lagoon
Glacierland
Ice Mountain | Frozen Junkyard | Hidden Volcano
Casino Park
Roulette Road | Bingo Party | Pinball Highway
Sandopolis
Sand Road | Boo's House | Clockwork Pyramid
Rooftop Run
Market Street | Sky Road | Haunted Castle
Final Fortress
Thunder Deck | Dark Arsenal | Turbine Loop
Events
Boost Race | Daredevil | Destruction | Eggpawn Assault | Grand Prix | King of the Hill | Lightning Race | Ring Challenge | Rocket Race | Showdown Race | Survival Race | Team Boost Race | Team Grand Prix | Team King of the Hill | Team Lightning Race | Team Race | Team Rocket Race | Team Vampire Race | Time Trial | Traffic Attack | Vampire Race
Enemies
Eggpawn | Eggsplosive Eggpawn | Hard-boiled Eggpawn | Melee Eggpawn | Standard Eggpawn
Moves/Techniques
Drift | Item Box Transfer | Radial Burst | Rival Takedown | Skim Boost | Slingshot | Start Line Boost | Stunt | Team Ultimate
Color Powers
Black Bomb | Blue Cube | Crimson Eagle | Cyan Laser | Gray Quake | Ivory Lightning | Jade Ghost | Magenta Rhythm | Orange Rocket | Pink Spikes | Red Burst | Violet Void | Yellow Drill
Vehicles
Beat Monster | Chao Pod | Cross Dozer | Dark Reaper | Egg Booster | Formula M | Frog Cruiser | Land Breaker | Lightron | Lip Spyder | Pink Cabriolet | Road Dragoon | Royal Chariot | Speed Star | Whirlwind Sport
Gimmicks and obstacles
Boost Pad | Kao | Spring | Star Post | Wide spring
Items
Bonus Box | Credit | Item Box (Invincibility) | Key | Medal | Mod (Car Cosmetic (Horn, Paint Kit, Vinyl), Performance Part) | Mod Pod | Ring
English voice actors
Roger Craig Smith (Sonic, Wisp announcer) | Mike Pollock (Eggman) | Kyle Hebert (Big, Dodon Pa) | Colleen O'Shaughnessey (Tails) | Dave Mitchell (Knuckles) | Patrick Seitz (Zavok) | Cindy Robinson (Amy) | Kirk Thornton (Shadow, Orbot) | Karen Strassman (Rouge) | Aaron LaPlante (Omega) | Bryce Papenbrook (Silver) | Keith Silverstein (Vector) | Erica Lindbeck (Blaze, Omochao) | Wally Wingert (Cubot) | Tomoko Sasaki (Chao)
Japanese voice actors
Jun'ichi Kanemaru (Sonic) | Kotaro Nakamura (Eggman) | Katsuhisa Hōki (Dodon Pa) | Ryō Hirohashi (Tails) | Nobutoshi Canna (Knuckles) | Taeko Kawata (Amy) | Takashi Nagasako (Big) | Etsuko Kozakura (Omochao) | Kōji Yusa (Shadow) | Rumi Ochiai (Rouge) | Taiten Kusunoki (Omega) | Daisuke Ono (Silver) | Kenta Miyake (Vector) | Nao Takamori (Blaze) | Jōji Nakata (Zavok) | Mitsuo Iwata (Orbot) | Wataru Takagi (Cubot) | Tomoko Sasaki (Chao) | Fumihiko Tachiki (Wisp announcer)
Music
Songs
"Green Light Ride"
Albums
Maximum Overdrive - Team Sonic Racing Original Soundtrack | Team Sonic Racing Trailer Music Selection
Other
Death Egg Robot | Donpa Kingdom | Donpa Motors | Egg Squid | Loop | Orca | Power-Type | Sonic Racing | Speed-Type | Team Sonic Racing Overdrive ("Dangerous Distractions", "Eyes on the Prize", "The Complete Race") | Technique-Type | Ultimate Meter | Team Sonic Racing One-shot | Team Sonic Racing Plus Deluxe Turbo Championship Edition one-shot | Ultimate Energy Engine | Ultimate Team Energy