This talk page is for discussing improvements to the

Bunnie D'Coolette (Pre-Super Genesis Wave)

page.
Be polite and welcoming to new users
Assume good faith
Avoid personal attacks
Information
The non-canon/non-verified information created by Jamie "SwiftRunner" Lee that was stolen from the SegaStH and SatAMStH Roleplays has been removed.
~The StHRP Staff
me and kimmy think bunnie's cool.
do you think shes cool?
snake thing
Does it say anywhere about that one-eyed snake thing she said in this video? Hi 23:07, May 4, 2011 (UTC)
http://www.youtube.com/watch?v=ueeAFxISKzk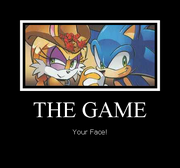 You know it!
00:47, November 22, 2011 (UTC)
about her now official name
she's officially named after Sth #173 as Bunnie D'Coolette, not Bunnie Rabbot-D'Coolette as she was never named like that. As in some issues after 173 she's credited as Bunnie D'Coolette with Rabbot featured but with quotation marks ("Rabbot"), as she acquired Antoine's surname. And also her uncle Beauregard, called her "Missus D'Coolette" in Sth #117 and 118. Wijata Mateusz (talk) 21:26, July 2, 2013 (UTC)
Community content is available under
CC-BY-SA
unless otherwise noted.