This talk page is for discussing improvements to the

Amy Rose

page.
Be polite and welcoming to new users
Assume good faith
Avoid personal attacks
This talk page has Archives:
Speed of Amy Rose
SonAmy25

– "Sonic, you're mine to marry."




TALK

 – --SonAmy (talk) 19:16, July 11, 2013 (UTC)

I've been wondering and waiting for an answer this question for a long time: How fast is she?
Sonicthehedgehog328

– "I am a Sonic the Hedgehog Expert!"




TALK

 – --Sonic the Hedgehog Expert (talk) 02:16, July 15, 2013 (UTC)

Probably divide Sonic's speed by 20 and you will get the answer, probably 384 miles per hour or less, you have to get the information from a Sonic the Hedgehog series Expert.

Exact speed is hard to say but she is the only organic character to natuarl ie: pure running come close to Sonic Speeds.

Sonamyfan666 Follow me inside, outside, through the stratosphere...

Cartomancy
On her character infobox, the Skills, Abilities and Powers mention something about Cartomancy. What is "cartomancy"? Mystic Orb: Who do you think I am? What do you want? What do I do? 03:09, August 15, 2013 (UTC)
Basiacly card read to tell the future.

Sonamyfan666 Follow me inside, outside, through the stratosphere...

Or so it's really a card with ESP?Mystic Orb: Who do you think I am? What do you want? What do I do? 03:16, August 15, 2013 (UTC)
No it's like going to see a fourtune teller at a fair except they use part of the deck of tarot cards to read it and not the lines on your hands.

Sonamyfan666 Follow me inside, outside, through the stratosphere...

Should Tails be included in the 'Physical Abilities' section as a comparison with Sonic, Knuckles, and Shadow?
If you were to look at the history of the Amy Rose wiki page, you would see several edits and undos involving Tails in the 'Physical Abilities' part of the page. Sonamyfan666 says that Tails' abilities are not befitting of having a place in that section, while several others believe that they are. As it doesn't appear as though there will be an agreement upon this any time soon, and it seems rather counter-productive to continue editing and re-editing that part, I propose that this be discussed in the Talk page among everyone who has something to contribute to the subect, and that the subject be voted on once the talking is all said and done. The vote would then be agreed upon as the final say in whether or not Tails is included in that section. I, personally, find this to be a fair way to decide on this subject, which seems to keep on going.
Llirbwerdnadivad (talk) 09:10, August 19, 2013 (UTC)
I probably agree with using a vote. Mystic Orb: Who do you think I am? What do you want? What do I do? 09:23, August 19, 2013 (UTC)
I would too. The True Ultimate Silver Fan! (talk) 09:39, August 19, 2013 (UTC)
It occured to be that next time that came up I would change it to say as certain others characters or something else like that leaving it vauge enough so that everyone can see it as they want to while still being proffesional about it.

Sonamyfan666 Follow me inside, outside, through the stratosphere...

Keeping it vague does sound like a reasonable solution to me. Now I'm torn on which solution to go for...>.<
Llirbwerdnadivad (talk) 10:07, August 19, 2013 (UTC)
I think the problem came up because it specifacly said the names of other characters so by removeing that factor we would solve the problem.

Sonamyfan666 Follow me inside, outside, through the stratosphere...

Agreed, that does make sense. Though I would say that another part of the problem was both of us being quite stubborn on the subject...That aside, my only concern with making it vague is that someone else might come by and try to make it more specific again. I think that we have both learned to not undo over and over like that, but that wouldn't stop someone else from doing the same...I don't know if this is a reasonable concern or not, though. if it happens, things could still settle down quite quickly...
Llirbwerdnadivad (talk) 10:17, August 19, 2013 (UTC)
Yes they would if that does happen we can also explain why it is that way.

Sonamyfan666 Follow me inside, outside, through the stratosphere...

True, that sounds like it would work. :)
Llirbwerdnadivad (talk) 10:25, August 19, 2013 (UTC)
Well then I'll do it.

Sonamyfan666 Follow me inside, outside, through the stratosphere...

SonAmy coming soon?
I know I may get alot of hate for this but I have a strong feeling Amy will finally win over Sonic some time soon because they have had hints in recent games...What do you guys think?~Cyclonestar
If It does I will be happy as long as it doesn't over take everything else though.

Sonamyfan666 Follow me inside, outside, through the stratosphere...

PS Sign you comments on Talk pages.
Well that would change alot. I hope this isn't the case. I like them the way they are.--SlugDrones • (Contact) 11:04, November 11, 2013 (UTC)
Talk pages are for content, not speculation. SeanWheeler (talk) 18:35, November 11, 2013 (UTC)
you crazy pepole oh you
Don't deny da speed - Sanic (talk) 22:38, November 23, 2013 (UTC)
Leave him alone. He is just speculating Sonamy that is all! On my Greatest freakout ever wiki and the Arthur wiki? Users are more than welcome to speculate things as long as they are not spamming or writing junk. JLink0 is a friend of mine on deviantART. I am not gonna let anyone attack Sonamy fans and other anyone else who loves Amy like I do. If you did this on my freakout or Arthur wiki? You would get banned for infinite. The Arthur wiki shows ZERO tolerance for hate speeches about characters, stories, etc. --YoshiWii1 (talk) 22:55, November 23, 2013 (UTC)
Okay Yoshi take a chill pill problems been solved already hoping to see your great art later on Deaviant art.

Sonamyfan666 Follow me inside, outside, through the stratosphere...

I'm sorry, but this really bothers me:
Are you seriously saying that you could get banned for having an opinion? I'm not going to tell you how to run your job or anything, but with all due respect, that is quite an insane price to pay for disliking something out of someone else's interests. Serious Sam

Heavy 23:04, November 23, 2013 (UTC)
I am saying making hate blogs about characters will get you banned on the Arthur wiki. I didn't make that rule. My fellow admins made that rule. Because it offends people who like the characters and it starts crap. I am not saying you HAVE to like the character! I am saying making hate blogs about them is not allowed on the Arthur wiki. --YoshiWii1 (talk) 23:31, November 23, 2013 (UTC)
Ah, thanks for clearing that up then. Serious Sam

Heavy 00:27, November 24, 2013 (UTC)
If this wasn't a SonAmy post, YoshiWii1 would have never come here and said all that. Yoshi, you are so quick to judge, stop coming up with needless conclusions or you'll pick up yet another argument.--SlugDrones • (Contact) 06:49, November 24, 2013 (UTC)
Something I need to mention
We must be promoting Sonic lost world alot.Amy and Sonic's picture have even changed.And then the next game comes out...Dun Dun Dun!-User:Cyclonestar (Talk) 22:34, December 6, 2013 (UTC)
Amy's speed
In regards to a debate about a certain piece of information added to page, I have to agree with Ultrasonic. Mentioning that Amy said that she wasn't as fast as Sonic early in the series implies that Amy has gotten faster or is now as fast as Sonic, the problem with this is that there's no proof of this, no in-game dialogue or official statement says that she's faster now than when she said that. Gameplay can't really be counted due to inconsistencies with gameplay, she may be faster in Sonic Heroes and other games, but she's slow in Sonic '06 which proves that gameplay isn't reliable in this case.
Furthermore, just because someone isn't as fast as Sonic doesn't mean they're slow, various characters are slower than Sonic but they are still fast, we also know that Amy isn't as fast as Sonic as Sonic is still able to evade her when Amy chases him, which proves that the statement of Amy not being as fast as Sonic is still relevant. Myself 123 20:31, July 4, 2014 (UTC)
How strong is Amy Rose?
Justdvn (talk) 21:23, February 15, 2016 (UTC) Honestly I've always thought she was really really strong. But I've been debating Amy v Dedede and I just wanna know. How strong is Amy exactly? based on Power scaling and feats. If anyone can help I would be greatful.
Physically she can be said to be a power character or just shy of one, but in a fight she would beat Dedede.

Sonamyfan666 Follow me inside, outside, through the stratosphere...

D-Man: Well, With her Hammer she can smash Androids into pieces with one swing, send herself flying by hammering into the ground, and even knock down a Prison Door that was meant to keep Sonic Prisoned with just 3 strikes. She was able to go toe to toe with The Iron King (Who is very very very very very Strong), and also sent The Iron King flying with one strike. She has easily destroyed giant robots, and once hitted  Knuckles in to a tree
Expanded
Regarding Underwear: For Argument
After reading the first conversation regarding talk of Amy's underwear, I was actually disappointed of how it went.  The argument constantly felt on the against side (for the most part), and a lot of the people in the conversation (at least from what it seems) gave off a feeling of "are we really talking about this!?", and a tone that screamed "awkward", or at least that's how I saw it anyway.  I will admit that I did like the voting concept, but the balance felt as "balanced" as a commercial pointing out the flaws of another product and asking the customer "Which do you choose?", and the customer of course going for the product that looks better.  I understand that this isn't particularly the most riveting thing to talk about, but avoiding and ignoring topics isn't going to make things go away.  I mean, we all have to deal with things in life that we don't particularly like to do, but we do them to make progress and grow.  With that said, I've composed a video myself about the subject at hand, since I doubt that anyone else is going to step up to the plate here.  Seriously, it's been years since the conversation, and not much about it has happened since then.  The first video is the main video which is the informative video which covers the subject at hand, as well as adding in a little humor here and there to help out.  The other one is essentially the same exact thing, although with the theme Follow Me from Sonic Heroes, plus has a worse aspect ratio for some reason.  The second one is primarily meant for adding more in the descriptions, since YouTube has a limited amount of space to type them in, humor, and also that it makes since because it has Amy Rose, Cream the Rabbit, and Big the Cat are in it; Team Rose from Sonic Heroes.  Also, please look in the description for more info, and also look into the points that I make in the video.  Also, disclaimer, there will be such "shots" in the video that some clearly won't be too thrilled to see, but it is to make a point and it plays a role in the video.   And I know that I'm not likely to win anything or persuade anyone, but at least I will be informative on the matter.  With that stated, please enjoy the video, and have a nice day!  :)!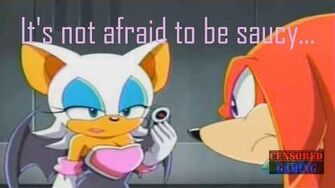 SoulSnow 2 (talk) 01:58, April 9, 2018 (UTC)

Actually, I did note that detail in the video from a comic page in the video.  Although I did not know, however, that there were other forms of media (besides perhaps the comics) that showed it shadowed.  Would you please show me these other "Shadows" (not Shadow the Hedgehog, of course).  If you could, could you elaborate on the "just because" part?  And I still stand by only the second video not being informative because you wouldn't be able to hear anything (or barley anything) on it in the first place.  SoulSnow 2 (talk) 14:23, April 9, 2018 (UTC)

Interesting example there.  Although so far, the only medium to show her "underneath" shaded is the comics, it seems, unlike the TV shows or video games.  Like mentioned in the video, the example that I featured was the Archie Sonic the Hedgehog issue 250 preview pages, which instead of a very slight shading on her legs and tail, it was the complete underside of Amy that was shaded.  Also, in the video I've explained that in the early days of her modern design, it was treated as essentially no big deal of her undergarments showing.  I've explained in the video that it was around the time (in my opinion) of the (video) game Shadow the Hedgehog because that was the first Sonic game to utilize the full 4Kids voice cast, and since then made her undergarments a lot harder to see.  4Kids, of course, was known for various censorship in the anime that they've localized.  As pointed out in the video (I might as well just explain my video here) in the 4Kids localized version of Sonic X, while they indeed censored a lot of the undergarment shots of Amy in the show, to my knowledge they seem to just leave in the less obvious shots, while (possibly) removing the more obvious ones.  And Sonic Adventure, while fairly notable for showing off her undergarments, is far from the only Sonic game to show her with undergarments (I'm honestly a little surprised Sonic Heroes wasn't used as an example).  I've even seen an officially licensed plush (by GE Animation) and action figure (by Jazwares), which shows her having undergarments, both (again) featured in the video.  Would you please show me her having her undergarments shaded in other mediums besides comics?SoulSnow 2 (talk) 22:51, April 11, 2018 (UTC)

Fine then.  If there are any questions anyone would want to ask me, please don't hesitate.  But (even though this is completely unnecessary and pointless, I just wanted to add it as my last thing to say here) the thumbnails for the video are actually prerendered from YouTube.  Proof in the following screenshots:
Have a nice day!  :)!  SoulSnow 2 (talk) 23:33, April 11, 2018 (UTC)
Amy Rose's new outfit
I bet Amy Rose's 1998 outfit was replaced by her new outfit in further Sonic games and new Sonic-related media, which consists of a purple tiered dress with light purple circles on it, a light purple waist band, white evening gloves, a small purse, and a pair of very shiny black medium-heeled shoes. Red hair (talk) 23:36, August 22, 2019 (UTC)
Sonic Rider's series' outfit.
How is it that Amy's riders outfit isn't in here appearance description? dejahnnaw —Preceding unsigned comment added by Dejahnnaw (talk • contribs) 01:46, January 9, 2020
Community content is available under
CC-BY-SA
unless otherwise noted.