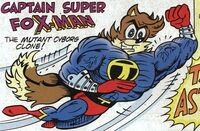 Tails to Astonish was a comic book written and drawn by Tails, starring himself as a superhero called Captain Super Fox-Man the Mutant Cyborg Clone, and loosely based on his solo adventure to Downunda. Tails used the comic as escapism, using it to express his desires to be treated like a grown up.
One page of Tails to Astonish appeared at the beginning of each of the three issues of the Tails mini-series. As well as being a parody of both fanfiction and mainstream superhero comics (the title is a reference to Tales to Astonish, and Tails' superhero name and background is a combination of various superheroes, including Superman and the X-Men), it was used to express Tails' desire to be treated as an equal by the Freedom Fighters, and also as a narrative tool to provide a brief recap of the previous issue's events.
The Tails to Astonish pencil linework was provided by Mike Gallagher, whereas the pencils for the rest of the Tails mini-series was provided by Dave Manak. The rest of the art was provided by the mini-series' regular artists: inks by Harvo, letters by Mindy Eisman, and colors by Barry Grossman.
Issues
One page of the comic appears in each issue of the Tails mini-series:
Community content is available under
CC-BY-SA
unless otherwise noted.