This transformation exists primarily or exclusively within the Pre-Super Genesis Wave continuity.

Information in this article may not be canonical to the storyline of the games or any other Sonic continuity.
All hail the king, baby.

— Super Scourge, Sonic the Hedgehog #195
Super Scourge is the super transformation of Scourge the Hedgehog. This transformation occurred when Scourge used the Anarchy Beryl in his throne to transform in order to combat the combined might of Sonic the Hedgehog, Amy Rose, Rob O' the Hedge, Silver the Hedgehog, Shadow the Hedgehog, Metal Sonic and Rosy the Rascal, who all decided Scourge was a legitimate threat and decided to work together.
Concept and creation
Super Scourge ended up going through four different designs before the final look. Ian also thought it was rather boring with the character's fur just changing color so he expanded it to his clothes as well.[1]
Appearance
When transformed, Scourge's quills turn upward and his irises have become red, much like Super Sonic's. Unlike Super Sonic however, Super Scourge's fur has turned purple instead of gold and his sclera has become black. Also, Super Scourge's sneakers have become purple, the flames on his jacket blue, his glasses blue, and his scars are darker.
History
Despite their efforts, the numerous hedgehogs were no match for Super Scourge, who defeated all of them. Super Scourge then proceeded to defeat the combined might of the Knothole Freedom Fighters and Suppression Squad (minus Rotor and Fiona), who had returned to Anti-Mobius expecting Scourge to be defeated. While seeming to be unbeatable, Sonic eventually realized the Anarchy Beryl would have a different (and negative) effect on Scourge to contrast the positive effect the Chaos Emeralds had on him once the transformation ended. Luring Super Scourge away from the others, Sonic managed to stall for time until Super Scourge was tricked by Sonic into de-transforming. As Sonic speculated, the Anarchy Beryl drained him of what energy he had left in his normal form, leaving him vulnerable. Sonic subsequently defeated Scourge and captured him. (StH #196)
Powers and abilities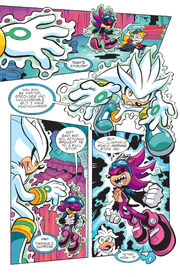 In this state, Super Scourge's natural talents are vastly augmented, giving him highly amplified speed and strength, allowing him to effortlessly defeat the combined might of the Freedom Fighters and Suppression Squad. Like the traditional Super-State, Scourge gains new abilities too, including high-speed flight and virtual invulnerability to harm, and is so powerful that he was able to break free of Silver's psychokinesis.
Weakness
Using the Anarchy Beryl to transform gives Scourge a crippling weakness. While the transformation is longer lasting than the Chaos Emeralds, when Scourge's super-state ran out, he was drained of what power he had in his normal form, allowing Sonic to easily overpower and defeat him.
Trivia
Super Scourge is the first hedgehog not to originate from the games to get a super form.
Super Scourge's purple coloration is likely due to the fact that purple is the color inverse of green, also, his eyes are black and his irises are red showing that most of his colors are inverses, just as yellow is the color inverse of blue in Sonic's case.
Super Scourge might last longer than Super Sonic in super form. Sonic says "The "super" forms are the same. Yours may even last a little bit longer than mine."
In Sonic the Hedgehog #161, there was a data file about Scourge and it said that his fur color changed to golden when in his super form, but head-writer Ian Flynn said it was merely a "goof-up."[2]
Super Scourge was the first transformation in the comic series' continuity to have the character's clothes change color when transformed.
Super Scourge's red eyes are similar to Metal Sonic's.
References
External links
Video games

Alf Layla wa-Layla | Baker | Burning Blaze | Chaos' forms (Chaos 1, Chaos 2, Chaos 4, Chaos 6, Perfect Chaos) | Color Power | Dark Queen | Dark Shadow | Darkspine Sonic | Devil Doom | Excalibur | Excalibur Sonic | Finalhazard | Gaia Colossus | Giga Metal | Hero Shadow | Hyper Mode | Hyper Knuckles | Hyper Sonic | Master Core: ABIS | Mephiles' monstrous form | Nega-Mother Wisp | Neo Metal Sonic (Metal Madness, Metal Overlord) | Perfect Dark Gaia | Phantom Heavies (Phantom Gunner, Phantom King, Phantom Magician, Phantom Rider, Phantom Shinobi) | Roboticization | Sonic the Werehog | Super transformation (Classic Super Knuckles, Classic Super Sonic, Classic Super Tails, Flicky's Super State, Mecha Sonic's Super State, Pir'Oth Ix's Super State, Super Knuckles, Super Mighty, Super Ray, Super Shadow, Super Silver, Super Sonic, Super Tails, Ultimate Gemerl) | Ultimate Emerl | Void's transformation
Sonic the Comic
Perfect Chaos | Super Sonic (Mirror Zone)
Adventures of Sonic the Hedgehog
Roboticization | Super Robotnik | Supreme High Robotnik

Archie Comics

Pre-SGW
Chaos' forms (Chaos 6, Perfect Chaos) | Chaos Knuckles (Dark Mobius, Light Mobius) | Chaos Shadow | Crystalline Magic (Crystal Golem) | Enerjak (Dark Enerjak) | Finalhazard | Metal Overlord | Perfect Tikhaos | Roboticization (Blaze Woman, Charmy Man, Espio Man, Knuckles Man, Mecha Knuckles, Mecha Sally, Mecha Sonic, Mecha Tails, Rose Woman, Rouge Woman, Shadow Man, Silver Man, Tails Man, Vector Man) | Super transformation (Hyper Knuckles, Hyper Tails, Master Mogul, Super A.D.A.M., Super Armor Mega Man, Super Scourge, Super Shadow, Super Silver, Super Sonic (Dark Mobius, In Another Time, In Another Place), Turbo Tails, Ugly Naugus, Ultra Sonic (Eco Sonic, Polar Sonic, Solar Sonic)) | Titan Metal Sonic | Titan Tails | Werehog
Post-SGW
Burning Blaze | Chaos Shadow | Crystalmancy (Crystal Omega, Crystal Sonic) | Devil Doom | Monster Form | Neo Metal Sonic (Metal Overlord) | Overclocked Nicole | Perfect Chaos | Perfect Dark Gaia | Roboticization (Blaze Woman, Charmy Man, Espio Man, Knuckles Man, M'egga Man, Rose Woman, Rouge Woman, Shadow Man, Silver Man, Sonic Man, Tails Man, Vector Man) | Sonic the Werehog | Super transformation (Super Armor Mega Man, Super Shadow, Super Silver, Super Sonic)
Sonic X
Chaos' forms (Chaos 2, Chaos 4, Chaos 6, Chaosbot, Perfect Chaos) | Cosmo's transformation | Dark Sonic | Final Lizard | Final Mova | Serpenter | Super Shadow | Super Sonic

IDW

Burning Blaze | Master Overlord | Neo Metal Sonic | Sonic the Werehog | Super Neo Metal Sonic | Super Sonic

Miscellaneous

Chaos Dingo | Regeneration | Roboticization (SatAM, Sonic Underground)