Raise a Floppa - The Loop
Play Sound
Sunset Heights[2] (サンセットハイツ, Sansettohaitsu?) is the fifteenth stage in Sonic Forces, and the sixth stage in the game to be played as Sonic.
Sunset Heights is a quaint downtown area in the City that has since been besieged and destroyed by Dr. Eggman's robot armies, turning it into an all-out war zone.[3] During the events of the game, Sonic came to Sunset Heights to find Shadow the Hedgehog and get some answers about why the Ultimate Lifeform joined the Eggman Empire.
Description
Sunset Heights is a deserted, Eggman Empire-besieged town area in the City set during a partially clouded sunset that adds to the overall glum mood of the stage. The area's densely-built buildings resemble those found in real-life cities like San Diego. Sunset Heights itself is built in a blocky hill landscape with layered soil in different shades of brown and green grass on top of the hills that favors Green Hill. There is also a long red bridge in the background that stretches across a large portion of Sunset Heights. Also depicted in the background is a coastal area with a green island landscape that is connected to Sunset Heights by small bridge pathways.
Sunset Heights shows a scenario of complete chaos and war, with structures—buildings, monuments and houses, among others—being destroyed by hordes of mass-produced Death Egg Robots that roam through the City in the background while Resistance forces shoot at them with artillery fire in an attempt to bring them down before they cause more damage. Air raid sirens can be heard as well, alerting anyone still in the City to evacuate to avoid collateral damage as the Resistance fights off the robots. As such, much of Sunset Heights lies in ruins, with most of the local structures having suffered heavy damage and/or having been set ablaze. In addition, flaming balls of fire are falling from the sky, causing even more destruction.
Story
Just as Tails has revealed that Dr. Eggman will have a some kind of plan for wiping out the Resistance ready in three days time, Vector reveals that Shadow is tearing through the Resistance's troops in Sunset Heights with support from the Eggman Army and requests reinforcements. Silver suspects Shadow is being controlled by Eggman's new power, but Sonic decides to get on the case and get some answers from the brooding hedgehog as to why he is helping the Eggman Empire.
As Sonic begins traveling throughout Sunset Heights, several characters communicate with him. Vector is surprised with how many mass-produced Death Egg Robots are ravaging through the City as Resistance forces try to destroy them with concentrated artillery fire before they can cause any more damage to the already ravaged City; Charmy replies to Vector's revelation, as there are still many robots left to subdue; Silver suggests to Sonic that he should hurry; and Amy informs Sonic that Shadow has been sighted nearby, which prompts Sonic to hurry and find Shadow. Soon enough, Amy informs Sonic of more sightings of Shadow until Sonic eventually comes face-to-face with him. Sonic promptly asks Shadow for his deal, only for the black hedgehog, without saying anything, to charge at him. Right before he can strike however, another Shadow appears and takes the first one out using Chaos Control. As the beaten Shadow fades away, the real Shadow tells a confused Sonic that the Shadow he just faced was a fake; one of many heartless reproductions of familiar faces created by Infinite. Shadow explains the full story to Sonic, who believes they still can win, despite the odds, unaware of Knuckles already planning an attack on Metropolis without them with the full might of the Resistance behind him.
Gameplay
Sunset Heights is a fast-paced stage with destruction to avoid, along with an overwhelming number of enemies and obstacles, such as spikes. There are also a number of pathways in the stage to choose from, whether if the player wants to go along a higher route or a lower route. There are also red platforms that collapse a couple of seconds after the player steps on them.
Being a Sonic stage, Sunset Heights has numerous Wisp Capsules filled exclusively with White Wisps along the way for the player to charge their Boost Gauge with.
Overview
The stage starts out in a 3D perspective. First, the player must run down a road, which eventually shows a view of the Death Egg Robots on the left. After getting a view of the mass-produced Death Egg Robots, Sonic will reenter the denser city area. There, the player must make their way through enemies and across stoops, before arriving on a sloping street with Springs at the end. These Springs will launch Sonic to another street that lies across a gap. From there, continue down the street Sonic lands on until he enters a round plaza with several enemies.
In front of the plaza is a loop which the player must pass through in order to enter a 2.5D section. This section presents several pathways, although the player ultimately has to climb to the rooftops of destroyed buildings and proceed onward from there. After then hitting a Grind Rail, continue down the incoming road until Sonic gets taken up to a higher path by a Pulley. Proceed then down this path to reach the goal.
Ranking
The following are the suggested clear points for achieving a high enough score to achieve each Rank:
| S-Rank | A-Rank | B-Rank | C-rank |
| --- | --- | --- | --- |
| 850,000 | 450,000 | 325,000 | Less than 325,000 |
Trivia
Sunset Heights was the first stage in Sonic Forces to be revealed to the public, as well as one of the few stages to be present in the game's demo.
The music for Sunset Heights is featured as a track in Super Smash Bros. Ultimate.
Music
| Name | Artist(s) | Length | Music Track |
| --- | --- | --- | --- |
| "Sunset Heights" | Tomoya Ohtani | 3:23 | |
Video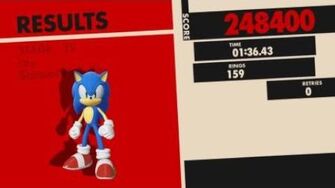 References
↑ Sonic Forces OST - Sunset Heights. YouTube. Sega (6 October 2017). Retrieved on 6 October 2017. "As Eggman's forces continue to lay siege to the city, Sonic darts through the crumbling landscapes in pursuit of a friend-turned-foe. At long last, Sunset Heights is here."
↑ Aaron Webber on YouTube

(English)

(29 August 2017). Retrieved on 2 September 2017. "Aaron Webber: I'll spoil you, it's actually not called City Heights, in the soundtrack it's called Sunset Heights."
↑ Sonic Forces - First Modern Sonic Gameplay. YouTube. Sega (17 March 2017). Retrieved on 17 March 2017. "Sonic blasts through a city under siege by Death Egg Robot sentinels in this first look at Sonic Forces. Coming this Holiday season to PlayStation 4, Xbox One, Switch, and PC!"
---
Main article | Script | Staff | Manuals | Beta elements | Gallery
Playable characters
Sonic (Super Sonic) | Classic Sonic (Classic Super Sonic) | Avatar | Shadow
Non-playable
characters
Resistance (Tails, Knuckles, Amy, Team Chaotix (Vector, Espio, Charmy), Silver, Team Dark (Shadow, Rouge, Omega) | Dr. Eggman | Infinite | Orbot | Cubot | Metal Sonic | Chaos | Zavok | Animals (Cucky, Flicky, Pecky, Picky, Pocky, Ricky, Rocky)
Wisps
Blue Wisp | Green Wisp | Indigo Wisp | Ivory Wisp | Red Wisp | Violet Wisp | White Wisp | Yellow Wisp
World Map regions
Chemical Plant | City | Death Egg | Eggman Empire Fortress | Green Hill | Metropolis | Mystic Jungle
Stages
General
Lost Valley | Spaceport | Ghost Town | Prison Hall | VS. Zavok | Egg Gate | Arsenal Pyramid | Luminous Forest | VS. Infinite | Green Hill | VS. Eggman | Park Avenue | Casino Forest | Aqua Road | Sunset Heights | Capital City | VS. Infinite | Chemical Plant | Red Gate Bridge | Guardian Rock | Network Terminal | Death Egg | Metropolitan Highway | Null Space | Imperial Tower | Mortar Canyon | VS. Infinite | Iron Fortress | Final Judgement | VS. Death Egg Robot
Episode Shadow
Enemy Territory | Eggman's Facility | Virtual Reality
Secret
Fire Cannon 1 | Vanish Panel 1 | Bomb Block 1 | Plasma Cannon 1 | Laser Cannon 1 | Reverse Block 1
Extra
Flying Pod | Bomb Block 2 | Laser Cannon 2 | Reverse Block 2 | Vanish Panel 2 | Fire Cannon 2 | Plasma Cannon 2
Enemies
Aero-Chaser | Buzz Bomber | Chopper | Egg Pawn | Egg Tank | Egg Walker | Galaga Bee | Moto Bug | Missile Pod | Nebula | Sandworm | Sprinkler | Valkeen
Bosses
Death Egg Robot | Eggman | Egg Dragoon | Infinite | Metal Sonic | Zavok
Moves/Techniques
Air Boost | Boost | Crouch | Double Boost | Double Jump | Drop Dash | Grind Step | Grinding | Homing Attack | Side Step/Cartwheel | Skydiving | Slide | Super Sonic Boost | Spin Attack | Spin Dash | Spin Jump | Stomp | Triple Boost | V. Maximum Overdrive Attack | Wall Jump | Wire Attack
Gimmicks and obstacles
Amber block | Balloon | Bottomless pit | Bumper | Capsule | Conveyor Belt | Dash Panel | Dash Rail | Dash Ring | Drop Target | Electrical emitter | Fan | Flipper | Floating turret | Flywheel | Goal | Goal Plate | Grind Rail | High-speed warp tube | Hint Ring | Iron ball | Jump Panel | Laser field | List of pinball obstacles | Pulley | Rainbow Ring | Ring Shooter | Saw | Slot machine | Spikes | Spring | Spring Catapult | Spring Pole | Star Post | Wide spring | Wire Target | Zip Line
Items
General
Air Bubble | Blue Block | Blue Ring | Container (Unbreakable Container, Wooden Container) | Costume | Item Box (Bonus Rings, Invincibility, Power Sneakers, Shield) | Medal | Meteorite | Number Ring | Red Star Ring | Ring | Silver Moon Ring | Wisp Capsule
Wispons
Asteroid | Burst | Cube | Drill | Hover | Lightning | Void
English voice actors
Roger Craig Smith (Sonic) | Mike Pollock (Eggman) | Liam O'Brien (Infinite) | Colleen O'Shaughnessey (Tails, Charmy) | Travis Willingham (Knuckles, Zavok) | Cindy Robinson (Amy) | Kirk Thornton (Shadow, Orbot) | Karen Strassman (Rouge) | Vic Mignogna (Omega) | Quinton Flynn (Silver) | Keith Silverstein (Vector) | Matthew Mercer (Espio) | Wally Wingert (Cubot)
Japanese voice actors
Jun'ichi Kanemaru (Sonic) | Kotaro Nakamura (Eggman) | Takashi Kondō (Infinite) | Ryō Hirohashi (Tails) | Nobutoshi Canna (Knuckles) | Taeko Kawata (Amy) | Kōji Yusa (Shadow) | Rumi Ochiai (Rouge) | Taiten Kusunoki (Omega) | Daisuke Ono (Silver) | Kenta Miyake (Vector) | Yūki Masuda (Espio) | Yōko Teppōzuka (Charmy) | Jōji Nakata (Zavok) | Mitsuo Iwata (Orbot) | Wataru Takagi (Cubot) | Fumihiko Tachiki (Narrator)
Music
Songs
"Fading World" | "Fighting Onward" | "Fist Bump" | "Infinite" | "Justice" | "Moonlight Battlefield" | "Nowhere to Run" | "Rhythm And Balance" | "Set in Motion" | "Supporting Me" | "The Light of Hope" | "Virtual Enemies"
Albums
Sonic Forces Original Soundtrack - A Hero Will Rise | Sonic Forces Vocal Traxx - On The Edge | Sonic Forces Hi-Res Collection | Sonic Forces Original Soundtrack The Vinyl Cutz
Other
Boost Gauge | Chaos Control | Challenge Mission | Corkscrew | Daily Mission | Death Crab | Death Egg | Death Egg Robot | Death Queen | Egg Dragoon | Egg Mobile | Eggman Army | Eggman Empire | Eggman Fleet | Experience | Health Gauge | Jackal Squad | Loop | Mega Mack | Miles Electric | Operation Big Wave | Phantom Copy | Phantom Ruby | Phantom Ruby prototype | Rank | Real-Time Interaction | Resistance HQ | Robotomy Treatment | Sandworm | Skill | Sonic Forces digital comic (Moment of Truth, Stress Test, Looming Shadow, Rise of Infinite) | Sonic Forces: Speed Battle | SOS Mission | Time Over | Totem pole | Tunnel | War to Take Back the Planet | Wisp Gauge