Fire Emblem Warriors: Three Hopes - The Loop
Play Sound
This article is about a subject in the real world.

Information in this article is about real-life people, companies, and objects, which do not relate to the in-universe Sonic series.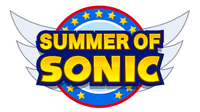 The Summer of Sonic is an annual convention focusing on all aspects relating to the Sonic the Hedgehog franchise. The event always takes place in London, England and was created in 2006 by computer game journalist and Sonic fan site owner Svend Joscelyne (aka "Dreadknux"), as the collaborative creation during July and August of a celebratory website in which submission of articles and media was open to anyone. This site was intended to be available indefinitely online, but due to difficulties in February 2009 with the web hosting provider, it is currently unavailable.
Buoyed by the relative success of the initial event, Joscelyne went on to plan a one-day event to be held at a venue in London, England, during the summer of 2008. This gained the attention of SEGA Europe's Community Manager, Kevin Eva - known as "ArchangelUK" or "AAUK" to fans, who himself had been thinking of the possibilities for such an event and agreed to co-organise SoS. As a result the pair were able to secure a degree of backing from SEGA Europe, though the event is closely tied to the online Sonic community and Joscelyne and Eva's hobby projects, fan sites The Sonic Stadium (TSS) and Sonic Wrecks. Since 2008, London was and still is the locale for the one-day Summer of Sonic event.
Joscelyne and Eva are considered the lead contributors to the convention's success, however the event relies on a great deal of community participation from volunteers. The Summer of Sonic has been officially recognized by Sega of Europe and by Sonic Team, and following the success of 2008's convention, this led to a more official presence in subsequent conventions. Other divisions of Sega have expressed their wishes to host their own Summer of Sonic event.
The 4th Annual Summer of Sonic was held in London on 25 June 2011. This event was the first in Sega's SOS convention history not to be held in August. This was explained by Eva at the 2010 event so that it can be as close to Sonic's twentieth anniversary (June 23) as possible. Guinness World Records 2014 Gamers Edition has listed Summer of Sonic as the first official fan convention for a video game character.[1]
SOS 2006 (June 23)

The first Summer of Sonic lasted from 23 June 2006 to 31 August 2006. This year was hosted as a website, rather than an actual convention. The website allowed an opportunity for artists, fan game developers, fiction writers and casual visitors to get involved by submitting their works or entering contests. It was originally meant to celebrate Sonic's 15th Anniversary, but in 2008 it was later re-imagined as the first ever convention for Sonic the Hedgehog fans. The concept was created by Svend Joscelyne.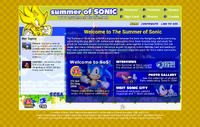 Sections that could be contributed to included "Features", "Fanbase", "Games", "Card" and "Photos", with an additional "Credits" section that listed all the websites and fans involved in the project.
The website launched in June 2006 and remained open for contributions until late August 2006.
Features: Many webmasters were invited to write articles and opinion pieces about the history of Sonic the Hedgehog. Resources such as Sonic CulT and The Shadow Realm to the official Jun Senoue website provided written works to the project. The Summer of Sonic website caught the attention of Richard Jacques, Jun Senoue, Shun Nakamura and Masahiro Kumono, which resulted in various exclusive interviews and Q&As being held. Miscellaneous items such as wallpapers, downloadable cards and remixes were submitted and archived here, and external fan events also set to celebrate Sonic's 15th Anniversary were mentioned.
Fanbase: The fanbase category was split into many sections: "Artwork", "Fiction", "Comics", "Fangames" and "Videos". Visitors were invited to submit their creative works via email and have them uploaded onto the Summer of Sonic website shortly after. Most followed the theme of celebrating Sonic's birthday, while many saw fit to include amateur music videos featuring mashups of various themes and Sonic clips. Tweaker's Sonic Megamix featured alongside the roster of notable downloads.
Games: The games section was on show to briefly detail the newest and upcoming games of the time. Sonic Riders, Sonic Rivals, Sonic and the Secret Rings and Sonic the Hedgehog (2006) were mentioned in this section, with a brief info guide and a small offering of screenshots and videos.
Card: Using a PHP script, visitors could sign a virtual birthday card and send Sonic the Hedgehog their best wishes for his 15th Anniversary. This section of the website was so popular multiple virtual cards had to be used. A total of 121 cards containing 2026 different signatures were collated in this section.
Photo: Visitors could submit photos of themselves with Sonic the Hedgehog merchandise or in any sort of "Sonical" situation to celebrate the 15th Anniversary. Every week the best photo submitted would be picked and the contributor would win a special yellow t-shirt with a sprite of Sonic from the original Sonic the Hedgehog game on the front.
SOS 2008 (August 9)
The Summer of Sonic 2008 was held at Dragon Hall, Covent Garden, London, UK, on 9 August 2008. Features from the event included live performances from Bentley Jones, Teresa Jane "TJ" Davis and Richard Jacques. Bentley Jones also did a remix of the song His World from Sonic the Hedgehog (2006) for the event as a gift to the fans. There were also playable demos of the then upcoming Sonic Chronicles: The Dark Brotherhood, months before its release. Nigel Kitching writer/artist of Fleetway's Sonic the Comic also attended, signing autographs for fans.
A Guinness World Records Gamer's Edition entry attempt was also hosted, with fans competing for the quickest completion time of the Emerald Hill Zone, the first Zone of the game Sonic the Hedgehog 2, the best time being 20 seconds by Louis Tsiattalou. Whilst other stage events included a fan quiz, and competitions including a Sonic fan art contest which was won by 10 year old Liam Ashcroft. He received a Nintendo DS Lite and a special Sonic medal.
The event whilst receiving little in the way of promotion managed to attract die hard fans from not just all over the United Kingdom and mainland Europe but as far afield as America and even Australia. Eva later commented to fans he had been told that Sonic Team themselves had "loved" the idea and a 2009 follow-up was confirmed the following February.
SOS 2009 (August 29)

Due to the increase in exposure and numbers, the location of the 2009 event was moved to the Old Truman Brewery Boiler House on Brick Lane, London. It was noted by Eva that Sega Europe were even more on board than before though in discussions with fans at an event for Sonic Unleashed noted the difficulty in improving the scale and professionalism of the event whilst maintaining the community spirit of the show. The Summer of Sonic now operated as an endorsed and sponsored event by Sega, with backing provided by them also but was organized and run essentially in its entirety by Eva, Joscelyne and senior Sonic fans.
Events were slow in being confirmed for the 2009 show, due in part to the difficulty in securing the venue. However, it was confirmed that Nigel Kitching would again be attending the event alongside artist and fellow Fleetway stalwart Nigel Dobbyn.
In July Bentley Jones was confirmed to again be attending, whilst on 7 August, it was confirmed representatives from Sumo Digital the developers behind games such as Sega Superstars Tennis and Outrun Online Arcade would be attending. It was later confirmed by Eva that following on from the early showing of Sonic Chronicles: The Dark Brotherhood in 2008 that both Wii and DS versions of Mario & Sonic at the Olympic Winter Games and Sonic & Sega All-Stars Racing (also developed by Sumo Digital) would be getting their UK public premieres at the event.
Other confirmed events at this time included a Sonic cosplay competition.[2]
SOS 2010 (August 7)

The third Summer of Sonic convention was held on the 7th of August at The Pavilion, located in Shepherd's Bush. Over nine hundred people attended the event.
The headline act for 2010 was rock band Crush 40 (Jun Senoue and Johnny Gioeli) who gave a one-hour live performance - their first performance outside of Japan. Earlier in the day, Jun Senoue also performed a short solo set, and both Senoue and Gioeli answered fan questions in a Q&A session.
Games playable at the event included the E3 demos of two unreleased games: the Xbox 360 version of Sonic the Hedgehog 4: Episode 1 and Sonic Colors, both for Wii and DS. There were also several Xbox 360 booths featuring older Sonic games including Sonic Heroes, Sonic Unleashed and Sega Mega Drive Ultimate Collection. A Sonic & Sega All-Stars Racing tournament also took place.
The Sonic Wrecks karaoke competition made a return from 2009, as did the cosplay competition, won in 2010 by a Dr. Eggman cosplayer.
SOS 2011 (June 25)

At the end of the 2010 event, Summer of Sonic 2011 was announced. It was held on 25 June for the first time to coincide with the 20th anniversary of Sonic the Hedgehog, and not to be held in August when the previous three SOS events (2008-2010) were held. The venue for this year's event was revealed as the Camden Centre in London. The venue opened from 9am-8pm making it the longest duration for a Summer of Sonic event ever. Reservations for the event opened up on 1 May at 10AM British time and within eight hours the event was sold out. The organizers announced that they are aiming to have more spaces open for people who could not make a reservation on the official website.
The special guests included writers and artists of the Archie Sonic the Hedgehog comics and Sonic the Comic including Tracy Yardley, Nigel Dobbyn, Ian Flynn and Nigel Kitching, Jun Senoue, techno rock-band Julien-K, Sega programmer Takashi Iizuka and the creator of the Sonic series Yuji Naka. Mike Pollock, voice actor for Dr. Eggman also attended although only as a normal visitor.
A showcase section was opened up to give the fans of past events to showcase their talent in both the art and musical areas.
A playable demo of Sonic Generations appeared at the event along with older Sonic games including Sonic Adventure 2 and Sonic Gems Collection.
During the 2010 Crush 40 performance, Johnny Gioeli announced his intention to return for Summer of Sonic 2011, but was unable to return due to scheduling issues.
The Wrecks Factor Karaoke contest returned for the last time. The cosplay contest was won by Bekka "Silver" Jackson, a Silver the Hedgehog cosplayer and the prize was a limited edition Sonic 20th Anniversary statue.
An art competition also took place and a 2nd 20th Anniversary statue was also given away. A charity raffle was also held and £440 was raised for the Tokyo earthquake and tsunami that took place in March 2011.
Also, a proposal was held; Antony Turner proposed to Carly Cridge, with a Chaos Emerald instead of a ring, as the diamond and emerald ring had been left behind.
SOS 2012 (July 7)
It was revealed on the 2 February 2012 that the fifth Summer of Sonic will take place on the 7 July in London. The official logo was revealed and shared similarities to that of the Sonic Boom logo, which was the US equivalent of SOS.
The venue for the event was revealed as The Hove Centre in Brighton. The decision for choosing Brighton over the normal location of London was easy for the organizers as they wanted to avoid any clashes with the 2012 Summer Olympics in terms of hotels and travel.
On 13 May at 12:30 British time, the first wave of tickets were open to registration. Within three minutes, the first wave of tickets were sold out. Wave two sold out in 48 seconds and Wave 3 beat that by 20 seconds making this the second-fastest selling Summer of Sonic ever.
Confirmed guests included Jun Senoue and Johnny Gioeli of Crush 40, Sonic Team head Takashi Iizuka, Sumo Digital producer Steve Lycett and Nigel Dobbyn and Nigel Kitching from Sonic the Comic.
Features for Summer of Sonic 2012 included Club Sonic, a playable demo of Sonic & All-Stars Racing Transformed, a Q&A session with Takashi Iizuka and Steve Lycett and a fan artists showcase section where a select few Sonic fans will attend and show their fan drawings to the public.
The cosplay contest returned for Summer of Sonic 2012 but had a few different rules. This time it was judged by three judges and the contestants needed to fill out entry sheets upon arrival if they wished to compete. A memorable addition to the Summer of Sonic cosplayers were two people cosplaying Banjo and Kazooie (from the Banjo-Kazooie series), via Sonic & Sega All-Stars Racing (although they admitted to not even knowing about their inclusion in the game until during the event).
SOS 2013 (August 3)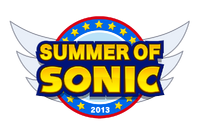 On 20 June 2013, it was announced that Summer of Sonic 2013 was going to take place on 3 August 2013 at the Methodist Central Hall, Westminster, London. Unlike previous years, this Summer of Sonic was "Metal Sonic and Badnik" themed.[3]
On 5 July 7:00pm British time, the first were open to registration and were quickly sold out in six seconds.[4]
Wave two sold out in seven seconds, with a total of 900 tickets sold in 13 seconds, making it the fastest selling Summer of Sonic ever, beating out 2012's event.[5]
Confirmed guests were Jun Senoue, Sonic the Comic artists Nigel Dobbyn, Nigel Kitching, and Ferran Rodriguez, Takashi Iizuka, Badnik artist and creator Kazuyuki Hoshino, and guest artists were Thalia Evans, Amy Jeferies, and Amr El-Wakeel.[6]
When the one minute countdown for the event started, a special video was shown with its theme being "Celebration of Community", with a remix of the theme for Stardust Speedway playing in the background.[7]
A special event that was hosted was a collection of fans made animations including ones made by BoozermaN, Lilmario, Time8th, and Frobmanâ.[8]
Features from Summer of Sonic 2013 included were a playable version of both the Wii U and Nintendo 3DS versions of Sonic Lost World, A live performance from The Megadrive Band, who performed a variety of songs from the classic series,[9] two art classes with Nigel Dobbyn,[10] Q&A sessions with Kazuyuki Hoshino and Takashi Iizuka, and special signings desk sessions with Takashi Iizuka, Kazuyuki Hoshino and Jun Senoue.
A special Sonic & All-Stars Racing Transformed Sumo Digital "Race the Developer" challenge with game designer Tim Spencer was held, and the participant with the fastest time won prizes.
The cosplay contest returned but with one different rule, the audience were the judges, and would cheer for their favorite. "Jam With Jun Live!" returned with Jun Senoue performing, while Susie Brown and Daniele Narducci provided vocals.[11]
This was the last Summer of Sonic before being put on hiatus for two years before returning in 2016.
SOS 2016 (August 6)
On 2 April 2016, It was announced that Summer of Sonic 2016 will take place at the ILEC Conference Centre in Earls Court, London on 6 August 2016. It was launched as a Kickstarter to have the event funded. In total, £31,625 was made out of the £20,000 needed.[12]
When the event began, a special countdown was made featuring 60 entries from the community.[13]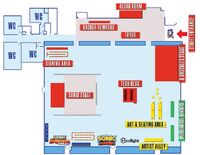 Confirmed guests were Jun Senoue and Johnny Gioeli of Crush 40, SEGA HARDlight's producer of Sonic Jump Fever, James Booth, Richard Burton, Richard Elson, Nigel Dobbyn, and Deborah Tate from Sonic the Comic, and Tyson Hesse.
Features for Summer of Sonic 2016 were Club Sonic, playable demos of Sonic Mania, Sonic Boom: Fire & Ice and a selection of titles throughout Sonic's history, Q&A sessions with Mike Pollock, Yuji Naka and Takashi Iizuka, an art contest where people got to submit fan drawings and get their art seen by the public.
A special Sonic Jump event was also held where the crowd needed to open up the Sonic Jump Fever app and work together to "jump" at the same time.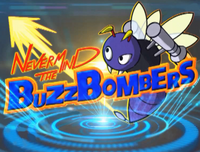 Another event, "Never Mind the Buzzbombers!", involved two teams competing in a series of games and challenges designed to prove who has the greatest knowledge of Sonic the Hedgehog and the winners would win prizes.
An "& Knuckles" stage was also featured that had a Sonic the Comic Q&A, a "Sonic Community Panel", a Cosplay Contest, and a "History of Summer of Sonic" session.
For the final event, Crush 40 performed a one-hour live performance while earlier in the day, Jun Senoue also performed a short session called "Jam With Jun".[14][15]
References
Printed media
Manga
Sonic the Hedgehog Story Comic (1991)

 ·

Sonic the Hedgehog (The Adventures of SONIC the Hedgehog (1992—1994))

 ·

Dash & Spin Super Fast Sonic (2003—2005)

 ·

Dengeki Nintendo DS (Sonic World Adventure (2008), Sonic and the Black Knight (2009), Sonic Chronicles (2009), Sonic Colors (2010), Sonic Generations (2011))
Comic books
Sonic the Hedgehog (promotional comic) (1991)

 ·

Sonic the Comic (1993—2002)

 ·

Sonic Sunday Strips (1993—1995)

 ·

Archie Comics (Sonic the Hedgehog (1993—2017), Sonic the Hedgehog (1993), Princess Sally (1995), Tails (1995), Knuckles (1996), Sonic Quest (1996), Knuckles the Echidna (1997—1999), Sonic X (2005—2008), Sonic Universe (2008—2017), Sonic Boom (2014—2015))

 ·

Sonic Adventures (1994)

 ·

Sonic Comic (2016)

 ·

IDW Publishing (Sonic the Hedgehog (2018-present), Sonic the Hedgehog: Tangle & Whisper (2019), Sonic the Hedgehog: Bad Guys (2020), Sonic the Hedgehog: Imposter Syndrome (2021-2022))
Novels and picture books
Stay Sonic (1993)

 ·

Virgin Books (Sonic the Hedgehog in Robotnik's Laboratory (1993), Sonic the Hedgehog in the Fourth Dimension (1993), Sonic the Hedgehog and the Silicon Warriors (1993), Sonic the Hedgehog in Castle Robotnik (1994))

 ·

Pense Bem: Uma Aventura Científica com Sonic the Hedgehog (1993)

 ·

Troll Associates (Sonic the Hedgehog (1994), Sonic the Hedgehog: Robotnik's Revenge (1994), Sonic the Hedgehog: Fortress of Fear (1995), Sonic the Hedgehog: Friend or Foe? (1995), Sonic & Knuckles (1995), Sonic X-Treme (1997))

 ·

Ladybird (Sonic the Hedgehog Colouring Poster Book (1994), Sonic the Story (1994), Sonic the Hedgehog: Robotnik's Oil (1994), Sonic the Hedgehog: The Invisible Robotnik (1994))

 ·

Watermill Press (Sonic the Hedgehog (1995))

 ·

Golden Books (Sonic the Hedgehog: Sonic's Shoes Blues (1993), Sonic the Hedgehog 2: The Secret Admirer (1994), Sonic the Hedgehog 3: Up Against the Wall (1995), Sonic the Hedgehog: Double Trouble (1996))

 ·

Sonic X (2005—2007) (Meteor Shower Messenger (2005), Spaceship Blue Typhoon (2005), Battle at Ice Palace (2006), Aqua Planet (2006), Dr. Eggman Goes to War (2006), Desperately Seeking Sonic (2007))

 ·

Where's Sonic? A Search-and-Find Adventure (2012)

 ·

Sonic Boom (2015—2016) (Le partenaire ideal (2015), La machine à gaffes (2015), Pas de chance, Knuckles ! (2015), L'épouvantable Todd (2016), Sonic Superstar (2016), Une étrange météorite (2016))

 ·

Sonic and the Tales of Deception (2018)

 ·

Sonic and the Tales of Terror (2018)

 ·

Meet Sonic! (2019)
Other
Sonic the Hedgehog 4 Knitting Patterns (1992)

 ·

Sonic the Hedgehog Adventure Gamebook (Fantail) (1, 2, 3, 4, 5, 6) (1993—1996)

 ·

Sonic the Hedgehog Adventure Gamebook (Ladybird) (1, 2, 3, 4) (1994—1995), Joke Book (1994), Where's Sonic? (1994), Where's Sonic Now? (1996), Puzzle Book 1 (1994), Puzzle Book 2 (1994))

 ·

The Official Sonic the Hedgehog Yearbook (1993, 1994)

 ·

Sonic the Hedgehog Book (1992)

 ·

Sonic the Hedgehog Paint 'n' Marker Book (1993)

 ·

Look and Find Sonic the Hedgehog (1995)

 ·

Sonic the Hedgehog (Play-a-Sound) (1995)

 ·

How to Draw Sonic the Hedgehog & the Gang (1998)

 ·

The History of Sonic the Hedgehog (2012)

 ·

Sonic the Hedgehog Super Interactive Annual 2014 (2013)

 ·

Run, Sonic, Run! (2013)

 ·

Sonic the Hedgehog Joke Book (2014)

 ·

Sonic the Hedgehog Sticker Mania! (2014)

 ·

Totally Sonic (2014)

 ·

Sonic: His Amazing History! (2016)

 ·

The Secrets of Sonic the Hedgehog (2016)

 ·

Sonic: The Ultimate Character Guide (2016)

 ·

Sonic the Hedgehog 25th Anniversary Art Book (2017)

 ·

Welcome to the World of Sonic (2018)

 ·

Sonic the Hedgehog Mad Libs (2018)

 ·

Race Against Chaos Sticker Activity Book (2018)

 ·

Sonic the Hedgehog Art & Design Book (2019)

 ·

Sonic & Friends Sticker Activity Book (2019)

 ·

Sonic the Hedgehog Encyclo-speed-ia (2021)

 ·

Sonic the Hedgehog: The Official Coloring Book (2022)

 ·

Sonic the Hedgehog: The Official Adult Coloring Book (2022)
Television and film
Animated shows
Adventures of Sonic the Hedgehog (1993)

 ·

Sonic the Hedgehog (1993—1994)

 ·

Sonic Underground (1999)

 ·

Sonic X (2003—2005)

 ·

Sonic Boom (2014—2017)

 ·

Sonic Prime (2022)
Shorts
Sonic the Animation (1997)

 ·

Sonic: Night of the Werehog (2008)

 ·

Sonic Mania Adventures (2018)

 ·

Team Sonic Racing Overdrive (2019)

 ·

Chao In Space (2019)

 ·

Around the World in 80 Seconds (2020)

 ·

Sonic Colors: Rise of the Wisps (2021)

 ·

Sonic Drone Home (2022)

 ·

Sonic Frontiers Prologue (2022)
Other
Sonic - Super Hedgehog (1994)

 ·

Sonic Christmas Blast (1996)

 ·

Sonic the Hedgehog: The Movie (1996)

 ·

Sonic the Hedgehog (film series) (Sonic the Hedgehog (2020), Sonic the Hedgehog 2 (2022), Sonic the Series (2023), Sonic the Hedgehog 3 (TBA)
Cancelled projects
Sonic the Hedgehog: Wonders of the World

 ·

Sonic Armageddon
Internet streams

Sonic Official

(2016-present)

 ·

Sonic Station Live! (2020-present)

 ·

Sonic Central (2021-present)

 ·

TailsTube (2022-present)
Events
Anniversaries (10th, 15th, 20th, 25th, 30th)

 ·

Conventions (Sonic Boom, Sonic Party 2002 Summer Festival, Sonic Party 2003 Summer Festival, Summer of Sonic)

 ·

Franchise timeline

 ·

Ken Penders' legal cases

 ·

Project Sonic

 ·

Sonic 2020

 ·

Sonic Generations of Skate

 ·

Sonic in Sydney

 ·

Sonic the Hedgehog 30th Anniversary Symphony

 ·

Steve Aoki x Sonic Concert

Miscellaneous
Alton Towers (Spinball Whizzer)

 ·

Cameo appearances and references

 ·

Cookie Crisp

 ·

Frosties

 ·

Guinness World Records

 ·

Honey Nut Cheerios

 ·

iTunes

 ·

Macy's Thanksgiving Day Parade Sonic Balloon

 ·

Sanic

 ·

SEGA Republic (Sonic Hopper, Spin Gear)

 ·

Sonic Bible

 ·

Sonic Bowl

 ·

Toyland Tours