This group exists primarily within the Sonic X continuity.

Information in this article may not be canonical to the storyline of the games or any other Sonic continuity.
Station Square TV News (abbreviated SSTV News) is a group that appears in the anime series Sonic X and its comic series published by Archie Comics. It is the news station responsible for the news gathering and production of news around Station Square.
New World SagaEdit
When a Chaos Emerald was found near a shopping store construction site, SSTV News reporter Scarlet Garcia arrived on the scene and covered the event, informing her viewers of the strange properties of the emerald in question.[1] Scarlet and her camera man would also take notice of and report on the ball game being played by Sonic the Hedgehog and Dr. Eggman in Diamond Stadium.[2] SSTV would later report on the disappearances of several gems and jewels all across Station Square due to the actions of a mysterious thief.[3]
Chaos Emerald SagaEdit
The race between Sonic and Sam Speed would be covered by SSTV News reporter, Scarlet, who flew in a helicopter in order to keep track of the speedsters.[4]
Chaos SagaEdit
When Perfect Chaos rampaged across Station Square, SSTV covered the happenings of the disaster. Initially reporting that it may have simply been a sewer issue, reporter Scarlet retracted that statement when Perfect Chaos emerged.[5]
Egg Moon SagaEdit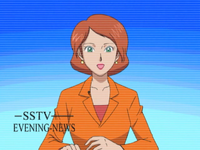 SSTV would later cover the introduction of the Sunshine Balls to the public, as well as interview Dr. Eggman about why Sonic was currently breaking the Mirror Towers.[6]
Emerl SagaEdit
SSTV would go on to cover the Freedom Movement phenomenon that was sweeping the nation, interviewing people about why they admired and wanted to be like Sonic.[7] The news station would also report and commentate on the Chaos Emerald Martial Arts Mash-Up, later being joined by Miles "Tails" Prower after his defeat.[8]
Homebound SagaEdit
Archie ComicsEdit
When Dr. Eggman attacked the Station Square Space Museum, SSTV covered the ensuing battle between the doctor and Sonic.[9] The News Station would also cover the Chao craze that soon covered all of Station Square and the subsequent Dark Chao breakout.[10][11] Scarlet would later attempt to interview Captain Westwood and Miles "Tails" Prower on behalf of SSTV in regards to why they were in an alien spacecraft, only for the latter to refuse giving out any information.[12] Scarlet would later report on the annual lighting of the Station Square Christmas tree and menorah. With Sonic being held for ransom by "Santa Claus", SSTV would arrive on the North Pole in order to report Santa on the truth, eventually reporting that the supposed Santa was, in fact, Eggman and his goon. Decoe.[13]
ReferencesEdit