Station Square (ステーションスクエア, Sutēshon Sukuea?) is a location in the Sonic the Hedgehog series. It is a heavily populated city famous for its many attractions including an amusement park, a hotel/restaurant, and a casino district. A train station in the city allows travel to the Mystic Ruins. It has a human population of 2,856,427[citation needed] and a near-resemblance to New York City, Chicago, Philadelphia and Boston.
History
Sonic Adventure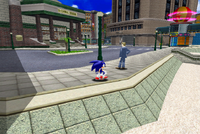 In the beginning of Sonic Adventure, Sonic goes to Station Square for fun, and stumbles across Chaos, a strange creature that is wreaking havoc on the city. Sonic defeats it, and later learns that Dr. Eggman had released Chaos and is planning on collecting the seven Chaos Emeralds to transform Chaos into an incredibly powerful beast that can destroy Station Square, so that Eggman can build his Eggmanland on its ruins.
Sonic and Tails go after the Chaos Emeralds in order to stop Chaos from obtaining them, and one was found in Station Square (in Casinopolis, to be precise). Station Square also plays a role in the other characters' stories: Knuckles finds three pieces of the Master Emerald there, Amy lives there, and Big and Gamma both go there looking for Froggy.
Eventually the heroes face off against Eggman in his Egg Carrier, defeating him and Chaos. In a fit of rage, Eggman fires a gigantic missile into the heart of the city. However, the rocket misfires and turns out to be a dud. Tails races Dr. Eggman to the missile and manages to deactivate it completely before the Doctor gets a chance to set it off manually.
However, Chaos eventually obtains all seven Chaos Emeralds, and transforms into Perfect Chaos. Perfect Chaos easily destroys Station Square by flooding the city in an enormous tsunami, and proceeds to roam around the rubble of buildings submerged in the water. Super Sonic ultimately defeats the beast and leaves the destroyed city in pursuit of a fleeing Eggman. Because of Perfect Chaos' destruction, the current state of Station Square is unknown.
Sonic Adventure 2
Rouge the Bat references Station Square in Sonic Adventure 2, when Eggman asks her where the last Chaos Emerald is. Rouge takes out a newspaper article that states that Tails was rewarded with a Chaos Emerald at Station Square's city hall for saving the city from the missile. This may suggest that the city was rebuilt, or at least not completely destroyed.
Sonic Chronicles: The Dark Brotherhood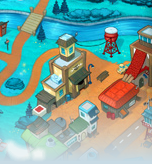 Station Square reappears in Sonic Chronicles: The Dark Brotherhood as part of Blue Ridge Zone. However, it bears no resemblance to the one seen in Sonic Adventure, meaning it may be a different place, a new part of the city, or the city rebuilt after its destruction at the hands of Perfect Chaos (however, Knuckles remarks to the team that they should be careful as they don't know much about this place, which would suggest either that this iteration of Station Square is an entirely different location, or that it has changed beyond recognition since their last time being there).
Other game appearances
Sonic Pinball Party
Even though Station Square is not seen or mentioned, Casinopolis makes a reappearance as the main setting in Sonic Pinball Party's story mode.
Mario & Sonic series
Mario & Sonic at the Olympic Winter Games
In Mario & Sonic at the Olympic Winter Games, images of a ruined version of Station Square akin to the one in Sonic Adventure can be seen during the battle against the ice version of Perfect Chaos during the Dream Figure Skating event.
Mario & Sonic at the Sochi 2014 Olympic Games
In Mario & Sonic at the Sochi 2014 Olympic Winter Games, Speed Highway appears as part of the Roller Coaster Bobsleigh event. It looks near identical to it's appearance in Sonic Generations, albeit with snow and ice.
Sonic Generations
Station Square reappears in Sonic Generations as the setting of Sonic's rematch with Perfect Chaos. The city is submerged, as it was in the original fight, though there are sections of highway floating around as well. Speed Highway also makes a reappearance as a playable level. Despite this, the city is never mentioned by name.
Citizens
The residents of Station Square are a diverse bunch, although their names are generally not revealed. Station Square's status as a booming city and a major tourist attraction has kept the residents happy for the most part, though just like other places it is not without problems.
Mayor of Station Square – The Mayor of Station Square finds running the city from City Hall to be a tough job. But the Mayor does listen to its citizens, only to complain about all the hard work he has to do later.
Station Square Police Department (S.S.P.D.) – The Station Square Police Department patrols the city quite diligently. However the police are ill-equipped to handle a monstrous threat such as Chaos or Dr. Ivo "Eggman" Robotnik.
Station Square Central Railroad Workers – The Railroad Workers are responsible for the train operation at Station Square Central Station. They used to work long hours for not enough pay until they went on strike. Though the strike made it difficult for Sonic the Hedgehog and friends to stop Dr. Ivo "Eggman" Robotnik's evil plans for Chaos, it did get the Railroad Workers the fairness they wanted.
Mr. Know-It-All – "Mr. Know-It-All" is an annoying kid who "knows it all." After giving tips, Mr. Know-It-All often says something smug.
Newsstand Saleswoman – The Newsstand Saleswoman is always the first to get the news in Station Square. She also commutes on the train, so when the Railroad Workers go on strike, the Newsstand Saleswoman is stuck in the city.
Hotel Manager – The Hotel Manager takes care of the hotel with the penthouse restaurant next to the Station Square Central Station. The manager likes chao.
Cyber Net Inc. Building Owner – The owner of Cyber Net Inc., the nicest skyscraper in Station Square. He freaks out when Dr. Ivo "Eggman" Robotnik damages his building.
Burger Shop Guy – The Burger Shop Guy is a guy who works in the Burger Shop in Station Square. He has a strange feeling that he is being watched but can never figure out why. The Burger Shop Guy also gets the creeps from some girl (the Girl with Crush on Burger Shop Guy) who always hangs around his shop.
Girl with Crush on Burger Shop Guy – A shy girl with a crush on the Burger Shop Guy. She cannot muster the courage to confess her feelings to him so she just hangs around the shop staring at him. Sometimes she gets the strength to actually go into the shop, but winds up standing around for a while before just ordering a burger. In the end, the Girl with Crush on Burger Shop Guy actually gets a job next to him.
Girl waiting for her Father – A little girl who stands in front of the Station Square Central train station everyday waiting for her father to return from a Mystic Ruins excavation.
Cheating Boyfriend – A guy who is high on his dates and always thinks he is in love. He often says stupid things in his proclamations of love and cannot understand why it is wrong to love more than one woman.
Cheated On Girlfriend 1 – The Cheating Boyfriend's first girlfriend. When she found out about his dating another woman (Cheated On Girlfriend 2), she got very angry with him.
Cheated On Girlfriend 2 – The Cheating Boyfriend's second girlfriend. When she found out about his dating another woman (Cheated On Girlfriend 1), she also got very angry with him.
Compulsive Gambler – A mother who goes out gambling at Station Square's Casinopolis every night and cannot stop herself. The Compulsive Gambler eventually realizes she does not spend enough time with her son.
Compulsive Gambler's Son – The son of the Compulsive Gambler. He is deeply bothered by how his mother abandons him every night to go to the Station Square's Casinopolis and sometimes cries. She eventually realizes the harm she causes to him.
Vanity Shop Owner – The owner of a vanity shop near City Hall, he hates when people use the back door to enter his store.
The Twins - A pair of blonde girls on vacation in Station Square. They claim that despite their similar appearance they have two totally different personalities. During the daytime, the girls can usually be found at the pool, and at night they will be at the Casino or Twinkle Park. They leave Station Square once the Egg Carrier crashes.
Mystic Ruins Excavation Party – Upon hearing that the ruins of an ancient civilization were in the Mystic Ruins jungle, the Excavation Party set out to search for them. The new guy in the group does not get to go very far but the group winds up losing 2 parties in the jungle for a while and still never finds the ruins.
Points of interest
Casino District[1]/Casino Area[2]

Back Alley[3]
Casino KEN
Movie Theater[3]
Station Sq Diner

Hotel[2]

Hotel District[1]

Elevator to Chao Garden[7]
Hotel Observatory
Front Desk[7]
Pool[7]

Sea[4]
Station Sq Dock
Twinkle Spark District[1]
In other media
Archie Comics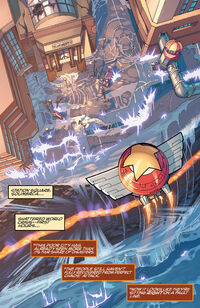 In the Sonic the Hedgehog comic series and its spin-offs published by Archie Comics, Station Square, previously known as the "Hidden City of the Ancients", was an secret underground city created from the Hidden City Initiative. It is one of the places on Mobius that humans inhabit. When Dr. Eggman sought to control Chaos, the Knothole Freedom Fighters and Nate Morgan, an Overlander familiar with the city, came to Station Square to warn the people and later have their decisive battles with Chaos. As Station Square expanded into the United Federation, the city participated more actively in the ongoing war with the Eggman Empire with their allies from the Republic of Acorn.
Following the Super Genesis Wave, Station Square and its history was changed to be almost indistinguishable from its video game incarnation. During the Shattered World Crisis, Station Square's proximity to a fault line from the planet's break-up left it flooded and heavily damaged, leading to several evacuation efforts from the Freedom Fighters and G.U.N.
Sonic X
In the anime series Sonic X and its comic series published by Archie Comics, Station Square was the main setting of the series for season 1 and 2 (also referred to as series 1). In this media, Station Square is the home of the series' main human protagonist Christopher Thorndyke and his family, and is where Sonic and the others from his world were sent to after Chaos Control sent them to Earth. Throughout the series, Dr. Eggman mounted several attacks on the city with his robots, but Sonic and his friends foiled the doctor's plans every time. Eventually, Sonic, his friends and Dr. Eggman had to leave Station Square to return back to their world.
Trivia
The city and buildings in Station Square have similarities to real-life locations, such as New York City, Tokyo, Miami, Chicago, Philadelphia and Vancouver.
This city is similar to Empire City featured in Sonic Unleashed.
References
---
Main article | Gallery | Beta Elements | Staff | Glitches | Re-releases (DX | 2010)
Scripts (Sonic, Tails, Knuckles, Amy, Big, Gamma, Super Sonic)
Playable characters
Sonic (Super Sonic) | Tails | Knuckles | Amy | E-102 Gamma | Big | Metal Sonic*
Non-playable characters
Dr. Eggman | Beta (Mark II) | Chao | Chaos (Chaos 1, Chaos 2, Chaos 4, Chaos 6, Perfect Chaos) | Cream* | Delta | Epsilon | Froggy | Grandma | Mr. Know-It-All | Pachacamac | Tikal | Unnamed Sonic robot* | ZERO | Zeta | Animals (Deer, Elephant, Gorilla, Kangaroo, Koala, Lion, Mole, Parrot, Peacock, Penguin, Rabbit, Seal, Sea Otter, Skunk, Swallow)
Adventure Fields
Egg Carrier | Mystic Ruins | Station Square
Action Stages
Emerald Coast | Windy Valley | Casinopolis | IceCap | Sky Chase | Twinkle Park | Speed Highway | Red Mountain | Sky Deck | Lost World | Hot Shelter | Sand Hill | Twinkle Circuit | Final Egg
Enemies
Beat | Bladed Spinner | Boa-Boa | Buyoon | Cart Kiki | Cop Speeder | Egg Keeper | Electro Spinner | Fighter Aircraft A | Fighter Aircraft B | Gola | Ice Ball | Icecap's unnamed aircraft | Kiki | Leon | mechanical fish | Pirate | Rhinotank | Sky Deck's unnamed jet fighter | Spiky Spinner | Sweeper
Bosses
Chaos 0 | Chaos 2 | Chaos 4 | Chaos 6 | E-101 Beta | E-101 Mark II | E-102 Gamma | E-103 Delta | E-104 Epsilon | E-105 Zeta | Egg Carrier | Egg Hornet | Egg Viper | Egg Walker | Knuckles the Echidna | Perfect Chaos | Sonic the Hedgehog | ZERO
Moves/
Techniques
Playable characters
Bolt of lightning | Climb | Dig | Flight Mode | Glide | Hammer Attack | Hammer Jump | Hover | Homing Attack | Homing Missile Launch | Jump Attack | Laser Gun | Light Speed Attack | Light Speed Dash | Lure Attack | Maximum Heat Knuckles Attack | Pick | Propeller Flight | Punch Attack | Rapid Tails Attack | Spin Dash | Spin Hammer Attack | Spin Jump | Tails Attack
NPCs
Arm Punch | Bomb Attack | Bomb Gun Attack | Charge | Double Punch | Earthquake Attack | Electric Arm | Energy Ball Attack | Flame Thrower Attack | Guiding Missiles | Instantaneous Liquefaction | Laser Beam Attack | Homing Tail Slice | Inhale Attack | Marble Attack | Phantom Shadow Move | Punch | Quarter Attack | Scorpion Attack | Shockwave Attack (Chaos 6) | Sonic Boom | Spin Attack | Spinning Spike Attack | Spouting Attack | Squash Roll Attack | Swing Punch
Gimmicks and obstacles
Bumper | Bumper Car | Cannon | Conveyor Belt | Crank | Dash Panel | Dash Ring | Drum Can | Explosion Trap | Fan | Flipper | Fountain | Goal Balloon | Hanging Bell | Helicopter | Hint Box | Hint Orb | Icicle | Iron ball | Jump Panel (plate) | Jump Panel (ramp) | Laser field | Lit Panel | Mirror | Monkey Detonation Switch | Power cube | Rocket | Satellite | Slot machine | Spring | Spring Catapult | Switch | Teleporter | Trick Jump Panel | Wide spring | Wind Path | Zip Line

Objects

General
Air Bubble | Capsule | Cart pass | Chao Egg | Chaos Emerald | Doll | Emblem | Emerald Shard | Employee ID Card | Item Box (Bomb, Extra Life, Invincibility, Lightning Shield, Power Sneakers, Shield, Super Ring) | Key Stone (Gold Statue, Ice Stone, Silver Statue, Wind Stone) | Point Marker | Ring | Sandboard | Snowboard | Sonic Token
Level Up Items
Ancient Light | Crystal Ring | Fighting Gloves | Jet Anklet | Jet Booster | Laser Blaster | Life Belt | Light Speed Shoes | Long Hammer | Lure | Power Rod | Rhythm Badge | Shovel Claw | Warrior Feather
English voice actors
Ryan Drummond (Sonic) | Corey Bringas (Tails) | Michael McGaharn (Knuckles) | Deem Bristow (Eggman) | Jennifer Douillard (Amy) | Jon St. John (Big) | Elara Distler (Tikal, Station Square Train Voice, Default Menu Voice) | Steve Broadie (Gamma, Pachacamac, Mystic Ruins Train Voice) | Tomoko Sasaki (Chao)
Japanese voice actors
Jun'ichi Kanemaru (Sonic) | Kazuki Hayashi (Tails) | Nobutoshi Canna (Knuckles) | Chikao Ōtsuka (Eggman) | Taeko Kawata (Amy) | Shun Yashiro (Big) | Kaori Asoh (Tikal) | Jōji Nakata (Gamma) | Tōru Ōkawa (Pachacamac) | Kaho Kōda (Station Square Train Voice) | Nobutoshi Canna (Mystic Ruins Train Voice) | Elara Distler (Default Menu Voice) | Tomoko Sasaki (Chao)

Music

Songs
Believe In Myself | It Doesn't Matter | Lazy Days | My Sweet Passion | Open Your Heart | Unknown from M.E.
Albums
Sonic Adventure Original Sound Track (Digi-Log Conversation) | Sonic Adventure Remix | Sonic Adventure: Songs With Attitude Vocal Mini-Album | Sonic Adventure Original Soundtrack 20th Anniversary Edition | Passion & Pride: Anthems with Attitude from the Sonic Adventure Era
Other
777 Slots Pinball | Angel Island | Auto Running | Black Market | Card & Pinball | Chao Garden (Station Square Garden, Mystic Ruins Garden, Egg Carrier Island) | Chao Stadium | Chao in Space | Chao Machine | Chao Search* | Corkscrew loop | Debug Mode | E-100 Series | Egg Carrier | Egg Carrier 2 | Emerald Radar | Freeze | Hedgehog Hammer | Life gauge | Mission Mode | Mystic Ruins | Shrine of Knuckles's race | Shuttle loop | Sonic Adventure (LCD) | Station Square | Station Square Police Department | Tails' Lab | Tornado | Tornado 2 | Transporter Machine

*Exclusive to Sonic Adventure DX: Director's Cut.
---
Main article | Gallery | Beta elements | Staff | Glitches | Re-releases (Battle | 2012)
Playable characters
Sonic (Super Sonic) | Tails | Knuckles | Amy* | Shadow (Super Shadow) | Rouge | Eggman | Big*^ | Tikal* | Chaos* | Dark Chao Walker* | Chao Walker* | Metal Sonic*
Non-playable characters
Chao (Dark Chao, Hero Chao, Chaos Chao) | Gerald | Maria | President | Secretary | Sigma-Alpha 2 | Animals (Bat, Bear, Boar, Cheetah, Condor, Dragon, Gorilla, Half Fish, Parrot, Peacock, Penguin, Phoenix, Rabbit, Raccoon, Seal, Sea Otter, Sheep, Skeleton Dog, Skunk, Tiger, Unicorn)

Stages

Hero
City Escape | Wild Canyon | Prison Lane | Metal Harbor | Green Forest | Pumpkin Hill | Mission Street | Aquatic Mine | Route 101 | Hidden Base | Pyramid Cave | Death Chamber | Eternal Engine | Meteor Herd | Crazy Gadget | Final Rush
Dark
Iron Gate | Dry Lagoon | Sand Ocean | Radical Highway | Egg Quarters | Lost Colony | Weapons Bed | Security Hall | White Jungle | Route 280 | Sky Rail | Mad Space | Cosmic Wall | Final Chase
Misc.
Cannon's Core | Green Hill
2P Stages
Downtown Race | Grind Race | Planet Quest | Pool Quest | Deck Race | Pyramid Race
Enemies
G.U.N.
Blue Eagle | Bomb Beetle | Bomb Wing | Gold Beetle | Gun Beetle | Gun Hawk | Gun Hunter | Gun Wing | Hornet-3 | Hornet-6 | Hornet-9 | Laser Hawk | Laser Hornet | Laser Hunter | Mono Beetle | Phoenix | Rhino Cannon | Rhino Jet | Rhino Metal | Rhino Spike | Shield Hunter | Sky Hawk | Spark Beetle | Spring Beetle
Badniks
Buzz Bomber | Chopper | E-1000 | Gola | Unidus | Kiki
Misc
Artificial Chaos (Artificial Chaos P-1, Artificial Chaos P-100, Cell, Float Type, Guard Type) | Boo | Boom Boo
Bosses
B-3x Hot Shot | Biolizard | Dr. Eggman | Egg Golem | F-6t Big Foot | Finalhazard | King Boom Boo | Knuckles | R-1/A Flying Dog | Rouge | Shadow | Sonic | Tails
Moves/Techniques
Amy Flash* | Black Shield* | Black Wave* | Booming Missile* | Bounce Attack | Captive Light* | Chaos Bind* | Chaos Control | Chaos Impact* | Chaos Screw* | Chaos Spear | Chaos Strike* | Charm Ray* | Crazy Rush* | Crouch | Dark Finish* | Dark Omochao* | Dig | Drill Claw | Drill Drive | Fire Somersault | Glide | Grind Step | Grinding | Hammer Punch* | Heaven's Justice* | Hell Bomber* | Hip Drop* | Hover | Homing Attack | Jump Dash | Kick/Kick Attack | Knuckle Spin* | Laser Missile* | Light Attack | Light Speed Dash | Lock-on | Lock-On Missile | Magic Hands | Omochao | Pick | Power Flash* | Power Laser* | Propeller Punch | Punch (Eggwalker) | Punch/Punch Attack | Rocket Launcher | Rumble Launcher* | Screw Kick | Somersault | Sonic Wind* | Speed Up* | Spin Jump | Spin Dash | Spiral Upper | Storming Heart* | Super Sonic Boost | Swim | Thunder Arrow* | Time Stop* | Volkan Cannon | Wrath of Gaia* | Zap Laser*
Gimmicks and obstacles
Ancient Ruin | Ball Switch | Bungie Vine | Dash Panel | Dynamite | Egg Beetle | Gravity Control Switch | Green energy fluid | Grind Rail | GUN Military Truck | High-speed warp tube | Hint Box | Hourglass | Iron ball | Jump Plate | Laser field | Missile | Pipe | Propeller Spring | Pulley | Rocket | Safe | Spikes | Spinning drum | Swing Bar | Time Stop Switch | Turtle | Warp Hole | Warp Wall | Weight | Wide spring

Objects

General
Balloon | Chao Egg | Chao Key | Chaos Emerald | Chaos Drive | Container (Cage, Chao Container, Steel Container, Unbreakable Container, Wooden Container) | Emblem | Emerald Shard | Goal Ring | Item Box (Bomb, Extra Life, Health, Invincibility, Magnetic Barrier, Power Sneakers, Shield, Super Ring) | Key Stone (Gate Key) | Meteorite | Outfit | Point Marker | Ring | Snowboard
Level Up Items
Air Necklace | Air Shoes | Ancient Light | Bazooka | Booster | Bounce Bracelet | Flame Ring | Hammer Gloves | Iron Boots | Jet Engine | Large Cannon | Laser Blaster | Light Speed Shoes | Magic Gloves | Mystic Melody | Pick Nails | Protective Armor | Shovel Claw | Sunglasses | Treasure Scope
English voice actors
Ryan Drummond (Sonic) | Connor Bringas (Tails) | Scott Dreier (Knuckles/GUN Soldiers) | Jennifer Douillard (Amy Rose) | David Humphrey (Shadow the Hedgehog) | Lani Minella (Rouge/Omochao) | Deem Bristow (Doctor Eggman) | Moriah Angeline (Maria Robotnik) | Marc Biagi (Gerald/GUN Soldiers) | Steve Broadie (President) | Shelly Fox (Default menu voice) | Jon St. John (Big) | Elara Distler (Tikal) | Tomoko Sasaki (Chao)
Japanese voice actors
Jun'ichi Kanemaru (Sonic) | Kazuki Hayashi (Tails) | Nobutoshi Canna (Knuckles) | Taeko Kawata (Amy) | Kōji Yusa (Shadow) | Rumi Ochiai (Rouge) | Chikao Ōtsuka (Eggman ) | Etsuko Kozakura (Omochao) | Yuri Shiratori (Maria) | Kinryū Arimoto (President) | Shun Yashiro (Big) | Shelly Fox (Default menu voice) | Tomoko Sasaki (Chao)

Music

Songs
A Ghost's Pumpkin Soup | Believe In Myself | Deeper | Dive into the Mellow | E.G.G.M.A.N. | Escape from the City | Fly in the Freedom | For True Story | It Doesn't Matter | Kick the Rock! | Live and Learn | My Sweet Passion | Rhythm And Balance | Space Trip Steps | Supporting Me | The Supernatural | Throw It All Away | Unknown from M.E. | Vengeance is Mine
Albums
Multi-Dimensional Sonic Adventure 2 Original Sound Track | Sonic Adventure 2 Vocal Collection: Cuts Unleashed | Sonic Adventure 2 Official Soundtrack | Sonic Adventure 2 Battle - Sampler | Sonic Adventure 2 Original Soundtrack 20th Anniversary Edition | Passion & Pride: Anthems with Attitude from the Sonic Adventure Era
Other
Angel Island | Auto Running | Black Market | Central City | Chao Adventure^ | Chao Adventure 2^ | Chao Garden (Dark, Hero, Neutral) | Chao in Space | Chao Kindergarten | Chao Machine | Chao Stadium | Chao Transporter^ | Chao World | Corkscrew loop | Cyclone | Eclipse Cannon | Eggman Bombom | Eggwalker | Emerald Radar | Fake Emerald | Gerald Robotnik's diary | Health Gauge | Hi-Speed Shoes | Kart Race | Prison Island | Project Shadow | Rank | Shuttle loop | Space Colony ARK | Station Square | Teleporter | Totem Pole | Winding Tunnel

*Appears or is playable only in the 2P mode
^ Dreamcast version of Sonic Adventure 2 only