Stardust Speedway is the sixth round in Sonic the Hedgehog CD. It is best known as the place where Sonic the Hedgehog raced and defeated Metal Sonic.
Description
Present
One of the fastest levels in Sonic history, Stardust Speedway is a highway adorned with musical instruments above an enormous city; like its namesake implies, the city glows with many lights. A statue of Dr. Robotnik can be seen undergoing construction in Zone 2, with girders and incomplete sections.
Past
In the past, the background takes the form of a Roman/Greek-style city, complete with an acropolis and surrounding towns. The night sky is not as bright as it is in the Present due to the lack of technology, but some stars can still be seen. The zone is mainly entangled by vines as well. It also has a Gothic-styled building in the center of Zone 2.
Bad Future
In the Bad Future, Stardust Speedway has become a corrupted, polluted dystopian city underneath a large electrical storm with a completed statue of Dr. Robotnik in the center of Zone 2. The roads and instruments have become corroded and discolored, and no stars can be seen at all.
Good Future
The Good Future looks like a giant futuristic amusement park, with bright pink and green colors dominating the landscape. It looks upon a vast bay with bright cities in the distance, and the Doctor Robotnik statue has been replaced by a beautiful cathedral in Zone 2.
Near the end of the level, Sonic is pitted against Metal Sonic in a complex race; should Sonic win, he will rescue the captive Amy Rose.
Trivia
Stardust Speedway is the largest Zone in Sonic the Hedgehog CD. This is likely because such a speed-oriented Zone would be cleared too quickly if it was normally sized.
There are some paths in this stage which go up and down, much like Chemical Plant Zone. It is possible that this stage is influenced by Chemical Plant Zone.
The cathedral at the center of the good future timeline of Zone 2 appears to reuse the base of the Robotnik statue (seen being built in the present timeline of Zone 2)
In Sonic Generations, the unlockable remix of the North American/PC theme is listed as Stardust Speedway Zone.
Gallery
Music
| Name | Artist(s) | Length | Music Track |
| --- | --- | --- | --- |
| Stardust Speedway "P" mix | Naofumi Hataya | 2:30 | |
| Stardust Present | Spencer Nilsen, David Young | 3:20 | |
| Stardust Speedway - Bad Future | Spencer Nilsen, David Young | 3:52 | |
| Speedway To Good Future | Spencer Nilsen, David Young | 2:10 | |
| Stardust Speedway | Naofumi Hataya | 1:18 | |
| Stardust Speedway "B" mix | Naofumi Hataya | 1:05 | |
| Stardust Speedway "G" mix | Naofumi Hataya | 2:48 | |
Video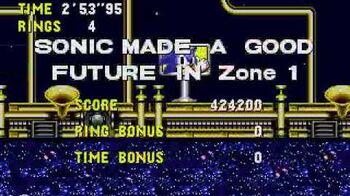 ---
Characters
Sonic | Tails* | Amy | Dr. Eggman | Metal Sonic | Animals (Flicky, Pocky, Ricky, Pecky, Sheep, Swallow)

Rounds

Palmtree Panic | Collision Chaos | Tidal Tempest | Quartz Quadrant | Wacky Workbench | Stardust Speedway | Metallic Madness | Special Stage | Bonus Stage | R2 | Desert Dazzle*

Enemies

Amenbo | Antlion | Bigbom | Dango | Ga | Hotaru | Kabasira | Kanabun | Kemusi | Kumo-Kumo | Minomusi | Needlenose | Noro-Noro | Robot Ant | Robot Bee | Robot Beetle | Robot Butterfly | Robot Mantis | Sasori | Scarab | Semi | Taga-Taga | Tamabboh | Tentou | Tonbo | Yago
Bosses
EGG-HVC-001 | Collision Chaos Boss | Tidal Tempest Boss | Quartz Quadrant Boss | Wacky Workbench Boss | Metal Sonic | Metallic Madness boss | Final Fever*
Moves/techniques
Propeller Flying* | Ring Spark Field | Spin Jump | Super Spin Attack | Super Spin Dash | Super Peel Out | V. Maximum Overdrive Attack
Gimmicks and obstacles
Breakaway Bumper | Bumper | Chopper Block | Conveyor Belt | Crusher | Dash Zone | Electric Generator | Electrical conduit | Emerald Block | Fan Block | Flipper | Flywheel | Goal Plate | High-speed warp tube | Iron ball | Rotating platform | Seesaw | Size Beam | Snowblower | Spring | Spring Pole | Switch | Time Warp Plate
Objects
Air Bubble | Capsule | Lamppost | Little Planet flowers | Metal Sonic Projector | Monitor (Extra Life, Invincibility, Power Sneakers, Super Ring, Shield, Time Bonus) | Ring | Robot transporter | Time Stone | UFO
Sonic the Hedgehog Boom/JP 20th Anniversary
Cosmic Eternity - Believe in Yourself | Sonic - You Can Do Anything | Sonic Boom
Other
Debug Mode | Freeze | Little Planet | Never Lake | Shuttle loop | Time Attack | Winding Tunnel

*Only included in the 2011 rerelease.
---
| | |
| --- | --- |
| Characters | Sonic | Tails | Animals (Flicky, Pocky, Pecky, Cucky, Picky) | Dr. Eggman | Metal Sonic |
| Enemies | Asteron | Balkiry | Batbot | Bubbles | Burrobot | Buzzer | Chop Chop | Chopper | Clucker | Crawl | Flamer | Fullboar | Jaws | Mantis | Moto Bug | Newtron | Orbinaut (Uni Uni, Unidasu) | Sandworm | Scarabesque | Shellcracker | Slicer | Snowy | Spikes | Steelion | Turtloids | Zoomer |
| Episode II Zones | Sylvania Castle Zone | White Park Zone | Oil Desert Zone | Sky Fortress Zone | Death Egg mk.II Zone | Special Stages |
| Episode Metal Acts | Episode Metal Act 1 | Episode Metal Act 2 | Episode Metal Act 3 | Episode Metal Act 4 |
| Bosses | Egg Serpentleaf | Metal Sonic | Egg Scrap Mech | Metal Carrier | Metal Sonic and Egg Mobile | Metal Sonic | Egg Heart |
| Moves/techniques | Copter Combo | Propeller Flying | Homing Attack | Rolling Combo | Spin Attack | Spin Dash | Spin Jump | Submarine Combo | Tornado Boost |
| Objects | Air Bubble | Bumper | Capsule | Booster | Chaos Emerald | Flipper | Giant Ring | Monitor (Super Ring, Shield, Power Sneakers, Invincibility, Extra Life, Special Combination, Combination Dash) | Ring | Spring | Star Post | Red Star Ring | Spikes | Switch | Signpost |
| Other | Conveyor Belt | Crusher | Death Egg mk.II | Fan | Flip Platform | Little Planet | Level Select | Lost Labyrinth treasure | Platform-raising Wheel | Original Soundtrack (& Episode I) | Strange Relief | Ring Shooter | Stardust Speedway | Shuttle loop | Tails' rocket | Time Attack | Tornado | Totem pole |