It's beatdown time! Drop stars to trip up Zazz's stinkin' rivals!


— Description, Sonic Forces: Speed Battle
The Star Trail is a Trap Item that appears in Sonic Forces: Speed Battle.
Description
The trap left by the Star Trail takes the form of a yellow five-pointed star. This particular object glows yellow and emits bright sparkles.
Overview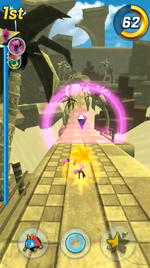 In gameplay, Star Trails can only be obtained at random from Item Boxes by Zazz. As with all most Items, Metal Sonic can also use the Star Trails if he uses the Steal Item to steal it from the aforementioned user.
When using this power-up, the user drops a number of stars behind them as they move forward. These stars will then set themselves permanently on the spot on the lane they were dropped on for the duration of the race. Should an opposing racer make contact with one of the Star Trail traps, they will not only take damage, but also have a portion of their Rings transferred over to the user's Ring count.
Trivia
---
Main article | Glitches | Events | Gallery
Playable characters
Common
Amy | Charmy | Classic Sonic | Knuckles | Omega | Silver | Sonic | Tails
Rare
Blaze | Cream | Espio | Jet | Rouge | Storm | Vector | Tangle | Wave | Whisper
Super Rare
Big | Chaos | Eggman | Metal Sonic | Shadow | Tikal | Zavok | Zazz | Zeena
Special
All-Star Amy | Baby Sonic | Elf Classic Sonic | Elite Agent Rouge | Excalibur Sonic | Ice Slicer Jet | Jingle Belle Amy | Lantern Silver | Longclaw | Lunar Blaze | Quarterback Zavok | Santa Big | Sir Lancelot | Slugger Sonic | Spring Cream | Teen Sonic | Tidal Wave | Treasure Hunter Knuckles | Tropical Storm | Vampire Shadow | Witch Rouge
Non-playable characters
Cheese | Froggy
Tracks
Green Hill
Pyramid Valley | Sandy Hills | Corkscrew Canyon | Parched Palms | Pyramid Valley R | Parched Palms R
Sky Sanctuary
Temple Gate | Celestial Skyway | Pinnacle Peaks | Ancient Isles | Spiral Heights | Temple Gate R
City
Sunset Bridge | Splash Highway | Viaduct Valley | Red Gate Bay | Red Gate Bay R
Mystic Jungle
Lambent Grove | Dash Vegas | Glowing Grotto
Golden Bay
Street Retreat | Suburban Speedway | High Hill Park
Removed
Desert Falls | Celestial Skyway R | Red Gate Ruins | Splash Highway R | Tangled Tunnels
Enemies
Aero-Chaser | Badnik (Paramount) | Buzz Bomber | Egg Pawn
Moves/Techniques
Grinding | Slide | Spin Jump
Gimmicks and obstacles
Conveyor Belt | Dash Panel | Grind Rail | Shuttle loop | Spikes
Objects
Chest | Item Box (Balkiry, Bashosen, Bat Bomb, Blizzard Bomb, Booby Trap, Brutal Blitz, Bubble Bomb, Bunny Boost, Captive Light, Chao Attack, Chao Chase, Chao Guardians, Chao-nado, Chaos Charge, Chaos Slash, Chopper Chomp, Cyan Laser, Cyclone Charge, Dead End, Drac-O'-Lantern, Dragon Dance, Electro Boost, EMP Boost, Explosive Mine, Festive Umbrella Boost, Fire Boost, Fire Whirl, Fireball, Firework Flurry, Flue Shot, Frozen Chopper Chomp, Gift Trapped, Gold Rush, Green Hover, Harvest Time, Hedge Maze, Home Run, Honor Guard, Ice Boost, Ice Mine, Ice Wave, Illusion Boost, Illusion Mine, Invincibility, King's Judgement, Lava Bomb, Lightning, Lilytrap, Meteor Charge, Moto-Bug, Pink Spikes, Power Sneakers, Pyro-Mine, Ring Portal, Rocket Boost, Rocky Road, Savage Throw, Shield, Soul Surge, Star Trail, Steal, Storm Cloud, Strike Out, Tail Spring, Tail Strike, Tornado, Trap Shot, Umbrella Boost, Whirlwind, Wind Boost, Wipeout, Wrench Rush, Zap Trap) | Phantom Ruby prototype | Red Star Ring | Ring | Trophy
Other
Air Shoes | Arondight | Chaos Spear | Egg Mobile | Excalibur | Extreme Gear (Type-J, Type-S, Type-W) | Variable Wispon
Community content is available under
CC-BY-SA
unless otherwise noted.