For the move in Sonic Boom: Shattered Crystal, see Sprint (Sonic Boom).
Beat your opponent's best lap time!

— In-game description, Sonic & All-Stars Racing Transformed
Sprint is one of the events featured in the World Tour of Sonic & All-Stars Racing Transformed.
Overview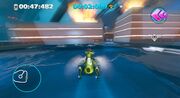 Sprint is an event which the player participates in alone. The player's goal is to beat the lap record set by another player. While circling around the lap, a ghost representing the player who hold the lap records will appear. If the player can complete the lap ahead of the ghost, it will mean that their lap time is better than the current record. At the beginning of an event, the player also receives a single Boost item, which they can use during the event to get a short burst of speed. To win, the player must finish the lap around the race track in less time than the ghost. Failing to do so has the event restart.
The player can choose the level of difficulty (C for Easy, B for Medium, A for Hard, and S for Expert). The higher the level, the more stars the player will receive for their victory (from 1 for Easy to 4 for Expert). Each Sprint mission is also varied with a specific character and different lap times per difficulty. Beating a Sprint mission then unlocks the character that was defeated in the mission.
Events
Map icon
Track
Name
Opponent
Time
Carrier Zone
Carrier Crisis
NiGHTS

S: 00:58:032
A:
B:
C: 01:25:453

Seasonal Shrines
Shrine Time
Joe Musashi

S: 01:05:132
A: 1:11.717
B: 1:22.419
C: 01:37:389
Map icon
Track
Name
Opponent
Time
Chilly Castle
Hatcher Hustle
Pudding

S: 00:56:682
A:
B:
C: 01:26:670
Map icon
Track
Name
Opponent
Time
Burning Depths
Ranger Rush
AGES

S: 00:38:916
A:
B:
C: 01:44:465
---
Main article | Gallery | Staff | Glitches
Playable
characters
Sonic characters
Sonic | Tails | Knuckles | Amy | Dr. Eggman | Shadow | Metal Sonic
Sega characters
AGES | AiAi | Alex Kidd | Amigo | B.D. Joe | Beat | Gilius Thunderhead | Gum | Jacky Bryant | MeeMee | NiGHTS | Pudding | Reala | Ryo Hazuki | Ulala | Vyse
Third-party characters
Xbox Live Avatar | Mii | Danica Patrick
Tracks
Dragon Cup
Ocean View | Samba Studios | Carrier Zone | Dragon Canyon
Rogue Cup
Temple Trouble | Galactic Parade | Seasonal Shrines | Rogue's Landing
Emerald Cup
Dream Valley | Chilly Castle | Graffiti City | Sanctuary Falls
Arcade Cup
Graveyard Gig | Adder's Lair | Burning Depths | Race of Ages
Classic Cup
Sunshine Tour | Shibuya Downtown | Roulette Road | Egg Hangar
Bonus
OutRun Bay
Events
Battle Arena | Battle Race | Boost Challenge | Boost Race | Capture the Chao | Drift Challenge | Pursuit | Race | Ring Race | Sprint | Traffic Challenge | Versus
Vehicles
Ava-car 720 | Crazy Taxi | Danicar | Egg Monster | G.U.N. Auto Tread | Land Breaker | Metal Booster | Pink Cabriolet | Speed Star | Super Zoomer | Tails' vehicle
World Tour
Chapters
Sunshine Coast | Frozen Valley | Scorching Skies | Twilight Engine | Moonlight Park | Superstar Showdown
Misc.
Warp Gate | Gate
Moves/
Techniques
General
Drift | Start Line Boost | Stunt
All-Star Moves
Sonic's All-Star Move | Tails' All-Star Move | Knuckles' All-Star Move | Amy's All-Star Move | Eggman's All-Star Move | Metal Sonic's All-Star Move | Shadow's All-Star Move
Pickup items
Item Box (All-Star Item, Blowfish, Boost, Drone, Firework, Glove, Hot Rod, Ice Cannon, Super Glove, Swarm, Twister)
Other
Aero-Chaser | All-Star Move | Angels with Burning Hearts | Bonus Chance | Boost Pad | Custom game | Egg Squid | Freeze | License | Mod | Orca | SEGA ALL-STARS Premium Sound Collection | Slot machine | Sonic & All-Stars Racing Transformed Original Soundtrack | Sonic Universe #45 | Stickers | Transformation Gate
Community content is available under
CC-BY-SA
unless otherwise noted.