Raise a Floppa - The Loop
Play Sound
For the gimmick in Sonic Generations, see Spotlight (Sonic Generations).
The Spotlight is a gimmick/obstacle that appears in the Sonic the Hedgehog series. It is a light tower that can be used for various actions.
Game appearances
Shadow the Hedgehog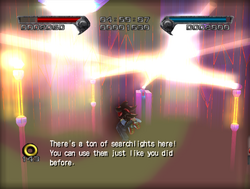 The Spotlights made their first appearance in Shadow the Hedgehog, where they only appear in Digital Circuit. When stepping into their light column, Shadow is transported through said light column to another area, which is often a necessity. At times, Shadow passes through the source of the Spotlight, causing it to shatter. Sometimes, the player cannot reach the Spotlight's light column alone, so they have to skip across enemies with the Homing Attack to reach it.
Sonic the Hedgehog (2006)
In Sonic the Hedgehog (2006), the Spotlights consist of large metallic quadpods with supports and a large searchlight on the top that shines white light. They are only found in White Acropolis and End of the World.
In gameplay, the Spotlights are warning system to the player's presence. If the playable character enters the Spotlight's light column, it will track the playable character's movements and cause enemies to appear around them. However, the Spotlight can be disabled by destroying its searchlight.
In Shadow's version of White Acropolis, the player has to destroy five Spotlights with the Buggy to complete this Action Stage for the normal version and all of them in the Very Hard Mode version. If the player destroys one of the Spotlights' glasses and leaves the area, the glass will be restored upon return. In the Very Hard Mode version of the same stage, breaking a Spotlight's glass can open Cases and make Keys appear. In the battle with Egg-Cerberus, the spotlights also help the boss locate Shadow. In End of the World, they are most likely controlled by Solaris as they help his minions locate the player.
Trivia
---
Main article | Scripts (Main Story, Last Story) | Credits | Manuals | Glitches | Beta elements | Library Sequences | Gallery
Playable characters
Amy* | Espio* | Knuckles* | Maria* | Omega* | Rouge* | Shadow (Dark Shadow, Hero Shadow, Super Shadow) | Shadow Android** | Sonic* | Tails* | Vector*
Non-playable characters
Black Doom (Devil Doom) | Dr. Eggman | Chao (Cheese) | Charmy | Commander | Cream | Gerald | President | Researcher | Secretary

Stages

Westopolis | Digital Circuit | Glyphic Canyon | Lethal Highway | Cryptic Castle | Prison Island | Circus Park | Central City | The Doom | Sky Troops | Mad Matrix | Death Ruins | The ARK | Air Fleet | Iron Jungle | Space Gadget | Lost Impact | GUN Fortress | Black Comet | Lava Shelter | Cosmic Fall | Final Haunt | The Last Way
Enemies
Ark Missile Turret | Artificial Chaos (Artificial Chaos P-100, Cell) | Black Assassin | Black Hawk | Black Oak | Black Volt | Black Warrior | Black Wing | Black Worm | Big Foot Type A | Big Foot Type B | Death Leech | Death Worm | Egg Bommer | Egg Pawn | Egg Pierrot | Giant Walker | Giga Trooper | Gold Beetle | Gun Beetle | GUN Soldier | GUN Trooper | Jack Bommer | Killer Plant | Mono Beetle | Rocket Beetle | Sand Worm | Shadow Android | Spark Beetle
Bosses
Black Bull | Black Doom | Blue Falcon | Devil Doom | Diablon | Egg Breaker | Egg Dealer | Heavy Dog
Moves/
Techniques
Chaos Blast | Chaos Control | Chaos Spear | Crouch | Dark Spin Dash | Grinding | Grind Step | Homing Attack | Hover | Jump Dash | Light Dash | Mid-Air Attack | Missile Fever | Overturn | Pawn Fever | Pick up | Punch | Ring Fever | Shadow Fever | Slide | Spin Dash | Spin Jump | Strafe | Swift strike | Tail Swipe | Triangle Jump
Vehicles
Air Saucer | Convertible | GUN Motorcycle | GUN Vehicle | HMMWV | Jump Vehicle
Gimmicks and obstacles
Barrier | Black Slab | Case | Cell Cannon | City annihilator bomb | Coaster | Color Panel | Electrified Rail | Fan | Firewall | Gravity Control Switch | Green energy fluid | Gun Lift | Gun ship | GUN turret | Hint Ring | Jump Panel (Prison Island) | Jump Panel (ramp) | Junction switch | Lantern | Laser field | Laser turret | Light-speed circuit | Meteorite | Pole | Pulley | Red fruit | Red Slime | Rocket | Secret Door | Shield switch | Shooting Gallery | Small bomb | Spinning Wheel | Surveillance camera | Toxic marsh | Toxic river | Vine | Warp Hole | Wide spring
Items
General
Black Tank | Bomb Unit | Chaos Emerald | Car | Container (Special Weapon Container, Steel Container, Unbreakable Container, Wooden Container) | Core program | Defense Unit | Egg Balloon | Energy Core | Floating Item Box | Goal Ring | Heal Unit | Item Box (1-Up, Barrier, Damage Recover, Heat Barrier, Invincible, Magnetic Barrier, Rings) | President's escape pod | Ring | Secret Key | Temple jewel

Weapons

4-Shot RPG | 8-Shot RPG | Bazooka | Big Worm Shooter | Big Barrel | Black Barrel | Black Sword | Bomb Fever | Egg Bazooka | Egg Gun | Egg Spear | Egg Vacuum |

Environment Objects

| Flash Shot | Gatling Gun | Grenade Launcher | Heal Cannon | Heavy Machine Gun | Heavy Shot | Laser Rifle | Light Shot | Omochao Gun | Pistol | Refractor | RPG | Samurai Blade | Satellite Gun | Semi-Auto Rifle | Shadow Rifle | Splitter | Sub-Machine Gun | Survival Knife | Tank Cannon | Vacuum Pod | Wide Worm Shooter | Worm Shooter
English voice actors
Jason Griffith (Shadow, Sonic) | Sean Schemmel (Black Doom) | Mike Pollock (Eggman, Gerald) | Amy Palant (Tails) | Dan Green (Knuckles) | Lisa Ortiz (Amy) | Kathleen Delaney (Rouge) | Rebecca Honig (Cream, Maria) | Carter Cathcart (Vector) | David Wills (Espio) | Amy Birnbaum (Charmy) | Jeff Kramer (Omega) | Andrew Rannells (GUN Soldiers) | Marc Thompson (Commander) | Maddie Blaustein (President) | Bella Hudson (Secretary)
Japanese voice actors
Kōji Yusa (Shadow) | Jun'ichi Kanemaru (Sonic) | Ryūzaburō Ōtomo (Black Doom) | Chikao Ōtsuka (Eggman, Gerald) | Ryō Hirohashi (Tails) | Nobutoshi Canna (Knuckles) | Taeko Kawata (Amy) | Rumi Ochiai (Rouge) | Sayaka Aoki (Cream) | Yuri Shiratori (Maria) | Kenta Miyake (Vector) | Yūki Masuda (Espio) | Yōko Teppōzuka (Charmy) | Taiten Kusunoki (Omega) | Takashi Yoshida (GUN Soldiers) | Banjō Ginga (Commander) | Yutaka Nakano (President) | Junko Kitanishi (Secretary) | Ryō Hirohashi (Additional Chao)
Music
Songs
"All Hail Shadow" | "Almost Dead" | "E.G.G.M.A.N Doc. Robeatnix Mix" | "I Am... All of Me" | "Never Turn Back" | "The Chosen One" | "Tripod Baby" | "Vengeance is Mine" | "Waking Up" | "Who I Am" (unused)
Albums
Lost and Found: Shadow the Hedgehog Vocal Trax | Shadow the Hedgehog Official Soundtrack | Shadow the Hedgehog Original Soundtrax
Other
Battle Mode | Black Comet | Central Information Agency | Dark Gauge | Dark Rider | Eclipse Cannon | Egg Monitor | Eggman Fleet | Expert Mode | Fire in the Sky Festival | Guardian Units of Nations | Health Gauge | Hero Gauge | Life | Loop | Mother computer | Prison Island | Prosperity ritual | Rank | Shadow the Hedgehog Flash | Space Colony ARK | Tails' Spaceship | Team Chaotix | White House

* Only playable in the Nintendo GameCube & PlayStation 2 versions
** Only playable in Battle Mode
---
Main article | Script (Sonic, Shadow, Silver, Last) | Staff | Manuals | Glitches | Beta elements | Gallery
Playable characters
Sonic (Super Sonic) | Tails | Knuckles | Shadow (Super Shadow) | Rouge | Omega | Silver (Super Silver) | Blaze | Amy
Non-playable characters
Accordion Player | Adrianna | Alan | Alberto Robert | Alfano | Anna | Antonio | Aristo | Berruni | Bishop | Claudia | Dante | Eggman | Duchess of Soleanna | Duke of Soleanna | Elkan | Frances | Francesca | GUN Soldier | Galienna | Gina | Hatsun | Herman | Iblis | Ken Williams | Ladies-in-waiting | Liza | Lord Regis | Mancini | Mels | Mephiles (Mephiles's monstrous form) | Mikhail | Nicolo | Paganini | Parr | Pele | Pinto | Porta | Priest | Princess Elise the Third | Prodi | Puccini | Renzo | Roberta | Rossi | Sabrina | Sandro | Solaris | Soleanna Boys (Pucci) | Soleanna Royal Guards (Alessio, Fabio, Giorgio, Guido, Pietro) | Solomon | Solsaliente (Monica) | Sonic Man | Sophia | Zof
Action Stages
Wave Ocean | Dusty Desert | White Acropolis | Crisis City | Flame Core | Radical Train | Tropical Jungle | Kingdom Valley | Aquatic Base | End of the World
Town Stages
Soleanna Castle Town | Soleanna New City | Soleanna Forest
DLC Stages
Sonic Boss Attack | Shadow Boss Attack | Silver Boss Attack | Team Attack Amigo
Town Missions
Sonic
1 | 2 | 3 | 4 | 5 | 6 | 7 | 8 | 9 | 10 | 11 | 12 | 13 | 14 | 15 | 16 | 17 | 18 | 19 | 20
Shadow
1 | 2 | 3 | 4 | 5 | 6 | 7 | 8 | 9 | 10 | 11 | 12 | 13 | 14 | 15
Silver
1 | 2 | 3 | 4 | 5 | 6 | 7 | 8 | 9 | 10 | 11 | 12 | 13 | 14 | 15 | 16 | 17 | 18
Enemies
Eggman's mechs
Egg Armor | Egg Bomber | Egg Buster | Egg Buster (Egg Gunner) | Egg Cannon | Egg Chaser | Egg Commander | Egg Flyer | Egg Guardian | Egg Gunner | Egg Hunter | Egg Keeper | Egg Lancer | Egg Liner | Egg Rounder | Egg Searcher | Egg Stinger | Egg Sweeper | Egg Walker
Iblis's Minions
Gazer | Golem | Iblis Biter | Iblis Taker | Iblis Worm | Shadows | Stalker | Titan | Tricker
Bosses
Egg-Cerberus | Egg-Genesis | Egg-Wyvern | Iblis | Mephiles | Shadow | Silver | Solaris | Sonic
Moves/Techniques
Arrow of Light | Accelerator Tornado | Attack | Blast Jump | Bomb | Bomb Snipe | Bound Jump | Chaos Attack | Chaos Boost (Chaos Blast, Chaos Lance, Chaos Snap) | Chaos Spear | Climb | Custom Action (Gun Drive, Homing Smash, Mach Speed, Scale, Slow, Thunder Guard, Tornado) | Crouch | Double Jump | Dummy Ring Blitz | Dummy Ring Bomb | Dummy Ring Snipe | Edge Attack | Fire Claw | Fly | Glide | Grab All | Ground Shaker | Hammer Attack | Heart Mine | Hold Smash | Homing Attack | Hover | Invisibility | Jump Dash | Levitate | Light Dash | Lock-On Shot | Omega Launcher | Omega Shot | Psychokinesis | Psycho Shock | Psycho Smash | Punch Attack | Screwdriver | Shield of Light | Sliding Attack | Spear of Light | Spin Dash | Spin Jump | Spin Kick | Spinning Claw | Teleport Dash | Turbo Boost | Wall Jump | Wings of Light
Vehicles
Bike | Buggy | Hover Craft | Glider
Gimmicks and obstacles
Bungee Rope | Conveyor Belt | Cylinder | Eagle | Eye of Solaris | Hanging Bell | Hint Ring | Horizontal Bar | Jump Panel | Laser field | Lotus | Mechanical Ring | Mirror of Soleanna | Orb statue | Orca | PK mark | Purple orb | Point Marker | Pulley | Rainbow Ring | Silver Sphere | Sphere | Spiked bar | Spotlight | Spring | Switch | Tightrope | Trick Jump Panel | Turtle | Vine | Warp Hole | Wide spring | Wind switch
Items
General
Apple | Barrel | Chaos Drive | Car | Container (Blue crate, Case, Explosive crate, Steel Container, Wooden Container) | Custom Shoes | Dummy Ring | Explosion Trap | Goal Ring | Heart bomb | Item Box (Extra Life, Gauge Up, High Speed, Invincible, Rings) | Key | Light Core | Medal | Minecart | Ring | Snowboard
Level Up Items
Air Chip | Antigravity | Bounce Bracelet | Gem (Blue Gem, Green Gem, Purple Gem, Rainbow Gem, Red Gem, Sky Gem, White Gem, Yellow Gem) | Heart of Wind | Light Chip | Memory Shard (black) | Memory Shard (blue) | Memory Shard (red) | Power Bracelet | Shock Bracelet | Single-Layered Extreme
English voice actors
Jason Griffith (Sonic, Shadow) | Pete Capella (Silver) | Lacey Chabert (Elise) | Mike Pollock (Eggman, Narrator) | Amy Palant | (Tails, Ladies-in-waiting) | Lisa Ortiz (Amy, Ladies-in-waiting) | Bella Hudson (Blaze) | Dan Green (Knuckles, Mephiles, Solaris Project scientists) | Kathleen Delaney (Rouge) | Maddie Blaustein (Omega) | David Wills (Duke, G.U.N communitcator)
Japanese voice actors
Jun'ichi Kanemaru (Sonic) | Kōji Yusa (Shadow) | Daisuke Ono (Silver) | Maaya Sakamoto (Elise) | Chikao Ōtsuka (Eggman) Kenji Utsumi (Narrator, Duke) | Ryō Hirohashi (Tails) | Hikari Yono (Ladies-in-waiting) | Nao Takamori (Blaze) | Nobutoshi Canna (Knuckles) | Takayuki Sakazume (Mephiles) | Keiji Okuda (Solaris Project scientist, G.U.N. communicator) | Yoshikazu Kozuma (Solaris Project scientist) | Rumi Ochiai (Rouge) | Taeko Kawata (Amy) | Taiten Kusunoki (Omega)
Music
Songs
"All Hail Shadow" | "Dreams of an Absolution" | "His World" | "My Destiny" | "Solaris Phase 1" | "Sweet Dreams AKON Mix"
Albums
Sonic the Hedgehog Original Soundtrack | Sonic the Hedgehog Vocal Traxx: Several Wills
Other
Action Gauge | Auto Running | Chao in Space | Day of Disaster | Dual Chaos Control | Eggman's chair | Egg Carrier | Egg train | Festival of the Sun | Havok | Health Gauge | Life | Loop | Rank | Rimlight | Scepter of Darkness | Shop | Soleanna | Solaris Project | Sonic the Hedgehog CHAOS CRUSH! | Super-Speed Stage | Water