Not to be confused with Spiker (Sonic the Hedgehog 2).
The Spiker[1] (スパイカー[2], Supaikā?), also known in Japan as Togemane (トゲマネ[3][4], Togemane?), is an enemy that appears in Sonic the Hedgehog 3 and the lock-on game Sonic the Hedgehog 3 & Knuckles. It is a mass-produced Badnik model created by Dr. Robotnik.
Appearance
The Spiker is disguised as a generic set of spikes, except that its lower half has an orange body with eyes and cannons on its sides.
Overview
Spikers can only be encountered in Marble Garden Zone, where they hide their bodies in the ground while their spikes stick out, making them appear as normal spikes. However, they have a slight visual difference from real spikes when the player is not near, making them easy to detect.
When the player comes near a Spiker, it will shoot out from the ground, revealing its entire body, and proceed to shoot bullets, one from the left and one from the right. These projectiles can be deflected by any of the three shields available in the game. It will then return to its original state, appearing as regular spikes.
Surprisingly, the spikes on the Spikers do not inflict damage. Instead, jumping on them makes the playable character bounce into the air, similar to a Spring. To defeat the Spikers, the player can Spin Dash or Spin Attack them from the sides.
In other media
Sonic the Comic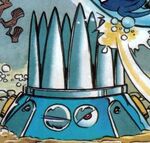 In the Sonic the Comic series published by Fleetway Editions, the Spiker is a part of Dr. Robotnik's Badnik army and they are among the third generation of Badniks the doctor produced. Depending on the artist, the Spiker's coloration has been altered slightly each time.
Trivia
Spiker's alternate Japanese name "Togemane" comes from two words, "toge", which is Japanese for spike, and "mane" a Japanese word meaning to mimic.
Gallery
References
---
Main article (Sonic 3 & Knuckles) | Staff | Manuals | Glitches | Beta elements | Gallery
Playable characters
Sonic (Super Sonic) | Tails | Knuckles*
Non-playable characters
Dr. Robotnik | Animals (Cucky, Flicky, Pecky, Pocky, Ricky, Rocky)
Enemies
Batbot | Blastoid | Bloominator | Bubbles | Bugernaut | Catakiller, Jr. | Clamer | Corkey | Flybot767 | Jawz | Mantis | Mega Chopper | Monkey Dude | Orbinaut | Penguinator | Pointdexter | RhinoBot | Ribot | Snail Blaster | Sparkle | Spiker | Star Pointer | Turbo Spiker
Zones
Main
Angel Island Zone | Hydrocity Zone | Marble Garden Zone | Carnival Night Zone | IceCap Zone | Launch Base Zone | Special Stage | Bonus Stage
Competition*
Azure Lake | Balloon Park | Chrome Gadget | Desert Palace | Endless Mine
Bosses
Mid-bosses
Fire Breath | Big Shaker | Tunnelbot | Bowling Spin | Big Icedus | Twin Hammer
Zone bosses
Egg Scorcher Mk. III | Egg Vortex | Egg Drillster Mk. II | Egg Gravitron | Egg Froster | Egg Cannon | Egg Rocket | Big Arms
Moves/
Techniques
Bound Jump | Crouch | Double Jump | Drop Dash** | Fireball Spin Dash | Insta-Shield | Fly | Spin Attack | Spin Dash Attack | Super Spin Attack | Swim
Gimmicks and obstacles
Balloon | Bomb | Bumper | Bumper wall | Cannon | Capsule | Crusher | Elevator | Fan | Fire | Flywheel | Glove on a stick | Goal Plate | High-speed spiral tube | High-speed warp tube | Icicle | Iron ball | Laser gate | Movable box | Pulley | Platform-raising Wheel | Sinking pool | Snowblower | Spikes | Spring | Spinning Top | Spinning Wheel | Starpost | Strange Relief | Switch | Vine | Zip Line
Items
Air bubble | Banana* | Change* | Chaos Emerald | Continue | Giant Ring | Gold Ring | Gumball | Monitor (1-Up, Flame Shield, Invincibility, Lightning Shield, Super Shoes, Robotnik, S, Super Ring, Water Shield) | Self-Propelled Bomb* | Slow-Down Shoes* | Snowboard | Sphere | Star Circle
Music
"Wonderman"
Other
Altar of Emerald | Corkscrew | Crusher | Death Egg | Debug Mode | Floating Island | Freeze | Jewel Radar | Life | Lock-on technology | Loop | Perfect Bonus | Sound Test | Time Attack | Tornado | Tunnel | Water

*Appears in Competition mode only
**Appears in re-releases only