Raise a Floppa - The Loop
Play Sound
The spiked bar[1] is an obstacle that appears in the Sonic the Hedgehog series. It is a variant of the more common Spikes, being a metal rod covered in harmful spikes held up by metal vertical posts.
Description
Spiked bars consist of a metal rod of spikes held by two vertical posts. The placement of the spikes vary from above and below the spikes to to diagonally of four directions, but usually hard to the touch.
In gameplay, when a playable character physically touches the spiked rod of the game, they will receive damage. As such, they usually serve as obstacles that are placed along the player's way. The supports however re harmless to the touch. The spike rod can move up and down and will try to determine and obstruct the players path. However the spike rod moves at a certain pace and can be voided in various ways.
Game appearances
Sonic Adventure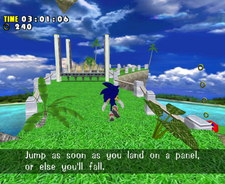 In Sonic Adventure and its enhanced port Sonic Adventure DX: Director's Cut, spiked bars debut in Emerald Coast. In these games, they have vertical spikes and move up and down to prevent Sonic from passing through them.
Sonic the Hedgehog (2006)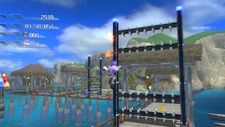 In Sonic the Hedgehog (2006), spiked bars return and can be found along Wave Ocean.
Variants of the spiked bars can be found in Blaze's Action Stages where they are larger and have additional spike rods. However given these spike rods are fixed and do not move, meaning they can be passed through if the spikes are avoided.
References
↑ Black, Fletcher (14 November 2006). "Wave Ocean • Section 1".

Sonic the Hedgehog: Official Game Guide

. Prima Games. pp. 64. ISBN 978-0761555100.
---
Main article | Scripts (Sonic, Tails, Knuckles, Amy, Big, Gamma, Super Sonic) | Staff | Glitches | Beta elements | Gallery | Re-releases (DX, 2010)
Playable characters
Sonic (Super Sonic) | Tails | Knuckles | Amy | Gamma | Big | Metal Sonic**^
Non-playable characters
Dr. Eggman | Beta (E-101 Mark II) | Birdie | Chao (Dark Chao**, Hero Chao**) | Chaos (Chaos 1, Chaos 2, Chaos 4, Chaos 6, Perfect Chaos) | Cream** | Delta | Epsilon | Froggy | Grandma | Knuckles Clan (Pachacamac, Tikal) | Mr. Know-It-All | NiGHTS | Station Square Police Department | Unnamed Sonic robot | ZERO | Zeta | Animals (Deer, Elephant, Gorilla, Kangaroo, Koala, Lion, Mole, Parrot, Peacock, Penguin, Rabbit, Robin, Seal, Sea Otter, Skunk)
Adventure Fields
Egg Carrier | Mystic Ruins | Station Square
Action Stages
Emerald Coast | Windy Valley | Casinopolis | Icecap | Twinkle Park | Speed Highway | Red Mountain | Sky Deck | Hot Shelter | Lost World | Final Egg
Sub Games
Sky Chase | Sand Hill | Hedgehog Hammer | Twinkle Circuit | Boss
Enemies
Beat | Bladed Spinner | Boa-Boa | Buyoon | Cart Kiki | Cop Speeder | Egg Keeper | Electro Spinner | Fighter Aircraft A | Fighter Aircraft B | Gola | Ice Ball | Icecap's unnamed aircraft | Kiki | Leon | Mechanical fish | Pirate | Rhinotank | Sky Deck's unnamed jet fighter | Spiky Spinner | Sweeper
Bosses
Chaos 0 | Chaos 2 | Chaos 4 | Chaos 6 | Beta | Mark II | Gamma | Delta | Epsilon | Zeta | Egg Carrier | Egg Hornet | Egg Viper | Egg Walker | Knuckles | Perfect Chaos | Sonic | ZERO
Moves/
Techniques
Playable characters
Bolt of lightning | Climb | Dig | Flight Mode | Glide | Hammer Attack | Hammer Jump | Hover | Homing Attack | Homing Missile Launch | Jump Attack | Laser Gun | Light Speed Attack | Light Speed Dash | Lure Attack | Maximum Heat Knuckles Attack | Pick | Propeller Flight | Punch Attack | Rapid Tails Attack | Spin Attack | Spin Dash | Spin Hammer Attack | Spin Jump | Tails Attack
NPCs
Arm Punch | Bomb Attack | Bomb Gun Attack | Charge | Double Punch | Earthquake Attack | Electric Arm | Energy Ball Attack | Flame Thrower Attack | Guiding Missiles | Instantaneous Liquefaction | Laser Beam Attack | Homing Tail Slice | Inhale Attack | Marble Attack | Phantom Shadow Move | Punch | Quarter Attack | Scorpion Attack | Shockwave Attack (Chaos 6) | Sonic Boom | Spin Attack | Spinning Spike Attack | Spouting Attack | Squash Roll Attack | Swing Punch
Gimmicks and obstacles
Bumper | Bumper Car | Cannon | Capsule | Car | Conveyor Belt | Crank | Dash Panel | Dash Ring | Drum Can | Explosion Trap | Fan | Flame dart | Flipper | Fountain | Giant Ring* | Goal Balloon | Hanging Bell | Helicopter | Hint Box | Hint Orb | Icicle | Iron ball | Jump Panel (plate) | Jump Panel (ramp) | Jump Ramp | Laser field | Lit Panel | Mirror | Monkey Detonation Switch | Orca | Point Marker | Power cube | Rocket | Satellite | Slot machine | Spiked bar | Spring | Spring Catapult | Switch | Teleporter | Wide spring | Wind Path | Zip Line
Items
General
Air Bubble | Cart pass | Chao Egg | Chaos Emerald | Doll | Emblem | Emerald Shard | Employee ID Card | Item Box (5 Rings, 10 Rings, Extra Life, High-Speed Shoes, Invincibility, Magnetic Shield, Random Rings, Shield, Smart Bomb) | Key Stone (Gold statue, Ice Stone, Silver statue, Wind Stone) | Ring | Sandboard | Snowboard | Sonic Token
Level Up Items
Ancient Light | Crystal Ring | Fighting Gloves | Jet Anklet | Jet Booster | Laser Blaster | Life Belt | Light Speed Shoes | Long Hammer | Lure | Power Rod | Rhythm Badge | Shovel Claw | Warrior Feather
English voice actors
Ryan Drummond (Sonic) | Corey Bringas (Tails) | Michael McGaharn (Knuckles) | Deem Bristow (Eggman) | Jennifer Douillard (Amy) | Jon St. John (Big) | Elara Distler (Tikal, Station Square train voice, default menu voice) | Steve Broadie (Gamma, Pachacamac, Mystic Ruins train voice) | Tomoko Sasaki (Chao)
Japanese voice actors
Jun'ichi Kanemaru (Sonic) | Kazuki Hayashi (Tails) | Nobutoshi Canna (Knuckles) | Chikao Ōtsuka (Eggman) | Taeko Kawata (Amy) | Shun Yashiro (Big) | Kaori Asoh (Tikal) | Jōji Nakata (Gamma) | Tōru Ōkawa (Pachacamac) | Kaho Kōda (Station Square train voice) | Nobutoshi Canna (Mystic Ruins train voice) | Elara Distler (Default menu voice) | Tomoko Sasaki (Chao)
Music
Songs
"Believe In Myself" | "It Doesn't Matter" | "Lazy Days (Livin' in Paradise)" | "My Sweet Passion" | "Open Your Heart" | "Unknown from M.E."
Albums
Passion & Pride: Anthems with Attitude from the Sonic Adventure Era | Sonic Adventure: Songs With Attitude Vocal Mini-Album | SONIC ADVENTURE OFFICIAL SOUNDTRACK VINYL EDITION | Sonic Adventure Original Soundtrack 20th Anniversary Edition | Sonic Adventure Original Sound Track (Digi-Log Conversation) | Sonic Adventure Remix
Other
777 Slots Pinball | Altar of Emerald | Angel Island | Auto Running | Black Market | Card & Pinball | Chao Adventure* | Chao Garden (Station Square Garden, Mystic Ruins Garden, Egg Carrier Island) | Chao Race | Chao Stadium | Chao in Space | Chao Machine | Chao Search* | Corkscrew | Debug Mode | E-100 Series | Eggmobile | Egg Carrier | Egg Carrier 2 | Emerald Radar | Freeze | Game Over | Life | Life gauge | Loop | Master Emerald | Mission Mode**^ | Mystic Ruins | Shrine of Knuckles's race | Sonic Adventure (LCD) | Sonic Adventure: Navigation Guide | Station Square | Tails's Work Shop | Tornado | Tornado 2 | Transporter Machine | Water

* Appears in only the original Dreamcast version
** Appears in only Sonic Adventure DX
^ Appears in only the Sonic Adventure DX DLC of the 2010 remaster
---
Main article | Script (Sonic, Shadow, Silver, Last) | Staff | Manuals | Glitches | Beta elements | Gallery
Playable characters
Sonic (Super Sonic) | Tails | Knuckles | Shadow (Super Shadow) | Rouge | Omega | Silver (Super Silver) | Blaze | Amy
Non-playable characters
Accordion Player | Adrianna | Alan | Alberto Robert | Alfano | Anna | Antonio | Aristo | Berruni | Bishop | Claudia | Dante | Eggman | Duchess of Soleanna | Duke of Soleanna | Elkan | Frances | Francesca | GUN Soldier | Galienna | Gina | Hatsun | Herman | Iblis | Ken Williams | Ladies-in-waiting | Liza | Lord Regis | Mancini | Mels | Mephiles (Mephiles's monstrous form) | Mikhail | Nicolo | Paganini | Parr | Pele | Pinto | Porta | Priest | Princess Elise the Third | Prodi | Puccini | Renzo | Roberta | Rossi | Sabrina | Sandro | Solaris | Soleanna Boys (Pucci) | Soleanna Royal Guards (Alessio, Fabio, Giorgio, Guido, Pietro) | Solomon | Solsaliente (Monica) | Sonic Man | Sophia | Zof
Action Stages
Wave Ocean | Dusty Desert | White Acropolis | Crisis City | Flame Core | Radical Train | Tropical Jungle | Kingdom Valley | Aquatic Base | End of the World
Town Stages
Soleanna Castle Town | Soleanna New City | Soleanna Forest
DLC Stages
Sonic Boss Attack | Shadow Boss Attack | Silver Boss Attack | Team Attack Amigo
Town Missions
Sonic
1 | 2 | 3 | 4 | 5 | 6 | 7 | 8 | 9 | 10 | 11 | 12 | 13 | 14 | 15 | 16 | 17 | 18 | 19 | 20
Shadow
1 | 2 | 3 | 4 | 5 | 6 | 7 | 8 | 9 | 10 | 11 | 12 | 13 | 14 | 15
Silver
1 | 2 | 3 | 4 | 5 | 6 | 7 | 8 | 9 | 10 | 11 | 12 | 13 | 14 | 15 | 16 | 17 | 18
Enemies
Eggman's mechs
Egg Armor | Egg Bomber | Egg Buster | Egg Buster (Egg Gunner) | Egg Cannon | Egg Chaser | Egg Commander | Egg Flyer | Egg Guardian | Egg Gunner | Egg Hunter | Egg Keeper | Egg Lancer | Egg Liner | Egg Rounder | Egg Searcher | Egg Stinger | Egg Sweeper | Egg Walker
Iblis's Minions
Gazer | Golem | Iblis Biter | Iblis Taker | Iblis Worm | Shadows | Stalker | Titan | Tricker
Bosses
Egg-Cerberus | Egg-Genesis | Egg-Wyvern | Iblis | Mephiles | Shadow | Silver | Solaris | Sonic
Moves/Techniques
Arrow of Light | Accelerator Tornado | Attack | Blast Jump | Bomb | Bomb Snipe | Bound Jump | Chaos Attack | Chaos Boost (Chaos Blast, Chaos Lance, Chaos Snap) | Chaos Spear | Climb | Custom Action (Gun Drive, Homing Smash, Mach Speed, Scale, Slow, Thunder Guard, Tornado) | Crouch | Double Jump | Dummy Ring Blitz | Dummy Ring Bomb | Dummy Ring Snipe | Edge Attack | Fire Claw | Fly | Glide | Grab All | Ground Shaker | Hammer Attack | Heart Mine | Hold Smash | Homing Attack | Hover | Invisibility | Jump Dash | Levitate | Light Dash | Lock-On Shot | Omega Launcher | Omega Shot | Psychokinesis | Psycho Shock | Psycho Smash | Punch Attack | Screwdriver | Shield of Light | Sliding Attack | Spear of Light | Spin Dash | Spin Jump | Spin Kick | Spinning Claw | Teleport Dash | Turbo Boost | Wall Jump | Wings of Light
Vehicles
Bike | Buggy | Hover Craft | Glider
Gimmicks and obstacles
Bungee Rope | Conveyor Belt | Cylinder | Eagle | Eye of Solaris | Hanging Bell | Hint Ring | Horizontal Bar | Jump Panel | Laser field | Lotus | Mechanical Ring | Mirror of Soleanna | Orb statue | Orca | PK mark | Purple orb | Point Marker | Pulley | Rainbow Ring | Silver Sphere | Sphere | Spiked bar | Spotlight | Spring | Switch | Tightrope | Trick Jump Panel | Turtle | Vine | Warp Hole | Wide spring | Wind switch
Items
General
Apple | Barrel | Chaos Drive | Car | Container (Blue crate, Case, Explosive crate, Steel Container, Wooden Container) | Custom Shoes | Dummy Ring | Explosion Trap | Goal Ring | Heart bomb | Item Box (Extra Life, Gauge Up, High Speed, Invincible, Rings) | Key | Light Core | Medal | Minecart | Ring | Snowboard
Level Up Items
Air Chip | Antigravity | Bounce Bracelet | Gem (Blue Gem, Green Gem, Purple Gem, Rainbow Gem, Red Gem, Sky Gem, White Gem, Yellow Gem) | Heart of Wind | Light Chip | Memory Shard (black) | Memory Shard (blue) | Memory Shard (red) | Power Bracelet | Shock Bracelet | Single-Layered Extreme
English voice actors
Jason Griffith (Sonic, Shadow) | Pete Capella (Silver) | Lacey Chabert (Elise) | Mike Pollock (Eggman, Narrator) | Amy Palant | (Tails, Ladies-in-waiting) | Lisa Ortiz (Amy, Ladies-in-waiting) | Bella Hudson (Blaze) | Dan Green (Knuckles, Mephiles, Solaris Project scientists) | Kathleen Delaney (Rouge) | Maddie Blaustein (Omega) | David Wills (Duke, G.U.N communitcator)
Japanese voice actors
Jun'ichi Kanemaru (Sonic) | Kōji Yusa (Shadow) | Daisuke Ono (Silver) | Maaya Sakamoto (Elise) | Chikao Ōtsuka (Eggman) Kenji Utsumi (Narrator, Duke) | Ryō Hirohashi (Tails) | Hikari Yono (Ladies-in-waiting) | Nao Takamori (Blaze) | Nobutoshi Canna (Knuckles) | Takayuki Sakazume (Mephiles) | Keiji Okuda (Solaris Project scientist, G.U.N. communicator) | Yoshikazu Kozuma (Solaris Project scientist) | Rumi Ochiai (Rouge) | Taeko Kawata (Amy) | Taiten Kusunoki (Omega)
Music
Songs
"All Hail Shadow" | "Dreams of an Absolution" | "His World" | "My Destiny" | "Solaris Phase 1" | "Sweet Dreams AKON Mix"
Albums
Sonic the Hedgehog Original Soundtrack | Sonic the Hedgehog Vocal Traxx: Several Wills
Other
Action Gauge | Auto Running | Chao in Space | Day of Disaster | Dual Chaos Control | Eggman's chair | Egg Carrier | Egg train | Festival of the Sun | Havok | Health Gauge | Life | Loop | Rank | Rimlight | Scepter of Darkness | Shop | Soleanna | Solaris Project | Sonic the Hedgehog CHAOS CRUSH! | Super-Speed Stage | Water