High speeds rule here, as you race through one rollercoaster ride after another.


— Description, Knuckles' Chaotix manual
Speed Slider (スピードスライダー, Supīdosuraidā?) is one of the stages in Knuckles' Chaotix.
Overview
As the name suggests, Speed Slider has a high emphasis on speed and is built for characters such as Mighty and Espio, as they are among the fastest characters in the game. This stage includes balloons (which can be used as springs in the air), big bells (which can send the player to a lower section of Speed Slider), and a spring that sends the player upwards if stood on for a while. The stage's music is high-speed and upbeat, fitting the stage and its name.
Boss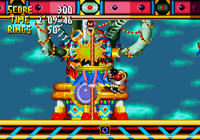 The boss sees the player and their partner trapped near a carousel from which Dr. Robotnik will launch a rocket, while Robotnik himself hides in the center of the machine. Although this ride resembles a carousel, the "horses" on poles are replaced by spiked platforms. The player is unable to move around normally because the floor is rotating. If the player attempts to move around by jumping, he/she is exposed to the spiked platforms. In order to defeat the boss, the player must successfully hit the blue Dark Ring rotating around its middle eight times, while avoiding the platforms.
Music
---
Main article | Staff | Glitches | Beta elements | Gallery
Playable characters
Knuckles | Vector | Mighty | Charmy | Espio | Heavy | Bomb | **********
Non-playable characters
Dr. Robotnik | Metal Sonic | Sonic | Tails | Amy
Stages
Isolated Island | Botanic Base | Speed Slider | Amazing Arena | Techno Tower | Marina Madness | World Entrance | Special Stage | Bonus Stage
Enemies
Amazing Arena Badnik 1, 2 | Bombbearer | Botanic Base Badnik 1, 2, 3 | Bushbubble | Dribbler | Gotcha | Hoverby Mk II | Isolated Island Badnik | Marina Madness Badnik 1, 2 | Motorspike | Needlenose | Piranha | Poptank | Ringleader | Spiketower | Techno Tower Badnik 1, 2, 3 | Ticktock
Bosses
Amazing Arena boss | Amazing Arena sub-boss | Botanic Base boss | Marina Madness boss | Speed Slider boss | Techno Tower boss | World Entrance Level 1 | World Entrance Level 2
Moves/
Techniques
Playable characters
Climb | Crouch | Dash | Glide | Power Boost | Spin Dash | Spin Jump | Super Spin | Wall Jump
NPCs
V. Maximum Overdrive Attack | Plasma Pulse Attack
Gimmicks and obstacles
Balloon | Bumper Ball | Chopper Block | Goal Plate | Exit | High-speed warp tube | Iron ball | Ring Power | Spring | Switch | "X" Bumper
Items
Chaos Ring | Dark Ring | Monitor (Change, Combi Catcher, Combine Ring, Grow, Invincible, Power Sneakers, Shield, Shrink, Stage Select, Super Ring, Swap) | Ring | Sphere
Other
1207 Beta version | Archie Knuckles' Chaotix | Combi Catcher | Debug Mode | Newtrogic High Zone | Sonic Crackers
Community content is available under
CC-BY-SA
unless otherwise noted.