Special Stages in Sonic Heroes are a series of seven extra levels. After Sonic Heroes, these variants of Special Stages have later appeared in Mario & Sonic at the Olympic Winter Games and the Nintendo 3DS version of Sonic Generations. They are circular light tubes instead of typical, half-pipe cylinder constructions. Here, the player can collect multicolored spheres whilst avoiding bombs.
Game appearances
Sonic Heroes
In Sonic Heroes, to enter the Special Stage, the player must find the Special Stage Key from small cages in the normal zone and hold onto them until the level is completed. Special care must be taken in that if the player is hit, the key is lost. If the player collects the Special Stage Key in an odd-numbered stage (Seaside Hill, for example), the player will enter the Special Stage with the "Bonus Challenge", while getting the key in an even-numbered stage (Ocean Palace, for example) transports the player to the Special Stage with the "Emerald Challenge" where a Chaos Emerald can be collected. This makes a total of fourteen different Special Stages (seven which are Bonus Challenges and seven which are Emerald Challenges). In both types, the player can earn additional lives should they successfully complete it.
Bonus Challenge
Bonus Challenges are completely optional to play through. Here, the player's team are running automatically and must collect different types of spheres on the glass pipe route, most of which are arranged in rows. The player has to collect them to fill the Power Dash Meter in the top-right corner and reach the goal within the time limit. The Power Dash Meter has three sections: yellow, orange and red. The player can press and hold

/

/

to make the team run faster. When using the Power Dash, the Power Dash Meter begins to deplete and the player has to collect more Power Spheres while running.
There are three variants of spheres: multicolored spheres, blue Score Spheres (these give the player more points the score) and red Super Spheres (these fill the player's Dash Meter level). If the player keeps collecting spheres, they will earn extra time and increase the score for as long as the linking combo is maintained. The player has to be careful not to touch bombs, as they will slow the team down instantly and will deplete the Dash Meter. Bombs are placed in large groups on floors and walls and some of them spin around the pipe. There are also multicolored spring balls which bounce the player further along the route. In certain sections, a large orange and white balloon containing a neutral Chao and a Dark Chao flies in front. They will throw either Blue Spheres, Red Spheres, or bombs onto the path. There are formation change gates placed around the stage to change characters for collecting spheres in different formations. Some later challenges feature pulleys that can be used to swing and collect Power Spheres by pushing left and right.
Emerald Challenge
When the player gains access to a Special Stage with an Emerald Challenge, the main goal is to chase down the floating Chaos Emerald by boosting and try to catch it before it reaches the end of the Special Stage route. These challenges are much harder, but the features are the same as in the Bonus Challenge. However, Chao balloons, Formation Change Gates and pulleys aren't seen in these challenges. Towards the end of the Special Stage, there are usually long trails of Super Spheres placed towards the end of the Special Stage to quickly fill the player's Power Dash Meter to allow usage of a fully leveled Power Dash to give the player one last chance to catch the Chaos Emerald. Team Rose is recommended to use to collect Chaos Emeralds from Emerald Challenges, due to the team having much shorter regular stages of all four teams in the game, although it may be more difficult since Team Rose is slower. Getting all Chaos Emeralds and clearing all four stories unlocks the game's last story.
2P Play

This is Special Stage Race! First to get the Chaos Emerald wins!


— Omochao, Sonic Heroes
Special Stages are also playable in 2P Play of Sonic Heroes. The player must have obtained 40 Emblems from 1P Play to unlock it. In this mode, two players each control a team as they compete to race through the stage for an Emerald trailing to the other side of the stage. The gameplay is the same as in the Emerald Challenge Special Stages, except that two players are competing for the Emerald. The winner of this mode is the player whose team catches up to the trailing Emerald first. However, if the Emerald reaches the end of the stage and neither player has obtained it, the winner is the player whose team was closest to the end of the stage at that moment. There are three different stages of the minigame, simply titled "Special Stage 1", "Special Stage 2" and "Special Stage 3".
When the player selects "ALL", the game will go through all three of the stages in the aforementioned order. The player who wins two out of three stages wins the entire minigame.
Mario & Sonic at the Olympic Winter Games
These variants of Special Stages have made an appearance as a major part of the Dream Bobsleigh event in Mario & Sonic at the Olympic Winter Games. The event starts at Nocturne Gate (which is featured in Sonic Chronicles: The Dark Brotherhood) and after entering the gate, the competitors go through the Special Stage, which retains most of the same features from Sonic Heroes, although the stage also uses elements of Koopa Cape from Mario Kart Wii.
Sonic Generations
The Special Stages in Sonic Heroes made a returning appearance in the Nintendo 3DS version of Sonic Generations. When the player has completed both Acts of one of the seven Zones in the game, they are able to access its Special Stage without any other general requirements. Collecting Chaos Emeralds unlocks the Time Eater challenge at the end of the game. Only Modern Sonic is able to access them.
These Special Stages are based on ones from Emerald Challenges (although the theme music for these stages is based on the Bonus Challenge theme from Sonic Heroes). The goal is very much the same and the mechanics from Sonic Heroes are identical. The player has to collect different Power Spheres to fill the Boost Gauge while holding down
to use the Boost. At the same time, the player has to avoid Bombs that slow Sonic down. However, the player only controls Sonic as a playable character (formation change gates are nowhere to seen) and one major difference is that the controls are much smoother when compared to Sonic Heroes. Other major differences include Rainbow Spheres which completely refill the Boost Gauge and Dash Panels that force Sonic into his Spin Mode (which prevents Sonic from boosting), where Sonic has to avoid Electric Gates.
Missions
Trivia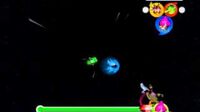 Special Stages in Sonic Heroes are notorious for being quite glitchy and having a few control issues. In certain sections, the player's high speed may radically decrease after getting stuck above a corner. Occasionally, the team will glitch outside of the tube and end up in an uncontrollable state. This is more likely to occur in Emerald Challenge 7 than the others.
Sonic Heroes is known to be the first three-dimensional Sonic game to feature Special Stages. Previously, Chaos Emeralds could be found either at the end of Action Stages or as part of the game's storyline in Sonic Adventure and Sonic Adventure 2.
The concept of the Boost mechanic seen in later games was introduced in the Sonic Heroes Special Stages.
Ironically in Sonic Heroes, the seventh Emerald is the easiest to obtain (with the third Emerald Challenge is the hardest to obtain).
In 2P Battle Mode of the Special Stage, if the first player uses Team Chaotix and the second player uses any other team, and the first player does not control Team Chaotix while the other player does, Team Chaotix will always win no matter what due to Espio being fast in Special Stages.
In the Nintendo 3DS version of Sonic Generations, an easy S Rank can be awarded on the first Special Stage by holding down for the entire level.
Gallery
Sonic Heroes
Screenshots
Textures
Sonic Generations
---
Main article | Scripts (Team Sonic, Team Dark, Team Rose, Team Chaotix, Last) | Staff | Glitches | Beta elements | Gallery
Playable
characters
Team Sonic
Sonic (Super Sonic) | Tails (Super Tails) | Knuckles (Super Knuckles)
Team Dark
Shadow | Rouge | Omega
Team Rose
Amy | Cream | Cheese | Big
Team Chaotix
Espio | Charmy | Vector
Non-playable characters
Dr. Eggman | Metal Sonic (Neo Metal Sonic) | Chocola | Froggy | Shadow Android | Omochao | Dark Chao | Hero Chao
Stages
1P stages
Sea Gate | Seaside Hill | Ocean Palace | Grand Metropolis | Power Plant | Casino Park | BINGO Highway | Rail Canyon | Bullet Station | Frog Forest | Lost Jungle | Hang Castle | Mystic Mansion | Egg Fleet | Final Fortress | Special Stage
2P stages
BINGO Highway | Casino Course | City Course | City Top | Casino Ring | Egg Fleet | Egg Treat | Frog Forest | Grand Metropolis | Hot Elevator | Mad Express | Pinball Match | Rail Canyon | Road Rock | Seaside Course | Seaside Hill | Special Stage | Terror Hall | Turtle Shell
2P Play Mode
Action Race | Battle | Bobsled Race | Expert Race | Quick Race | Ring Race | Special Stage
Enemies
Bomb Flapper | Cameron | Cannon Flapper | E-2000 | E-2000R | Egg Bishop | Egg Hammer | Egg Knight | Egg Magician | Egg Pawn | Egg Pawn (Casino version) | Falco | Flapper | Gold Cameron | Gold Klagen | Gun Flapper | Heavy-Egg Hammer | Klagen | Laser Flapper | Needle Flapper | Pumpkin ghost | Rhinoliner | Search Flapper | Solid Flapper | Solid Pawn
Bosses
Egg Albatross | Egg Emperor | Egg Hawk | Metal Madness | Metal Overlord | Robot Carnival | Robot Storm | Team Chaotix | Team Dark | Team Rose | Team Sonic
Moves/
Techniques
Speed
Maneuvers
Homing Attack | Jump Dash | Kick | Light Dash | Lightspeed Attack | Propeller Hammer | Rocket Accel | Shuriken | Spin | Spin Jump | Swinging Hammer Attack | Tornado Jump (Black Tornado, Blue Tornado, Leaf Swirl, Tornado Hammer) | Triangle Jump
Power
Maneuvers
Auto Homing | Body Press | Bubblegum Descent | Fire Combination | Fire Dunk | Fire Launcher | Fireball Jump | Forward Power Attack | Hammer Down | Jump Fire Knock | Jump Fireball | Remote Power Attack (Fireball, Fire Knock) | Spin Jump | Triangle Dive | Umbrella Descent | Wide Power Attack (Big Fishing, Omega Arm, Vector Breath, Volcanic Dunk)
Fly
Maneuvers
Ascending Flight | Cheese Attack | Dummy Ring Bomb | Spin Jump | Sting Attack | Thunder Shoot | Quick Ascent
Team Blasts
Sonic Overdrive | Chaos Inferno | Flower Festival | Chaotix Recital | Super Sonic Power
Misc.
Chaos Control | Crouch | Crystal Attack | Grind Step | Grinding
Gimmicks and obstacles
Ball Switch | Bingo | Bobsled | Bomb | Bumper | Bumper wall | Cannon | Check Point | Conveyor Belt | Dash Panel | Dash Rail | Dash Ring | Detonator Switch | Fan | Fireball | Flipper | Flower | Formation Change Gate | Giant Frog | Giant Switch | Grind Rail | Hint Ring | Iron ball | Jump Panel | Kao | Laser field | Mushroom | Orb switch | Pole | Power Gong | Propeller | Pulley | Rainbow Ring | Slot machine | Spring | Target Switch | Trolley | Vine | Warp Flower | Weight | Wide spring
Items
Capsule | Car | Casino chip | Castle Key | Cell Key | Chaos Emerald | Chaotix Detective Agency | Container (Cage, Case, Steel Container, Unbreakable Container, Wooden Container) | Emblem | Engine Core | Floating Item Box | Goal Ring | Hermit crab | Item Box (Barrier, Fly Charge, High Speed, Invincible, Rings, Power Core, Team Blast Ring, 1-Up) | Light spider marking | Power Core | Ring | Special Stage Key | Sphere | Torch
Voice actors
English
Ryan Drummond (Sonic, Metal Sonic) | Deem Bristow (Eggman) | William Corkery (Tails) | Scott Drier (Knuckles) | David Humphrey (Shadow) | Lani Minella (Rouge, Omochao) | Jon St. John (Omega, Big) | Jennifer Douillard (Amy) | Sarah Wulfeck (Cream) | Bill Corkery (Espio) | Marc Biagi (Vector) | Emily Corkery (Charmy)
Japanese
Jun'ichi Kanemaru (Sonic, Metal Sonic) | Chikao Ōtsuka (Eggman) | Ryō Hirohashi (Tails) | Nobutoshi Canna (Knuckles) | Kōji Yusa (Shadow) | Rumi Ochiai (Rouge) | Taiten Kusunoki (Omega) | Taeko Kawata (Amy) | Sayaka Aoki (Cream) | Takashi Nagasako (Big) | Yūki Masuda (Espio) | Kenta Miyake (Vector) | Yōko Teppōzuka (Charmy) | Etsuko Kozakura (Omochao)
Music
Songs
Sonic Heroes | We Can | This Machine | Follow Me | Team Chaotix | What I'm Made of...
Albums
Complete Trinity: Sonic Heroes Original Soundtrax | Triple Threat: Sonic Heroes Vocal Trax | Sonic Heroes Official Soundtrack | Sonic Heroes Original Soundtrack 20th Anniversary Edition
Other
Armored train | Dummy Ring | Egg Bazooka | Egg Fleet | Egg Gun | Egg Spear | Fly Type | Health Gauge | HEXAeco | Moon | Orca | Palm Plants | Power Type | Rank | Sonic Heroes Puzzle | Shuttle loop | Speed Type | Super Hard Mode | Team Blast Gauge | Tornado 2
Community content is available under
CC-BY-SA
unless otherwise noted.