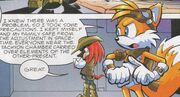 The Spatial Armband is a device created by both Tails and Cobar.
History
When Tails suspected the timeline being altered, he invented an armband to prevent his family from being erased. Around the same time, Lien-Da forced Cobar to make her an armband before the timeline was altered.[1]
Five years later, after former King Shadow had been released from suspended animation, he ripped off Lien-Da's armband so that her place in the timeline would change. Argyle is also shown wearing a green version of the armband.[2]
Trivia
References
External links