In the frigid north of Sonic's world is one of Eggman's chemical plants supplying a space port. It's up to the hero character to break through the base's defense.


— Trailer description[1]
Spaceport (スペースポート, Supēsupōto?) is the second stage in Sonic Forces, and the first stage in the game to be played as the Avatar. This stage is a re-imagining of the Chemical Plant Zone from Sonic the Hedgehog 2 on the Sega Mega Drive.
One of Dr. Eggman's many chemical plants, the Spaceport is an industrial high-tech maze in the frigid north of Sonic's world that supplies a nearby space port.[1] This location was ultimately raided by the Resistance when the group needed a space shuttle to reach the rebuilt Death Egg to rescue Sonic.
Description
Like its other incarnations, the Spaceport is an industrial area with no natural environments. Unlike earlier versions of Chemical Plant however, it is presented in a maritime zone, as a kind of industrial platform. Here, gigantic and metallic structures in yellow and gray rise up from the sea. The majority of these structures include high-tech factory-based chemical plants (some of which glow orange) and industrial cranes. Among the structures are various pipes, ducts and containers for transferring and holding blue chemicals. Also winding between the structures are yellow and black-striped roads, yellow and blue tubes, and train tracks for freight trains that transport supplies.
Further into the stage, it is possible to see that the place also serves as a space port (as implied by its name). At the end of the stage are countless neatly-stacked shipping containers that are being transported between the Spaceport and the Death Egg through Eggman Fleet vessels that dot the sky and sit on launch pads to await takeoff to the dreaded space station.
Due to being located in the northern region of Sonic's world, most of the Spaceport has frozen over. Surfaces of ice fill up the base, the buildings are covered in a thin layer of frost, and the air is chilly with falling snow. The stage is also overcast by a clouded sky, indicating the winter weather is a natural forecast for this part of the planet.
Story
Following Dr. Eggman and his Eggman Empire's subjugation of over 99% of the world over the last six months, the Resistance has discovered that Sonic the Hedgehog, whom they believed to be dead after being bested by Eggman at the start of the war, is being held prisoner onboard an orbiting space station. Having just recruited a rookie soldier who had survived the battle in the City and made it to the Resistance HQ, Knuckles sends them along with a squad including Team Chaotix to the Spaceport to steal a shuttle that the Resistance can use to reach Sonic, equipping them with a Burst Wispon before departing on their first mission.
Upon arriving at the Spaceport, the rookie fights through enemy forces while Vector's squad focuses on the task at hand: finding a shuttle. While Espio's team is busy holding off enemy forces however, they notice that Infinite has arrived. Thanks to Espio providing a distraction though, the Resistance is able to get through to the launch pad, where Vector's squad manages to procure a shuttle. The rookie is then ordered​ by Knuckles to retreat as soon as everyone has escaped, all without Infinite discovering their presence or their intentions to break Sonic out of his incarceration in space.
Gameplay
The Spaceport includes narrow paths for the player to run along, and Grind Rails for grinding on. Other than that, the stage features no unique gimmicks or obstacles.
Like other Avatar stages, Spaceport features Wire Targets for the player to swing around on using the Wire Attack, and numerous Wisp Capsules with Wisps for fueling the Avatar's different Wispons. However, any Wisp Capsule containing Wisps that do not match any of the Wispons the player has currently obtained will be rendered intangible and transparent until the player obtains their Wisp's associated Wispon. This means, for example, that if the player does not have an Asteroid Wispon, then the capsules with Indigo Wisps will be unobtainable.
Overview
The stage begins with the Avatar running down a metal bridge, whose perspective eventually switches from 3D to the side-scrolling 2.5D perspective. Eventually, the player will pass through a shuttle loop and be launched into the air, before automatically swinging down to a narrow passage in 3D with Grind Rails at the end. While grinding along the aforementioned rails, the perspective will switch to 2.5D again.
At the end of the Grind Rails, the player has to scale a series of platforms. At the top, they must then Wire Attack another target to trigger a cutscene sequence. This sequence shows the Avatar landing on a freight train after swinging away, only to be forced to grapple to higher tracks to avoid hitting an approaching tunnel. Up there, the Avatar manages to grapple past another incoming freight train in the last second before being run over. After that, the player must complete a Real-Time Interaction; the better the player times the Real-Time Interaction by pressing

/
/

when the green rings that appear overlap, the greater the point bonus the player will receive.
After the Real-Time Interaction, the player will land in a long 2.5D section with multiple path options. At the end of this section, the player will return to a 3D perspective as they get catapulted to another Grind Rail segment. After this segment, the player will arrived in the shuttle port, with the goal in front of the stolen space shuttle.
Ranking
The following are the suggested clear points for achieving a high enough score to achieve each Rank:
| S-Rank | A-Rank | B-Rank | C-rank |
| --- | --- | --- | --- |
| 1,400,000 | 720,000 | 430,000 | <430,000 |
Trivia
Music
Video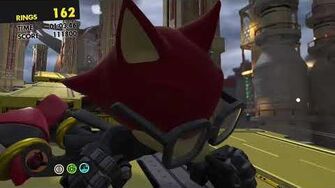 See also
References
↑ 1.0 1.1 Sonic Forces - Space Port Gameplay. YouTube. SEGA (17 October 2017). Retrieved on 17 October 2017. "In the frigid north of Sonic's world is one of Eggman's chemical plants supplying a space port. It's up to the hero character to break through the base's defense. In this gameplay video, we've armed our custom character with the powerful Drill Wispon!"
---
Main article | Script | Staff | Manuals | Beta elements | Gallery
Playable characters
Sonic (Super Sonic) | Classic Sonic (Classic Super Sonic) | Avatar | Shadow (Episode Shadow)
Non-playable
characters
Resistance (Tails, Knuckles, Amy, Team Chaotix (Vector, Espio, Charmy), Silver, Team Dark (Shadow, Rouge, Omega)) | Dr. Eggman | Infinite | Orbot | Cubot | Metal Sonic | Chaos | Zavok | Animals (Cucky, Flicky, Pecky, Picky, Pocky, Ricky, Rocky)
Wisps
Blue Wisp | Green Wisp | Indigo Wisp | Ivory Wisp | Red Wisp | Violet Wisp | White Wisp | Yellow Wisp
World Map regions
Chemical Plant | City | Death Egg | Eggman Empire Fortress | Green Hill | Metropolis | Mystic Jungle
Stages

General

Lost Valley | Spaceport | Ghost Town | Prison Hall | VS. Zavok | Egg Gate | Arsenal Pyramid | Luminous Forest | VS. Infinite | Green Hill | VS. Eggman | Park Avenue | Casino Forest | Aqua Road | Sunset Heights | Capital City | VS. Infinite | Chemical Plant | Red Gate Bridge | Guardian Rock | Network Terminal | Death Egg | Metropolitan Highway | Null Space | Imperial Tower | Mortar Canyon | VS. Infinite | Iron Fortress | Final Judgement | VS. Death Egg Robot

Episode Shadow

Enemy Territory | Eggman's Facility | Virtual Reality
Secret
Fire Cannon 1 | Vanish Panel 1 | Bomb Block 1 | Plasma Cannon 1 | Laser Cannon 1 | Reverse Block 1
Extra
Flying Pod | Bomb Block 2 | Laser Cannon 2 | Reverse Block 2 | Vanish Panel 2 | Fire Cannon 2 | Plasma Cannon 2
Enemies
Aero-Chaser | Buzz Bomber | Chopper | Egg Pawn | Egg Tank | Egg Walker | Galaga Bee | Moto Bug | Missile Pod | Nebula | Sandworm | Sprinkler | Valkeen
Bosses
Death Egg Robot | Eggman | Egg Dragoon | Infinite | Metal Sonic | Zavok
Moves/Techniques
Air Boost | Boost | Crouch | Double Boost | Double Jump | Drop Dash | Grind Step | Grinding | Homing Attack | Side Step/Cartwheel | Skydiving | Slide | Super Sonic Boost | Spin Dash | Spin Jump | Stomp | Triple Boost | V. Maximum Overdrive Attack | Wall Jump | Wire Attack
Gimmicks and obstacles
Balloon | Bottomless pit | Bumper | Capsule | Conveyor Belt | Dash Panel | Dash Rail | Dash Ring | Fan | Flipper | Flywheel | Goal | Goal Plate | Grind Rail | High-speed warp tube | Hint Ring | Iron ball | Jump Panel | Laser field | List of pinball obstacles | Pulley | Rainbow Ring | Ring Shooter | Slot machine | Spikes | Spring | Spring Catapult | Spring Pole | Star Post | Wide spring | Wire Target | Zip Line
Items
General
Air Bubble | Blue Block | Blue Ring | Container (Unbreakable Container, Wooden Container) | Costume | Item Box (Bonus Rings, Invincibility, Power Sneakers, Shield) | Medal | Meteorite | Number Ring | Red Star Ring | Ring | Silver Moon Ring | Wisp Capsule
Wispons
Asteroid | Burst | Cube | Drill | Hover | Lightning | Void
English voice actors
Roger Craig Smith (Sonic) | Mike Pollock (Eggman) | Liam O'Brien (Infinite) | Colleen O'Shaughnessey (Tails, Charmy) | Travis Willingham (Knuckles, Zavok) | Cindy Robinson (Amy) | Kirk Thornton (Shadow, Orbot) | Karen Strassman (Rouge) | Vic Mignogna (Omega) | Quinton Flynn (Silver) | Keith Silverstein (Vector) | Matthew Mercer (Espio) | Wally Wingert (Cubot)
Japanese voice actors
Junichi Kanemaru (Sonic) | Kotaro Nakamura (Eggman) | Takashi Kondō (Infinite) | Ryo Hirohashi (Tails) | Nobutoshi Canna (Knuckles) | Taeko Kawata (Amy) | Kōji Yusa (Shadow) | Rumi Ochiai (Rouge) | Taiten Kusunoki (Omega) | Daisuke Ono (Silver) | Kenta Miyake (Vector) | Yūki Masuda (Espio) | Yōko Teppōzuka (Charmy) | Jōji Nakata (Zavok) | Mitsuo Iwata (Orbot) | Wataru Takagi (Cubot) | Fumihiko Tachiki (Narrator)
Music
Songs
Fading World | Fighting Onward | Fist Bump | Infinite | Justice | Moonlight Battlefield | Nowhere to Run | Rhythm And Balance | Set in Motion | Supporting Me | The Light of Hope | Virtual Enemies
Albums
Sonic Forces Original Soundtrack - A Hero Will Rise | Sonic Forces Vocal Traxx - On The Edge | Sonic Forces Hi-Res Collection | Sonic Forces Original Soundtrack The Vinyl Cutz
Other
Boost Gauge | Chaos Control | Challenge Mission | Daily Mission | Death Crab | Death Egg | Death Egg Robot | Death Queen | Egg Dragoon | Egg Mobile | Eggman Army | Eggman Empire | Eggman Fleet | Experience | Health Gauge | Jackal Squad | Mega Mack | Miles Electric | Operation Big Wave | Phantom Ruby | Phantom Ruby prototype | Real-Time Interaction | Replica | Resistance HQ | Sandworm | Skill | Sonic Forces digital comic (Moment of Truth, Stress Test, Looming Shadow, Rise of Infinite) | Sonic Forces: Speed Battle | SOS Mission | Time Over | War to Take Back the Planet | Winding Tunnel | Wisp Gauge
Community content is available under
CC-BY-SA
unless otherwise noted.