The space rocket (宇宙ロケット[1], Uchū roketto?) or simply rocket (ロケット[2], Roketto?) is a vehicle that appears in the Sonic the Hedgehog series. It is a high-speed shuttle craft that was used by Dr. Robotnik for his journey to the Death Egg.
Description
Appearance
The space rocket has a peculiar design, whose components are all blocky. Mostly colored grey with hints of red and black, it has a streamlined main body and attachments on the top and bottom reminiscing space shuttle fins. The rear and the recess in it is covered with five rocket exhausts.
History
Sonic the Hedgehog 2
In Sonic the Hedgehog 2, the space rocket was used when Dr. Robotnik escaped from Wing Fortress Zone to the Death Egg, after he failed to get rid of Sonic in the Wing Fortress' cockpit room. While Sonic missed the space rocket, Tails returned with an enhanced Tornado and they chase after it. After a while, Sonic managed to grab onto the space rocket's side and rode it to the Death Egg where it docked.
In other media
Sonic the Comic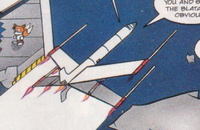 In the Sonic the Comic series published by Fleetway Editions, the rocket goes unnamed, but its background is identical to its game counterpart. During the comics, Sonic and Tails used it to reach the floating ruins of the Death Egg in space.
Archie Comics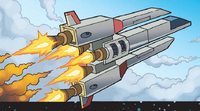 In the Sonic the Hedgehog comic series and its spin-offs published by Archie Comics, the space rocket appeared under the name Egg Jet and is based on its appearance in Sonic the Hedgehog 2. In this media, it was one of the aircraft stationed onboard the Death Egg Mark 2. It first appeared during Operation: Clean Sweep where it was used by Dr. Eggman and afterwards by Snively during his attempt to overthrow his uncle.
After the Super Genesis Wave, the Egg Jet became virtually identical to its game counterpart, only for it to be piloted by Dr. Snively.
Trivia
The space rocket was not nominally mentioned in any game manuals or Western strategy guides, as its descriptive title comes from Japanese guide books such as Sonic Jam Official Guide and Sonic Mega Collection Saikyou Kouryaku Guide. Later on, the name Egg Jet originated in the Sonic the Hedgehog comics published by Archie Comics.
Eggman is known to have more space shuttles inside of his hidden pyramid base during the events of Sonic Adventure 2, as Sonic, Tails, Knuckles and Amy used one to get to the Space Colony ARK. This space shuttle bears a heavy resemblance to the American space shuttle "Discovery", that was part of NASA's Space Shuttle program.
Gallery
Screenshots
References
↑ "DEATH EGG ZONE" (in Japanese).

ソニックジャム オフィシャルガイド

. SoftBank. 2 October 1997. p. 50. ISBN 978-4797303377. "逃げ場を失ったエッグマンは、宇宙ロケットに乗って衛星軌道上に向かう。逃がすまいと追いすがるソニックもロケットにつかまって宇宙へ。"
↑ "デスエッグゾーン" (in Japanese).

ソニックメガコレクション最強攻略ガイド

. Shogakukan. 1 March 2003. p. 100. ISBN 978-4091060907.
---
Main article (Knuckles in Sonic 2) | Staff | Manuals | Glitches | Beta elements | Gallery | Pre-releases (Nick Arcade, Simon Wai) | Re-releases (2006, 2013, 3D, Sega Ages)
Playable characters
Sonic (Super Sonic) | Tails (Super Tails**) | Knuckles** (Super Knuckles**)
Non-playable characters
Dr. Robotnik | Animals (Becky, Cucky, Flicky, Locky, Micky, Pecky, Picky, Pocky, Ricky, Rocky, Tocky, Wocky)
Zones
Main
Emerald Hill Zone | Chemical Plant Zone | Aquatic Ruin Zone | Casino Night Zone | Hill Top Zone | Mystic Cave Zone | Hidden Palace Zone** | Oil Ocean Zone | Metropolis Zone | Sky Chase Zone | Wing Fortress Zone | Death Egg Zone | Special Stage
Other
Boss Attack Zone** | Egg Gauntlet Zone** | Genocide City Zone* | Green Hill Zone* | Proto Palace Zone** | Rock World Zone* | Sand Shower Zone* | Wood Zone*
Enemies
Aquis | Asteron | Balkiry | Banper* | Batbot** | BFish* | Bubbler* | Bubbler's Mother* | Buzzer | Cactus* | Chop Chop | Clucker | Coconuts | Crawl | Crawlton | Flasher | Frog* | Gator* | Gohla | Grabber | Grounder | Jellygnite** | Lobster* | Masher | Nebula | Octus | Rexon | Shellcracker | Slicer | Snail* | Spiker | Spiny | Stegway** | Turtloids | Redz** | Whisp
Bosses
Egg Drillster | Egg Poison | Egg Hammer | Egg Claw | Egg Scorcher Mk. II | Egg Digger | Brass Eggman** | Eggmarine | Egg Bouncer | Laser Prison | Mecha Sonic | Death Egg Robot
Moves/Techniques
Climb** | Crouch | Drop Dash** | Glide** | Insta-Shield** | Propeller Flying | Spin jump | Super Dash Attack | Super Spin Attack | Swim**
Gimmicks and obstacles
Arrow column | Bomb | Breakaway column | Booster | Bumper | Bumper wall | Cannon | Conveyor Belt | Crusher | Drop Target | Elevator | Fan | Flipper | Giant spear | Goal Plate | Gondola | High-speed warp tube | Iron ball | Jump Panel | Mega Mack | Metal nut | Prison Egg | Seesaw | Sinking pool | Slot machine | Spikes | Spring | Spring Catapult | Star Post | Triangle Bumper | Switch
Items
Air bubble | Chaos Emerald | Monitor (Eggman Mark, Flame Shield**, Invincible, Lightning Shield**, One-Up, Power Sneakers, Random, S**, Shield, Super Rings, Teleporter, Water Shield**) | Ring | Star Circle
Music
Sonic the Hedgehog 1&2 Soundtrack
Other
Continue | Corkscrew | Death Egg | Death Egg Robot | Debug Mode | Eggman's Mobile | Life | Lock-on technology | Loop | Perfect Bonus | Sonic the Hedgehog 2 CD | Space rocket | Time Attack | Tornado | Totem pole | Tunnel | Water | West Side Island

* Appears only in prototype versions
** Appears only in re-releases