Fire Emblem Warriors: Three Hopes - The Loop
Play Sound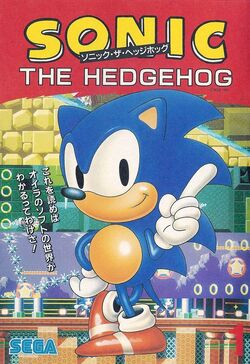 Sonic the Hedgehog (ソニック・ザ・ヘッジホッグ, Sonikku za Hejjihoggu?), also known as Sonic the Hedgehog Story Comic (ソニック・ザ・ヘッジホッグ ストーリーコミック, Sonikku za Hejjihoggu: Sutōrī Komikku?), was a manga published in Japan between June and July 1991 in the Japanese magazine, Mega Drive Fan.
Description
Sonic the Hedgehog: Story Comic was created to promote the release of Sonic the Hedgehog for the Sega Mega Drive. Volume 1, for instance, specifically mentions the game and has Dr. Eggman playing it as "practice" for taking his revenge on Sonic.
Sonic the Hedgehog Story Comic has numerous connections to the Sonic the Hedgehog game, such as having Dr. Eggman in search of the Chaos Emeralds, and features the various zones from the original game. It also features Sonic's animal friends as background characters, the first appearance of humans other than Eggman, and Dr. Eggman is seen piloting his Egg Mobile-H.
The story naturally features the Japanese elements of the Sonic backstory, and has little or no connection to the early Sonic canon established in America and Europe. For example, Dr. Eggman is shown to desire the Chaos Emeralds because their energy will allow him to boil the world's largest egg, and Western concepts such as Dr. Ovi Kintobor and the Retro-Orbital Chaos Compressor are not mentioned.
It also features concepts that appeared in early versions of the Sonic the Hedgehog game, but which were dropped for the final release. For example, Sonic is shown to be the lead singer of a band that also includes a rabbit, parakeet and crocodile. Also, some of the Zones have different names from the final game, e.g. in Volume 2 the Spring Yard Zone is called the "Sparkling Zone" and in Volume 3 the Scrap Brain Zone is called the "Clock Work Zone".
Volumes
Trivia
See also
External links
Shogakukan
Sonic the Hedgehog

Shogaku Ichinensei

 ·

Shogaku Ninensei (1, 5, 6)

 ·

Shogaku Sannensei

 ·

Shogaku Yonensei

(The Adventures of SONIC the Hedgehog)

 ·

Shogaku Gonensei

(

Sonic Hurry to the Rescue???

,

Eggman Uses Sport's Day to Set Up a Trap...Don't Lose, Sonic!!

)

 ·

Shogaku Rokunensei

 ·

Corocoro (Big Dreams Make Sonic Propel Forward!!,

Big Dreams Are My Energy!

,

Come On, Guys! Let's Daaance!!

,

A New Buddy, Tails, Enters the Stage!!

)
Dengeki Nintendo
Sonic World Adventure

 ·

Sonic and the Black Knight

 ·

Sonic Chronicles

 ·

Sonic Colors

 ·

Sonic Generations
Other
Sonic the Hedgehog Story Comic (1, 2, 3)

 ·

Sonic the Hedgehog Book

 ·

Sonic the Hedgehog 2: Mega Drive Official Guide Book

 ·

Dash & Spin Super Fast Sonic (1, 2)
Printed media
Manga
Sonic the Hedgehog Story Comic (1991)

 ·

Sonic the Hedgehog (The Adventures of SONIC the Hedgehog (1992—1994))

 ·

Dash & Spin Super Fast Sonic (2003—2005)

 ·

Dengeki Nintendo DS (Sonic World Adventure (2008), Sonic and the Black Knight (2009), Sonic Chronicles (2009), Sonic Colors (2010), Sonic Generations (2011))
Comic books
Sonic the Hedgehog (promotional comic) (1991)

 ·

Sonic the Comic (1993—2002)

 ·

Sonic Sunday Strips (1993—1995)

 ·

Archie Comics (Sonic the Hedgehog (1993—2017), Sonic the Hedgehog (1993), Princess Sally (1995), Tails (1995), Knuckles (1996), Sonic Quest (1996), Knuckles the Echidna (1997—1999), Sonic X (2005—2008), Sonic Universe (2008—2017), Sonic Boom (2014—2015))

 ·

Sonic Adventures (1994)

 ·

Sonic Comic (2016)

 ·

IDW Publishing (Sonic the Hedgehog (2018-present), Sonic the Hedgehog: Tangle & Whisper (2019), Sonic the Hedgehog: Bad Guys (2020), Sonic the Hedgehog: Imposter Syndrome (2021-2022))
Novels and picture books
Stay Sonic (1993)

 ·

Virgin Books (Sonic the Hedgehog in Robotnik's Laboratory (1993), Sonic the Hedgehog in the Fourth Dimension (1993), Sonic the Hedgehog and the Silicon Warriors (1993), Sonic the Hedgehog in Castle Robotnik (1994))

 ·

Pense Bem: Uma Aventura Científica com Sonic the Hedgehog (1993)

 ·

Troll Associates (Sonic the Hedgehog (1994), Sonic the Hedgehog: Robotnik's Revenge (1994), Sonic the Hedgehog: Fortress of Fear (1995), Sonic the Hedgehog: Friend or Foe? (1995), Sonic & Knuckles (1995), Sonic X-Treme (1997))

 ·

Ladybird (Sonic the Hedgehog Colouring Poster Book (1994), Sonic the Story (1994), Sonic the Hedgehog: Robotnik's Oil (1994), Sonic the Hedgehog: The Invisible Robotnik (1994))

 ·

Watermill Press (Sonic the Hedgehog (1995))

 ·

Golden Books (Sonic the Hedgehog: Sonic's Shoes Blues (1993), Sonic the Hedgehog 2: The Secret Admirer (1994), Sonic the Hedgehog 3: Up Against the Wall (1995), Sonic the Hedgehog: Double Trouble (1996))

 ·

Sonic X (2005—2007) (Meteor Shower Messenger (2005), Spaceship Blue Typhoon (2005), Battle at Ice Palace (2006), Aqua Planet (2006), Dr. Eggman Goes to War (2006), Desperately Seeking Sonic (2007))

 ·

Where's Sonic? A Search-and-Find Adventure (2012)

 ·

Sonic Boom (2015—2016) (Le partenaire ideal (2015), La machine à gaffes (2015), Pas de chance, Knuckles ! (2015), L'épouvantable Todd (2016), Sonic Superstar (2016), Une étrange météorite (2016))

 ·

Sonic and the Tales of Deception (2018)

 ·

Sonic and the Tales of Terror (2018)

 ·

Meet Sonic! (2019)
Other
Sonic the Hedgehog 4 Knitting Patterns (1992)

 ·

Sonic the Hedgehog Adventure Gamebook (Fantail) (1, 2, 3, 4, 5, 6) (1993—1996)

 ·

Sonic the Hedgehog Adventure Gamebook (Ladybird) (1, 2, 3, 4) (1994—1995), Joke Book (1994), Where's Sonic? (1994), Where's Sonic Now? (1996), Puzzle Book 1 (1994), Puzzle Book 2 (1994))

 ·

The Official Sonic the Hedgehog Yearbook (1993, 1994)

 ·

Sonic the Hedgehog Book (1992)

 ·

Sonic the Hedgehog Paint 'n' Marker Book (1993)

 ·

Look and Find Sonic the Hedgehog (1995)

 ·

Sonic the Hedgehog (Play-a-Sound) (1995)

 ·

How to Draw Sonic the Hedgehog & the Gang (1998)

 ·

The History of Sonic the Hedgehog (2012)

 ·

Sonic the Hedgehog Super Interactive Annual 2014 (2013)

 ·

Run, Sonic, Run! (2013)

 ·

Sonic the Hedgehog Joke Book (2014)

 ·

Sonic the Hedgehog Sticker Mania! (2014)

 ·

Totally Sonic (2014)

 ·

Sonic: His Amazing History! (2016)

 ·

The Secrets of Sonic the Hedgehog (2016)

 ·

Sonic: The Ultimate Character Guide (2016)

 ·

Sonic the Hedgehog 25th Anniversary Art Book (2017)

 ·

Welcome to the World of Sonic (2018)

 ·

Sonic the Hedgehog Mad Libs (2018)

 ·

Race Against Chaos Sticker Activity Book (2018)

 ·

Sonic the Hedgehog Art & Design Book (2019)

 ·

Sonic & Friends Sticker Activity Book (2019)

 ·

Sonic the Hedgehog Encyclo-speed-ia (2021)

 ·

Sonic the Hedgehog: The Official Coloring Book (2022)

 ·

Sonic the Hedgehog: The Official Adult Coloring Book (2022)
Television and film
Animated shows
Adventures of Sonic the Hedgehog (1993)

 ·

Sonic the Hedgehog (1993—1994)

 ·

Sonic Underground (1999)

 ·

Sonic X (2003—2005)

 ·

Sonic Boom (2014—2017)

 ·

Sonic Prime (2022)
Shorts
Sonic the Animation (1997)

 ·

Sonic: Night of the Werehog (2008)

 ·

Sonic Mania Adventures (2018)

 ·

Team Sonic Racing Overdrive (2019)

 ·

Chao In Space (2019)

 ·

Around the World in 80 Seconds (2020)

 ·

Sonic Colors: Rise of the Wisps (2021)

 ·

Sonic Drone Home (2022)

 ·

Sonic Frontiers Prologue (2022)
Other
Sonic - Super Hedgehog (1994)

 ·

Sonic Christmas Blast (1996)

 ·

Sonic the Hedgehog: The Movie (1996)

 ·

Sonic the Hedgehog (film series) (Sonic the Hedgehog (2020), Sonic the Hedgehog 2 (2022), Sonic the Series (2023), Sonic the Hedgehog 3 (TBA)
Cancelled projects
Sonic the Hedgehog: Wonders of the World

 ·

Sonic Armageddon
Internet streams

Sonic Official

(2016-present)

 ·

Sonic Station Live! (2020-present)

 ·

Sonic Central (2021-present)

 ·

TailsTube (2022-present)
Events
Anniversaries (10th, 15th, 20th, 25th, 30th)

 ·

Conventions (Sonic Boom, Sonic Party 2002 Summer Festival, Sonic Party 2003 Summer Festival, Summer of Sonic)

 ·

Franchise timeline

 ·

Ken Penders' legal cases

 ·

Project Sonic

 ·

Sonic 2020

 ·

Sonic Generations of Skate

 ·

Sonic in Sydney

 ·

Sonic the Hedgehog 30th Anniversary Symphony

 ·

Steve Aoki x Sonic Concert

Miscellaneous
Alton Towers (Spinball Whizzer)

 ·

Cameo appearances and references

 ·

Cookie Crisp

 ·

Frosties

 ·

Guinness World Records

 ·

Honey Nut Cheerios

 ·

iTunes

 ·

Macy's Thanksgiving Day Parade Sonic Balloon

 ·

Sanic

 ·

SEGA Republic (Sonic Hopper, Spin Gear)

 ·

Sonic Bible

 ·

Sonic Bowl

 ·

Toyland Tours