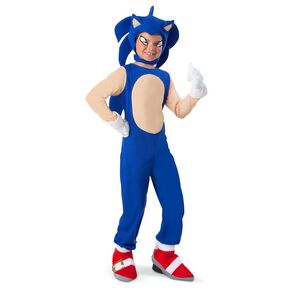 The Sonic the Hedgehog Halloween Costume is a kid-sized Halloween costume of Sonic the Hedgehog. It is made of clear vinyl and fleece for comfort. It is only available at the costume website, Buycostumes.com.
Structure
Edit
The costume has an embroidered oval on its belly. The headpiece features spikes and ears. It has a small stub for a tail.
Complete costume includes: mascot body with embroidered tummy and shoe covers, separate mascot head and hand covers.
Availability
Edit
The costume is available in all countries except Virgin Islands. It comes in three sizes: small, medium and large.
External links
Edit