Raise a Floppa - The Loop
Play Sound
—

Sonic the Hedgehog Annual
2020

—
Sonic the Hedgehog Annual 2020 is the second annual edition comic for the Sonic the Hedgehog comic series published by IDW Publishing.
Official solicitation
"Untold Tales of the Metal Virus!" As the Metal Virus plague-Dr. Eggman's latest plan that turns all organic life into zombified robots-spreads across Sonic's world, none can escape its path! Join Sonic and some of his greatest friends and worst foes in six incredible, previously untold stories about how the world reacts to this latest threat![1]
Featured stories
Big's Big Adventure
Synopsis
In the Mystic Ruins, Big relaxes at his house and watches the sunset with Froggy. He states that no matter how many times they have seen it, it was still pretty and asks if Froggy agreed; the frog simply responds with a ribbit, to which Big agrees with. The cat then mentions that he has not seen it in a while as Froggy had led him on a long adventure. First, Froggy led Big all the way to Vista View, where he fished in the sewage system. There, Big met Sonic who was running through and they greeted each other. The hedgehog left as quickly as he came, leaving Big to continue fishing. Shortly after this, Big followed Froggy to Riverside, where he fished some more. He was soon led to Barricade Town and Spiral Hill Village as well, looking for his pal. He officially lost track of him outside of Windmill Village. Big began to search for Froggy in areas such as one of the Egg Fleet's battleships and one of Dr. Eggman's pyramid bases. He later boarded a Resistance battleship as he thought he saw Froggy on there but it was apparently just a Wisp. He stayed on the ship as a stowaway and napped until they got to Angel Island. He soon fell off of the island when it began to fall due to Neo Metal Sonic taking the Master Emerald to become Master Overlord. Luckily, Big was able to stay afloat in the ocean with a life preserver.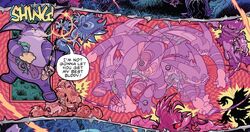 According to Big, he decided to retrace his steps, recounting how he kept coming across a mysterious "magician" and two scary looking guys. He first saw the "magician" much earlier breaking out the two scary looking guys with a "trick". Days later, in Frozen Peak, he saw the same "magician" performing the same trick for Sonic and Silver, which he thought was boring. A little earlier, he actually saw the scary looking guys fight Sonic in Windmill Village, believing their names to be "Rash" and "Truffles". A while later, when Big looked for Froggy in Echo Mine, he thought he had heard their voices but did not see anybody and felt that his loneliness was playing a trick on him. Unbeknownst to Big, Rough and Tumble were stuck in a refuse pit as Zombots. Big stated that he began to get worried as he could not find Froggy anywhere and the world was becoming spooky, with cities being empty. The cat checked Cream's house to see if Froggy went to play there but still did not find him. Big tried looking for their other friends to help but did not find anyone. Hearing that Amy was inviting everyone for a "sleepover" at Restoration HQ, Big went there to check it out but was initially prevented by a "mean robot" from immediately entering in without getting scanned. Even after that, due to the HQ being overcrowded, Big was unable to search for Froggy properly and left early. Unknown to him, a Zombot outbreak had occurred soon after he left.
Big mentions to Froggy that he was very lonely and a little afraid, but knew that he had to have been lonely and afraid as well as he was on his own; this prompted Big to continue his search. Going to the last spot to double-check, which was an area a little outside of Spiral Hill Village, Big fished for his friend. Sure enough, Froggy caught onto the line, which overjoyed the cat. Big walked away from the scene with his pal, unaware of people running away from Zombots some distance behind him. Big thought that their troubles were over but he was wrong; on the way home, Big and Froggy came across "strange monsters" on the road who were prepared to attack them. Refusing to let them get to Froggy, Big stood his ground and fought the Zombots with his Fishing Rod. During the battle, Froggy leaped on the head of one the Zombots, which Big beamed at and thought was brave. The cat soon tied up the Zombots and fled home with his best budddy. Now caught up and as the moon rose, Big tells Froggy that he knew the rest as his tale had finished and they were home safe and sound. Noting that Froggy had been quiet ever since they got back, Big claims that since they were such good friends, he already knew what he was thinking; he tells his pal he was happy to be home with him as well.
Unbeknownst to Big, as Froggy had come in contact with the Metal Virus earlier, he slowly becomes a Zombot and begins infecting Big. The virus gradually spreads to the flora of the Mystic Ruins as well.
Appearances
Characters:
Races and species:
Locations:
Items:
Vehicles:
Misc.:
Continuity
Big is shown to be present at the scene of several previous Sonic the Hedgehog issues, namely Sonic the Hedgehog #1-#4, #6-#9, #11, #13-#19 and #22.

On page seven, in the second panel, Big says "Froggy?! Where are you?!" This was a line first stated in Sonic the Hedgehog #22, "The Last Minute, Part 2" but only Big's voice could be heard.
Big was also revealed to be present at the scene of the story, "The Catalyst", which is also a story featured in this annual.
Trivia
As stated by Ian Flynn, "Big's Big Adventure" is a reference to Big's cameos in Sonic Adventure 2.[5]
On page two, Sonic and Big greet each other with the lines "Hey, big guy!" and "Hey, little guy." respectively. This is derived from the lyrics "Hey big guy; Hey little guy" from the song, "Lazy Days (Livin' in Paradise)", the theme of Big in Sonic Adventure.
On page four, Big's eyes can be seen glowing in the dark. This is in reference to a real life cat's feature of having a natural eyeshine reflecting from their eyes.
On page five, in the third panel, Sonic says "Swing and a miss!" after Tumble tries to hit him. Though Sonic does say this in Sonic the Hedgehog #13, "Calling Card", it was shown in that issue that it was during the time Tails helped Elder Scruffy reach Windmill Village's community center. In this story, however, Tails and Elder Scruffy are still running away from the battlefield and have not reached the community center yet by the time Sonic says this.
On page six, in the second panel, two street signs in Seaside City are seen with the writing "Elson St" and "Dobbyn Dr", which are named after Sonic the Comic alumni Richard Elson and Nigel Dobbyn respectively.
On page six, in the second panel, a street sign can be seen with the writing "No Way" on it, as if someone had written the word "No" over the original sign. This is in reference to the title screen of Blue Sphere, an Easter egg video game that was built into the Sonic & Knuckles cartridge for the Sega Mega Drive.
Minor background characters first seen in other Sonic the Hedgehog issues make cameo appearances in this story:
Two background characters seen on page seven in Restoration HQ are designed after Marsupilami and Spirou.
In the second panel of page seven, a refugee can be seen wearing Amitie's hat, a character from the Puyo Puyo series.
In the second panel of page seven, a refugee can be seen wearing Beat's goggles, a character from the Jet Set Radio series.
In the final panel of page seven, Froggy can be seen in a star constellation depicted with a tail. Later in the issue, the actual Froggy is depicted without his tail. Froggy first gained a tail in Sonic Adventure but soon lost it later in the game after Chaos took back his essence from him.
On page eight, the Sonic Fan Club's banner can be seen torn apart. This banner was first seen in Sonic the Hedgehog Annual 2019, "Sonic Fan Club" and was used as the story's official text title.
This story contradicts the events of "The Catalyst", another story in this annual. In this story, the Faceship is seen dumping Metal Virus on Spiral Hill Village and following this, Jewel, the president, and the vice president of the Sonic Fan Club are seen running away from the other Zombot club members. In "The Catalyst", the Sonic Fan Club members were first turned into Zombots when the Faceship dumped Metal Virus at Spiral Hill farms. Jewel, the president, and the vice president more or less avoided and ran away from them when the Faceship visited the farm again. After this, the Faceship arrived at Spiral Hill Village and then dumped more Metal Virus down into it.
Darkest Hour
Synopsis
In Sunset City, Nite the Owl begins his radio session for K-TBR 199.2. He begins playing a song for his listeners and states that afterward, he will start taking calls. The custodian, Don the Rooster, is taking out the trash and complains over having to clean up another mess again after another night. Nite replies to him saying that it was not so bad; to him, Don was providing a vital service for the radio station keeping it in tip-top shape. He then asks where Sunset City would be without his "dulcet" tones riding the airwaves, to which Don replies that he thinks that they would be better off. Nite soon receives his first call from a woman named Gala. She exclaims that she needs help as she was being followed by several people who looked sick. As Nite and Don share confusion, Gala continued, saying that their skin looked metal. A worried Nite asked the woman to take a breath and wondered and believed that the matter was better suited for the police, only for Gala to state that she had already called them and there was no answer. Before Gala could continue, the line was cut off abruptly. When Don asks what was going on, Nite tells him that he did not know and shares his headphones with him to listen. Several more panicked calls go through K-TBR 199.2, all detailing attacks from these metallic civilians. Most of of these calls ended abruptly as well.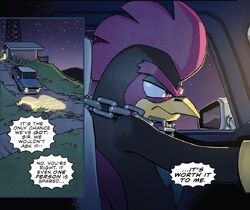 After listening to the calls for hours into the night, Don suggests taking the truck now to get a couple miles away by sunrise. Nite then reminds Don of the danger Sunset City was in and how K-TBR 199.2 was the number-one radio station for news and advice, though the latter did not see his point. When Nite mentions the people, Don snaps, telling Nite to shut up about the people and that he was not waiting around to get killed by monsters because of his great sense of pride. The rooster tells Nite to stay if he wants, saying that he guarantees that the people will not help him. After Don leaves an upset Nite, he gets a new call. The caller claims to be a representative of the Restoration and explains to Nite about the current pandemic of the Metal Virus turning civilians around the world into Zombots. According to the representative, they were setting up a safe house in the city and they needed to get word out to the survivors; as K-TBR 199.2 was the final station in the area still broadcasting, people were listening to him and he was needed to help them. Outside, as Don tries to start his car, he still expresses annoyance over Nite's decision. After turning on the engine, the rooster begins to drive away and listens to Nite's discussion on the radio. The owl asks if him reading the Restoration's emergency instructions would really help to which the representative states that it was the only chance they had. Understanding the issue, Nite says that even if one person was spared, it was worth it to him. Don listens to this and looks ahead.
Back at the station, Nite confirms that he got the info that was sent to him but mentions that he is not sure how he would be able to hold up out where he was. From behind, Don tells him not to worry; he had gotten some supplies from back out and tells the owl to concentrate on talking while he made sure nothing got into the station. When the representative asked if Nite was still there, he replies that people had spoken and want him on the air tonight and states that he will get started on the announcement. Nite begins speaking once again to his listeners, telling them that the Restoration was helping to gather people at the Grand Gold Flicky Hotel. If they could not reach there, they should call into the station to let the Restoration know where to find them. Before Nite could say their number, he is interrupted by a loud banging from Don hammering in the boards. Nite asks Don to keep it down as he was trying to save lives, only for the rooster to reply that he was trying to save him and hammers did not come with a mute button. Unbeknownst to them, a Zombot approaches the station.
Appearances
Characters:
Races and species:
Locations:
Items:
Continuity
Trivia
One of the albums seen on page eleven appears to be by Crush 40, the band that has been known to contribute to several soundtracks for the Sonic the Hedgehog series.
Reflections
Synopsis
Metal Sonic is walking the halls of the Faceship alone. Out of the corner of his eye, on a monitor, he sees a recording of him fighting Sonic and Silver. He continues walking and slightly slides his hands along his legs. Walking onward, he sees a vat of Metal Virus in Dr. Starline's lab. He enters the room and stares at it before then focusing on the monitor in the room showing a recording of Sonic getting infected with Metal Virus. The robot looks behind him to check if the coast is clear then turns back. He reaches his hand out to the tub of Metal Virus but pauses. After a moment, Metal Sonic determinedly extends his hand out again and dips his index finger in the vat of Metal Virus. He lifts it out and looks at the mixture on his finger. However, as the Metal Virus has no effect on things that are already mechanical, it slid off of his finger and dropped back down into the vat. The robot stays still, stunned, and stares at his hand. He is soon alerted by the presence of Starline, who tells him that he should get out of his office. He finds annoyance with Metal Sonic, saying that he could not believe that Eggman's greatest creation was walking around his lab like a Zombot. Metal Sonic simply walks away as the recording of Sonic getting infected with Metal Virus continues to play.
Appearances
Characters:
Races and species:
Locations:
Items:
Vehicles:
Misc.:
Continuity
Eggman's Day Off
Synopsis
With the use of the Warp Topaz's Warp Portals, Dr. Starline overlooks the progress of the Metal Virus infecting people and states that as Dr. Eggman's genius was coming to fruition, he was such a visionary. Looking into another Warp Portal, he sees Eggman; suddenly the doctor yells in anger. Starline is alerted by this and runs through the Warp Portal to reach Eggman. He crashes into him and the two fall into cardboard boxes. Starline explains that he thought Eggman was in trouble and asks if he was okay; Eggman replies saying that he would be fine if he could find the light switch and states that the robot who installed it at the back of the room would soon become scrap metal. Turning on the light, Eggman introduces Starline to his private break room; the "Eggcave". The doctor describes it as his inner sanctum and home away from home that is a little more underground than the other rooms. He spends his days off in the room by himself and works on smaller, more personal projects in a space where he can focus and think creatively. Eggman mentions that he does not believe that he has had any visitors in the room before, with Starline calling it a honor to be present.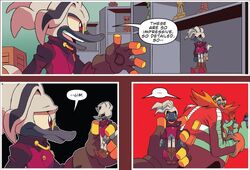 While showing Starline figurines that he made modeled on himself and Sonic, he talks about how he makes toy robots on his days off and how it is relaxing piecing everything together. Under his breath, Starline mentions that Eggman was supposed to brief him this afternoon. Now feigning a battle with the Eggman and Sonic figurines, the former talks about how he likes to figure out strategies and battle plans for the week ahead. Noting that it did not exactly sound like time off, Eggman suggests that evil never really takes a break. In the process, Eggman accidentally bashes off the head of the Eggman figurine with the Sonic one and becomes angered by it. Brushing it off, to prove that it was not only focused on hedgehogs, Eggman showcases figurines of Tails and Espio re-imagined as Zombots; he gleefully states that all of his enemies will soon become Zombots and no longer get in his way, but instead do his bidding. Starline commends Eggman on his craftsmanship, to which the latter states that he is already aware. Noting the figurines for their impressiveness and detail, Starline soon comes across a figurine of himself reimagined as a Zombot. Starline draws a blank stare and when Eggman sees this, he takes the figurine back and demands that Starline return to work. Starline lightly protests but Eggman does not have any of it, saying that whatever happens in the Eggcave, stays in the Eggcave, and that Starline should knock next time. Eggman slams the door closed on Starline, leaving the platypus to walk away with uncertainty.
Appearances
Characters:
Races and species:
Locations:
Items:
Vehicles:
Misc.:
Trivia
Flock Together
Synopsis
While transporting refugees to Restoration HQ on a Rescue Shuttle, Vector crosses off another location where they failed to find Charmy. He states that Charmy had been missing for days and was only a kid but all alone in the apocalypse. Vector theorizes that Charmy saw the ship leave without him and think that they abandoned him, leaving him at the mercy of the Zombots. He asks how Espio could be so calm, to which he replies that they needed to keep a level head and think clearly. He explains that blindly searching was sending them in circles and suggests dropping everyone back at Restoration HQ, refuel and then regroup. Vector turns to the pilot and asks if they could go any faster. She replies that they were in the flight path of a large Flicky migration so they had to be careful. Espio adds that they, as well as Charmy, were detectives and believes that if there is anyone they can find, it is each other. Suddenly, the ship takes a hit; Vector asks what was going on and the pilot answers that the Flickies were all Zombots. Among the flock was a Zombot Charmy. Noting that Espio was right, Vector retrieves a Containment Bubble and a shield and runs outside, despite Espio's protest that they needed a plan. Vector fends off the Flickies with his shield, talking to Charmy on how they have been looking everywhere for him and did not mean to leave him behind; he adds that everything was fine now and he would take him back to HQ and get him fixed up. Vector suggests that Tails would figure something out. A group of Flickies soon gather around Charmy, prompting Vector to lunge at the Zombot bee. Vector tries but fails to capture Charmy in the Containment Bubble due to his swift dodges and the other Flickies acting as obstacles.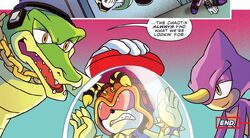 A few Flickies start flying directly at Vector from behind but they are stopped by Espio after he throws a smoke bomb at them. The chameleon berates Vector as he was no help to Charmy if he was also a Zombot and he could not keep running at this so recklessly. Before Vector can comment, he sees the Flickies getting blinded and confused from the smoke; Espio adds that it separated the flock as well but seeing more Zombots fly towards them, notes that it was apparently temporary. Vector defends himself and Espio with his shield, saying that he did not know how to find a safe way to get to Charmy if he could not hear himself think among the flapping and buzzing. From this, Vector quickly hatches a plan and asks if Espio had his back; handing him a smoke bomb, Espio tells him "Always." While Espio used the shield to fend off Zombots, Vector listened closely for a buzzing sound. As soon as he found the source of the buzzing, he threw a smoke bomb towards it. Espio sees the smoke emerge and pauses for a second. Soon, Vector runs out of the smoke with Charmy imprisoned in the Containment Bubble. The duo quickly get inside, with Vector joking that even during a Zombot apocalypse, they always found what they were looking for.
Appearances
Characters:
Races and species:
Locations:
Items:
Vehicles:
Continuity
Trivia
The red Zombot Flicky seen in the last panel of page thirty-one does not appear to have a bang on its head.
The Catalyst
Synopsis
In the Spiral Hill Village square, the president of the Sonic Fan Club comes running in, hysterically asking for Tangle's help as he could not find his friends. Jewel recognizes the kid as part of the club after hearing from Tangle earlier on how she saved them from an Egg Pawn. When she asks what happened to to the rest of his group, he begins to explain; he and the Sonic Fan Club were having a meeting out in the Spiral Hill farms and soon saw a a big ship dropping "weird gunk" from the sky. All of the members started running away and the president got separated from them. It has since been an hour when he last saw them and he recognizes his duty to find them as he was their president. The upset child states that he needs Tangle's help, asking Jewel if she could get her. However, Jewel reveals to the child that Tangle had left to help the Restoration with the Metal Virus. Though this disheartens the president, Jewel offers her help instead as she has been known to save Tangle from danger several times. She suggests that they head back to where the young deer last saw them and then they go from there. As they head out of the village, Jewel mentions that she and Tangle used to get lost at the farms all the time when they were small. The pair look over the small bridge, with Jewel noting that she did not see the ship. The president says that when they scattered he believed that he saw some of the club members make it up to the path to town but now could not see them anywhere.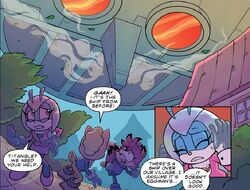 At Spiral Hill farms, the president calls for his fellow club members. Jewel finds it weird that they could not hear even a single Flicky around the area. They soon hear a voice coming from the barn. They run there to find the vice president lying on a haystack while surrounded by small pool of Metal Virus; the young wolf impatiently asks for them to help her. The young deer asks what the "shiny stuff" was, to which Jewel asks him not to touch as Tangle told her it was not safe. She asks the president to stay put while she helped the vice president. The beetle introduces herself to her and asks if she was okay; the young wolf answers that there was a big ship that was dumping out the Metal Virus earlier and ran to hide inside the barn. She quickly adds that it was not because she was scared. As the president curiously touches the Metal Virus, Jewel expresses relief that none of the substance was on the young wolf, explaining that it would be very bad. She adds that both Sonic and Tangle were trying to stop it but it was very dangerous. As Jewel states that it was time to leave, the president guitily reels back from the pool and agrees. The three of them then see the Faceship approaching, dumping more Metal Virus across the land. As they flee, they see a few of the other members of the Sonic Fan Club nearby, who have become Zombots. Jewel tells the children not to draw their attention. While not understanding what a Zombot is, the young deer argues that the members were his contituents, only for the young wolf to claim them as her constituents due to her winning the race. On the path to the town, the trio narrowly run past more Zombot members of the Sonic Fan Club. The young deer notes that the Faceship was drawing closer but Jewel tells them not to get distracted. The three of them manage to make it to the town, only for Jewel to find Metal Virus on her hands. She sees that both the president and vice president had touched it from earlier, with the young wolf stating that she felt fine and the young deer believing that they could wash it off. As the Faceship flew directly above the town, Jewel hurriedly calls Tangle, requesting her help as the ship she assumes to be Eggman's had reached their town and it did not look good.
Much later, Tangle arrives at the Mineral Museum looking for Jewel. She explains that she came as fast as she could, asking if she was okay or if she was still herself. As the lemur looks around, she does not see a Zombot Jewel angrily standing on a podium behind her.
Appearances
Characters:
Races and species:
Locations:
Items:
Vehicles:
Continuity
Trivia
On page thirty-eight, the word "constituents" is spelled incorrectly as "constitients" in the vice president's speech bubble.
Other features
Sonic Letters Squad: Sonic Letters Squad is a section where the comic staff can post fan artwork and fan letters that have been sent in to them. The other pages showcase an advertisement for Sonic the Hedgehog #29 and raw artwork of each of the variant covers for the issue, aside from the second retailer incentive cover.
Sonic the Hedgehog Annual 2019 - Free Digital Ashcan
Quotes
Big: You must be pretty tired, 'cause you haven't said much since we got back. That's okay. We're such good friends, I know what you're thinking. I'm happy to be home with you, too.
Nite: No, you're right. If even one person is spared...it's worth it to me.
Nite: Hey! Can ya keep it down? I'm trying to save lives over here!
Don: And I'm trying to save you! Hammers don't come with a "mute" button, ya diva.
Dr. Starline: I thought you were in trouble! Are you okay?
Dr. Eggman: I would be if I could find the blasted light switch! Rest assured, the robot who installed it at the back of the room is now scrap metal.
Espio: We're detectives, Vector. So is Charmy. I believe if there's anything we can find, it's each other.
Vector: I have a plan, if you have my back.
Espio: Always.
Jewel: T-Tangle? We need your help. There's a ship over our village. I assume it's Eggman's...it doesn't look good.
Trivia
This issue was initially going to be released on 25 March 2020, but was soon moved to 1 April 2020 instead. It was later moved again to 22 April 2020 and then to 29 April 2020. It was later delayed indefinitely due to the ongoing coronavirus pandemic, but was later rescheduled to 10 June 2020, and then to 8 July 2020.
On cover A, Amy is seen to be eating a Sonic-designed cookie that was likely based on the real life Sonic the Hedgehog ice cream popsicle.
Much like the previous annual, despite appearing on cover A, Amy does not appear in the annual outside of a mention and a minor cameo.
References
External links