You may be looking for the Sonic the Hedgehog Adventure Gamebook series published by Ladybird.
The Sonic the Hedgehog Adventure Gamebooks are a series of six books published in the UK between 1993 and 1996 by Penguin Books. The first four books were released under the Fantail imprint, and the last two under the Puffin Books imprint.
They are interactive gamebooks, with multiple divergent stories. This means that, instead of a continuous narrative from start to finish, each book consists of many short, numbered sections, out of chronological sequence. At the end of each paragraph, the reader is directed to another paragraph, depending on the reader's choices, the events that have taken place so far in the story, and luck (in the form of results of dice rolls).
At the beginning of the book, a profile page allows readers to choose Sonic's (or Tails' if you're playing Zone Rangers) abilities by assigning numbers to certain traits (e.g. speed and strength), as well as keep track of any items collected during the story.
List of books
Combat and gameplay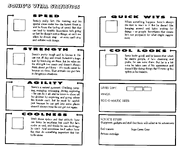 The books required means of keeping track of the reader's statistics and inventory (for example paper to write on and a pencil and rubber to keep track of their numbers and items). A crucial item for gameplay required is a 6-sided die to roll with.
Gameplay was done through a series of vital statistics such as speed, agility and coolness. The reader is instructed to number these abilities from 2 (being worse) and 5 (being best). During reading, there are moments which require rolls based on a set statistic, These moments have a "Difficulty Number" that ranges from 5-10.
The reader rolls the die and add the die number to the number of the statistic asked for in the book. If the number in total is equal or higher than the difficulty number then the reader are successful, any lower may have consequences like the loss of Rings.
Sonic collect various items throughout the books, the most common being Rings. In tradition to the video games, collecting 100 Rings results in a life and under defeat at loss of Rings is a penalty of these lives. However, the player can start a part of the story they are on from a check-point.
List of statistics
Sonic's vital statistics
| Vital Statistic | Description |
| --- | --- |
| Speed | Sonic's really fast. His training and his special shoes make him the fastest there is, and he loves the feeling of speed. But that can lead to trouble. Sometimes he's going so fast he doesn't notice things, or can't see where he should stop - or even can't stop and collides with things[2][1] |
| Strength | Sonic's pretty tough and he knows it. He can run all day and smash Robotnik's traps just by bouncing on them. But he relies on his strength too much and doesn't always think about problems - it's much easier to bounce on them. That attitude can put him in dangerous situations[1][2] |
| Agility | Sonic's a natural gymnast. Climbing, jumping, swinging, swimming, diving, exploring - he can do it all and loves to show off his abilities by exploring and going where his friends can't. But he must be careful; just because he can get into some places doesn't always mean he can get out again[1][2] |
| Coolness | With those spikes and that attitude, how can Sonic be anything but cool? But he's cocky as well, and thinks he can do things he can't. And sometimes he'd rather have fun than do something important that has to be done[1][2] |
| Quick Wits | When something happens, Sonic's always the first to react to it. But he doesn't like hanging around and hates waiting for things - or people. Sometimes that means he's not prepared for what might happen next[1][2] |
| Cool Looks/Good Looks[1] | Sonic looks good, and he knows that when he meets people, if he's charming and polite, he can wow them. But he is a bit vain; he takes care of his appearance and doesn't like doing things that'll mess up his spikes or his trainers[1][2] |
Tails' vital statistics
| Vital Statistic | Description |
| --- | --- |
| Speed | Tails is almost as fast as Sonic - in fact, if it wasn't for Sonic, he'd probably be the fastest creature on Mobius. But because he tries so hard to be better than his hero Sonic, he often doesn't notice things, and trips over them, or can't steer around them in time[1] |
| Strength | Tails tries to be like Sonic and therefore likes to show how strong he is. He's good at smashing traps and bouncing on enemies, but he has a habit of getting things wrong and making mistakes[1] |
| Agility | Tails has one thing that makes him a great gymnast - is twin tails. He can use them to hover like a helicopter, or with a quick flick he can change direction or spin though the air. He's proud of this that he shows it off too much, and sometimes uses it when there are better things he could have done instead[1] |
| Coolness | Nobody's as cool as Sonic, but Tails tries hard, and he's been hanging around his hero so long that some of it is beginning to rub off. There's no way that two bushy tails will ever be as slick and streetwise as cool blue spikes, but Tails is no slouch in this department[1] |
| Quick Wits | Tails isn't the quickest-thinking guy on Mobius, but he has his natural foxy reactions, and when danger threatens he can sometimes move faster than Sonic. "Act first - think later" is his motto[1] |
| Good Looks | Which would you rather cuddle up to - a spikey hedgehog or a smooth orange fox, with a sleek fur coat, two gorgeous bushy tails, that cute flick of hair and his whiskers? In fact, Sonic is everyone's favorite, but Tails tries hard[1] |
References
External links
Printed media
Manga
Sonic the Hedgehog Story Comic (1991)

 ·

Sonic the Hedgehog (The Adventures of SONIC the Hedgehog (1992—1994))

 ·

Dash & Spin Super Fast Sonic (2003—2005)

 ·

Dengeki Nintendo DS (Sonic World Adventure (2008), Sonic and the Black Knight (2009), Sonic Chronicles (2009), Sonic Colors (2010), Sonic Generations (2011))
Comic books
Sonic the Hedgehog (promotional comic) (1991)

 ·

Sonic the Comic (1993—2002)

 ·

Sonic Sunday Strips (1993—1995)

 ·

Archie Comics (Sonic the Hedgehog (1993—2017), Sonic the Hedgehog (1993), Princess Sally (1995), Tails (1995), Knuckles (1996), Sonic Quest (1996), Knuckles the Echidna (1997—1999), Sonic X (2005—2008), Sonic Universe (2008—2017), Sonic Boom (2014—2015))

 ·

Sonic Adventures (1994)

 ·

Sonic Comic (2016)

 ·

IDW Publishing (Sonic the Hedgehog (2018-present), Sonic the Hedgehog: Tangle & Whisper (2019), Sonic the Hedgehog: Bad Guys (2020), Sonic the Hedgehog: Imposter Syndrome (2021-2022))
Novels and picture books
Stay Sonic (1993)

 ·

Virgin Books (Sonic the Hedgehog in Robotnik's Laboratory (1993), Sonic the Hedgehog in the Fourth Dimension (1993), Sonic the Hedgehog and the Silicon Warriors (1993), Sonic the Hedgehog in Castle Robotnik (1994))

 ·

Pense Bem: Uma Aventura Científica com Sonic the Hedgehog (1993)

 ·

Troll Associates (Sonic the Hedgehog (1994), Sonic the Hedgehog: Robotnik's Revenge (1994), Sonic the Hedgehog: Fortress of Fear (1995), Sonic the Hedgehog: Friend or Foe? (1995), Sonic & Knuckles (1995), Sonic X-Treme (1997))

 ·

Ladybird (Sonic the Hedgehog Colouring Poster Book (1994), Sonic the Story (1994), Sonic the Hedgehog: Robotnik's Oil (1994), Sonic the Hedgehog: The Invisible Robotnik (1994))

 ·

Watermill Press (Sonic the Hedgehog (1995))

 ·

Golden Books (Sonic the Hedgehog: Sonic's Shoes Blues (1993), Sonic the Hedgehog 2: The Secret Admirer (1994), Sonic the Hedgehog 3: Up Against the Wall (1995), Sonic the Hedgehog: Double Trouble (1996))

 ·

Sonic X (2005—2007) (Meteor Shower Messenger (2005), Spaceship Blue Typhoon (2005), Battle at Ice Palace (2006), Aqua Planet (2006), Dr. Eggman Goes to War (2006), Desperately Seeking Sonic (2007))

 ·

Where's Sonic? A Search-and-Find Adventure (2012)

 ·

Sonic Boom (2015—2016) (Le partenaire ideal (2015), La machine à gaffes (2015), Pas de chance, Knuckles ! (2015), L'épouvantable Todd (2016), Sonic Superstar (2016), Une étrange météorite (2016))

 ·

Sonic and the Tales of Deception (2018)

 ·

Sonic and the Tales of Terror (2018)

 ·

Meet Sonic! (2019)
Other
Sonic the Hedgehog 4 Knitting Patterns (1992)

 ·

Sonic the Hedgehog Adventure Gamebook (Fantail) (1, 2, 3, 4, 5, 6) (1993—1996)

 ·

Sonic the Hedgehog Adventure Gamebook (Ladybird) (1, 2, 3, 4) (1994—1995), Joke Book (1994), Where's Sonic? (1994), Where's Sonic Now? (1996), Puzzle Book 1 (1994), Puzzle Book 2 (1994))

 ·

The Official Sonic the Hedgehog Yearbook (1993, 1994)

 ·

Sonic the Hedgehog Book (1992)

 ·

Sonic the Hedgehog Paint 'n' Marker Book (1993)

 ·

Look and Find Sonic the Hedgehog (1995)

 ·

Sonic the Hedgehog (Play-a-Sound) (1995)

 ·

How to Draw Sonic the Hedgehog & the Gang (1998)

 ·

The History of Sonic the Hedgehog (2012)

 ·

Sonic the Hedgehog Super Interactive Annual 2014 (2013)

 ·

Run, Sonic, Run! (2013)

 ·

Sonic the Hedgehog Joke Book (2014)

 ·

Sonic the Hedgehog Sticker Mania! (2014)

 ·

Totally Sonic (2014)

 ·

Sonic: His Amazing History! (2016)

 ·

The Secrets of Sonic the Hedgehog (2016)

 ·

Sonic: The Ultimate Character Guide (2016)

 ·

Sonic the Hedgehog 25th Anniversary Art Book (2017)

 ·

Welcome to the World of Sonic (2018)

 ·

Sonic the Hedgehog Mad Libs (2018)

 ·

Race Against Chaos Sticker Activity Book (2018)

 ·

Sonic the Hedgehog Art & Design Book (2019)

 ·

Sonic & Friends Sticker Activity Book (2019)

 ·

Sonic the Hedgehog Encyclo-speed-ia (2021)

 ·

Sonic the Hedgehog: The Official Coloring Book (2022)

 ·

Sonic the Hedgehog: The Official Adult Coloring Book (2022)
Television and film
Animated shows
Adventures of Sonic the Hedgehog (1993)

 ·

Sonic the Hedgehog (1993—1994)

 ·

Sonic Underground (1999)

 ·

Sonic X (2003—2005)

 ·

Sonic Boom (2014—2017)

 ·

Sonic Prime (2022)
Shorts
Sonic the Animation (1997)

 ·

Sonic: Night of the Werehog (2008)

 ·

Sonic Mania Adventures (2018)

 ·

Team Sonic Racing Overdrive (2019)

 ·

Chao In Space (2019)

 ·

Around the World in 80 Seconds (2020)

 ·

Sonic Colors: Rise of the Wisps (2021)

 ·

Sonic Drone Home (2022)

 ·

Sonic Frontiers Prologue (2022)
Other
Sonic - Super Hedgehog (1994)

 ·

Sonic Christmas Blast (1996)

 ·

Sonic the Hedgehog: The Movie (1996)

 ·

Sonic the Hedgehog (film series) (Sonic the Hedgehog (2020), Sonic the Hedgehog 2 (2022), Sonic the Series (2023), Sonic the Hedgehog 3 (TBA)
Cancelled projects
Sonic the Hedgehog: Wonders of the World

 ·

Sonic Armageddon
Internet streams

Sonic Official

(2016-present)

 ·

Sonic Station Live! (2020-present)

 ·

Sonic Central (2021-present)

 ·

TailsTube (2022-present)
Events
Anniversaries (10th, 15th, 20th, 25th, 30th)

 ·

Conventions (Sonic Boom, Sonic Party 2002 Summer Festival, Sonic Party 2003 Summer Festival, Summer of Sonic)

 ·

Franchise timeline

 ·

Ken Penders' legal cases

 ·

Project Sonic

 ·

Sonic 2020

 ·

Sonic Generations of Skate

 ·

Sonic in Sydney

 ·

Sonic the Hedgehog 30th Anniversary Symphony

 ·

Steve Aoki x Sonic Concert

Miscellaneous
Alton Towers (Spinball Whizzer)

 ·

Cameo appearances and references

 ·

Cookie Crisp

 ·

Frosties

 ·

Guinness World Records

 ·

Honey Nut Cheerios

 ·

iTunes

 ·

Macy's Thanksgiving Day Parade Sonic Balloon

 ·

Sanic

 ·

SEGA Republic (Sonic Hopper, Spin Gear)

 ·

Sonic Bible

 ·

Sonic Bowl

 ·

Toyland Tours