Fire Emblem Warriors: Three Hopes - The Loop
Play Sound
Not to be confused with Sonic the Hedgehog 30th Anniversary.
Sonic the Hedgehog 30th Anniversary Special is a one-shot comic book special published by IDW Publishing in celebration of the 30th anniversary of the Sonic the Hedgehog series.
Official solicitation
After 30 years of going fast, it's time for fans to celebrate the speediest hedgehog of all time! It's an unbelievable birthday celebration for Sonic the Hedgehog with his first Classic Sonic special![1]
First, in "Seasons of Chaos" by longtime Sonic scribe Ian Flynn and artists Aaron Hammerstrom & Reggie Graham, Sonic goes on an adventure from pleasant spring valleys to wintry wonderlands in search of the Chaos Emeralds. But Sonic's not alone, with a little help from his friends Miles "Tails" Prower, Knuckles the Echidna, Amy Rose, Mighty the Armadillo, and Ray the Flying Squirrel, they'll race, fight, and fly their way to victory against the baddest of baddies![1]
Then, in "Dr. Eggman's Birthday," the vile, villainous Dr. Eggman takes center stage in a story written by New York Times bestseller Gale Galligan (The Babysitters Club)! And how does the bad doctor celebrate the occasion? Only his Badniks know for sure…[1]
Finally, in "Sonic Learns to Drive," Sonic's up against a tough challenge: Driving! When the fastest thing alive can outrun any car, will Sonic have the patience to learn… or will he finally get left in the dust? Written by the hosts of My Brother, My Brother, and Me, The Adventure Zone, and New York Times bestsellers, the McElroy Brothers![1]
Grab a slice of chili dog cake and don't get left in the dust on the most way past cool book of the year![1]
Featured stories
Seasons of Chaos
Story: Ian Flynn
Pencils: Aaron Hammerstrom (p. 1-33, 37-39, 44-53, 57-60)
Lineart: Thomas Rothlisberger (p. 34-35, 40-43, 54-56), Tracy Yardley (p. 36, 60)
Inks: Reggie Graham (p. 1-33, 37-38, 44), Matt Froese (p. 39, 45-53, 57-59)
Colors: Reggie Graham
Synopsis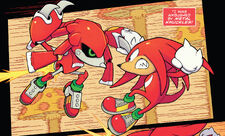 Sonic, Tails, and Amy are running through Spring Valley Zone. Tails spots a glint in the distance and the trio find a Chaos Emerald, something not normally seen lying around in the open. Sonic decides to take it, only for Metal Sonic to rush in and take the Emerald first. Sonic prepares to take on his robotic doppelganger in either a fight or a race, only for the robot to dart off ignoring this. Sonic states that this was no fun and runs after him, with Tails and Amy in tow. When Metal Sonic takes to the sky, Sonic asks Amy for a boost. Amy tells the blue hedgehog that he is a wonderful person and everyone says nice things about him. This was not what Sonic had in mind and asks to be boosted via her hammer, to which Amy embarrassingly agrees to. After she strikes him up high, Tails offers Sonic a lift to go further. The fox cub throws Sonic higher up to try and catch Metal Sonic. Unfortunately for him, the robot blasts off, causing Sonic to fall back down. Sonic does not worry too much as he believes he will be caught by Tails. Much to his shock, he is instead caught by a gliding Knuckles. He explains that he is present because of what happened on Angel Island. While he was relaxing, one of the Animals found a Chaos Emerald. He found it strange that one was lying out in the open as they usually only seem to bring trouble. The echidna was right as he was quickly ambushed by Metal Knuckles. The two engaged in a tight battle but Knuckles had him on the ropes. Seeing a Pocky try and hop back to the Chaos Emerald, Metal Knuckles cut one of the mushrooms down, which nearly fell down on the Animals. Knuckles managed to grab the mushroom before it could do that, saving the Animals but losing the Emerald to his robotic counterpart. Though he still tried to chase him down after, Metal Knuckles had too much of a head start.
Metal Knuckles' trail led him to Spring Valley Zone, where he found his friends deal with Metal Sonic. Tails deduces that Dr. Eggman must have sent the robots after the Chaos Emeralds to do something and they had to do something. Knuckles strongly pats Tails on the back, liking his thinking. Unbeknownst to him, this knocks Tails' Emerald Radar away. As Sonic and the others are prepared to go stop Eggman, Amy expresses excitement about going on another adventure with Sonic and loves the fact that she will be around from the very start of it. She soon realizes the the boys had taken off without her and yells after them. Amy discovers Tails' Emerald Rader and yells that they forgot it. The lack of response leaves her very upset and mutters to herself of how she is supposed to prove herself to them if they never give her the chance. Amy believes that she could follow them, though realizes it would not be safe by herself. She hears a large crash nearby and finds Mighty and Ray training with large boulders. Mighty throws another one, which Ray glides over and dodges. The boulder lands next to an impressed Amy. Mighty and Ray apologize and check if Amy is okay. She brushes this off and they introduce themselves to each other. Amy realizes that she already knew who Mighty and Ray were after hearing about their adventures from Sonic, which Mighty takes slight surprise in her knowing him as well. She tells the pair that Eggman is after the Chaos Emeralds again and Tails' radar can help her get near them; however, it is too dangerous for her to go on her own and asks for their help. Mighty knows that they cannot let Eggman have the Emeralds or leave Amy alone, so he and Ray agree to go with her. As the trio set off, a familiar robot watches from a distance.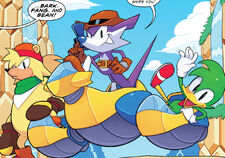 In Summer Falls Zone, Tails realizes that he has lost his radar. Sonic tells him not to worry about it as they have the Chaos Emeralds without it before. He adds that they have an expert treasure hunter with them, which Knuckles replies to not patronize him with but agrees. As they traverse the area, Sonic soon spots the Emerald behind a waterfall. He is hit by a cork and turns to see Fang, Bark, and Bean. Fang tells Sonic that Eggman promised them a hefty reward if they brought him all the Chaos Emeralds. Knowing that Sonic and his friends will make collecting the Emeralds a problem, he decides to have his teammates run interference. Knuckles decides to take on Bark, though the polar bear simply blocks his attacks. This angers Knuckles, forcing him to kick Bark square in the face so that he can fight him properly. Sonic tries to catch Fang before he goes to the Emerald, only to be stopped by Bean's bombs. Sonic demands for Bean to knock it off, only for Bean to remind the hedgehog that it was their big reunion after so long and asks if he missed him. When Sonic says that he did not, this greatly upsets Bean. He quickly gets over it and attacks the hedgehog. Fang has the Marvelous Queen's sidecars float and part the waterfall for him to enter. Tails follows and finds this cool. Fang sees that the Chaos Emerald is atop a stone pillar and decides to use his airbike's spring function to grab it instead of climbing. Tails also finds this cool but quickly snaps out of it. The young fox flies up behind Fang's airbike and messes with its wiring just as the sniper grabs the Emerald. Once Fang spots Tails, it is too late as the Marvelous Queen begins to spin out of control and bounces all around. This makes the Chaos Emerald slip out of Fang's possession and Tails grabs it.
As Tails goes to show Sonic, Fang shoots the fox cub with his Popgun, forcing the Chaos Emerald out of his hands. As Sonic tries to grab it, Bean attempts to throw a bomb at him. Fang orders him to stop so as to not blow up the Emerald. Bean realizes that this would be counter-intuitive, leaving Sonic to the Emerald. Fang soon shoots it out of his hands and it lands beside Knuckles and Bark. The echidna tries to grab it but is hit down by Bark. He retaliates and the Emerald bounces between the two until they both knock each other out. The Chaos Emerald then falls over a cliff to everyone's dismay, except Bean who waves it goodbye. Tails does not believe he can fly Sonic to the bottom as he could not see any ground there and there was not guarantee that there was any place to land. While Fang tries to fix his bike, a dazed Knuckles catches up with Tails and Sonic, with the hedgehog asking Knuckles to climb down and get the Chaos Emerald. Fang tauntingly wishes the trio luck, adding that they can hand it over after they had found the rest. Tails states that Fang and his crew were bound to find more Emeralds while they dived for the one here, making Sonic decide that they should tail them as the other Emerald was not going anywhere. Down below, the other Emerald had actually landed on Mighty's head. Amy and Ray cheer about this but Mighty wonders if they just fell from the sky now. Noting that they were doing great, Amy brings up another Emerald's location and the trio head in its direction. Unbeknownst to them, Tails Doll has been watching everything and relaying live playback feed of everything to a caped individual. He says that all the Chaos Emeralds have been accounted for, with two in his possession, the third with Amy, Mighty, and Ray, the fourth with Metal Knuckles, the fifth being closed in on by Fang, Bean, and Bark, and the sixth with Metal Sonic, who was moving toward the final Emerald.
In Autumn Forest Zone, Knuckles is angry that he lost Fang and his crew's trail. Sonic sees that Tails is "deep-in-thought" and asks for what he is thinking about. The fox cub tells him that Eggman already sent Metal Sonic and Metal Knuckles after the Emeralds, and does not understand why he would go through the trouble of hiring Fang's gang. Sonic guesses that it was to double his chances, which was fine by him as he believes he can beat any odds. Knuckles soon spots Eggman tailing Metal Sonic, with two Chaos Emeralds in his possession. Eggman tries using a remote behind the robot, only to be intercepted by Sonic. The doctor states that he did not have time to deal with the hedgehog, with Sonic teasing that he came all this way to see him. Eggman uses his Egg Mobile's buzz saws to try and fight Sonic. As the hedgehog jumps overhead to distract the doctor, Knuckles and Tails destroy the arms of the buzz saws. Sonic then notes that he has Metal Sonic's boss cornered and requests for a high-speed-battle-race again. Just like last time, Metal Sonic ignores Sonic's requests and speeds off. Sonic is baffled at this and demands to know what is going on. Nearby, Ray finds the purple Chaos Emerald in a tree and brings it down to the others. As Amy cheers for what a great team they make, they are interrupted by Fang, Bean, and Bark, who request that the Chaos Emerald be given to them or Amy and Ray would get hurt. Mighty asks for context from Amy; she informs him that they were jerks who sometimes work for Eggman. She notes that they are mean, rude, and cruel, aside from Bark who just appears to hang out with the wrong crowd. Mighty sternly tells them that they were having a good time and warns them to move along before they have a bad time. Following this, an intimidated Fang tells his crew to attack. Mighty easily takes on Fang as his Popgun did not harm his shell. Bean tells Ray to hold still while he threw bombs at him as he made his aim look terrible; the flying squirrel instead asks him to stop attacking him. As Bark stands before Amy, she knew she could not back down as Sonic and the others needed her. She attacks the polar bear repeatedly with her hammer, not knowing that it did not have much effect on him. As Mighty continues to overpower Fang, he cries out to Bark for help. Bark hangs Amy up on a tree by her shirt and then approaches Mighty.
The armadillo can tell Bark is a kindred spirit and decides to take him on seriously. He delivers a powerful Spin Attack that Bark struggles to hold on to. However, with enough concentration, the polar shoves Mighty into a hole in a tree. Assessing his situation, Mighty requests a "best two out of three". Ray demands for them to leave his best friend alone and flings one of Bean's bombs at them with his tail. The explosion was so great that it sent Amy and the purple Chaos Emerald flying, though Ray manages to catch Amy. However, the pair are blown back by another bomb, directly sent by Bean who is now in possession of the Chaos Emerald. He celebrates his victory that was short-lived after Metal Knuckles knocks him out and takes the purple Chaos Emerald from him. As the robot flies off, Fang finds confusion as to why Eggman was sending robots to do the job they were hired for; he deduces that he is trying to double-cross them out of their deal and demands everyone to chase after Metal Knuckles. They try to catch the robot but to no avail. Fang asks Bean to get the Marvelous Queen, only for Bean to remind him that he said he was not allowed to drive it after last time. Amy then spots Sonic, Tails, and Knuckles with Eggman and wonders what was going on. The blue hedgehog says that the doctor was just about to explain it to them. Everyone then patiently waits for a nervous Eggman's explanation. He says that he decided to rebuild Heavy King so that he would become his chief commander to lead his robots into battle while he had more time to invent, research, and do other things. Everything was apparently going great until Heavy King became too commanding and wished to overthrow Eggman. He took control of Eggman's robots and kicked him out of his own base, which he mentioned was rude and hurt his feelings. While Knuckles and Bean show some sympathy for the doctor, Fang and Sonic are not impressed. The hedgehog then asks what Heavy King needed the Chaos Emeralds for, to which Eggman says it was for ultimate power. Because of this, Eggman hired Fang's crew to gather the Emeralds first but Sonic and the others apparently messed everything up. Fang then asks how Eggman planned on rewarding them if he was on his own; the doctor replied that they would be richly compensated once he was back in command, which the sniper does not trust too well. Regardless, Fang and Sonic decide that they now have to work together.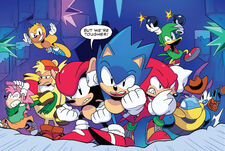 At Winter Caverns Zone, Amy tells the group that the radar detected all the Chaos Emeralds in the base up ahead. This prompted the group to traverse through the area and get to the base before Heavy King used them. Sonic mocked Eggman for thinking of using Winter Caverns Zone as his final base. However, the hedgehog is interrupted by Metal Sonic, who knocks him over. Sonic asks a gleeful Eggman for a warning next time, only for the doctor to tell him to watch where he was going. Sonic reminds Eggman that they were helping him, to which he replies saying that he should remember what happened the last time he got distracted sassing him. Sure enough, Sonic is knocked over again by Metal Sonic, causing Eggman to laugh. Knuckles helps Sonic up to face both Metal Sonic and Metal Knuckles, with the hedgehog admitting that though they are tough, his group is tougher. As the group battles the robots, Tails goes up to Eggman's Egg Mobile with the thought of stopping Heavy King's signal from here since he was controlling the robots remotely. Eggman mentions that he was trying to do this with Metal Sonic and realizes that a jamming signal at this range would revert them to their base programming and obey him again; he congratulates himself for the idea, ignorant of Tails' suggestion. The pair are then frightened by the arrival of Tails Doll. However, the doctor quickly devises to use Tails Doll's antenna to boost the jamming signal. Tails agrees to the plan but states that he wants to know why Tails Doll was built instead of a "Metal Tails". The jamming signal works and reverts both Metal Sonic and Metal Knuckles to their base programming. Though they did not work for Heavy King anymore, they try and attack Sonic and Knuckles again for Eggman. The doctor ceases their attack, explaining that they were working with him for now. Sonic takes this opportunity to tease his robotic doppelganger about this. Following this, Bean plots to break into the base by blowing it up with his bombs. Fang, however, does not permit this so as to not have him cave in the area. Mighty and Bark then try to break the doors down with their combined strength, only for them to be stopped by Eggman as he apparently just had them painted. The doctor then opens the doors himself via his Egg Mobile. Inside, they are greeted by Heavy King, who possesses all of the Chaos Emeralds. He notes that their power is greater than anything they possess and it is his to control.
Harnessing the Chaos Emeralds, Heavy King launches several energy attacks from his scepter at the heroes. They all do their best to dodge, aside from Fang who tries to escape but is pulled back inside by Metal Sonic. Bean finds the destruction to be beautiful. Heavy King then explains that destroying them here will accelerate his schedule. Next, he will restore the Hard Boiled Heavies as his generals, and then his Badnik forces will conquer the world; he plots to rule the world as its metallic overlord. As Eggman and Metal Sonic share brief stares with each other, the doctor orders him not to get any ideas and commands the robot to stop Heavy King. Fang launches the Marvelous Queen's sidecars at Heavy King, with he deflects with a large shield. Fang then tries shooting at him with his Popgun up close, only to be shot down by the robot's scepter. Heavy King continues to launch several energy attacks at the heroes. He soon finds himself circled by Metal Sonic and Metal Knuckles. However, seeing as they no longer served him, he easily struck them down with his scepter. Sonic believes that this battle was getting old and devises a new plan; he plots to distract Heavy King while the others snuck up and grabbed the Chaos Emeralds. Fang likes the idea of Sonic getting shot at but wonders what would happen to him when the robot destroys him, something that the hedgehog is determined will not happen. Amy tells Sonic to be careful. Mighty then takes lead, telling the others to surround the stage and not to move until Heavy King is distracted. Knuckles then asks how he will get him to target only him, to which Sonic answers with the way he always manages to get on the echidna's nerves. Heavy King notes that he can hear Sonic and his plan will fail as he is peak regal efficiency and cannot be baited. Sonic, however, does not believe that Eggman has built anything at its peak. Sonic questions why he was on a stage instead of a throne, asking if he is changing his name to "Heavy Comedian"; he adds that he is already a joke. He also wonders what was regal about a tiny Death Egg Robot wearing a bed sheet. Sonic notes his mistake as it is a cape but asks if it is a an Eggman hand-me-down. The hedgehog goes on to mock Heavy King's presentation, comparing him to Mecha Sonic who was able to at least turn "Super", though all it had was the Master Emerald. When Sonic asks if Heavy King is afraid he is going to blow a royal fuse, the robot snaps and launches several attacks at the hedgehog. As he does so, the other heroes carefully take the Chaos Emeralds from the stage. Sonic is soon cornered and the Heavy King attempts to launch one more attack, only to find that his scepter has run out of power. He finds that the Emeralds are missing and realizes that he fell for Sonic's plan. Sonic then revs up a Spin Dash and knocks Heavy King off of his stage.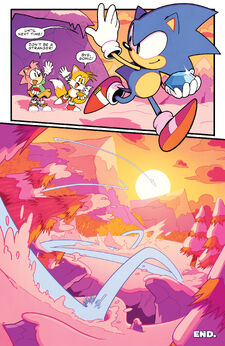 The defeated Heavy King finds himself being told by Eggman that he should consider himself usurped. The robot begs for mercy, reminding Eggman that he programmed him to be deceitful and conquest-driven and asks if he has not been fulfilling his function. Eggman notes that he is correct and was effective up until his betrayal. Regardless, Eggman gloats over his genius once again and tells Heavy King that he can have his old job back. However, the doctor notes that he will be getting a software patch to make sure such a situation did not happen again. As that was all settled, Eggman demands his robots to destroy everyone else and have the Chaos Emeralds brought to him. However, the doctor finds no one else in his base. Heavy King deduces that they must have left when he was threatening the robot. Eggman demands Heavy King to marshal his forces and track them down as they could not have gotten far. However, Heavy King reminds him that all the Badniks were destroyed when they plotted to invade the base. Eggman turns to Metal Sonic and Metal Knuckles to chase after the group, only to find the two robots to fall, powered off. Heavy King tells Eggman that after Emerald-hunting non-stop fighting everyone and his empowered self, they had run out of energy. Eggman notes that the day has been awful and demands a grilled cheese sandwich, only for Heavy King to once again apologize as he was not a chef. Outside, Fang comes to terms that Eggman probably would not have honored the deal anyway, and is prepared to part with the purple Chaos Emerald. Amy, who was wearing Bark's scarf during their time in Winter Caverns Zone, returns it to the polar bear as she will be fine until she gets home. She then figures that Bark is a really big sweetie deep down, to which Bark blushes to as he puts on his scarf again. With this, Fang and his crew take off in the damaged Marvelous Queen. Knuckles notes that Fang did not give him a nickname. Sonic suggests that it probably would have been "Knucklehead". Knuckles does not get this but Sonic does not bother elaborating. The echidna plans to take the green Chaos Emerald with him to make it harder for Eggman to find all of them again. Sonic likes the plan and says that the Master Emerald will have a little sibling. Unamused, Knuckles calls Sonic weird and leaves. Tails asks what was next for Mighty and Ray, with the armadillo plotting to keep training to be the best he can be and Ray wishing to have another adventure or two. The pair also take the turquoise and white Chaos Emeralds to help with the split, say their goodbyes and take off. Sonic sees that it was now up to him, Tails, and Amy to hide the last three. Amy asks if this means he was going off on his own again, to which Sonic says that he will. However, he notes that they would not have gotten this far without Amy's help and thanks her. The flustered Amy barely knows how to respond and states that she was able to help due to Tails' Emerald Radar. Tails also thanks Amy for looking after it and apologizes for leaving her behind. She accepts the apology and asks for them not to do it anymore. Tails agrees but Sonic shows reluctance. After receiving disappointed expressions from his friends due to his response, he tells them that he is kidding. With this, Sonic waves goodbye to Tails and Amy and runs off as the sun rises.
Appearances
Characters:
Races and species:
Locations:
Items:
Vehicles:
Misc.:
Trivia
On page one, the two different Badnik models (other than Ticktock, the one Sonic destroys) are based on the Shleeps and Hollows from the NiGHTS into Dreams... franchise.
On page four, the pose that Sonic is in when Metal Sonic knocks him back is styled after his sprite from the original Sega Mega Drive games whenever he is injured by an obstacle and loses Rings.
On page four, a small red house can be seen. This is in reference to the Sonic fan game, Sonic Robo Blast 2. In an earlier version of the game, if the player completed the game three times and jumped on this house, they would be sent to "hell" (an early version of Red Volcano Zone) by the resident for disturbing them.
On page thirteen, Fang's line "Always a pleasure to snipe you!" is a reference to his own name.
On page thirteen, Sonic taps his foot impatiently when talking to Fang, which is styled after his idle sprite animation from the original Sonic the Hedgehog.
On page fourteen, Knuckles makes a subtle nod to Sonic the Fighters when he says to Bark "C'mon, Bark! I know you can fight!"
Bean's comment on page fifteen that he and Sonic were having a big reunion after so long is a reference to Bean not being featured in much Sonic the Hedgehog media since Archie's Sonic the Hedgehog was canceled.
On page sixteen, three buttons can be seen on the dashboard for the Marvelous Queen. While one is discovered to be for the airbike's spring function, the other two have icons that are styled after a missile and a drill. This is a reference to Sonic the Hedgehog Triple Trouble, Fang's debut game, where the original Marvelous Queen was able to be equipped with several attachments and was used by Fang in each Special Stage. Two of these attachments were a missile and a drill.
On page seventeen when Fang is falling after grabbing the yellow Chaos Emerald, his hat is lifted and two bangs can be seen on his head. This detail has never officially appeared prior, but it is a reference to how Shinichi Higashi depicts Fang's head.[5]
When Sonic gets the Chaos Emerald on page eighteen, he sings "Ta-da-daaa-dah!" This is in reference to the music from The Legend of Zelda series that can play whenever Link opens a Treasure Chest or receives an Item.
On page twenty-one, two yellow birds with sunglasses can be seen circling Knuckles' head while dazed. Said birds resemble the "cool" variants of the Chirps from the Sega game Flicky.
On page twenty-three, the icons for Sonic, Tails, Knuckles, Mighty, and Ray resemble their 1-Up icons from Sonic Mania.
On page twenty-four, a scarecrow in Autumn Forest Zone resembles "Mr. Tinker".
On page twenty-eight, Amy implies that Bark is not evil but just hangs out with the wrong group of people. This is in reference to the fact that Bark's game counterpart had an alignment of good.

Bark was later given an alignment of neutral/evil when he was integrated in the Archie Comics Sonic the Hedgehog comic series as it was not known what his actual alignment was at the time.

The purple Chaos Emerald is seen flying out of a tree on page thirty-two. The last time it was seen, Mighty hid it behind his back.
On page thirty-three, two birds circle around a dazed Bean's head. These birds resemble Bin and Pin from Dynamite Düx.

Bin and Pin are the characters that Bean was based on.

The way in which Mighty and Ray sprint in this story is based on their sprint animation from SegaSonic the Hedgehog, their debut game.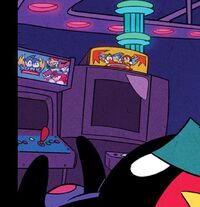 Arcade cabinets for Sonic the Fighters and SegaSonic the Hedgehog appear in Dr. Eggman's base on page thirty-four, but the latter is covered by a text box in the final product.

The idea for this reference was by Aaron Hammerstrom.[6]
The SegaSonic the Hedgehog marquee is based on a custom design from Galloping Ghost Reproductions, as the original game did not have one.[7]

On page thirty-four, Eggman can be seen taking a nap on a bean bag that is decorated with bean folk, which is in reference to Dr. Robotnik's Mean Bean Machine.
On page thirty-eight, Fang destroys an igloo turtle-like Badnik with his Popgun in Winter Caverns Zone. This is based on the design of the same Badnik that was first introduced in Sonic: Mega Drive - The Next Level.
On page thirty-eight, Amy, Mighty, and Ray can be seen fighting a snowman robot which resembles Hey Ho, from Sonic & Knuckles.
Mighty bouncing off a spike on page thirty-eight is in reference to his slight invulnerability from Sonic Mania Plus.
Eggman's base resembles the one first seen in the Sonic Mania Adventures episode, "Metal Mayhem".
It is not known how Heavy King got possession of the yellow Chaos Emerald as it was still in Mighty's possession and it did not appear to be taken from him.

It is likely that Metal Knuckles was supposed to take the yellow Chaos Emerald from Mighty while they were in Autumn Forest Zone.

On page forty, Tails wants to know why he got Tails Doll as his robotic doppelganger instead of a cool "Metal Tails". Tails made a similar complaint about Tails Doll in Archie Comics' Sonic the Hedgehog #284.
On page forty-six, Heavy King states how he will rule the world as its "metallic overlord", to which Eggman warns Metal Sonic not to get any ideas from. This is in reference to Sonic Heroes, where Metal Sonic defects from Eggman, becomes Neo Metal Sonic and later on, transforms into Metal Overlord.
On page forty-nine, two 3D stars can be seen circling Fang's head. This is a reference to Sonic the Fighters, which features similar circling stars when a character is knocked down.
On page fifty, Sonic references Sonic & Knuckles with how Mecha Sonic used the Master Emerald to assume his Super State.
Sonic Learns to Drive
Synopsis
The story begins with Sonic and his driving instructor, Kip the Capybara, being out for a drive in a car through the city. Sitting behind the wheel, Sonic starts talking casually to Kip about his reasons for getting a driver's license. Sonic is quick to state that he is not because running has begun making him tired. Rather, since he is getting powerful blisters from running laps around the planet and destroying Badniks along the way, he has begun wishing he had a car, hence why he is trying to get a driving license. In addition, if he gets to own a car, he can listen to the radio, something he cannot do while running. Mentioning this makes Sonic tune in on the K-TBR 199.2 station, which is airing a broadcast from Nite the Owl. Frazzled by Sonic's inattentiveness however, Kip points out to Sonic that he is not looking at the road and taking notice of the sight telling him the speed limit. Seeing how stressed out Kip is, Sonic states, with some uncertainty, that he could stop pressing the gas pedal so hard. However, going slow is something Sonic has a hard time comprehending. Kip then calls out Sonic in regards to the car's pedals, telling him that he has mistaken the brakes for a "turbo" pedal. As such, Sonic starts practicing applying the brakes while driving, but he does not do so well. Kip then asks Sonic why he is in the car, to which Sonic replies that he is learning to drive with his new mentor and friend, Kip. Meanwhile, Kip notices that other cars are entering the intersection and that the red light in front of them tells Sonic to stop. Although Sonic notices this, instead of stopping the car, Sonic jumps out of the car and began directing the traffic, allowing Kip and their car safe passage.
After Sonic returns to the car and resumes driving, an extremely worried Kip asks Sonic what he wants a car for again. This time however, Sonic replies that he is doing it for chili dogs. With Kip confused by Sonic's explanation, Sonic explains that there is a new brand of chili dogs called "Mr. Munch-Um's Bun-Sized Franks", the best chili dogs in the world which get the chili to dog ratio just right, and that Mr. Munch-Um's is hosting a rally race, with the grand prize being a life time supply of chili dogs. However, the race is a car race, so to compete, Sonic needs a car, and to get that, he needs a driving license. As Sonic explains, Kip is able to connect the dots though. Sonic, however, begins pondering how much a lifetime supply of chili dogs really is and states that he needs to have that clarified, as he is not going to compete for too small a supply of chili dogs. However, Sonic notices that Kip is spending more time writing on his clipboard than conversing with him. Kip reveals that he is working on his driving evaluation, before showing him that he has given him an "E" rank for his driving so far. Seeing this, Sonic tries to convince Kip that it must be a great rating. However, Kip explains to Sonic that from the moment he has stepped into the car, he has shown a complete lack of understanding of even the most basic road safety practices. While Sonic is surprised by this claim, Kip is quick to point out that he is not even holding the steering wheel right now. Surprised by how much attention one has to put into driving, Sonic resumes driving safely, which makes Kip calm down. Noticing that Sonic is improving, Kip begins explaining the traffic rules to Sonic while Sonic (who has a hard time diving slowly and being careful) practices turning and keeping the distance between vehicles. However, when Sonic hears on the radio that Mr. Munch-Um's Road Rally is about to begin, Sonic begins to panic, as he thought the race was not supposed to be until the 12th, to which Kip points out that today is the 12th. Sonic thus begins speeding up considerably and decides to look for a shortcut to the rally, sending Kip into a fit of panic.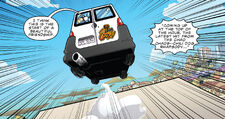 As they come up on a shuttle loop on the road, Kip panics despite Sonic telling him with confidence that he has done this tons of times. Running the car through the shuttle loop, Sonic manages the stunt, but Kip is still shaking in fear. Meanwhile, Nite announces on the radio that Mr. Munchem's Road Rally has been postponed because Dr. Eggman is attacking the city. Hearing this, Sonic stops the car and decides to run to Eggman's location and stop the doctor's attack. Kip, however, suggests to Sonic that they can use a shortcut before showing him a nearby ramp from which they can jump. Having gained a taste for speed, Kip wants to see what it is like to ride a car at real speeds. He also offers Sonic a new driving test in ten business days. Thanking his instructor, Sonic assures Kip that this is the beginning of a beautiful friendship as he drives the car off the ramp.
Appearances
Characters:
Races and species:
Locations:
Items:
Vehicles:
Misc.:
Trivia
Kip's car is based on a Japanese microvan, with its dashboard based on a Trueno AE86.[9]
The bauble hanging in Kip's car is modeled after Sonic's spaceship from SegaSonic Cosmo Fighter.

The idea for the bauble is based on Sonic's cameo in Rad Mobile.[9]

The "S" at the front Kip's car and on his steering wheel is designed after the red "S" from the original Sega logo that was in use in 1956-1975.
On page sixty-three, the street sign for Quillsbrook Road is designed after the opening title cards for levels from the original Sonic the Hedgehog.
On page sixty-three, a passerby that watches Sonic run out of Kip's car is one of the early designs for Sonic.
The license plate for Kip's car reads "SPC 1292". Artist Mauro Fonseca has stated that this was supposed to stand for "Sonic Patrol Car December 92" in reference to Waku Waku Sonic Patrol Car. However, the game released in December 1991.
On the third panel for page sixty-three and at the right hand side of the first panel of page sixty-nine, the buildings featured are buildings that appeared in the Sonic the Hedgehog serialized manga.
On page sixty-three, a car can be seen resembling the one that Dr. Eggman drove in Waku Waku Sonic Patrol Car, being driven by a character resembling Gazebo Boobowski from the scrapped game Sonic X-treme.
On page sixty-three, a civilian can be seen driving a yellow car designed after Donald Duck's red 313 car.

The civilian's sideburns and hat were designed after Corto Maltese.

The civilian driving this car was actually going to be Bin from Dynamite Düx.[9]

The way in which Sonic guides traffic on page sixty-three is likely a reference to Waku Waku Sonic Patrol Car.
A civilian seen on page sixty-three resembles Sharps the Parakeet with his design from SegaSonic Bros.

Another civilian seen on page sixty-seven also resembles him but is of his redesign with sunglasses and a vest.

The monkey civilian seen on page sixty-three was originally going to be Willy from Rockin' Kats.[9]
On page sixty-seven, the magazines seen in the back of Kip's seat are based on Sonic Eraser, Tails and the Music Maker, and Sonic the Hedgehog's Gameworld respectively.
Sonic receives a rank "E" for his driving evaluation on page sixty-five. This is based on the Rank mechanic that was first introduced in Sonic Adventure 2. The E in particular looks similar to the one from Sonic Heroes.
On page sixty-seven, a civilian can be seen driving a car that was first depicted in artwork for Harmony, volume 132.

There is also a gag in this as the civilian driving the car is a black horse and the car looks like a Ferrari, whose logo sports a black horse.

On page sixty-seven, another civilian can be seen driving a green version of the car that a Ricky can be seen driving in artwork from SegaSonic the Hedgehog 1994 Calendar.
On page sixty-seven, the civilian and bird that can be seen riding on a motorcycle were originally going to be Fox and Birdfly from Psycho Fox.
A civilian that resembles Miss Wing from the Sonic the Hedgehog serialized manga can be seen driving a pink car on page sixty-seven.
A civilian that resembles Anton Veruca from the Sonic the Hedgehog serialized manga can be seen driving red car on page sixty-seven. This car is actually one he drives in a specific yonkoma.
On page sixty-seven, the top of one building resembles a Ball Switch.
On page sixty-eight, a motorcyclist that resembles Hocke-Wulf can be seen, complete with a bike that looks similar to the vehicle he uses in Tails' Skypatrol.
A civilian seen on page sixty-eight resembles the scrapped character Boomer the Turtle.
On page sixty-eight, a civilian can be seen driving a grayish-green version of the car that Sonic drives in artwork from SegaSonic the Hedgehog 1993 Calendar.
The cat girl wearing a suit on page sixty-eight was originally going to be Professor Asobin, the first unofficial mascot for Sega.
A plane that resembles the Tornado from concept artwork for Sonic Adventure can be seen on page sixty-nine.
The blue and red plane that can be seen on page sixty-nine resembles the one from Sonic the Hedgehog Spinball.
The hot air balloons and the perspective of the buildings through the shuttle loop is based on artwork from SegaSonic the Hedgehog 1993 Calendar.[9]
A tower can be seen on page sixty-nine, bearing an extremely similar resemblance to one that was present in the Emerald Hill Zone, from Sonic the Comic. It debuted in Sonic the Comic #9.
The shuttle loop is drawn in the same way the shuttle loops were drawn in Sonic the Comic.
A school called "M. Adams Schoolhouse" can be seen on page sixty-nine. This is in reference to both Martin Adams and Sonic's Schoolhouse.
A wall in M. Adams Schoolhouse depicts artwork of an early design of Sonic.
The shuttle loop seen on page sixty-nine has three posters on it, each which reference aspects of the Sonic the Hedgehog series.

The first depicts artwork of an unused evil fanged and red-eyed character from early concept artwork for the Sonic series.
The second is of the Dreams Come True tour poster from 1990, which was the earliest known public appearance of Sonic.

This poster was originally going to depict the Japanese mascot for Sega Channel.[9]

The third is based on a poster present in Speed Highway, from Sonic Adventure.

A popcorn vendor that resembles Monica from the Sonic the Hedgehog serialized manga can be seen on page sixty-nine.

The popcorn stand's logo is designed after SegaSonic Popcorn Shop.
The popcorn stand has a sign that says "G Blast" at its center, which is based on the Japanese name and logo for Sonic Blast (G Sonic).

Nite being featured in this story is a reference to the fact that he was based on Clint McElroy, one of the writers for the story.
Nite's microphone on page sixty-nine is styled after the planet featured in the logo for the Sega Saturn.
The keyboard that Nite uses on page sixty-nine is designed after the SC-3000H Sega computer.
The television that Nite uses is designed after the Sega TeraDrive.
A poster seen behind Nite on page sixty-nine says "UFO Labyrinth". While the "Labyrinth" section is designed after the Japanese logo for Sonic Labyrinth, the UFO section is designed after the logo for UFO SegaSonic, a claw machine released by Sega.
A small figurine of an unused purple fanged enemy from early concept artwork for the Sonic series can be found on page sixty-nine next to Nite.

Another figurine of a six-fingered hand can be seen beside Nite, based on an unused enemy from the aforementioned piece of concept artwork.

On the back of Kip's car, a bumper sticker can be seen that says "Visit Jade Gully". This is in reference to Jade Gully Zone, a scrapped level that would have appeared as the first level in the cancelled Sonic X-treme.

The original sticker was of an image of Cocoa Island with text saying "Visit Cocoa Island".
The sticker is also illustrated in the same style as the logo for Sonic X-treme.
Another sticker seen on the back of Kip's car resembles a collectable star from SegaSonic Cosmo Fighter.
Another sticker seen on the back of Kip's car is of the Bell from Tails' Skypatrol.
Dr. Eggman's Birthday
Synopsis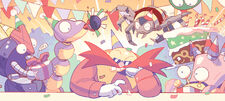 As morning dawns over Dr. Eggman's base, Eggman wakes up to the alarm of his Flicky alarm clock (which he promptly smashes). Eggman then heads into his shower. While he grooms his mustache however, Eggman realizes that it is his birthday again. However, Eggman is not happy about that due to the fact that another year has passed with him having less than nothing to boast about. He also remembers his previous birthdays that have been arranged by his Badniks, where he has received awkwardly-made gifts and figurines from his Badniks. Eggman also recalls that his Badniks bother him with his birthday every year, despite clearly telling them to cease with this "nonsense" every year. However, all that has done is seemingly encouraging them to continue. Having gotten ready for the day, Eggman braces himself and decides to get this over with. Findings the halls empty however, Eggman starts looking for the place in his base where his Badniks are awaiting to surprise him with a party. Eggman, however, cannot find his Badniks anywhere. Eventually though, Eggman notices on his computer monitors that his Badniks are attacking Sonic and Tails. Running to his Egg Mobile, Eggman tries calling his Badniks via radio to tell them to abandon their mission as they are not equipped to deal with Sonic, but they are not responding. Eggman thus flies out to face his disobedient Badniks personally.
At Sonic and Tails' location, the Badniks and the Hard Boiled Heavies are attacking Sonic, their plan being to destroy Sonic as their birthday gift to Eggman. While Sonic is ready for more assaults, Eggman shows up in his Egg Mobile up and orders his robots to return to base, before telling Sonic that he will get him yet as his Badniks depart. Sonic, who has overheard that it is Eggman's birthday, cheekily wishes Eggman a happy birthday, only for a disgruntled Eggman to fly away unperturbed.

Back in the base, Eggman begins chiding his Badniks for their disobedience. Heavy Rider explains that they just wanted to make the doctor happy because he deserves the best. While Eggman admits that it is "adequate" to have such robots around, he tries warning them of the consequences if they try something like this again. Before he can finish however, Heavy King orders Eggman's cake to be brought in. Upon seeing the shoddy cake, a reluctant Eggman muses over how another year has passed before blowing the candles on the cake out.
Appearances
Characters:
Races and species:
Locations:
Vehicles:
Trivia
Quotes
Heavy King: I can hear you. Your plan will fail. I am peak regal efficiency. You cannot bait me.
Sonic: Oh, sure. Like anything Eggman's built is "peak" anything. You had all this time to prep, and you're on a stage. Why not a throne? Or are you changing your name to Heavy Comedian? I mean, you're already a joke. I mean, what's regal about a tiny Death Egg Robot wearing a bed sheet? Sorry, I mean cape. Is that an Eggman hand-me-down? And what's with the light show? Mecha Sonic could at least turn "Super," and all it had was the Master Emerald. Afraid you're going to blow a royal fuse?
Kip: Why are you learning to drive, Sonic? What do you need a car for?
Sonic: Oh! Right. That's easy. Two words, Kip, one of which is really long and drawn out for emphasis. CHILI DAWWWGSSS.
Tails: Did they say it was Eggman's... birthday?
Dr. Eggman: Go. Before I decide to break you down for parts! Fools! I'll get you yet, hedgehog.
Sonic: Happy birthday, Egghead.
Dr. Eggman: Ughhh.
Trivia
Cover RI-A shows Amy driving the Breeze, the car she first drove in Sonic Drift.
A blimp that has the Sonic the Hedgehog 30th Anniversary logo can be seen on cover RI-A.
Cover RI-B is based on Trapper Keepers.[10]
At the top right corner of cover RI-B, three words of "Score", "Time" and "Rings" can be seen. This alludes to the original Sonic the Hedgehog that displayed the player's total points at the end of a level.
The convention exclusive cover is based on the European box artwork for the original Sonic the Hedgehog.

On the cover, Dr. Eggman can be seen in the same pose that he was seen in on the box artwork.

According to Ian Flynn, Sonic the Hedgehog 30th Anniversary Special replaces the 2021 annual for that year.[citation needed]
References
External links