| | |
| --- | --- |
| | Information in this article may not be canonical to the storyline of the games or any other Sonic continuity. |
I'm Sonic, a little ball of super energy in an extremely handsome package!

— Sonic the Hedgehog, Sonic the Hedgehog
Sonic the Hedgehog is the titular protagonist of the Sonic the Hedgehog film. He is an anthropomorphic hedgehog from another planet.
Concept and design
The production crew used Ted, the living teddy bear from the Ted films, as an influence on making a live-action Sonic the Hedgehog, and studied different variations of the character to develop the character's final design.[4]
Appearance
Sonic is an anthropomorphic hedgehog with predominantly blue fur. He has seven quills that extend from the back of his head, with four on his back and a tail.[5] He has green eyes, a black nose, his muzzle fur and his belly are peach, and his muzzle fur extends to the center of his nose ridge.
For attire, he wears a pair of white gloves, a pair of white socks and a pair of red Puma Dare sneakers with white straps, white soles and yellow Puma tags.
History
Game appearances
Sonic Dash
In promotion of the film, Sonic makes an appearance as a playable character in Sonic Dash in two incarnations; "Teen Sonic" and "Baby Sonic". In this game, both of these characters can be unlocked after participating in their respective events.
Sonic Forces: Speed Battle
In promotion of the film, Sonic makes an appearance as a playable character in Sonic Forces: Speed Battle under the name "Teen Sonic". He was added to the game's roster in the version 2.16.0 update. He has the following stats in gameplay:
| Rarity | Speed | Acceleration | Strength | Utilizable items |
| --- | --- | --- | --- | --- |
| Special | 10/10 | 6/10 | 5/10 | |
On 7 February 2020, Sonic was re-released as "Baby Sonic", a variant character of Sonic as the younger incarnation of himself as seen in the film, as a part of the 2.16.0 update. This character has the following stats in gameplay:
| Rarity | Speed | Acceleration | Strength | Utilizable items |
| --- | --- | --- | --- | --- |
| Special | 9/10 | 10/10 | 2/10 | |
Personality
Sonic has somewhat easy-going demeanor, as during a fight with Dr. Robotnik, he sarcastically remarks that he took 9,000,000 steps that day. He also has a desire to constantly move at high speeds.
Powers and abilities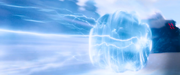 Sonic has the ability to run at high speeds that exceed 760 miles per hour; additionally, as noted by Maddie, his super speed causes him to have a constantly high pulse rate (even when unconscious). Sonic can move so fast that other moving objects can appear still from his perspective, as well as moving fast enough to appear as if he is in multiple places at once to the human eye. In addition to this, Sonic can curl up into a ball as a protective mechanism to attack others with his speed or create soft landings for himself. Sonic also has an unknown power that seems to tie with his emotions: if he becomes highly stressed, or has some sort of rise in his emotions, he starts to emit bright blue bio-electrical energy. If he releases this energy, Sonic is capable of creating an EMP burst, which knocked out all the power across the Pacific Northwest, or amplifying his spin dash. It is apparent that Sonic is able to draw out this power from his quills, as when he battled Dr. Robotnik in the climax of the film he temporarily regained the power of his stolen quill to use it against the doctor.
Reception
On December 10 2018, a teaser poster featuring a silhouette Sonic was released.[6] The design was likened to those from the 2019 video game film adaptation, Pokémon: Detective Pikachu.[7] The reveal of Sonic's redesign received mostly negative responses from critics and fans alike.[8][6] Naoto Ohshima, the original designer of Sonic, likewise expressed surprise at the design.[9]
On 5 March 2019, a first view in Sonic's full design was revealed, which the fans gave mixed reactions. Yuji Naka, former head of Sonic Team, explained on Twitter what he thought about it: "I feel like, with this Sonic here, visually, the important thing to look at is the head and body ratio and the roundness of the abdomen. I wonder if they couldn't have balanced them a little bit better...These images of Sonic aren't coming officially from the movie-making source; I think it's possible they're being strategically leaked, though getting people talking about it 'because it's bad' can't be good for Sonic's existing IP." He continued, "Well, there's also the possibility that this is fan-made, though even so, I'd still prefer it if they'd put some gloves on him. Seeing him bare-handed is quite a shock."[10]
On 30 April 2019, the first official trailer for the film was released, as well as its official poster. The trailer received mixed-to-negative reactions from the fans and media, mostly because of Sonic's humanoid looking design, which has also been described as adjacent to the uncanny valley.[11][12] On 2 May 2019, it was announced by Jeff Fowler that Sonic would receive a redesign after receiving criticism on the first trailer release.[13]
A second trailer revealing the redesigned Sonic was released on 12 November 2019.[14] The trailer received far more positive responses, with many praising Sonic's new design. The tone and the humor also received positive reviews.[15] Naka said he felt the new design was "much more Sonic-like".[16] Animator Max Schneider stated that the redesign took around five months and was achieved without stressful overtime.[17]
Relationships
Longclaw
Sonic's first parental figure was Longclaw, as she took care of him in his early youth. Sonic, however, did not conceal his powers despite her warnings. This culminated in an echidna tribe attacking them after Sonic used his powers to give Longclaw a special flower. When Longclaw told him he had to leave their world, Sonic was distraught and didn't want to leave her. He ran to help Longclaw fight back the tribe, but the ring closed before he could get through. Sonic would listen to Longclaw's advice and remain hidden for 10 years and attempt to leave earth after he was discovered. He often takes her words to heart and used to think he would be alone forever.
Tom Wachowski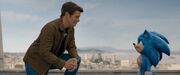 Sonic had a friendly relationship with Tom even before they formally meet. Sonic would refer to him as "Donut Lord", since Tom talked to doughnuts and ate them "if they didn't listen". He saw Tom as one of the best people in Green Hills. Their first encounter, though, was not friendly as Tom shot Sonic with a bear tranquilizer. This caused him to miss-throw his ring and drop his bag of rings in San Francisco. Sonic blamed him for losing his rings and pleaded for his help to get them back.
Despite this, Sonic was still friendly to Tom and acted cool despite their predicament. Sonic was very happy for Tom helping him get things off his bucket list in the roadhouse. He began to see each other as friends the day after, even though Tom said he liked his dog more them him. Sonic was personally offended by Tom leaving Green Hills for San Francisco, but eventually understood his decision. Sonic also began to see Tom as a protector, after he helped Sonic recover from an explosion.
Sonic returned the favor by protecting Tom from Robotnik and together they sent the doctor away. By this point, Sonic saw Tom as the friend he had been missing his entire life. When Tom moved Sonic's belongings from his cave to the Wachowski house's attic, Sonic was overjoyed and felt like a member of the Wachowski family.
Maddie Wachowski
Sonic also got to know Maddie before they meet. He referred to her as "Pretzel Lady", as Maddie was excellent at yoga. Sonic saw Maddie as a lover of all things nature. He would meet Maddie after she woke him up from an injury. Sonic protected her from Robotnik and was happy to be a part of their family.
Dr. Robotnik
Sonic sees Robotnik as someone who only wants to use his power. He would do everything he could to get Robotnik off his trail and away from his friends. This culminated with Sonic unleashing his full power to fight off Robotnik and sending him to another world.
Sonic would tease the the doctor by calling him "Eggman" and making fun of his looks. However, there were a few times Sonic was scared of him, such as when Robotnik threatened Tom or when his Prototype managed to keep up with him.
Friends/allies
Enemies
Quotes
"Whoo, look at this! I took nine million steps today."
—Sonic when surrounded by missiles atop a skyscraper in the original trailer. The final film cuts this line.
"This is my power. And I'm not using it to run away anymore. I'm using it to protect my friends!"
—Sonic before confronting Robotnik.
See also
References